hat do the world's largest Internet company and a European windmill maker have in common?
They are both banking large investments on Oklahoma's long- term supply of power.
Access to abundant, affordable and reliable electricity proved pivotal in luring
Google Inc.
to locate a US$600- million data center complex in the Sooner State.
Access to wind and a growing market for windmill farms in the South Central U.S. proved decisive in luring
DMI Industries.
While the two companies would appear to be worlds apart in their business models and target customers, they are really more alike than you think. For both, energy is the key to their future.
For Google, the giant search engine with a market capitalization of $160 billion, the single most important ingredient for serving up more than 7 billion web pages a month is electricity. In fact, a Google engineer warned the company two years ago that electrical costs would soon surpass hardware costs if the firm did not improve the energy efficiency of its servers.
"If performance per watt is to remain constant over the next few years, power costs could easily overtake hardware costs, possibly by a large margin," wrote Luiz Andre Barroso in a paper published in the Association for Computing Machinery's
Queue
. "The possibility of computer equipment power consumption spiraling out of control could have serious consequences for the overall affordability of computing, not to mention the overall health of the planet."
For a 9- year- old company that seems bent on opening a data center every month somewhere in the U.S., that prediction could have costly consequences.
It's no wonder, then, that Google selected a building and site in MidAmerica Industrial Park in Pryor Creek, Okla., for its latest server farm. Oklahoma has some of the lowest power costs in the nation.
Data center experts estimate that server farms require up to 2 megawatts per 10,000 sq. ft. (929 sq. m.), with every dollar spent on electrical power resulting in a dollar spent on water. Cooling costs account for half the typical electrical bill for a data center.
Sanders Mitchell, chief administrator for MidAmerica Industrial Park, tells
Site Selection
that "power ranges from 3 cents to 5 cents per kilowatt- hour depending upon where your power factor is. The big issue was to have plenty of land and power, and water was necessary. They knew we had plenty of water."
MAIP has a 1,000- megawatt power plant on site. Electricity is provided by the Grand River Dam Authority, a public power company with rates among the lowest 20 percent in the U.S.
While Google officials refused to comment on their projected power costs at the site in Mayes County about 30 miles (48 kilometers) from Tulsa, state officials said the company could expect to receive huge savings.
"Absolutely fundamental to the project were low- cost electric rates," says Sandy Pratt, deputy director for business services for the Oklahoma Department of Commerce. "Electric rates were the starting point for our discussions with Google. We do not have access to the specific electric rates negotiated in the other states which competed for this project.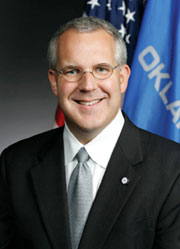 However, a difference of one- half cent in rates can translate to millions of dollars per month for a user in this industry."

Bill, Job Incentives Were Key
Google will start with an 84,000- sq.- ft. (7,804- sq.- m.) building on 800 acres (324 hectares) it purchased in the 9,000- acre (3,645- hectare) MAIP, the largest industrial park in Oklahoma. The firm said it plans to be operational within 18 months and eventually hire up to 200 workers at an average annual salary of $48,000. A second building will be constructed later by Google.
But no one will know exactly how much power Google is using, thanks to a bill recently signed into law by Oklahoma Gov. Brad Henry. The law allows municipal power companies in the state to not report power usage by their largest industrial companies. Lawmakers who crafted and voted for the bill insisted that the legislation was not a "Google bill," but the measure clearly benefits large data center operators.
The provision applies to customers that consume more than 2.5 megawatts of power each month. The rate the industrial client pays for that power must remain public, according to the bill.
Barry Schnitt, spokesman for the Mountain View, Calif.- based Google, tells
Site Selection
that "many factors contributed to the decision to select this site, including the strong infrastructure and the excellent team from MidAmerica and the Oklahoma Department of Commerce who worked with us to make this possible."
The search process began in early 2006 under the code name "Project Cathy" and included locations "from the Appalachians to the Rocky Mountains." Schnitt noted that "power cost is important, but not to the exclusion of other factors."
Lloyd Taylor, director of global operations for Google, discussed those factors when he made the official site announcement on May 2. At the top of the list, he said, was easy access to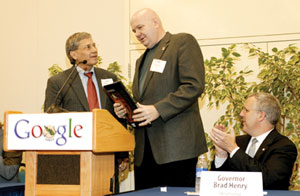 electricity and water. Also pivotal to the deal were a local talent pool and reliable telecommunications.
The state is not revealing the total amount of the incentives package offered to Google, but the carrots included state statutory sales tax exemptions and property tax breaks. The Oklahoma Quality Jobs Program has been offered and may be pursued by Google. The program provides quarterly cash payments of up to 5 percent of newly created payroll to qualifying companies for up to 10 years.
In return, the state expects to reap an estimated $6 million in sales tax revenue in the next two years from Google's purchase of building materials. Google will pay some payroll taxes, as well as real and personal property taxes once the exemptions for those expire in five years.
Another bonus for Google is the overall low cost of doing business in Pryor Creek, which the ACCRA Cost of Living Index rated as having the lowest cost in all of Oklahoma, at 84.5. Tulsa's COL Index is 92.0, Oklahoma City's is 90.8, Stillwater's is 89.5, and Ardmore's is 87. All are well below the national average. Cleveland's COL Index, for example, is 97.8. Chicago's is 108.1, and Los Angeles' is 147.0.
"Google found out early on that Oklahoma was a very business- friendly state," says Mitchell. "Their people said that our power costs were very competitive with the other places where they have data centers."
Google recently announced large data centers in North Carolina and South Carolina, and as of press time were close to announcing another deal in Iowa.
"They were extremely professional," Mitchell says of the Google site selection team. "They weren't demanding. They were tough negotiators, but they were very pleasant to deal with."

New Winds Blows in Tulsa
Also pleasing to state officials was the May 2 announcement by DMI Industries of West Fargo, N.D., that it plans to open a windmill tower manufacturing plant that could employ up to 450 workers in the Tulsa area.
An operating unit of the $1.1- billion
Otter Tail Corp.
, DMI selected an existing 500,000- sq.- ft. (46,450- sq.- m.) building for a plant it plans to open by early 2008. The annual combined tower production will support more than 3,000 megawatts of wind- power capacity.
The plant, the firm's third, will give DMI one of the largest annual tower fabrication capacities in North America.
DMI President Lars Moller said the company selected Tulsa because of its close proximity to the Port of Catoosa, which connects to the Mississippi River. This gives DMI the ability to produce and deliver large wind towers to expanding markets in Europe and South America, Moller said.
"Demand for domestically produced wind towers is increasing rapidly," noted Moller. "This new plant will allow DMI to meet that demand, and with closer proximity to South Central and Southwestern projects, we'll be lowering the cost of delivery to site and the overall cost of wind energy development."
It's no secret why DMI likes Oklahoma. Like Google, DMI was attracted by the state's abundant energy resources – in this case, wind. Oklahoma has plenty of fast- moving air and is located in a region that gets more than its fair share of it. For DMI, that spells customers.
Rusty Linker, director of new business development for the Tulsa Metro Chamber, says that many foreign- owned wind companies "are just now entering the U.S. and they are looking for the markets with customers. It is natural to look at Oklahoma, Texas and Kansas. Logistically, we stand out from that perspective."
Linker notes that the U.S. still lags Europe in providing a competitive business environment for windmill makers and other wind power companies. "There is a much more favorable environment for these companies in Europe," he says. "The U.S. has just recently enacted legislation that encourages this industry. To reach this market, they have to put their manufacturing facilities here. The blades and towers just aren't that easily transported."
The state is banking on more investments in the field of alternative energy. Pratt tells Site Selection that her department has worked on "at least four projects in the last quarter" in the wind power sector.
"Why? It is clean energy and it is attractive to any state," she says. "It is a new economy industry. They offer good- paying positions. Plus, we are centrally located and our proximity to the market makes us attractive to them. And it fits in with the wind that we have available. It becomes a key part of the alternative energy cluster."
For a state that this year celebrates its centennial anniversary, that new wind is quite welcome.

Site Selection Online – The magazine of Corporate Real Estate Strategy and Area Economic Development.
©2007 Conway Data, Inc. All rights reserved. SiteNet data is from many sources and not warranted to be accurate or current.