he world and the microchips that power it may be getting smaller, but corporate site selectors in the semiconductor industry are taking longer trips than ever.
That's what happens when a company based in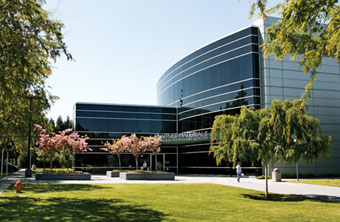 California decides to locate a major chip R&D center in China.
Applied Materials
, the world's largest semiconductor- producing equipment supplier, announced March 22 that it would expand its reach into China's electronics sector by opening a 106,000- sq.- ft. (9,848- sq.- m.) R&D complex on 25 acres (10 hectares) in the city of Xi'an.
That means a lot of frequent- flyer miles for site selection teams in the semiconductor and electronics industry, but it also means something else. The urbanization of China, India and other parts of the East is bringing with it a new wave of talent that won't just build semiconductors in the future; it will design them.
According to the Conway New Plant Database, 22 of the 25 largest facility investments in semiconductor plants since January 1, 2006, have occurred in Asia, including nine of the top 10.
/
The largest project announced this year is from
Hynix Semiconductor Inc.
in Cheongju, South Korea, a US$5.33- billion manufacturing plant that will employ 2,000 people. The second largest is from
United Microelectronics Corp.
in Tainan, Taiwan, a $5- billion investment. Intel announced a $2.5- billion fab in Dalian City, China, while
Hindustan Semiconductor Manufacturing Corp.
announced a $4.5- billion plant using
Infineon
technology in India.
In the past two months, two more massive chip plants landed in Asia.
ProMOS Technologies Inc.
, Taiwan's leading memory chipmaker, announced May 29 that it will build a $2.5- billion wafer plant on the island.
Texas Instruments
announced May 3 it will invest $1 billion in a new testing and assembly facility in the Philippines.
At Applied Materials, senior executives say they have found the right mix of cost efficiency, labor productivity and knowledge capital in China to help the company reach its expansion goals.
"The Xi'an center is a major expansion of our capabilities and positions us strategically to benefit as growth continues throughout China, particularly in the west," said Mike Splinter, president and CEO of Texas- based Applied Materials. "We are attracting quality employees from local technical universities, and this development and support center will be a cornerstone of our growth strategy throughout China and, indeed, all of Asia."
Applied Materials established itself 22 years ago as the first semiconductor equipment firm in China. Since then, it has opened offices in Beijing, Kunshan, Shanghai, Suzhou, Tianjin, Wuxi and Xi'an and now employs 500 workers throughout the country.
The new operation in Xi'an will perform product development, system localization, engineering and software support for Applied Materials clients throughout the Asia- Pacific region.
Wang Ningguo, president of Applied Materials Asia, said the firm selected Xi'an for its educational and technical resources. The center is being located in the Hi- Tech Industries Development Zone in Xi'an, the capital city of 6 million people in northwest China's Shaanxi province.
Headquartered in Santa Clara in California's Silicon Valley, Applied Materials is a $9- billion Fortune 500 company that was founded in 1967. Today, the firm is a global leader in nano- manufacturing technology with a broad portfolio of equipment, service and software products used in the fabrication of semiconductor chips, flat panels, solar photovoltaic cells, flexible electronics and energy- efficient glass.
The company's primary manufacturing site is in Austin, Texas, but it also operates divisions, including manufacturing, in England, Israel, Japan, Korea, Taiwan and Singapore. Globally, the firm employs 14,000 people. About 5,000 work in either Santa Clara or Sunnyvale, Calif. Another 2,500 work in Austin.

'Next Big Thing' Found in Xi'an
Josh Davidson, senior director of global real estate for Applied Materials, tells
Site Selection
that his firm selected Xi'an because "if offers a competitive cost basis to the east coast of China. Labor wages and utility rates have escalated in the east, and Xi'an has access to many major Asian hubs."
Steve Taylor, senior manager of corporate affairs for Applied Materials, says, "It is always popular to go someplace familiar in China, but we were looking for the next big thing because of the number of universities in Xi'an. We knew that if we got there early, we could get some great talent there. The availability of talent is why we went to Xi'an."
Logistics also played an important role. "Our customers are basically chip makers, and the Xi'an location puts us in a good position to serve them. It is centrally located in China," says Taylor. "Historically, we have expanded into being a global company by locating where our new customers are coming along before our competitors get there."
"We have foreign students who get master's and doctor's degrees here, and then we have to send them back to their home countries. That doesn't make any sense."
Davidson adds that "the majority of our customers are in Asia. Having an R&D facility and assembly facility close to our customers will put us in a more competitive position."
When Applied Materials evaluates locations for a new research or assembly site, Davidson says, the "most important site criteria" include access to engineering talent, construction costs, utility rates and the overall cost of doing business.
The executives at Applied Materials say Austin "will continue to be a major facility for us," but they are concerned about the growing shortage of electronics engineers in the U.S.
"We have been working with the American Electronics Association on the issue of labor supply," says Taylor. "A lot of American kids are not getting into engineering. We are trying to expand the visa program. We have foreign students who get master's and doctor's degrees here and then we have to send them back to their home countries. That doesn't make any sense."
Bill Archey, president and CEO of the AeA, tells
Site Selection
that "the big problem facing this industry is not lack of innovation or lack of sound management. The big problem is the inability to attract the people with the right technological background. It is a double problem. They can't get enough American kids because they aren't taking math and science. And they can't get the international kids because they can't get the right visa – the H1B visa for high- skilled workers."

U.S. Labor Shortage a 'Real Problem'
Archey said AeA is lobbying Congress to raise the quota on H1B visas from 65,000 foreign high- skilled workers per year to at least 130,000. "If there is enough demand, there ought to be a way to go over the cap and meet the demand," he said. "When you've had an increase in high- tech jobs for the last two years, like the U.S. has had since 2004, the issue of having enough skilled laborers is a real problem."
Taylor says that "any state that invests in education in this area will be a national and global leader."
Despite the migration of many high- tech jobs to the Far East, Archey says the U.S. is on the upswing. "Contrary to what the newspapers are reporting, not every high- tech job in the U.S. is being outsourced," he notes. "We added over 147,000 new high- tech jobs last year," and electronics manufacturing employment grew by 5,100 jobs.
Archey says the rebound began in 2005, when the U.S. added 87,000 high- tech jobs. "It took us four years to recover from the high- tech bubble bursting in 2000," he said. "There were a lot of layoffs from companies. But since then, we have had a big increase. Semiconductor manufacturing has had the biggest increase, especially in California and Oregon."
To continue that growth, Archey says, "it is the responsibility of the high- tech industry itself to explain the industry to kids and tell them how exciting these professions are. We have not done a good enough job in this area."
Another factor driving chip plants to the Far East is the shortage of approved sites in the U.S. According to Bob Goforth, a leading site consultant in the chip industry, "most of the new fabs in the U.S. have been at existing sites where environmental issues are easier to deal with and where shared services and facilities are available."
Goforth predicts that more fabs will come to the U.S., "but it is impossible to forecast how many."
For now, one thing is clear: Asia will continue to dominate this sector, as long as it keeps growing and keeps producing the high- skilled labor the chipmakers want.

Site Selection Online – The magazine of Corporate Real Estate Strategy and Area Economic Development.
©2007 Conway Data, Inc. All rights reserved. SiteNet data is from many sources and not warranted to be accurate or current.