gainst a chorus of moaning about the state's business climate, David Crane, Governor Arnold Schwarzenegger's right hand man for jobs and economic growth, says companies want to come to California.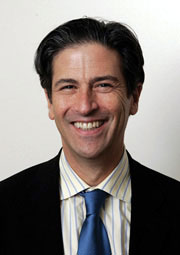 David Crane
One reason? When asked about the university and venture capital infrastructure behind the state's US$95-million research and innovation agenda, he says there is a new balance among talent, enterprise and multinational corporations.
"In the old days, the decision of a company to locate in one place or another was very much a function of how well it worked for a company to locate there," he says in an interview. "Now, increasingly, we find it's a function of where the employees are. Get the employees to live in your state, and you get the companies by dint. So you start to get these knowledge-based industries, and those employees tend to be in places where there are really good university systems. The other element is an existing foundation of enterprises in that particular industry. Every employee wants to be in a position where, if the company doesn't make it, they can walk across the street. It becomes a virtuous cycle — the universities, companies and employees all want to be there, feed on each other and stay there."
If that sounds to some like a bit of California dreamin', there's another, more straightforward reason ... or, rather, nearly 37 million of them.
"They can count very well," says Crane of corporate prospects, "and when they look at all-in transportation costs of getting products to customers, California has a lot of those customers they want to be near as transportation and inventory costs rise. That's why we have focused so much on reducing costs where government was playing a role in unjustifiably increasing those costs."
That's also why Cincinnati-based
Formica Corporation
in August 2006 announced it would open a new western region distribution center in Shafter, Calif., just northwest of Bakersfield in Kern County. The move came as the company made the parallel decision to close its manufacturing and distribution center in Rocklin, Calif., just north of state capital Sacramento. Until now, the company has operated three manufacturing facilities and six distribution centers on the continent — Shafter will be the seventh.
"It's part of a $25-million North American project that includes a fair amount of investment in our manufacturing facility in Ohio," Mike Fischer, president, Formica Corporation North America, tells
Site Selection
. "The laminate surfacing industry has been in an overcapacity situation for many years. Rocklin was one of the three manufacturing operations, all begun in the 1950s and 1960s. Rocklin performed well, but the problem was that all the raw materials to make laminate originated in the eastern United States. Then we were shipping to Rocklin, where two-thirds of the finished product was shipping back to customers in the east."
Formica's new distribution center in Shafter, outside Bakersfield, opened nearly
a month earlier than projected. "The performance coming out
of the chute has been tremendous," says
Formica Corp. North America President Mike Fischer.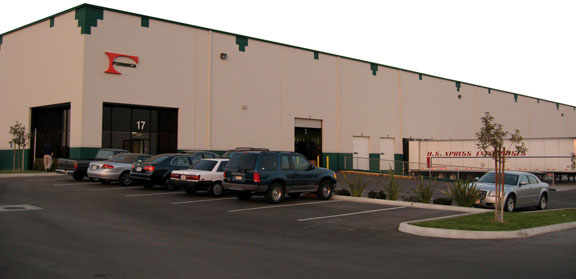 The company historically had attached distribution centers to its manufacturing operations. In early 2006, a team began looking at how to consolidate manufacturing and also looked for an optimal location to serve western customers.
The chief criterion in the site selection's first phase, says Fischer, was "optimum location to service the most of our customers in one day." The team looked at Reno-Sparks, Nev., and at several locations in California. "The Bakersfield area gives us the opportunity to get to 95 percent in one day, within about a 500-mile [804-km.] radius," he says.
That's 25 percent more than could be reached from Rocklin under the same criteria.
"The second consideration was cost, and third was availability of a good work force," continues Fischer. Shafter hit the bull's-eye in all categories, and scored bonus points for its already developed distribution cluster and solid road system. The Bakersfield metro is one of the fastest-growing in population in the country, having ballooned by 14 percent between 2001 and 2005 to nearly 757,000 residents. But even more welcoming news was in store for Formica.
"With our experience in permitting and working with government, it's not always the easiest process in California," says Fischer. "Our experience with Shafter was terrific. It was one-stop shopping, permitting was easy, everything was on time and on budget, with no hiccups. It was a pleasant surprise."
The company actually completed its ramp-up three to four weeks earlier than planned. As of January 19, it had closed its Rocklin distribution center and was servicing the entire west coast out of the new facility.
Fischer says the company's Shafter project allowed its entire distribution center team to spend about a month coming up with best practices for its layout — "You always want to do something if you could start from scratch," he says, and this project afforded that opportunity. The company has already begun to implement some of the project's best practices at other distribution centers, including its biggest in Indianapolis.
"The performance coming out of the chute has been tremendous," he says of the Shafter launch. "We're at a 95-percent fill rate, which is better than we've ever done before."

Clusters of Movement
Crane speaks of the state's various clusters in terms of "clean tech, nanotech, biotech, water tech," but he says areas like Bakersfield and the state's Central Valley are seeing an influx of manufacturing plants too, again "because they want to be close to their market. Bakersfield has a lot to commend it in terms of location and labor supply. It's a great goods movement area."
The bright spots for manufacturing extend into the central valley too. Near Fresno, closed-circuit security equipment maker
Pelco
has just added a building to its world headquarters campus in Clovis, where a complex of eight buildings is home to 2,300 employees, with plans to add 300 more in 2007. Pelco is the world's largest manufacturer of video security systems and Central California's largest manufacturing employer. Its other global locations include sites in Pleasanton, Calif.; Orangeburg, N.Y.; Las Vegas; Fort Collins, Colo.; and 15 foreign countries from South Africa to Finland.
"For billions of people around the world, California itself is a dream. They ache to have what we so often take for granted. If they simply could live here, work here, raise their families here, their dreams would be fulfilled."
Southern California could potentially be a great area for the manufacture of people movers.
Rotem USA
(see p. 248), the Hyundai Motor Group company that makes passenger railcars, landed its first U.S. contract with the Southern California Regional Rail Agency, a $176-million pact that calls for the assembly of double-decker railcars. As a consequence, while the company is initially focusing on its Philadelphia production base, "we are working also on finding a site in southern California to do final assembly for the California project," says Jack Martinson, vice president of business development for Rotem USA.
"We're working with a real estate broker who has gone to all the economic development people in the counties and cities in southern California, and some have come back with build-to-suit opportunities. But the difficulty with build-to-suit is the time window is pretty tight. Our preference is to find an existing building that might work."
For now the company is viewing the potential project as a "one-off project location, rather than a long-term production facility," says Martinson. "That's our initial approach, but we may find suddenly we have a lot more business, then convert to owning it or extending a lease. We need 161 bi-level coaches. It's about a four-year project."
One challenge he's finding in California is that "most rail-served sites really aren't rail-served. You find out there is a line that might go by, but there is no spur, and the rail is not at grade. We need at least 24 feet of clearance inside the building, so it's a bit of a challenge finding the right place."
But timing may be more of a constraint than dimensions.
"We were looking three or four years ago, but didn't get the contract until last year," says Martinson. "We started looking in earnest in the fall of 2006. A build-to-suit is usually 18 months, and we don't really have 18 months to work with. Some people will tell you they can do the design and engineering in 90 days, but I think that's dreaming."

Taxpayers Rule
Corporate prospects may also be dreaming if they think the state is going to step up with an incentives plan for business attraction.
As Martinson says about Rotem's project, there will also be "additional costs that no one is willing to step up to the plate and cover yet." Traditionally in California — except for enterprise zones and some employment training programs — the awarding of incentives has fallen to local and regional economic development agencies. And from what David Crane says, it's probably going to stay that way for the foreseeable future.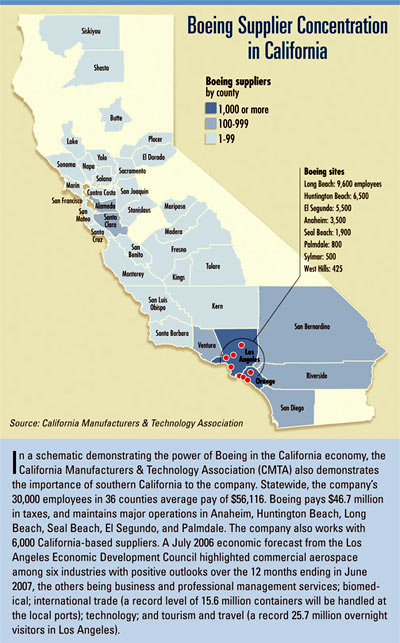 "We have been able to create 650,000 jobs and haven't paid people to do so," says Crane of the Schwarzenegger administration's efforts, noting that the overwhelming majority of the state's 1 million employers have created their jobs without any taxpayer assistance. "Taxpayers are hard-pressed enough as it is. It isn't in anybody's interest, except the companies', for government officials to allocate money. Better to create an environment that enables job growth and wealth creation, then let the capital markets and private investors decide."
Crane comes by his allegiance to markets honestly, having come to his post in Sacramento in 2004 after 25 years at San Francisco-based finance and investment firm Babcock & Brown. He says that experience is of great value.
"I am very familiar with business models, and I have a sense of what really matters to companies and employers," he says, adding that "the governor likes to drill down like I do. It's no different from when I was in business — when you're selling somebody on something, you have to know what counts, what matters."
He says the concerns of the business community have changed over the years.
"When we first took office, the single biggest issue was workers' compensation," says Crane, referring to Schwarzenegger's characterization of the problem as "a poison" to the state's economy. Thanks in part to reform legislation, workers' comp payouts are now down by $8 billion to $10 billion a year, he says. A late January report from the state's Division of Workers' Compensation showed that return-to-work rates have increased by 5 percent.
Another obstacle to job creation that Crane and his team have heard about is the cost to retrain workers, so "We invested in a big way in career tech training, because people change jobs more rapidly now," he says. Other areas of concern seeing attention are reform of the state's litigation environment and general infrastructure improvement, backed by bonds: "We've embarked on $40 billion in improvements, and there will be much more to come," says Crane of the latter.
The Schwarzenegger administration is just as focused on outreach as reaction though. This year the job creation team is planning two trade missions to Canada and India. Crane says the California Commission for Job and Economic Growth is still a very active entity.
"When we took office, as much as anything else we had to reverse this perception that California didn't want people's businesses, didn't want employers," he says. "The commission was very helpful in helping turn around that perception."
Chuck Swenson, professor and Leventhal research fellow at the University of Southern Calfornia's Leventhal School of Accounting, and a student of incentives, says the issues he hears most about from the business community are over-regulation, traffic congestion in the larger cities, high housing costs for transferred-in personnel, the L.A. city tax and the lack of state tax breaks. But he points out that more firms need to inform themselves about the enterprise zone breaks, which he counts as "very substantial."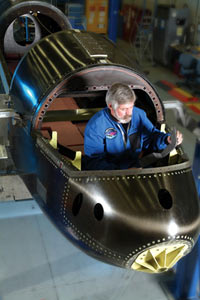 In a 2003 photo, James E. Dyke, a Boeing structural bonding specialist at the company's Palmdale, Calif., complex, installs a piece of trim on the X-37 Approach and Landing Test Vehicle (ALTV).

Photo courtesy of Boeing
Those breaks include hiring credits of $30,000 or more for each qualified employee over a five-year time frame; sales tax credits on machinery and parts purchases of up to $20 million per year; and up to 100 percent net operating loss deduction, up-front expensing of certain property and net interest dedications for lenders to zone businesses.
An August 2006 report commissioned by the California Department of Housing and Community Development showed that from 1990 to 2000, Enterprise Zones on average experienced poverty rate reductions of 7 percent more than the rest of the state; unemployment rate declines of 1.2 percent more than the rest of the state's; household income increases that were 7.1 percent more than the rest of the state's. Earlier in 2006, Schwarzenegger's administration fought off two legislative efforts to restrict the use of the hiring tax credit and alter how banks loan money to companies in the zones.
A separate UC-Davis study found that the zones added nearly 300,000 jobs to California from 1992-2002, and that employment in these zones grew at almost double the rate of the rest of the state. That study also confirmed that the tax collections generated by enterprise zones are higher than the zones' cost.

What Constitutes an
Environment for Growth?
Crane thinks some of the misperceptions about operating in the state come from the fact that corporate real estate managers operate in silos that focus on occupancy and tenancy costs, tax managers focus exclusively on tax policy, and all of the above frequently look at a state with too large a lens.
"California is not a monolith — it's a very big state with very different regions," he says. But tying them all together is one infrastructure element that just keeps on excelling: The University of California system.
"Every day when I wake up I praise the people who created the master plan for this education system," says Crane, who has children approaching college age himself. "It's the most remarkable institution." He points to the life sciences clusters in San Francisco and San Diego, and their natural connections to UC-San Francisco (which has a new campus in Mission Bay), UC-San Diego and the state's $3-billion Stem Cell Institute, which just received a $150-million loan from the state to expedite its capital allocation process in the midst of funding delays.
The higher education strength extends to what used to be considered satellite campuses. Stevie Field serves as legislative assistant for Riverside County supervisor Jeff Stone and executive director of the Southwest California Economic Alliance, which works on business attraction for Temecula, Murietta and unincorporated Riverside Co. The area is seeing multiple investments from
Abbott Laboratories
, including reuse of a building previously owned by Boston Scientific that was able to muster approval by the local Airport Land Use Commission because of a prior ruling on population density per acre. The area already touts proximity to San Diego as a major benefit, but Field says the new medical center at UC-Riverside "is going to launch us to a place we've not known before. In my experience, these companies gather around these medical facilities."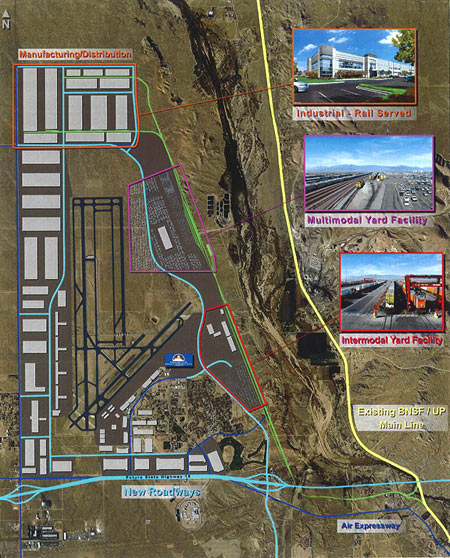 Among the latest projects at Victorville's Southern California Logistics Airport is a planned intermodal complex from BNSF.
The state's new proposal for universal health care coverage has, Crane says, met with a very favorable response from large employers, though smaller businesses that are near the total employee cutoff number have complained of the burden. Crane frames the dilemma: "As somebody who wants the greatest job and wage growth, how do you reduce aggregate health care expenditures while maintaining quality?" he asks. He says most people grasp that costs are higher in the aggregate than if universal coverage were in place, and pegs the current expenditure on healthcare in the state at $200 billion, in an economy that's valued at $1.6 trillion.
"I know the concern of the smaller employers, but by not incurring that cost, somebody else has to. If by covering everybody, we get that $200 billion to drop to $190 billion, that's a good thing."

Emissions Mission
Another element tying together the state is the quality of its living and natural environment, notwithstanding the exorbitant cost of housing. The state's regulatory scheme and new focus on CO2 emissions legislation aim to steer the market to protect the environment, calling for a 10-percent reduction in passenger vehicle fuel content by 2020.
That comes on top of the wider demand placed on car and truck manufacturers to lower global warming emissions from vehicles sold in the state by 30 percent by 2016. That law, known as AB 32, or the Global Warming Solutions Act, is slowly taking form via regulation.
Crane bridles at the assertion that the state's focus on promoting goods movement as an industry may be somehow at odds with the emissions policy.
"That's a false debate," he says. "I think the governor is so eloquent on that subject. It's absolutely possible to grow economies while reducing greenhouse gas emissions."
He points to past successes with sulfur dioxide reduction and with per capita electrical consumption, and to the European Union's efforts to do something similar with regard to a low-carbon fuel standard, involving the trading and buying of credits.
As for AB 32, a coalition of 19 different business associations led by the California Manufacturers & Technology Association (CMTA) and the California Chamber of Commerce testified in late January at a California Air Resources Board workshop that it would like to see a Certified Early Action Program.
"While AB 32 regulations may take years to develop, California businesses need to make decisions in real time whether to go forward, delay or abandon future projects," said Dorothy Rothrock, CMTA's vice president of government relations. "A Certified Early Action Program for AB 32 would not only provide the certainty businesses need to invest here in California, it could actually encourage companies to invest in energy efficiency and other projects earlier than required which would speed up greenhouse gas emission reductions," said Dominic DiMare, vice president of government affairs for the California Chamber of Commerce.
In addition to linking the state's greenhouse gas initiative with the Regional Greenhouse Gas Initiative being pursued by a coalition of mid-Atlantic and northeastern states, Gov. Schwarzenegger has ordered the Secretary of EPA to develop a plan by June 1, 2008, to incentivize investment and compliance that would include research tax credits, monetary and non-monetary incentives, public/private partnerships, investment tax credits, and accelerated depreciation.
"If you are going to implement a California only mandate, you'd better implement it so companies can grow in California, as opposed to going somewhere else," says Gino DiCaro, communications director for the CMTA, in an interview. He says manufacturers in the state have spent the past 10 years growing more efficient in order to accommodate factors like more expensive electrical power. "Now they're being asked to become even more efficient," he says, describing what his organization sees as "a long road ahead."

Different Modes
Given the state's already established industry clusters like water technology, it's not a stretch to see its environmental agenda sparking its own subset of economic development in green energy. But while consumers may be incentivized to purchase such products in the state, not all companies will be incentivized to make them there.
One niche that has been looking at California is electric cars.
Tesla Motors
, founded near Silicon Valley, carried out a very public search for an assembly site. Arizona, New Mexico and Michigan also were contenders, the latter state having received a commitment from Tesla early this year for R&D.
Crane says a number of companies and utilities in the "green technology" niche are looking at the state. The new carbon-content regulation Gov. Schwarzenegger has proposed, expected to be complete by 2008, includes incentives for the use of electric and hydrogen-powered vehicles. In December, Gov. Schwarzenegger, having tried out Tesla's super-expensive vehicle at the L.A. Auto Show, enthused, "I test drove this vehicle, and it is hot." The state's central valley was under consideration at one time.
But in early February, Tesla Motors CEO Martin Eberhard had this to tell
The Reporter
, a newspaper published in the Bay Area community of Vacaville, which had also wooed the car maker: "There are some states that are very, very interested in having green manufacturing, and California doesn't seem to be one of them."
Even so, one week later, the Contra Costa county community of Pittsburg was still in the running against Albuquerque, N.M. But in late February, Tesla announced that the $35-million plant was going to Albuquerque, where it will employ 400. In New Mexico's case, project incentives were on the table. And Gov. Bill Richardson invited input from Tesla leaders on proposed legislation to incentivize consumers to purchase electric and hybrid vehicles.
The CMTA's DiCaro says California has "dropped off investment lists right and left — a few members have stalled investment plans because they just don't know what they're going to have to do with this global warming mandate."
In the green-energy sector overall, ethanol — which figures to develop in California as it is in many other states — is only part of the picture, says Crane.
"It's just one possible way to displace oil," he says, noting that the California fuel market alone represents 18 billion gallons a year. Among other energy development opportunities are other biofuels, methane digesters and green production of hydrogen.
But like corporate project incentives, alternative-energy incentives will be sparse. In a late January press briefing comparing the state's energy plan to plans unveiled by President George W. Bush, California EPA Undersecretary Dan Skopec said, "The President is proposing up to $2 billion in loan guarantees for folks that will build alternative fuel infrastructure. Our plan doesn't include any subsidies; we rely on the private sector to bring these investments to California, and we're already seeing that in the case of
Pacific Ethanol
and other ethanol providers in California."
Indeed, $70 million of the $3 billion that Sir Richard Branson has pledged to green energy solutions has been invested in
Cilion
, a new company based in California that plans to build ethanol plants.
"We want the marketplace to decide which alternative fuels will prevail," Crane says.

Air Force Only Used One Mode
In the meantime, the industrial development marketplace continues to cast its own votes.
One place happy to receive those votes is Victorville, where the 8,500 acres (3,440 hectares) formerly belonging to George Air Force Base now attract new missions from private companies.
Within 10 days in late January and early February, the property — now renamed Southern California Logistics Airport — welcomed two developments: the signing of a memorandum of understanding with BNSF Railway Co. for an intermodal logistics facility and a 407,612-sq.-ft. (37,867-sq.-m.), 10-year lease agreement worth $15 million signed by
Newell Rubbermaid
at SCLA's logistics center.
The build-to-suit bulk distribution facility for Newell Rubbermaid's Graco division should be ready for September 2007 occupancy, and is part of Phase I construction at the logistics center that is being supported by a $350 million investment from Stirling Capital Investments. Newell Rubbermaid will create 150 new jobs. Phase I development plans at SCLA include the speculative construction of approximately 6.4 million sq. ft. (594,560 sq. m.) of industrial facilities on over 350 acres (142 hectares) of land.
"This is just the tip of the iceberg for what's to come with plans already underway to possibly expand the Newell Rubbermaid facility by 600,000 square feet [55,740 sq. m.] in the next five years," said Dougall Agan, principal with Stirling and master developer of SCLA.
"We selected Southern California Logistics Airport for our new distribution facility because of its strategic location near the Ports of Los Angeles/Long Beach, direct access to Interstate 15, Highway 395 and key modes of transportation, attractive lease rates, available and qualified labor pool and the City of Victorville's proactive business attitude and incentive programs," said Art Garcia, director of real estate and property for Newell Rubbermaid. "It's an ideal location for us because it supports our strategy to achieve best total cost in our supply chain."
In late January, the city's MOU with BNSF laid further groundwork for the goods movement cluster's growth. The 3,500-acre (1,417-hectare) Southern California Rail Complex near BNSF's anticipated intermodal facility includes plans by Stirling for 20 million sq. ft. (1.86 million sq. m.) of manufacturing and distribution uses, which would be integrated with the BNSF facility.
Logistics-related projects sprinkle the Inland Empire. ProLogis Park Redlands in early 2006 leased 683,000 sq. ft. (63,451 sq. m.) to
Ashley Furniture
. The company will use the space to complement its own 1-million-sq.-ft. (92,900-sq.-m.) facility in Colton, 15 minutes away, in serving customers in California and six other states. And in October 2006, flat-panel television maker
Syntax-Brillian
opened a manufacturing facility in Ontario, in part to be closer to the regions where the product is sold. The area's highway and rail connections were among the lures.