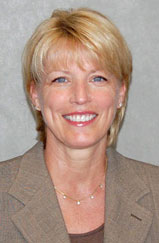 Beverly Seay, senior vice president of Science Applications International Corp., says quality of life was a major factor in persuading her firm to build a $14.5- million, 80,000- sq.- ft. (7,432- sq.- m.) plant in the Central Florida Research Park in Orlando.
uality of life may be harder to measure than wind speed, but Florida's leisurely lifestyle played a pivotal role in convincing
Science Applications Internationalv Corp.
(SAIC) to locate a major facility in Orlando.
"It's not hard to convince people to relocate here," explains SAIC Senior Vice President Beverly Seay. "Once people move here, they tend to stay in this environment."
SAIC, one of the leading simulation and training contractors for the U.S. military, is building a US$14.5 million, 80,000- sq.- ft. (7,432- sq.- m.) complex in Orlando's Central Florida Research Park. Upon buildout this summer, the facility will make room for 300 new employees, bringing the firm's local work force to 700.
The San Diego- based company provides advanced information technology and simulated training for commercial and government clients, including the Army, Navy, Air Force and Marines. While SAIC has been in Central Florida since the mid- 1980s, the new expansion is the firm's largest in the area to date.
"The high- tech capability and a very good university in a park- like setting are the main draw of this location," Seay tells Site Selection. "Also, Orlando offers great weather, proximity to beaches, other attractions for tourism and a wide variety of things to do. It is a relaxed atmosphere here, the people are friendly, and there are very good schools in the area. All of this allows professionals to enjoy a very nice lifestyle."
Seay said it was this combination of factors that, while not totally measurable, led SAIC's executive team to approve the expansion near the University of Central Florida.
Preserving that quality of life, especially for high- tech companies and the people they hire, has been job No. 1 this year for new Gov. Charlie Crist and the Florida Legislature.
The year was barely under way when Crist summoned lawmakers to Tallahassee to address what he said was Florida's most pressing issue: rising property insurance premiums, particularly the cost to secure wind protection. He even canceled his scheduled Jan. 2 inaugural ball to convey urgency.
What the legislators accomplished by a 156- 2 vote on Jan. 22 was unprecedented for any state government in America. The 196- page bill lowered premiums for wind protection by about 35 percent, doubled the money for the state re- insurance program and catastrophe fund, and made it more affordable for insurers to write policies in Florida's coastal counties.
While business advocates said the special session didn't go far enough to protect commercial property owners, they agreed that the legislation was a long- overdue step toward preserving Florida's competitiveness.
"The Legislature addressed the most pressing issue – the cost of insurance for Florida homeowners," says Barney Bishop, president and CEO of Associated Industries of Florida, the state's most powerful lobbying organization for private industry. "We don't know what impact the result will have on the actual rates, but Florida took a positive step in the right direction. You couldn't expect everything to be done in seven days."
Prior to the special session, many industrial property owners in Miami- Dade County had reported annual insurance premium hikes in excess of 100 percent. In a recent online
Florida Real Estate Journal
poll, 31 percent of respondents said that their windstorm insurance costs had increased 150 percent or more.
Combined with rising property taxes and escalating land prices, new companies were finding it increasingly difficult to secure space in coastal locations. Without drastic action, the crisis only figured to get worse, as Florida's population of 18 million is expected to swell to nearly 20 million by 2011.
As a next step, Bishop says he wants to see Crist and the Legislature provide more relief for commercial property owners.
"Companies in coastal areas do need more protection and more relief," he says. "The session didn't really deal with the commercial area per se. But one reason is that the commercial market is more vibrant. There are more companies writing commercial policies in Florida. There is more competition. In the commercial insurance arena, two companies don't dominate the whole market the way they do in residential.
"That is not to suggest that the prices are excellent," Bishop adds. "Unless you are in the high- wind, high- debris areas, you may not be able to get insurance unless you go through the state's Citizens Property Insurance Corp."