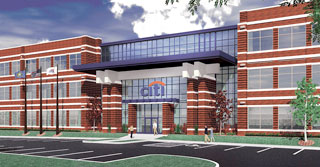 Citigroup's two projects at the CrossPoint Business Park in Amherst will benefit from Empire Zone tax credits transferred from Buffalo.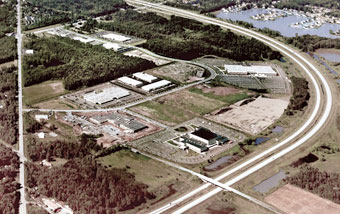 distinct family of ports stretches from the inlets of the St. Lawrence Seaway in Québec to the outer reaches of Michigan's Upper Peninsula and Thunder Bay. Their collective ability to move raw materials and finished goods is not only a site selection factor, but an integral component of the NAFTA economy.
Industrial facility development in these port communities is therefore just as integral. And while Rust Belt manufacturing is taking a beating in general, development and redevelopment projects in these port communities offer hope on the horizon.

Heritage Counts
It's not always the waterfront that makes the project, but the type of work- force base that waterfront industry has created.
New York City and Long Island reeled in early April from news of
Citigroup Inc.
's massive layoffs. But at the other end of the state, Greater Buffalo was celebrating the attraction of more than 600 new jobs from the same company to two back- to- back facilities in Amherst.
As multinationals like Citi continue to pursue a shared- services approach to their huge operations portfolios, low- cost port cities like Buffalo that are redeveloping their industrial areas and their talent base may find their work forces and properties to be ideal for such back- office and "middle- office" facilities.
In Citi's case, the ideal place is the Uniland Development Company's CrossPoint Business Park in Amherst, which received some of Buffalo's state- backed Empire Zone credits one week before the Citigroup reorganization announcement of 17,000 job cuts and reassignment of 9,500 other jobs to lower- cost locations. CrossPoint, with redundant power and telecom, is located on the far outskirts of the Buffalo metro, just up the road from SUNY- Buffalo's 28,000 students and near two interchanges on the I- 990 spur.
Plans call for a 150,000- sq.- ft. (13,935- sq.- m.) building that will be home to 300 people over the next five years. The project has come after a 107,000- sq.- ft. (9,940- sq.- m.) facility completed in November 2006. Could Citi's aggressive cost- cutting mean even more job creation in Buffalo?
"We aren't providing additional information about the 9,500 jobs except to say about half will stay in the country or region where they are already located," Shannon Bell, spokesperson for Citigroup, told
Site Selection
a day after its reorganization announcement. "The Buffalo plans announced earlier this year are on track and the announcement yesterday has no impact on those plans."
Carl Montante, president and managing director at prominent western New York developer Uniland, says in an interview that his firm was first approached in mid- 2005 by Jones Lang LaSalle, looking for sites in the region for a large financial institution. Montante says CrossPoint's 200- acre (81- hectare) spread and infrastructure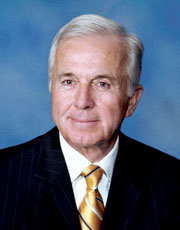 Carl Montante
is tailor- made for large centers of Citi's type. It already is home to operations from GEICO, NCO Financial, Bank of America and Scholastic Books. And the existing office space of 950,000 sq. ft. (88,255 sq. m.) is projected to grow to 1.5 million sq. ft. (139,350 sq. m.) by full build- out.
"Jones Lang LaSalle asked for a lot of information on the labor market and education level," says Montante.
"We have about 16,000 graduates a year from colleges or universities, and I think that impressed Citi."
SUNY- Buffalo's role is already strong at both its suburban campus and the downtown life sciences corridor. But it's going to get stronger. Newly installed university president John B. Simpson has a plan to grow enrollment by 10,000 students, and enlarge the faculty by 750, by 2020.
A combination of access factors including a new airport terminal and five- hour drive time to New York City also helped. But not being too close was also part of the picture.
"We're away from the large population centers," says Montante. "I do believe large firms are wanting to diversify some of their operations away from the higher costs and locations with inherent risks that a New York City might have. It's amazing the difference in bottom- line cost in locating in a city like Buffalo or Amherst – not just the cost of the real estate, but the cost of their staff is far less. And of course it costs a lot less to live in a place like Buffalo than in New York City, and there are not the commute times and other quality- of- life issues that make locating a large facility in a major metro difficult to do."
Montante says Citi signed its first facility's long- term lease in December 2005. The single- level building was delivered in November 2006, complete with some 33 miles (53 km.) of cable.
"Before we delivered the building, Citi notified us of their intent to significantly expand their operations," he says, noting that the first building houses about 450 today with plans to reach occupancy of 600. The second, larger building encompasses three stories. Plans call for 600 jobs, but the structure has "capacity for quite a bit more than that," says Montante.
He notes that that Bank of America's operation is directly across the street from Citi's growing complex: "We thought it would be a disadvantage initially, but they tend to gravitate to the same locations," he says of the financial firms.
Among Citigroup's other 2006- 2007 facility projects have been a $59- million headquarters in Mississauga, Ontario; a $40- million office investment in the shared services capital of Belfast, U.K.; a 1,000- person credit operations center in Blue Ash, Ohio; a $471- million regional data center in Liberty Township, Ohio; and a new software development office in Mumbai, India.
Tom Kucharski, president and CEO of Buffalo Niagara Enterprise, says the Citi deals involved "a lot of moving parts," including the need for a sponsor community to step in and file for the transfer of Empire Zone credits. He says the collaborative spirit required to move those benefits has been put to work on a number of projects.
"It's a new day for companies that have maybe been trying to work in western New York in the past and may have been mired in bureaucracy and approvals, to get to something that's usable and of financial benefit to them."
Also gratifying was the fact that Buffalo won out over not just other northeast U.S. communities for the projects, but southeast too.
"To be able to go toe to toe with the Southeast and still come up with a winning package was pretty good," he says, noting that the CertainTeed project was also a win over two competing communities in the south.
"You can go someplace cheaper, but you're not getting the consistency and quality of labor force," he says. "There are a couple of companies we are talking to now that decided to expand somewhere else, but after a couple years have realized that their work force here is far exceeding the work force at their new plant in the southeast. They're re- examining their business model and where future investments may be made.
"You can come in as an employer of choice, which helps you attract the creme de la creme of that community."
When you work together as a region, a bigger net catches more fish."

Stability is Region's
Signature Appeal
Key to the Citi projects in New York has been the involvement of Buffalo Niagara Enterprise, which along with other agencies helped get approval for the transfer of Empire Zone tax credits from Buffalo to the CrossPoint development in Amherst. And as the GEICO, BOA and HSBC projects demonstrate, its financial services brand is alive and kicking.
"They've done a marvelous job of codifying information that can be turned around at a moment's notice for a firm such as Citi," says Montante of BNE's work, noting that the area was in competition with up to five other sites. "They very much had a significant role. If we do a third Citi building, they'll be very much involved in that too."
Asked if Great Lakes states and provinces have a particular attractiveness for shared services and financial services operations, Daniel Levine, executive director of business development and location advisory services for ADP/Mintax, Inc., and a native of Buffalo, says Great Lakes territories offer a large, very stable, mature and well- educated work force. Great Lakes communities, he says, "sometimes have older legacy tax structures and generally higher operating costs that are not as competitive." But the appeal of a loyal work force and good visibility in such communities can override those concerns.
"You can come in as an employer of choice, which helps you attract the
creme de la creme
of that community," says Levine, whose clients in the past have included Citigroup and Novartis. "Being the big fish in a small pond is sometimes the preferred strategy."
"We feel like we're right in the sweet spot" for shared services, says Kucharski. "In fact we have a couple prospecting visits coming up in the next couple months strictly around shared services." He cites such factors as the area's 30 colleges and universities and its bi- national character, including proximity to the financial capital of Toronto.
In Toronto itself, a new study carried out by Deloitte for the Toronto Financial Services Alliance counseled the area's financial services firms to take steps now to avoid a dwindling talent base in the sector. "Talent Matters: A Study of the Toronto Financial Service Industry Talent Market" recommended that to preserve its own strong base of financial businesses and supporting infrastructure, Toronto banks, insurance companies, investment firms and others eliminate barriers to hiring and integrating new immigrants; strengthen financial services education and align it to industry needs; and improve the Toronto metro's financial services brand as a business location and career choice.
In the meantime, Uniland and others are very much involved in center- city and waterfront redevelopment in Buffalo proper. One of the three city projects on Uniland's punch list is complete renovation, with Acquest Development, of a 485,000- sq.- ft. (45,057- sq.- m.), 15- story building purchased from the GSA and rife with environmental concerns, primarily asbestos. The purchase by auction came as the two developers were completing a new 293,000- sq.- ft. (27,220- sq.- m.) building for some of the same federal agencies that occupied the old space.
Hotel and condo space will be part of the renovated building's new multi- use layout, but about 250,000 sq. ft. (23,225 sq. m.) will be dedicated office space. Montante says the mid- 1970s edifice has large floor plates of approximately 26,000 sq. ft. (2,415 sq. m.) and good column spacing: "We believe it will be very attractive from a cost perspective," he says. "We expect we'll be able to talk to firms like Citi about location in the city of Buffalo. Up to this point, the newer building stock hasn't fit the need."
Uniland has five Build Now- NY Shovel Ready sites, the most owned by any single entity in the entire state. In addition to Duke's brownfield project for a local HMO, Uniland and Opus are also working on a 120- acre (49- hectare) waterfront redevelopment project, though it's on hiatus.
"We've suspended pre- development work for now," confirms Montante. "One issue is access, but work is now being done to fund the appropriate access points, including a couple of bridges, that will open up our waterfront."
Another waterfront opportunity is opening up at the now 275- acre (111- hectare) Lakeside Commerce Park at the Union Ship Canal, which recently doubled its footprint thanks to parcel acquisitions by the Buffalo Urban Development Corp. The park could be home to as much as 3 million sq. ft. (278,700 sq. m.) of building space at build- out. St. Gobain business unit CertainTeed opened a plant there in 2005. In late March 2007,
Cobey, Inc.
, a manufacturer of compressor packages and piping assemblies for the power generation and petro chemical industries, opened a 90,000- sq.- ft. (8,361- sq.- m.) facility there, in the Buffalo Empire Zone.
The $10- million project, on a 12- acre (5- hectare) site formerly occupied by Hanna Furnace Co., retained 52 jobs and will create 25 new jobs, as Cobey consolidated engineering and manufacturing operations from the Western New York towns of Clarence and Blasdell. In addition to being eligible to apply to Empire State Development for a grant of up to $250,000 to assist with construction of the new building, Cobey is eligible for brownfield tax credits and $10 million in bond financing from the Erie County Industrial Development Authority. Buffalo won out over other midwest Great Lakes locations.
Kucharski says the attraction of the Cobey project was particularly gratifying because it was a heavy industrial concern, and because a site remediation process BNE began nine years ago had paid off. He says the land in phase one of the park was almost all gone in the first six months. "It's expensive to remediate, but it's well worth it," he says, pointing out that the area has recently brought online some 400 acres (162 hectares) in remediated brownfield.
Energy Picture More than Hydro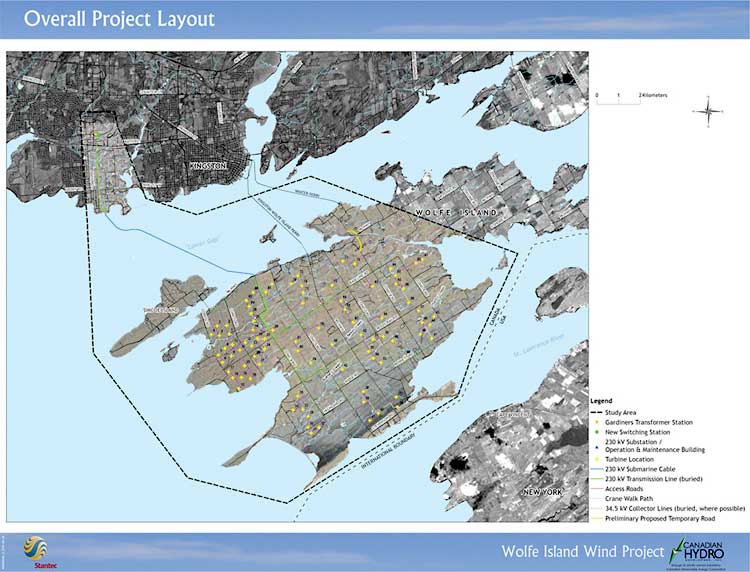 Low Water, High Sediment
Several water- related issues lurk just below the surface of Great Lakes industrial development. One is what the Lake Carriers Association calls "the dredging crisis": as much as $200 million in harbor and port dredging projects that have been held up because of inadequate U.S. Army Corps of Engineers funding.
Asked if the problem has affected corporate facility development decisions in and around the ports, Steve Fisher, executive director of the American Great Lakes Ports Association, says he has not heard from his membership about it getting to that level … yet. But there have been problems that his organization and others are working with the Corps of Engineers to resolve with a five- year plan to catch up with the silt.
"Saginaw, Michigan, last year completely silted up," he says. "The ship owners were refusing to take their ships in there because they were afraid of grounding. Local officials got very upset about that, because they felt the situation had been let go to the point where commerce had stopped. At that point, it's a crisis situation – for all businesses who depend upon waterborne delivery, the whole reason they located there is in question."
Emergency dredging helped keep that particular port open. The port is close to Hemlock, Mich., where Dow Corning subsidiary Hemlock Semiconductor in late March received approved incentives from the State of Michigan for a prospective $1- billion, 270- job manufacturing expansion. The Michigan Economic Growth Authority Board approved a state tax credit valued at $8.1 million over 15 years.
In addition to MEDC support through its Economic Development Job Training program and funding for public infrastructure improvements through the Community Development Block Grant program, Thomas Township is considering a 12- year abatement estimated at $21 million.
Fisher says other locations on the dredging backlog list include ports in Cleveland, Toledo, Green Bay, Milwaukee and Monroe, Mich. "In each case, the ports are open and ships are going there," he says, "but the ships are light- loading. So it becomes an issue of effective shipping. It's more expensive if you have to leave part of your ship empty." Exacerbating the situation is the natural fluctuation of Great Lakes water levels, dependent on rain and snowmelt.
The concrete results of such low water were evident in January, when coal shipments decreased 35 percent from January 2006. Light loading was most severe on Lake Superior, said the Lake Carriers Association. For confirmation, one had only to travel to the far reaches of Michigan's Upper Peninsula, in Ontonagon harbor, where Ontanagon County's two largest industrial concerns – Smurfit- Stone Container and White Pine Electric Power LLC – depend on coal shipments via the harbor. At another port, Dunkirk, N.Y., south of Buffalo, water- based shipments ended in 2005.
"Marine transportation on the Great Lakes makes manufacturing in America possible," said James H.I. Weakley, president of Lake Carriers' Association and an officer of Great Lakes Maritime Task Force, in February 2007 testimony in Washington, D.C. about the dredging backlog. "The [Great Lakes] region accounts for 70 percent of the nation's steelmaking capacity, 70 percent of its automobile production, and 55 percent of all heavy manufacturing. It is not a port or individual place at risk – it is the entire Great Lakes Navigation System."
Among his suggestions was more appropriations from the Harbor Maintenance Trust Fund (HMTF), which he said contains a surplus of more than $3.5 billion. "It is time to restore the 'trust' to the HMTF by either spending it down or taking it 'off budget,' " he said. He also recommended that simply using tonnage as a metric was not enough, and that marine transportation simply allowed domestic industry to keep its doors open.
"We must recognize that transportation is the grease that keeps our economy moving and invest appropriately," he said.

Fully Bonded?
Steve Fisher says the role of the 111 Great Lakes ports in industrial development largely hinges on whether their footprints are being gentrified or not. He says, for instance, that the Ohio ports and Burns Harbor, Ind., are still very active industrially because of the steel industry, as is the port in Hamilton, Ont. "But throughout the Great Lakes region we're going through a change," he says, typified by the evolution of his native Chicago from a highly industrialized city to a more gentrified community with a sprinkling of light industry. Similar development pressures are afoot in Toronto and Cleveland, he says, but Cleveland's port authority is the national model when it comes to leadership in economic development.
"The port authority itself is working with the city and local planning agencies on a very long- term plan to relocate the port and allow the downtown waterfront to be given over entirely to gentrification," he says. "They still need a port, and there still is considerable industry, but the question is 'How do we get it out of the middle of downtown and to a location where it can provide the economic role it traditionally has played?' This happened in Chicago back in the fifties – the port used to be where Navy Pier is now. They moved it to the south side of Chicago, and that allowed the kind of beautiful gentrification you have on Chicago's waterfront now."
Even that relocated port in Chicago has gotten into the gentrification, with a new 36- hole golf course on its property. Fisher says the ability of some port authorities to get involved in new types of development themselves directly relates to their bonding and financing capabilties granted them by state legislatures. Again, Cleveland leads the way. After all, the port authority owns the new Cleveland Browns football stadium as well as the city's immensely popular Rock and Roll Hall of Fame.
"Ohio is the model, and within Ohio, Cleveland has been the most clever," says Fisher. "They will go ahead and finance the construction of a corporate headquarters for a local company that has nothing to do with the port, but they will go ahead and do so because they see themselves as responsible for not only maritime commerce, but economic development in general. Ohio port authority law is in reality an economic development law, and it's really empowered local entities, about 40 of them, to be economic development authorities, many of them in the middle of the state."
Fisher cites the Indiana Port Commission as one entity that examined the Ohio statute, then got a similar law passed in the Hoosier state. The Port of Detroit is another that has a limited amount of development and creative financing capability.
The Council of Great Lakes Governors' Naftzger says these port authorities are "expanding beyond their traditional core competencies. The footprints for their core operations have in many cases been reduced over time, so many ports have real estate available for use – in many cases very desirable property. Bonding authority and the need for economic development have created real opportunities for some of the ports. "