nterstate travel is not known for its scenery. The view of Cincinnati from the bluffs of Northern Kentucky along I- 75 has always been a notable exception. From the corporate perspective, however, the reverse view toward Northern Kentucky is just as golden.
That's the view of companies like
Perot Systems
,
Psion Teklogics
and Cincinnati- based global call center giant
Convergys
, all of which have located projects in northern Kentucky in the past six months. It's a view shared by automotive interior systems manufacturer
Toyota Boshoku
,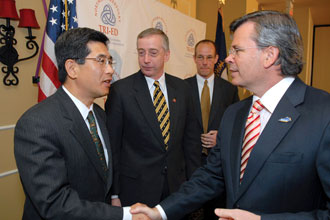 Above, Sunao Yamamoto, president of Toyota Boshoku Americas (TBA), celebrates with (l. to r.) U.S. Congressman Geoff Davis, Dan Tobertge, president and CEO of Northern Kentucky Tri- ED, and Kentucky Gov. Ernie Fletcher.
TBA has reserved headquarters space in Dolwick Business Center (below) in northern Kentucky's CirclePortBusiness Park, with an option to double it.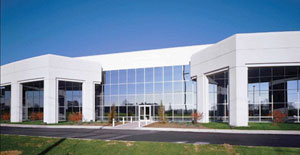 one of the 15 Toyota Group companies, which maintains a property portfolio of 22 offices and plants in its home country of Japan and 44 international facilities. In early April it added the 45
th
, when it declared Erlanger, Ky., as the location of its 100- employee, 23,000- sq.- ft. (2,137- sq.- m.) North American home office, scheduled to open by August, with an option to double that space. The company had opened a smaller office in nearby Florence just last year. The proximity to Toyota Motor Engineering & Manufacturing North America (TEMA) headquarters in the same northern Kentucky municipality was certainly top of mind.
"We considered a number of alternatives, but it came down to northern Kentucky for three reasons," says Tom Suter, vice president of Toyota Boshoku Americas (TBA), in an interview. "Proximity to Toyota corporate headquarters – they're our major customer, so the feeling was the closer we get, the better it is. Certainly the airport was a major factor – there are 19 plants we are responsible for in Canada, the U.S. and South America. And finally, Toyota's experience with the Kentucky work force."
Suter was involved in the launch of Toyota's original Kentucky plant in Georgetown 20 years ago, and worked with Toyota's former site selection leader on the company's choice of Princeton, Ind., for its truck plant. He says one more factor in the home office decision was TBA's existing network of Kentucky operations.
"We have multiple plants in Kentucky, and getting closer to our plants was a positive thing," he says. They include Trim Masters operations in Harrodsburg, Bardstown, Nicholasville and Leitchfield; and a plant in nearby Lebanon from TBA subsidiary Toyodabo. That plant was announced four years ago with the promise of employing 24 by the end of 2007. Suter says its current payroll is close to 100.
Suter comes to TBS fresh from weather stripping manufacturer Toyoda Gosei, which also has a plant in Lebanon, as well as the plant he worked at in Hopkinsville. But his roots are actually in Erlanger, where he will return after 30 years away.
"It was a bunch of farmland around the airport," he says of his new employment location, "and back in those days the airport was fairly small." He says it's a great place to live, with good schools and a low crime rate among its finer points.
"We don't have to sell the area," he says. "I've worked at companies where we had a difficult time getting people to move there, and northern Kentucky is not one of those."

Surging Company, Surging Area
TBA's Erlanger operation is just one outpost on the company's global growth journey.
Last July the company announced it would build a $57- million, 330- job plant in Woodstock, Ont., near TEMA's newly announced plant. Meanwhile, new facilities are rapidly springing up in South Africa, France, China and its native Japan. And it's growing elsewhere in North America too, including the Michigan area where it previously had its main North American office.
"Currently we have about 140 people in Michigan in the R&D and purchasing areas," says Suter,
who describes the new Erlanger home office as a new entity, with human resources and IT responsibilities for the entire North American operations portfolio. "Toyota has its technical center in Michigan, and it makes sense to leave our technical people close to that technical area. We've purchased another building there, with 70,000 square feet [6,503 sq. m.], and our target is to move into the facility by September. With our increase in business, and new products, we'll have to expand, and we think that [payroll] number will end up being around 200. So it's a win for Michigan."
As for which North American community wins next, those decisions will be reached in Erlanger. Suter says TBA, unlike some other suppliers today, is growing and getting a lot of business, based on its product quality and reputation. Should that business trend continue, facility growth will naturally follow.
Asked whether the company is looking to locate an operation near the newly announced Toyota plant in Tupelo, Miss., Suter says, "Right now we're providing quotes and trying to get that business. Our hope is we'll earn the business. If that happens, we'd probably build a plant in Mississippi. Most suppliers in the Toyota system are just- in- time and sequence suppliers, and proximity is an issue – it's difficult to do that from a great distance."
The supplier spinoff then could spin all the way back to Erlanger. Suter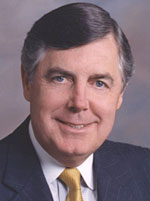 William T. "Bill" Robinson, III
says the optioned space is essentially double the initial home office footprint, enough to "add another 100 people easily."
That's music to the ears of William T. "Bill" Robinson, III, a founding board member and secretary/treasurer of the Northern Kentucky Tri- County Economic Development Corporation (Tri- ED) and the newest member of the Kentucky Economic Development Partnership Board, a public- private partnership tasked with creating a strategic economic development plan for Kentucky, directing and overseeing the Kentucky Cabinet for Economic Development. Robinson is a founding board member of CincyTech USA, immediate past chair of the Cincinnati/Northern Kentucky International Airport Board, past president of the Kentucky Bar Association and past chair of the Kentucky Chamber of Commerce and the Northern Kentucky Chamber. In 2005, he was named Northern Kentuckian of the Year.
"I've said more than once I'd love to bring my grandparents back for a drive through northern Kentucky," he says in an interview. "They lived all their lives here. They'd be shocked and pleasantly surprised to see all of the development."
But it's as a grandparent himself that he himself is pleased, given recent state and local studies showing much- improved postsecondary graduate retention.
"It's fascinating what a high percentage of graduates choose to live in this MSA," he says. "The quality of life, the job opportunities, the growing appreciation of technology, and the education to take advantage of it – all of these combine so our young people don't have to go elsewhere. As a grandparent, nothing is more thrilling."
Having worked on both sides of the Ohio River during his 20 years in economic development, Robinson also takes pleasure in the evolution of a cooperative regional partnership that transcends municipality and state boundaries. That sense of partnership is enhanced by the presence of entrepreneurial land and building developers like Al Neyer, Paul Hemmer and Corporex, among others. "In raising funds for Tri- ED and the Cincinnati USA partnership, we like to say that it's important that all boats rise on a rising tide," he says, "and looking back over 20 years, the statistical and demographic data certainly support that conclusion."
Diversity of enterprise has helped the region's health, with technical services, headquarters and industrial concerns in the mix. Through 2005, Tri- ED assisted in the creation of an average of 2,000 new jobs a year since 1996, accounting for 23 percent of the new jobs in the Commonwealth, says Robinson. But, he adds, "We still have plenty of room, believe me, and plenty of opportunity."

Short Session Gets the Jobs Done
More opportunity may well be afoot, thanks to several accomplishments by the Kentucky General Assembly during its 2007 session. Most significant among them, says Robinson, was HB 549, which creates one local and three state- level tax- increment financing tools. The programs should be a great boost to urban mixed- use projects in Louisville and in northern Kentucky, he says, but he's "optimistic that this is going to enhance and accelerate development throughout the Commonwealth."
Robinson also lauds improvements to state programs that now allow companies that lease manufacturing facilities to qualify for economic development grants. He says the measure allows Kentucky to compete with nine competitor states that already offered that option. It also allows companies entering the state to go with the often more feasible lease option rather than tying up capital in real estate.
Finally, Bluegrass State Skills Corp. job training funding has been significantly increased by $8 million, with over a third of it destined for northern Kentucky. TBA's Tom Suter says TBA, like all Toyota companies, is always focused on training. The company in April was still finalizing a BSSC grant. It will also receive $2.1 million in tax incentives under the Kentucky Jobs Development Act.
In the meantime,
Toyota
itself continues to grow. Within a year, the company will decide whether it intends to invest $413 million in equipment installation at its Georgetown plant in order to manufacture a new vehicle there. This spring the project earned preliminary approval of $25 million in tax incentives under the Kentucky Reinvestment Act, which applies to companies employing at least 1,000 workers that plan to invest a minimum of $100 million at an existing plant.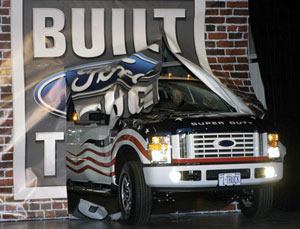 IS LOUISVILLE TOUGH ENOUGH?: Production of the 2008 Ford Super Duty began in December 2006 at Ford's Kentucky Truck Plant, near Louisville. Ford invested $65 million in the plant to support the launch. The Jobs Retention Act passed early in 2007 by the Kentucky General Assembly may inspire further Ford investment in its two Louisville- area plants.
No new jobs will be created, but the investment adds further ballast to an eminently viable operation.
Kentucky elected officials would like to see that kind of stabilizing action from one of the state's other eminently viable automotive employers,
Ford Motor Co.
The lawmakers approved up to $200 million in incentives this spring to help convince that company to keep open its truck plant and another assembly plant in Louisville in the midst of its decision- making on consolidation investment and closure across its North American plant portfolio. Another encouraging sign was the vote by UAW workers at the Louisville Assembly plant to accept concessions as part of a competitive operating agreement, similar to agreements signed at many Ford plants across the country. In the meantime, as workers accept buyout packages, the company has hired approximately 500 temporary workers at its Louisville plants.
"Our use of temporary workers is part of our manpower strategy to get us through a transitional period," says Ford spokesperson Anne Marie Gattari, "but they are just that – temporary employees."
The new legislative package follows similar offers in Michigan and Ohio that have helped facilitate plant investment and job retention. Asked how the package helps Kentucky's chances, Curtis Magleby, director of government relations for Ford, says in an interview, "We're much more encouraged by Kentucky's willingness to work with us on a partnership for the future. We need new tools to address today's global manufacturing challenges, and a lot of times [state economic developers] have a toolbox that's been around for decades."
In Kentucky's case, says Magleby, Ford wanted to make sure the Commonwealth prized reinvestment and job retention on a par with new investment and new jobs. Tax refundability is also important to the Kentucky package, he says, similar to what Michigan arranged through its MEGA program for the company's recent announcement of reinvestment in several southeast Michigan plants.
"Manufacturers go through adjustments, and are not always in a profit position," he says, and incentives need to be able to account for those swings. "The way you get the incentive in Kentucky is a refund of your five- percent payroll tax, so it becomes a bottom- line operational cost improvement," he says. "Many of the old economic development tools are corporate tax liability, and those come and go."
In fact, unclaimed credits are part of the new package being dangled before Ford. Called the Jobs Retention Act, it promises that up to 50 percent of new investment can be recovered through a reduction in payroll taxes over time if the company makes an investment of at least $100 million. The legislature estimated potential investment support of $150 million. In addition, the investment recovery could be increased up to 75 percent if investments are made at multiple sites. The legislation also incorporates $10 million in BSSC funds and access to $40 million in credits awarded to Ford under previous agreements. The investment tie differs from territories like Mexico that offer much of their assistance in the form of large up- front grants.
The training component is important too, says Magleby, and "demonstrates the state's understanding of the need to continually upskill."

Getting in Position
Magleby says the transport and logistics side of Ford's Louisville operations is positive, what he describes as "within the hub" when it comes to the company's other operations and its supplier base. Ford purchases about $2.5 billion annually in production and non- production parts in Kentucky, he says, one of the reasons "why incentives for the automotive industry are so important."
"That tip of the iceberg of the assembly plant is really just one huge logistics hub that brings in all the other investment," he says.
Nothing is inked yet, Magleby points out, as the company has to create an application based on the approved framework. But he praises a team that includes Greater Louisville Inc., Louisville Mayor Jerry Abramson and the team led by Gene Fuqua, interim economic development secretary for Kentucky in the wake of Gene Strong's January 2007 resignation: "They haven't missed a beat," says Magleby. He also praises the strong support from Ford's home- base legislators in the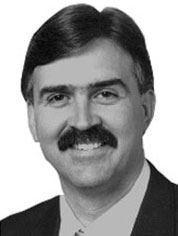 Curt Magleby
Kentucky General Assembly and from Gov. Ernie Fletcher.
"It passed without dissent" and with no partisan concerns, he says of the Jobs Retention Act. "I was there, and it was heartwarming to see the support from each of the legislators as they worked in committee with this bill. They're willing to bring their toolbox up to current, modern- day standards."
Of course, everyone else is doing that too. Magleby says it's a race to get not only the assembly plants, but the R&D and engineering, which brings value and depth to an industry base.
"With fluid and scarce capital, we have to make sure the incentives are real so we can drive the decision- making process," he says, citing the huge number of variables that have a bearing on a facility decision. There are also many options: Just as a corporate real estate manager manages a portfolio of properties and the decisions related to them, his team manages a portfolio of partnerships.
"Capital is very fluid now, much more so than 20 years ago," he says. "We're making a lot of investment decisions. Our goal is not to play states off against other states, but clearly with every investment we have there are alternatives. We're trying to bring value to the equation at the local and state level."
A study called "An Examination of Incentives to Attract and Retain Businesses in Kentucky" was released in January by the Center for Business and Economic Research (CBER) within the University of Kentucky's Gatton College of Business and Economics, after being commissioned by the Kentucky Economic Development Partnership Board. Among its findings:
• The yearly cost of all incentive programs is quite small relative to the size of the Kentucky economy or the magnitude of Kentucky's taxes, amounting to less than one percent of total state revenues in a year.
• Both the tax incentives and BSSC training incentives are associated with positive long- term (five years) impacts on employment and earnings that are as much as four times larger than the short- term impacts.
• Without the use of business incentives during the period 1996 to 2004, 44,829 fewer jobs would have been created in Kentucky.
Since 1992 there has been a substantial increase in the amount of the tax incentives claimed as well as a substantial reduction in the use of financing programs (loans and grants), said the report. At the same time, only a small percentage of tax incentives awarded are ever claimed. "By 2004, only 12 percent of incentives awarded were actually earned by companies," said the report.

Educated and Planted
Two recent reports send a strong message about Kentucky's ability to educate people and then keep them around.
The "Human Capital Scorecard" produced by Louisville- area KentuckianaWorks examined educational attainment by age, college attainment of the adult population and enrollments by level for postsecondary institutions, then compared the results, based on 2005 data, to 15 other markets. Among its findings:
• Since the 2000 Census, there has been a two to four percentage point improvement in the educational attainment rates for Jefferson County and Louisville metro area adults. The college attainment rate is estimated to now be above 27 percent in Jefferson County.
• The 25- 34 age cohort has moved up in the rankings to place 5th for high school diplomas and 2nd for having attended some college or earning an associate degree. The 35- 44 year old age cohort improved in terms of having earned a bachelor degree or higher, and moved up two positions in the rankings to 14th place.
• Overall postsecondary enrollment is up eighteen percent between the fall semesters of the 2000- 01 and 2005- 06 academic years. The greatest growth occurred at the associate degree program level or below (including certificates). But graduate degrees awarded have also increased by a third.
Another study, released by the Kentucky Council on Postsecondary Education, examined how many recipients of degrees at the state's public colleges and universities were still in the Commonwealth five years later, and compared the findings to a previous study released in 2000. The results were overwhelmingly positive:
• Since the mid- 1990s, the overall percent of graduates who stayed in Kentucky increased from 73 to 86 percent. The percent with a bachelors rose even more from 71 to 87 percent.
• In addition to the growing number of Kentuckians who are choosing to stay (up to 95 percent from 83 percent), 37 percent of out- of- state students are choosing to stay (up from 24 percent).
• Nearly half (49 percent) of international students are choosing to remain in the state.
• The percent of students who earn doctorates and stay in Kentucky nearly doubled from 27 to 52 percent.
Though the report concluded that the state and its communities could do a better job of creating an environment that encourages graduate degree recipients in engineering and business to stick around, the overall results were encouraging to many in economic development.
"We are seeing it locally," says Bill Robinson, citing growth at Northern Kentucky University and Gateway Technical and Community College. "Many of us had the sense that this was occurring, but would not have guessed that the numbers would be so consistently high across the board."
Asked to name the statewide issues he sees as most pressing as the newest member of the Kentucky Economic Development Partnership Board, Robinson says the global competition for manufacturing jobs from lower- wage countries is chief among them.
"It is an ongoing challenge, and it is something we need to keep in focus and not lose sight of as we move forward," he says. He also wants to see continuing improvement in the state's new economy rankings as published by the Kauffmann Foundation, and supports the efforts of the Cabinet for Economic Development's Department for Commercialization and Innovation in that realm. But most immediately, the Cabinet needs a new captain at the helm, following the January resignation of longtime economic development secretary Gene Strong. Hiring his replacement is part of the mission of the Board, which has hired the Pace Group search firm to assist in the process.
"Gene Strong has left some big shoes to be filled, and we need someone to pick up the baton and run the next lap," Robinson says. "That's a position that is a cornerstone for success for the future. It's critically important to the future of Kentucky."
Editor's Note: In early May, the Kentucky Cabinet for Economic Development named John Hindman as its new secretary. Learn more about Hindman in this September 2006 profile of the WorldPort expansion being carried out by his former employer, UPS.