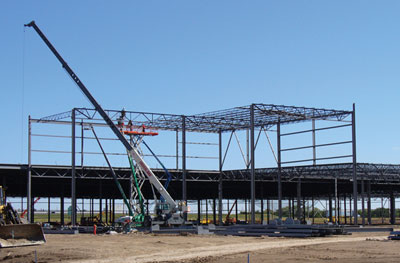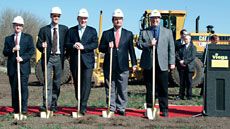 pen up any road atlas to the Kansas entry, and you'll likely see the state cut in half by the binding, with the eastern portion encompassing Greater Kansas City, state capital Topeka, aerospace capital Wichita and the growing university towns of Lawrence and Manhattan. New corporate projects have transformed these heartland areas into hearts of commerce.
But the character of Kansas also is found on the other side of the atlas – places like Garden City, Dodge City, Liberal and the very small town of Greensburg, where an F5 tornado earlier this year obliterated most of the built environment.
Help is coming via a $40-million federal appropriation. Separately, the Kansas Congressional delegation and Gov. Kathleen Sebelius are seeking to procure from the U.S. Dept. of Labor a $20-million employment assistance grant that would allow the town to hire needed public employees such as planners and zoning officials. The U.S. Senate, meanwhile, has passed a tax relief initiative that emulates the Gulf Opportunity Zone benefits in the Gulf Coast area after Hurricane Katrina, in many cases quite literally substituting language in the GO Zone legislation. That measure was ordered held at the Senate desk in late May and awaits further action in the House Committee on Ways and Means.
Congressman Jerry Moran, who represents the "Big First District" that encompasses Greensburg in its 69 counties and 57,575 sq. miles, announced in September that the City of Greensburg had been awarded a $50,000 grant by the U.S. Department of Commerce's Economic Development Administration to assist in the hiring of an economic recovery planner.
"While the residents of Greensburg are making great strides in rebuilding their city, a significant amount of work remains to be done," Moran said. "This federal funding will help Greensburg develop and implement a recovery strategy to assist in current and future economic development."
A search in the Conway Data New Plant Database for the entirety of Kiowa County shows no records entered since 1989. However, central to the Greensburg's founding is the fact that the Santa Fe mainline runs right through town.
Federal programs for the longer term improvement of rural economic development may come via two other measures involving Kansas elected officials. Senator Pat Roberts in May introduced the Rural Broadband Improvement Act of 2007, a bill to reform the federal Rural Broadband Access Loan and Loan Guarantee Program in order to refocus it on truly rural areas. Among other provisions, it would enhance incentives for investment and increase the feasibility of loans in rural areas.
Senator Sam Brownback is one of nearly two dozen co-sponsors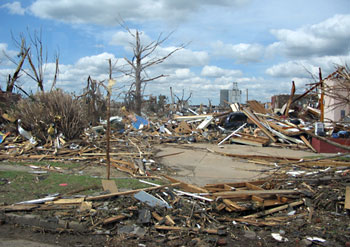 of the New Homestead Act, introduced in April 2007 after previous versions did not advance in 2005 and 2006. Replicating some elements of the original Homestead Act of 1862, the proposal would include the following:
• Payment of a percentage of student loans to individuals who earn a degree and then live and work for at least five years in "an area outside a metropolitan statistical area which for 20 years has a net out-migration of inhabitants of at least 10% of the county population";
• A tax credit for the lesser of $5,000 or 10 percent of the purchase price of a principal residence in a qualifying county;
• A rural investment tax credit of 70 percent of the present value of new buildings (including rehabilitation projects) or 30 percent of the present value of existing buildings;
• A qualified rural small business investment credit of 30 percent of expenditures for starting or expanding a business, including costs for capital, plant and equipment, inventory expenses, and wages, but not including interest costs.
• Accelerated depreciation of business property in rural investment projects.

Why Take a Chance?
For some, the answer may lie in the state legislature's approval earlier this year of non-Native American casino gambling and slot machines, making the state the 12th in the nation to allow commercial casinos. The Kansas Lottery Commission is to oversee the gaming enterprises, which are expected to bring in millions to state and local governments. The gaming is allowed in Ford County, home of Dodge City and next to Kiowa County, and three other areas, as long as county residents approve it.
In June, voters in Ford County did just that. Voters in Cherokee, Sumner (Wellington, south of Wichita), and Wyandotte (Kansas City area) Counties also approved casinos, and slot machines at race tracks were approved in Sumner and Wyandotte Counties. Casino proposals are already lining up, although a legal challenge to the gambling law may take until next year to resolve.
Voters in Sedgwick County (Wichita) rejected both the casinos and the slots on August 7, causing the owner of Wichita Greyhound Park to announce he would close the facility within 90 days. However, the vote was sweet music to other businesses in town: Both Fidelity Bank and Cargill had hinted at leaving downtown Wichita if gaming came to town.

East-Central Triangle
The economic development momentum in Wichita appears to be just fine. The city's core alone has attracted $312 million in investment since 2002, according to the Wichita Downtown Development Corp. Greater Wichita has seen no fewer than 22 projects in the Conway Data New Plant Database between January 2006 and August 2007. And the economic momentum extends up and down I-35 and I-35 in the triangle formed by Wichita, state capital Topeka and Saline County, which itself has welcomed 10 projects in the past five years from the likes of
Schwan's Foods
,
Philips Lighting
and cabinet maker
Crestwood, Inc.
Building in multiple locations within that triangle is
Viega North America
, which offers over 12,000 plumbing and heating related products and systems for residential, industrial, commercial construction, and shipbuilding industries. In addition to a $10-million corporate headquarters now rising in Wichita after relocating from Bedford, Mass., Germany-based Viega is building a new 439,000-sq.-ft. (40,783-sq.-m.) manufacturing, logistics and office complex in McPherson, a town which not so long ago welcomed major investments from pharmaceutical firm Hospira, a subsidiary of Abbott Laboratories.
The $40-million McPherson complex will occupy more than 100 acres (41 hectares), and is scheduled to open in 2008, the same year the headquarters is expected to be complete. The company also just completed an award-winning training and education center in Nashua, N.H. Back in Germany, Viega employs more than 2,000 people in facilities occupying some 2 million sq. ft. (185,800 sq. m.). Current North American employment numbers in the high 400s.
According to published reports, the headquarters decision was driven by airport accessibility, high visibility and proximity to hospitality and retail infrastructure. The McPherson choice was driven in part by the company's 2005 acquisition of radiant floor heating and water supply tubing maker Vanguard and an affiliated firm, injection molder Midtec of America. The company will vacate three facilities occupied by the companies when the new complex is complete.
Also driving the McPherson investment is an overriding goal: to deliver complete orders throughout North America within 24 hours.
As if the project activity were not healthy enough, a 10-county region of south central Kansas comprising Cowley, Sumner, Harper, Kingman, Sedgwick, Butler, Reno, Harvey, McPherson and Marion Counties in June received one of the latest $5-million Workforce Innovation in Regional Economic Development (WIRED) grants from the U.S. Dept. of Labor. The effort will focus on integrating education, economic and work-force development activities and resources around research and new technologies for composites and engineered materials associated with aerospace, aviation, medical devices and other commercial applications.
Among recent projects in the Wichita area is a $15.5-million, 80-job expansion from TECT Aerospace in Park City, to the north. TECT already operates two locations in Wichita proper and one in nearby Wellington. Universal Lubricants, based in Wichita for 78 years, is constructing a new recycling facility that will require a capital investment of $15.2 million and add 37 jobs. And machine part and assembly maker ZTM, Inc., will expand one of its two Wichita locations in order to handle new work for Boeing Seattle that used to be done in another state.

Little Apple and the Cosmosphere
Two towns on the periphery of the I-70/I-135/I-35 triangle are Manhattan, home of Kansas State University and known as the Little Apple, and Hutchinson, home of the Kansas Cosmosphere and Space Museum. But both could become better known for the major projects they host.
Manhattan is one of five finalists for the United States Department of Homeland Security's (DHS) National Bio and Agro Defense Facility. DHS originally considered 17 sites in 12 states and in July narrowed down the sites under consideration to five. Public comment for the environmental impact study projected to be completed in 2008 ended in September. Upon completion of the studies, DHS will then choose the location of the new NBAF, with construction to begin in 2010.
Among attributes touted by Sen. Roberts and the entire Congressional delegation of Kansas is the area's animal health corridor of 100 animal health companies, including the U.S. or world headquarters of 37 of them.
Also helping the state's bid is the $54-million Biosecurity Research Institute.
"Producer groups have lined up along with academics and the intelligence community to ensure that the most dangerous and potentially harmful pathogens possible are studied in this facility," wrote the officials. "State officials and, indeed, all Kansans are ready and willing to provide this facility to DHS for use as an immediate transition to NBAF. This would allow DHS researchers and scientists to conduct their vital research immediately upon designation of a site in 2008, five years earlier than if DHS had to rely solely on the building of a new facility to be completed in 2013."
Among the companies locating in the Manhattan area is
Ventria Bioscience
, which in May received federal approval to plant bioengineered rice in Kansas. It hopes to plant as many as 3,200 acres (1,295 hectares). The company remodeled an existing building in Junction City and began processing rice and rice powder from Kansas, North Carolina and South America this past summer.
In Hutchinson, just northwest of Wichita, local leaders in June passed a new property tax exemption policy. It provides a 10-year, 100-percent tax abatement on new construction for companies creating at least 10 new jobs with an annual payroll of $250,000.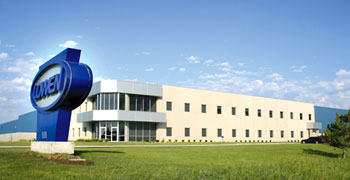 Previous policy required a company to create 80 jobs or invest $15 million to receive the 100-percent abatement, which declined over the 10-year period.
Following the success of the Hutchinson's legislative efforts to retain hydraulics manufacturer
Eaton Corp.
in 2006, the community is now enjoying the growth of
Lowen Corp.
, known as the largest manufacturer of real estate signage in the nation. A separate division, Lowen Color Graphics, provides fleet, commercial, retail, event and OEM graphics.
The company, founded in 1950, just consolidated into a new 150,000-sq.-ft. (13,935-sq.-m.) headquarters, manufacturing, warehouse and sales complex. The project was primarily financed by $10 million in Industrial Revenue Bonds. Lowen employs 300 in the city, the lion's share of a U.S. base that employs 350 and includes facilities in Houston, Texas, and Greenville, S.C.
Matt Lowen, president of Lowen Corp., says in an e-mail interview that early engagement with city, county and state officials helped in multiple ways.
"We showed them early drafts of the plans and solicited their feedback as to potential problems," he writes. "This helped tremendously when it came time for permitting and certainly sped up the process, as they were already familiar with the project when it was formally submitted. Through careful planning and execution we brought the facility in on time and slightly under budget."
Lowen, whose firm was founded in Hutchinson, says his team had early discussions with economic developers in several surrounding communities, including Wichita, in addition to Hutchinson.
"The city of Hutchinson and local Chamber did a good job of putting together a package that was competitive with surrounding communities," he says. "Based on the comparable package and the fact that the majority of our 350 employees were local, we decided we were best served by staying in Hutchinson."
The project has a 10-year 100-percent tax abatement. It also qualified for Kansas' HPIP program, which provides for a sales tax exemption on plant and machinery based on spending a percentage of payroll on employee training.
Lowen says the state's favorable climate for manufacturing is especially so for the printing industry.
"The primary benefit to us is the low cost of quality labor," he says. "Because of the low cost of living here and good educational systems, we are able to maintain a quality work force at a very competitive rate. Frankly, there aren't any major cost obstacles for our particular business created by operating in Kansas that I see. If there were, we would have probably made the decision to move to a more favorable locale."

Site Selection Online – The magazine of Corporate Real Estate Strategy and Area Economic Development.
©2007 Conway Data, Inc. All rights reserved. SiteNet data is from many sources and not warranted to be accurate or current.