I
srael's life science sector, albeit relatively young, experienced strong, rapid growth over the past decade. Aptly-named Israel Life Science Industry (ISLI), an organization that promotes biotechnology, medical device and other related industries, says there are currently about 835 life science companies in Israel, with most founded since 1996.
SAFC, the custom biopharmaceutical and biochemical arm of
Sigma-Aldrich
, is under way with a US$29-million expansion of its Jerusalem facility. The expansion, slated for completion in the first quarter of 2009, will add 50,000 sq. ft. (4,645 sq. m.) to boost its high-potency biologics capacity.
Also expanding is biotech specialist
Enzymotec
, which is building a 200,000-sq.-ft. (18,580-sq.m.) R&D center near its current manufacturing location in Migdal HaEmeq. Enzymotec supplies ingredients for functional foods and dietary supplements.
The medical device industry is Israel's largest life science sector, according to ILSI, with 53 percent of total companies. It specializes in therapeutic devices, both implantable and disposable. Biotechnology is second with 21 percent, followed by pharmaceuticals with 13 percent. The pharmaceutical sector is the largest sector in terms of business and employees, and is the most established.

Gulf Region Sees Airport Boom
The Middle East regularly makes news with announcements of multi-billion-dollar projects. These include colossal airport expansions either under way or planned in the region's oil-rich countries representing total investment of nearly $40 billion.
One of the latest is in Saudi Arabia, where the kingdom has announced plans to invest $5.4 billion to develop five new airports. Oman plans to spend $3 billion to expand its international airport in Muscat and to develop three new airports at tourist destinations.
But the leading spender by far is Dubai, which is spending $4.5 billion to expand Dubai International Airport, tripling its passenger capacity and doubling its cargo capacity. That pales in comparison to the development of the new Dubai World Central International Airport, set to be the world's largest when completed. Located 25 miles (40 km.) from the existing international airport, the $10-billion complex will have at least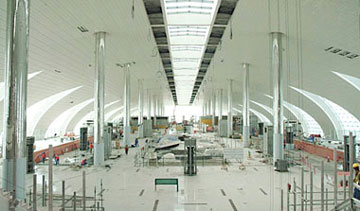 six parallel runaways and as many concourses capable of handling 120 to 150 million passengers and more than 12 million tons of cargo. The new airport will be linked to the existing airport via a light rail system.

China's Chery Chooses
Iran for JV Plant
Chery Automobile
, founded in China in 1997 and now operating seven assembly plants, rolled its one millionth vehicle off the factory floor in August, when it publicly stated that it plans to open 14 plants overseas by 2010 and export 600,000 vehicles. The company is now partnering with
Khodro
, Iran's largest automaker, and Canadian investment company
Solitac
to develop a $370-million factory in Babol, Mazadaran in the north of Iran.
"Our cooperation with the strong Khodro as well as Solitac is bound to benefit all three parties," said Yin Tongyao, president and general manager of Chery Automotive. "Also, it can strengthen Chery's competitiveness in Iran or even in the entire Middle East market so as to build up Chery into a Chinese brand in the world market."
Chery expects to open the factory by mid 2008. It will have an annual capacity of 200,000 cars.

Site Selection Online – The magazine of Corporate Real Estate Strategy and Area Economic Development.
©2007 Conway Data, Inc. All rights reserved. SiteNet data is from many sources and not warranted to be accurate or current.