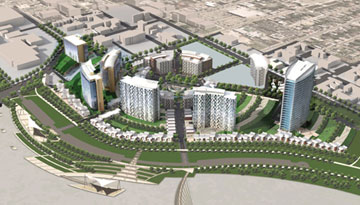 roject flow along the Ohio is nearly as strong and steady as its current. The electrical current provided by the power plants along its length continues to lure more, ranging from biofuels to bulk chemicals to steel. And the historical economic role of the river means a wealth of corporate investments that have nothing to do with water and everything to do with optimum commerce.
For the period from July 2006 through August 2007, the Conway Data New Plant Database shows 197 projects in the counties abutting the river, down substantially from 245 projects during the same span of months in 2005-2006.
Leading the tallies for the 2006-2007 period examined is Hamilton County, Ohio (Cincinnati) with 42 projects, followed by Jefferson County, Ky., (Louisville) with 39. Boone County, Ky. (across the river from Cincinnati and part of the Cincinnati metro) comes in third with 14 projects, followed by seven each in Allegheny County, Pa. (Pittsburgh); Clermont County, Ohio (Cincinnati metro); McCracken County, Ky. (Paducah); and Vanderburgh County, Ind. (Evansville).
Kentucky leads the way overall with 79 projects, or 40 percent of the total, followed by Ohio with 70. At the same time, there is balance, as each of the six states touched by the river has a project among the top 15 by capital investment.
That includes the thumb of land that is Marshall County, W. Va., sticking up between Ohio and Pennsylvania. In Moundsville, south of Wheeling, construction of a $100-million gypsum wallboard plant from
Saint-Gobain
unit CertainTeed is just about complete, and 80 jobs will be created. The wallboard unit was announced in fall 2005 by British concern BPB, which was acquired by Saint-Gobain a few months later.
Making this plant possible, like so many other gypsum plants across the country, is the presence of a major power plant. In this case, it's AEP's Kammer-Mitchell coal-burning unit, which in 2004 began its own construction of a scrubber unit. The project has meant the addition of 55 jobs to AEP's own staff, in addition to helping drive demand for Ohio River valley high-sulfur coal. Some 3,000 construction-related workers have been toiling on both projects. Linking AEP's plant to CertainTeed's is a two-mile conveyor carrying AEP's synthetic gypsum byproduct to its end use.

Eye Catchers
Signed into law by Gov. Ernie Fletcher on the first day of spring 2007, Kentucky's expanded and restructured tax increment financing law promised a bright new day for development projects across the Commonwealth. The light was especially bright for two edifices in two of the leading counties along the river's entire length: the $465-million Museum Plaza project in downtown Louisville and the $1-billion Ovation mixed-use development along the Newport riverfront in northern Kentucky.
Those two projects fit into one of the newly created levels of state TIF participation, reserved for signature projects with capital investments of more than $200 million. State incentives will be available to support public infrastructure necessary to facilitate private development, with increasing levels of incentives on larger projects. According to the statute, the minimum capital investment for state incentives is $10 million. A portion of individual income taxes, corporation income taxes, limited liability entity taxes, sales taxes and state real property taxes may be pledged, depending upon the size and nature of the project and area being developed. And there are enhanced incentives for mixed-use projects in blighted urban areas.





Local tax incentives are available both for local development of vacant land and brownfields, as well as for local redevelopment projects and projects that qualify for state incentives. At the local level, occupational and local property taxes may be pledged to aid the projects, but no school property taxes are involved.

Applause All Around
The Ovation project includes up to 1.5 million sq. ft. (139,350 sq. m.) of office space, more than 1,000 homes, two hotels, retail and a 6,000-spot parking facility. Debbie Vicchiarelli, senior vice president and chief marketing officer for Ovation developer Corporex, says, "This is a first in the region – nothing else has the scope and scale Ovation will. Plus it will bring 6,700 jobs to Kentucky and will contribute an incremental $1.7 billion per year to the economy annually when complete."
Newport city commissioners and Campbell County officials displayed their own enthusiasm in late September when they approved 30-year tax breaks for the project that included 93 percent of property tax revenue, 90 percent of business license revenue and 53 percent of payroll tax revenue. According to the
Cincinnati Post
, the Northern Kentucky Health Department, Campbell County Public Library and the county extension district will forego 50 percent of property tax revenues over that period.
The city and state could see as much as $550 million in new tax revenue over those 30 years, a substantial leap from the current $273,000 a year that the site currently generates. The site was purchased from the city by Corporex for $13.5 million earlier this year.
Also changing the northern Kentucky skyline is Corporex's Ascent at Roebling Bridge, a 72-unit, 21-story residential condo project designed by renowned architect Daniel Libeskind.

Going Contemporary
There's no shortage of architecture talk in Louisville, where the 62-story Museum Plaza building has ignited a discussion about that city's skyline and heritage. The project will house multiple entities: a museum of contemporary art, part of the University of Louisville art department, office space, a hotel, condos and retail. It was designed by Joshua Prince-Ramus, of the New York City-based Office for Metropolitan Architecture.
Public debate about the project's appropriateness to Louisville is fine with Craig Greenberg, an attorney with Frost Brown Todd LLC who is part of the Museum Plaza development team.
"To us that's wonderful, when people are debating the architectural quality of buildings and places," he says.
Nearby are two electrical towers belonging to E.ON US subsidiary LG&E. But the utility has worked with the developers on a plan to remove the towers and move the transmission underground, splitting the $16 million cost in an undisclosed manner.
The project received initial state TIF Commission approval in late September and expected final approval in late October. Completion is expected in 2010.
"We really think we'll have the premier office space in the Midwest," says Greenberg of the project's office component, expected to total some 300,000 sq. ft. (27,870 sq. m.).
Greenberg is usually involved in securing and deploying New Markets Tax credits for investments in low-income communities. But he welcomes this kind of tax credit too.
"That legislation was critical to the success of our project, to making it a reality," he says.
Per the TIF, public infrastructure will be paid for with bonds supported by incremental tax revenues. There will be developer equity in the deal, and there will be other bonds to support construction of the non-profit museum and the University of Louisville space, says Greenberg. The remainder will be a traditional construction loan.
Leading the project team are Laura Lee Brown, of the same family associated with Louisville liquor powerhouse Brown-Forman Corp., her husband Steve Wilson and developer Steve Poe. Greenberg says the fact that all members of the team are from Louisville is significant.
"A large motivation for the team is to develop an iconic building on Louisville's waterfront that reflects its growth in the new century," he says.


Site Selection Online – The magazine of Corporate Real Estate Strategy and Area Economic Development.
©2007 Conway Data, Inc. All rights reserved. SiteNet data is from many sources and not warranted to be accurate or current.