T
ake a tour of Southwest Louisiana two years after Hurricane Rita came ashore, and you'll find some signs of the Category 5 storm's aftermath: Gulf-front communities that are still in various stages of rebuilding, lots of new construction and plenty of infrastructure projects rising throughout the five-parish region.
But here's something you won't find: people sitting around feeling sorry for themselves.
That's because community leaders and workers are too busy planning and building US$1-billion liquefied natural gas terminals, modern airport industrial parks and some of the largest and most elaborate resorts on the Gulf Coast.
They're also building, and in some cases rebuilding, thriving businesses in the region of 285,000 residents.
Jim Shugart, executive vice president of
Era Aviation
at Lake Charles Regional Airport, says his company's expansion is evidence that Southwest Louisiana is rebounding from the effects of Rita – a storm that left $10 billion in damage in its wake on Sept. 24, 2005, and was the ninth costliest in American history.
How bad was Rita? Some 63 percent of Southwest Louisiana businesses suffered damage; 21 percent suffered severe losses. But that story has already become old news, giving way to a record-setting recovery.
"We have a lot of industry in our area. I don't see any real estate slowdown here," Shugart tells
Site Selection
. "We are absolutely expanding yet again here in Lake Charles. I think we can expand to whatever market share we can attain, and we are gaining market share. Louisiana is probably as receptive a state as you're going to find. Its government and economic development resources work together. The governor has stated that her primary goal now is bringing industry to the state."

Lake Charles Lands Aviation Project
Era Helicopters, a division of Era Aviation, announced in August that it will invest $6 million in its training facility, using $2.1 million from a Louisiana Economic Development Rapid Response Fund grant.
The center will be located in a refurbished 7,694-sq.-ft. (715-sq.-m.) building on airport property in Lake Charles. The facility initially will feature two flight training simulators to train hundreds of pilots each year, including many from Era Aviation's corporate headquarters in Anchorage, Alaska.
Era first came to Louisiana in 1978. The firm's management center and training and maintenance operations are based in Lake Charles and employ some 300 people. The company, which owns more than 160 aircraft, has the oldest commercial Part 135 Certificate from the FAA in the U.S. (Part 135 refers to the federal regulations governing the commercial hire of aircraft.) Company-wide, Era has 740 workers.
"Lake Charles was perfect for supporting aviation because of its excellent airport and the presence of the oil and gas industry offshore, which require trained helicopter pilots to fly workers to and from the platforms in the Gulf of Mexico," says Shugart. "Our location here is very close to the Gulf. This is a perfect location for the corporate headquarters of Era Helicopters."
Shugart noted that when Era needed to expand, state Economic Development Secretary Michael Olivier "worked tirelessly with us, as did [Louisiana Economic Development Financial Manager] Mike Williams, to meet Era's needs so that we could stay in Lake Charles with our training facility."
The project could have gone to Houston, added Shugart, but Era chose to remain in Lake Charles because of the support the company received from state and local officials.
Shugart says the advantages of doing business in Lake Charles are numerous. "We have two major airports with good instrument landing systems – Lake Charles and Chennault, an old Air Force base that was converted to a civil air field," he says.
"Lake Charles Regional is also home to two of our sister companies – Seacor Marine and Seabulk Towing, both owned by Seacor, the parent company of Era Aviation," he adds. "This gives us the added dimension of marketing as a consortium rather than just as a helicopter company. Plus, it gives us additional in-house support."
Shugart cites the "dynamics of the Southwest Louisiana Chamber and local government." After Hurricane Rita, "Mayor Randy Roach [of Lake Charles] allowed only essential personnel into Lake Charles, allowing the city to recover
| | |
| --- | --- |
| | "We have a lot of industry in our area. I don't see any real estate slowdown here." |
quicker than any city I have ever seen following a hurricane."
Shugart credits airport executive director Allen Kratzer with expediting Era's expansion. "He just doesn't know the word 'no,' " says Shugart. "If you ask him for something and there is a way to do it, he will."

Redefining a Region
Mayor Roach says the story of Era is far from unusual in his city. "The last two years have been redefined by Hurricane Rita," he says. "We have spent a great deal of time and effort focusing on recovery. When a natural disaster of this magnitude strikes – No. 3 on the list of FEMA's worst disasters ever – and you look at our recovery, it tells you a lot about our community."
And this wasn't your normal recovery process. The resources of the entire state government system and FEMA had been taxed to the limit by Hurricane Katrina only three weeks earlier. Many New Orleans residents had evacuated to Lake Charles and surrounding towns.
"As individuals, adversity defines a lot about who we are," the mayor says. "When a disaster strikes, a community either is or isn't. It can't pretend to be a strong and resilient community."
In the weeks that followed Rita, as well as the two years that have transpired since, the five-parish region of Southwest Louisiana has experienced a remarkable turnaround.
Signs of rebuilding and recovery are found in all five parishes: Allen, Beauregard, Cameron, Calcasieu and Jefferson Davis.
Entire towns in lower Cameron Parish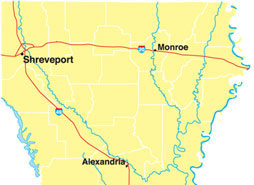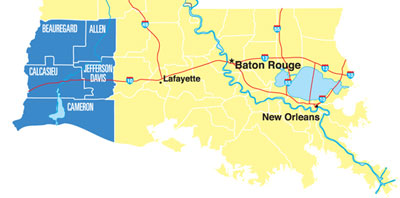 "were totally devastated by Rita," says Roach. "Whole communities were virtually obliterated. And yet if people came through here today, I don't know that they would think that Lake Charles had been hit by a hurricane. The response of the people who live and work here has been tremendous. They have supported one another. Economic development is all about people, and we have seen a lot of goodness right here."
The economic rebirth of the region is being jumpstarted by a series of blockbuster projects. At the top of the list is a $1.3-billion coal gasification plant being built by
Lake Charles Cogeneration
at the Port of Lake Charles. Louisiana Gov. Kathleen Blanco signed a $1-billion bond issue in mid-September to fund the construction of the power plant. Up to 2,700 construction jobs and 150 permanent positions are being created by the project. The average annual salary of the workers at the plant will be $87,000.
The gas plant, which is taking advantage of a federal extension of the Gulf Opportunity Zone bond program, will open by 2010. The GO Zone bonds have been extended through December of 2010 in both Cameron and Calcasieu, the two parishes hardest hit by Rita.
Dan Loughney, director of marketing and trade development for the Port of Lake Charles, says the project, led by
Louisiana Cogeneration
and a group of investors out of New York, is the largest single investment in Southwest Louisiana.
"They burn a byproduct in powder form from the refineries," says Loughney of the SNG operation. "It is a more stable raw material in price, whereas oil fluctuates up and down. Petroleum coke is fairly stable in price. They are going through the bonding process right now."
The oil and gas and petrochemical industries continue to dominate the headlines of area projects under construction. Houston-based
Cheniere Energy
is building two LNG terminals on the Southwest Louisiana coast: the Sabine Pass LNG and the Creole Trail LNG. Upon completion of the projects in another two years, Cheniere will have invested about $2 billion in the region.
Cheniere is also building a natural gas pipeline originating at Sabine Pass in western Cameron Parish and extending northeast about 94 miles (151 km.) through Cameron, Calcasieu and Beauregard parishes. The pipeline system will interconnect with existing interstate and intrastate natural gas pipelines throughout Southwest Louisiana and enable Cheniere customers to deliver gas to Gulf Coast, Midwest, Mid-Atlantic and Northeast markets.

Access to Deep Water Is Key
Ernie Broussard, executive director of planning and development for Cameron Parish, says of the Cheniere projects: "We are proud to call them corporate citizens here in the parish. With these two LNG plants in the parish, coupled with a third LNG in the area and nine pipeline processors, these projects will account for 25 percent of the nation's daily demand for natural gas."
The two LNG projects in Cameron are creating more than 3,000 construction jobs and anywhere from 90 to 125 permanent, high-wage jobs at each facility.
"Cheniere helped us design a cutting-edge financial initiative for the parish that allows us to use their taxes due in 2011 and 2012 now in our recovery projects," Broussard says. "They have been a mainstay and we are using that funding to secure match money at the state and federal level."
When asked why Cheniere selected Cameron, Broussard said the choice was easy: "First of all, our unique and strategic location and immediate access to deep water were key," he noted. "Available land and adjacency to pipelines and surface transportation were critical factors. The receptiveness of the community made it easier for them to select our sites. Cameron is so uniquely situated to blue water and the heart of the Gulf; it gives access to South American theaters and ports all over the world. That made us a natural choice."
Cameron beat out competing locations in Texas, Alabama and Mississippi for the LNG terminals, but the parish is not content to stop there. Broussard said the parish is aggressively marketing other large tracts for development.
"Our sites that are ready for large-scale development include 800 acres [324 hectares] along the ship channel, our Calcasieu Loop, another 480 acres [194 hectares] along the channel in the western part of the parish, and another 1,200 acres [486 hectares] along the east side with access to good roads and utilities," he says.
The port and the 40-ft. (12.2-m.) shipping channel play a crucial role in the regional economy. The Lake Charles Harbor and Terminal District is the 12th largest district in the U.S., handling 52 million tons of cargo last year, according to the U.S. Army Corps of Engineers. When the three LNG terminals in the region are completed by 2012, another 42 million tons of product will be carried through the ship channel each year.
Other area ports include the West-Calcasieu Port, the Vinton Port and the ports of Cameron Parish.

Signs of Expansion Proliferate
Dan Loughney of the Port of Lake Charles says the real story in the region is one of rebirth. "It took a while to get the blue tarps off, but the cities and parishes in the area came to each other's rescue," he says. "They understood the needs, they mobilized, and they got assistance to where it was needed. They focused on rebuilding and expanding the economic base of the area."
The evidence of that rebuilding is everywhere, he says. "This economy is back up and running and is expanding. We have a $125-million, 5-year capital improvement program here at the port. The physical layout of the campus changes every month. We changed dramatically from 2006 to 2007 and will do so again by 2008," he adds. "It's extremely exciting, and it's just getting ready to explode as an economic powerhouse here in the five parishes along the Interstate 10 Corridor."
In Allen Parish,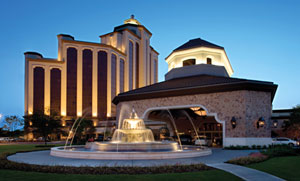 | | |
| --- | --- |
| | "We are beyond recovery. We are open for business, and there are a lot of opportunities here." |
Martco Limited
, a division of Roy O. Martin Lumber Company, opened a new wood products plant in April 2007 which created about 200 permanent jobs and about 280 additional logging jobs.
The project was first announced in 2004 by Louisiana Gov. Kathleen Blanco, who said the state offered tax incentives to persuade Martco to choose Southwest Louisiana.
The project was built on Pawnee Road within a 2,500-acre (1,013-hectare) tract owned by Roy O. Martin. The land connects to Union Pacific Railroad and U.S. Highway 165.
The company had considered site locations in Mississippi and Texas, but selected Allen Parish because of its transportation system and wood supply.
While the dominant employers in the region are ConocoPhillips, CITGO, Turner Industries and other petrochemical companies, one of the largest expansions is occurring in the gaming and hospitality sector.
Pinnacle Entertainment
is dramatically changing the coastal culture with one of the biggest casino resort projects in the region's history. On May 15, Pinnacle topped out its $55-million hotel tower expansion at L'Auberge du Lac, the company's $370-million casino resort in Lake Charles, just two years after the resort opened. The tower is nine stories high and features 250 guestrooms and suites, increasing the hotel's room total to 1,000.
L'Auberge du Lac is on 227 acres (92 hectares) and is two hours from Houston. The property includes a 26-story hotel complex, an 18-hole golf course designed by Tom Fazio, 26,000 sq. ft. (2,415 sq. m.) of meeting space, a full-service spa, 10 restaurants, a 16-slip marina and, of course, a 30,000-sq.-ft. (2,787-sq.-m.) casino. The resort also serves up big-name acts, having hosted both Bill Cosby and Willie Nelson this fall.
But Pinnacle isn't finished. This month, the company breaks ground on another $350-million casino resort adjacent to L'Auberge du Lac. Sugarcane Bay will feature 400 guestrooms and suites, many with panoramic views of the Contraband Bayou.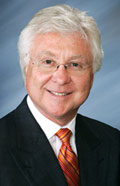 The new resort is scheduled to open in 2009.
Larry Lepinski, vice president and general manager of Pinnacle, says that "Lake Charles is a wonderful location for this type of resort because we offer not only gaming, but we have a golf course and we have a wonderful swimming area and spa. We are surrounded by a number of great outdoor activities – fishing, hunting, boating and other sports."
Lepinski says Pinnacle chose Lake Charles because it is only a two-hour drive from a market of 6 million people (Houston) and because the site offered plenty of available land.
"This market had been under-served until we opened," he says. "Most people in Houston had chosen to go to Las Vegas for this type of entertainment. We have been a great alternative for the customer who is looking for an all-inclusive resort with a lot of entertainment value."
Lepinski says the entire permitting and construction process "went very well" for Pinnacle. "We received terrific support from the government entities in the approval process," he says. "The location was very desirable with easy access in and out and great visibility from the main artery. Interstate 210 goes right by the front door. The location was just wonderful."
Today, the resort draws between 400,000 and 500,000 visitors a month. "We have demonstrated that with L'Auberge, we had tremendous support in the local community," says Lepinski. "It has given all of us, and some who may have been doubters, tremendous confidence about what can be done to attract more tourism to the Lake Charles area."


An Energized Industry Rises
That confidence is spreading to other industries in the area. In Jefferson Davis Parish, alternative energy is growing as fast as the bayou's marshland grasses.
Celunol
, a company that makes fuel from wood chips, switch grass and other vegetation, is running a pilot cellulosic ethanol plant at the Lacassine Industrial Park and is planning a future expansion.
"Ethanol and cellunol represent a new industry that is emerging in Jeff Davis Parish – green energy technology," says Marion "Butch" Fox, executive director of the parish's Economic Development and Tourism Commission. "We are not trying to think outside the box. We are burning the box."
Fox says the area is targeting industries that provide "value-added manufacturing of the agricultural products that we grow here," plus oil and gas firms.
She says her biggest challenge is finding homes for all of the workers needed by the expanding manufacturing companies.
"Our greatest challenges are our labor force and housing. We are working diligently to create opportunities for people who do not live in Louisiana to come in and live here. Our employers will even offer contracts to people from other states to come here, bring their families, and then work on a job for at least three years," she says.

Park Serves as One-Stop Shop
Fox also wants to expand the Lacassine Industrial Park, the 2,000-acre (809-hectare) development that has 40 acres (16 hectares) available for heavy industry just off U.S. Highway 101. The park is served by I-10 and two railroads, BNSF and Union Pacific. The park is 25 miles (40 km.) from Lake Charles Regional Airport and the Chennault International Airport
| | |
| --- | --- |
| | "I think this area of the state is the best-kept secret in the nation." |
and just a few miles farther from the Port of Lake Charles.
Energy companies and "reverse manufacturing" firms are ideal fits for the park, notes Fox. "People need to know that we are ready to do business. We are a one-stop shop. If you need bonds, state assistance or anything, we will do everything for you. We do everything possible to make your expansion as easy as possible."
That level of hospitality can be found throughout Southwest Louisiana. Ron Roberts, mayor of DeRidder in Beauregard Parish, repeats a common refrain: "We are very accessible and we want new business. We are talking to as many people as we can, and we will do anything within reason to help them."
Beauregard's major asset is the 4,200-acre (1,700-hectare) Beauregard Parish Airport, which boasts a 5,495-ft. (1,675-m.) runway.
A natural transportation hub, the parish is served by Highways 171 and 90, and DeRidder is just 40 miles (64 km.) from I-10.
The parish also has two megasites available for development: one of 1,400 acres (567 hectares) and a second of 4,000 acres (1,619 hectares), the largest tract owned by any parish in the state.
Word is spreading. After Hurricane Katrina ripped through New Orleans,
Louisiana Binding
went shopping for a new home and found it in DeRidder. A firm that developed a proprietary technology to preserve court records, Louisiana Binding opened in Beauregard with 30 employees and now has more than 100.
"We provided a city building for their first 100 people, and they are looking at hiring 200 employees over the next three years," says Roberts. "They bought that first building from the city, and now they need another facility."
Roberts says employers come to DeRidder and then decide to stay and expand largely because of the area work force. "One employer in Dallas told me recently that the day you hire an employee in Dallas is the day they start looking for another job," Roberts says. "When you hire a new worker in DeRidder, they appreciate their job and want to stay for a long time."
More than two years after the cataclysmic Hurricane Rita, no one in Southwest Louisiana is talking about leaving.
George Swift, president and CEO of the Southwest Louisiana Economic Development Alliance, says he wants corporate decision-makers to know that "We are beyond recovery. We are open for business, and there are a lot of opportunities here."

Site Selection Online – The magazine of Corporate Real Estate Strategy and Area Economic Development.
©2007 Conway Data, Inc. All rights reserved. SiteNet data is from many sources and not warranted to be accurate or current.