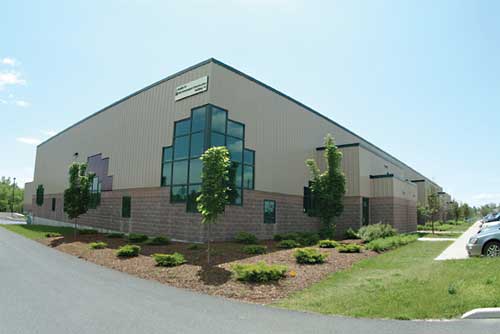 ew York Gov. Eliot Spitzer recently told a crowd in Rochester that the Upstate region needs a healthy "dose of optimism" to turn around the area's economy.
The governor may want to talk to Rob Murphy, an Upstate company leader who's pretty optimistic already.
Murphy is CEO of Home Bistro — a manufacturer and distributor of frozen gourmet meals — which was formed in 1999 in Vermont and moved to Plattsburgh in Clinton County in northern New York in 2002. Murphy tells
Site Selection
it was an easy decision to make.
"We were operating in a Vermont Venture Center. As we expanded, we needed more space for production and distribution," he says. "We were lured over the border by the New York Empire Zone. The incentives we received for creating jobs here were a major factor."
Home Bistro has invested nearly $10 million in Plattsburgh, where it now occupies 27,500 sq. ft. (2,322 sq. m.) and employs 100 workers in the Banker Road Business and Technology Park — a project funded and built by The Development Corp. of Clinton County.
Murphy says that while the company's "preference was for Vermont, the incentives of the Empire Zone were so attractive." Under the program, qualifying employers can operate essentially tax-free for up to 10 years in New York.
"Many of our senior staff still live in Vermont and commute across Lake Champlain," the CEO says. "The building and cost per square foot were critical factors in our site selection. We needed expandability. Plattsburgh offered clean, newer buildings at a low cost. We are located right next to a UPS distribution hub, and we can deliver our product across the country."
Murphy is so optimistic that he's even mulling another expansion. "We may change this facility to one manufacturing plant and add a distribution center," he notes. "Everyone has enjoyed working here. We have a very good relationship with The Development Corp."
Victoria Zinser Johnson, vice president of The Development Corp., the main economic development organization for Plattsburgh and Clinton County, says the area is thriving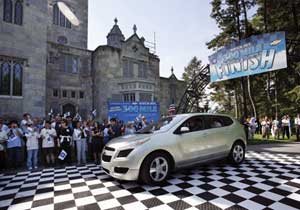 because of its proximity to Canadian markets, access to Interstate 87, and the community's willingness to fund industrial parks and buildings on spec.
That effort is paying off. Since 2004, Plattsburgh has ranked among the top 12 micropolitan areas in the U.S. for corporate facility expansions, reaching No. 2 in 2004.
"We have excellent highway access, a strong rail corridor, a growing air presence and a very supportive state and county government," says Johnson. "We also have an excellent education system including our public schools, two-year community college and four-year state university — the State University of New York at Plattsburgh, which has about 5,000 students."
Murphy says all of those assets played a role in convincing Home Bistro to relocate from Vermont. Plus, he says, he genuinely likes the community.
"The culture here is very good," he says. "This is old-fashioned America. The people are very friendly and highly productive."
He just wishes there were more of them. In fact, notes Murphy, "the biggest challenge for this region is labor. It is very difficult to attract folks from other parts of the country to the Northeast. The biggest cities nearby are Burlington and Montréal."

Reverse Migration Needed
Attracting people, as well as keeping them, seems to be the biggest work-force challenge facing all of Upstate New York. A recent report showed that the Upstate region lost 250,000 people between 2000 and 2005. The region lost twice as many 25-to-34-year-olds as the Downstate area; and employment growth in the Upstate was a negative 2.4 percent.
Johnson says that Clinton County bolsters its population of 90,000 by drawing workers from Vermont and Canada. The area also draws more than its fair share of tourists, especially those interested in early American history. The Battle of Plattsburgh on Lake Champlain ended the War of 1812.
Keeping people in the region long-term, say state officials and site selection consultants, is the key challenge.
Gene DePrez, head of PLI-Global Location Strategies for IBM Global Business Services, says New York must tap into its considerable base of "underemployed, sophisticated labor."
If New York can create and grow the kinds of companies that attract highly skilled, high-technology workers, DePrez says, it will recruit the talent needed to fill those jobs.
New York has higher costs, he notes, but it also provides a "great technology and university base and manufacturing management know-how."
In the Upstate, high-wage jobs are being created the fastest in these industries: aerospace, alternative and renewable energy, life sciences and financial services.
Laurentian Aerospace
is investing $140 million and hiring 900 workers at a new aircraft repair and maintenance plant in Plattsburgh. By 2012, the company plans to have 1,500 employees. The project benefits from a new $12 million terminal at Plattsburgh International Airport, which also invested $3.5 million into runway improvements.
Noble Energy
is building 180 wind turbines across northern Clinton County in the towns of Altona, Clinton and Ellenburgh. The combined $490 million investment creates 120 jobs and is one of dozens of alternative energy projects cropping up throughout the Upstate.
Of the 14 largest corporate facility investments announced in the Upstate this year, four are in the energy sector.
TransGas Development Systems
is building a $2 billion coal gasification plant in Oswego County north of Syracuse;
Renewable Power & Light
is building a $24 million biodiesel plant in Saint Lawrence County;
Mascoma Corp.
is establishing a $20 million ethanol plant in Oneida County; and
Empire AgriFuel
is spending $18 million on a biodiesel facility in Cortland County.
More alternative energy projects could be moving Upstate soon. The Rochester Institute of Technology announced the creation of the Golisano Institute for Sustainability on Sept. 12. Funded by a $10 million donation from Paychex Inc. founder and chairman Tom Golisano, the institute complements a region where groundbreaking research is already taking place in the renewable energy sector.
General Motors and Delphi both maintain their top fuel-cell R&D sites in Rochester, where earlier this year GM made history by producing the first-ever hydrogen fuel-cell vehicle to travel 300 miles without refueling.
In mid-October, it was revealed that the 92-acre (37-hectare) Village Sqaure industrial site next door to GM's Fuel Cell Activities Center in Honeoye Falls has been named by the state as Monroe County's first "shovel-ready" site, and the second in the Greater Rochester area.

A Blueprint for Revitalization
In the Buffalo-Niagara region of Western New York, financial services and insurance companies provide plenty of new jobs. HSBC, GEICO and Citicorp are major employers in the region and continue to show signs of strength.
"We added 5,800 net new jobs last year, which was historic for the entire Upstate region," says Tom Kucharski, president and CEO of Buffalo Niagara Enterprise. "We are having success because we are providing water, power, shovel-ready sites and hard-working people for our major industries, including insurance and financial services and life sciences."
Cleveland Biolabs
announced the creation of 90 jobs paying an average annual wage of $95,000 in Buffalo. Taking advantage of Gov. Spitzer's brownfields and retrofitting agenda, the firm is reusing an older building and creating a medical campus in the brewery part of town that dates back to the old canal days.
Echoing the sentiments of other officials in the region, Kucharski says the central question for employers is this: "Can I get the right people? Do I have the ability to attract and retain the work force and intelligence to complete?"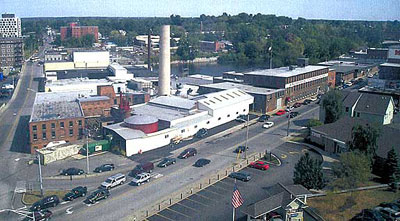 Kucharski says his region produces that labor pool by offering degrees in bio-informatics and genomics at the University of Buffalo.
"Throughout this region, we have a compelling continuum of science from Buffalo to Rochester to Syracuse to Albany," he says. "In addition, we offer a low cost of doing business that enables private industry to thrive."
Among high-tech employers, the largest project announced this year came from
International Sematech
in Albany. In the state capital city, the firm will invest $600 million into a new headquarters and R&D facility in nano-electronics.
Projects like that fit the target of Gov. Spitzer's Renew New York agenda, a plan to radically transform the economy and population of Upstate New York. The governor recently convened a series of meetings led by Dan Gundersen, chairman of the Upstate region for the Empire State Development Corp. (ESD).
Forums to help create a "regional blueprint" were held Sept. 24 in Utica and Oct. 4 in Schenectady. Earlier this year, Gundersen visited Syracuse and discussed how the Upstate can transform itself into a more competitive region.
He said the region must focus on helping existing industries grow, identify and benchmark growth industries, understand the power or universities and research, raise more private capital, lower the overall cost of doing business, and retrain workers by equipping them with new skills.
His words concurred with those found in a landmark report prepared for the state earlier this year by consulting firm A.T. Kearney: "Before innovation economy businesses can flourish in New York state, it must become more attractive to all businesses. Existing impediments, whether stifling regulation, high taxation and costs, or poor communication with economic development agencies, need to be eliminated."
The report, titled "Delivering on the Promise of New York State: A Strategy for Economic Growth & Revitalization," centered on the unique challenges facing the Upstate, but it also held out hope for change.
"The dream of a technologically enabled future for New York state is as old as Stephen Van Rensselaer's musings and as new as the next idea popping into the mind of an Albany-based nano-technologist tomorrow morning," the report stated. "New York has always been a state for technology's dreamers. With a revitalized ESD's help, perhaps more of those dreams will become realities."

<!— END Body Text -->
Site Selection Online – The magazine of Corporate Real Estate Strategy and Area Economic Development.
©2007 Conway Data, Inc. All rights reserved. SiteNet data is from many sources and not warranted to be accurate or current.