he maps don't lie.
Published by the Federal Highway Administration's Office of Freight Management and Operations, a 1998 map of peak period highway congestion glowed an alarming red in the metro areas one might usually suspect: Atlanta, New York, L.A., Boston, San Francisco and Dallas-Ft. Worth.
A second map shows the agency's congestion projections for the year 2020. By then, say experts, the red will have spread like a fever. Congestion will afflict such areas as I-70 between St. Louis and Kansas City, cities in North Carolina and Washington and entire stretches of Interstate, such as that between Detroit and Nashville. The Northeast coastline will be one huge red blob of "exceeded capacity."
The topic is a global one: Respondents to Ernst & Young's 2007 European Attractiveness survey, asked to rank selection criteria for an investment location, ranked transport and logistics infrastructure first – just above labor costs, productivity increase and telecom infrastructure – with 54 percent calling it "very important." At the European Conference of Ministers of Transport in May, Ron Widdows, CEO of Singapore-based container shipping line APL, said that in the first quarter of 2007, only 46 percent of container vessels globally arrived at ports on time – the lowest level on record, and caused by bottlenecks in places dotting that globe. Among solutions he called for were immediate and comprehensive transport infrastructure investments in Vietnam and India; port expansion in the U.S. and Europe; and more use of rail in Europe.
"Congestion in any major part of the world's supply chain has global reverberations," he said.
Instead of throwing up their hands, some companies, cities and regions are developing real solutions, often on a massive scale. Developers and REITS like ProLogis, First Industrial and AMB are taking huge stakes in logistics-centered property portfolios. And "multimodal" is evolving from a buzzword to a way of life, if the logistical flow of materials, products and people is to be sustained at an acceptable – and profitable – level.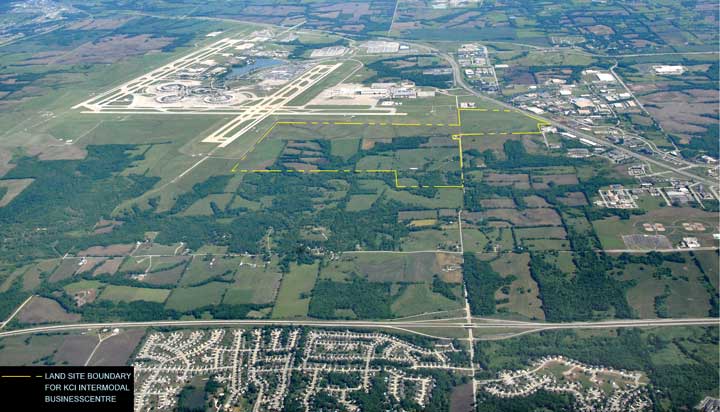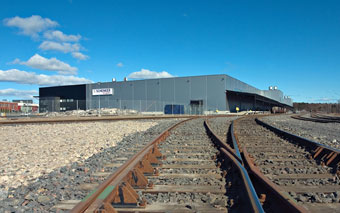 Back Inside the Box
In some cases, it also means re-evaluating which boxes to keep in-house and which to outsource to management by third-party logistics providers.
Mike Nordstrom, vice president of corporate services for Minneapolis-based General Mills, says the corporate use of 3PLs has been undergoing what he calls "a big change" over the last five to seven years.
"The historical model logistics companies have used is that they provide labor, warehouse expertise and the space and then charge their markup to both the labor and the real estate costs," he says. "Now we control the real estate directly and they provide the expertise inside the box. Most of the time the lease rates were based on our credit/guarantee, so why should we pay a markup on top of it? We don't run our distribution centers – there are very good companies out there that do it very well. But in the cost model, if you can define your [real estate] need, you're better off controlling it yourself."
Chinese personal computer concern
Lenovo
is finding that to be the case as well, announcing this summer their first owned distribution center in the U.S., a $10-million project in Guilford County, N.C., outside Greensboro.
"In the past we were completely out of house from a fulfillment center perspective," says Gerry Smith, senior vice president for global supply chain for Lenovo, who just finished his first year on the job after coming over from a 13-year stint at Dell. "What we found was it wasn't effective from an end-cost perspective. Neither my staff nor myself felt we had the control we needed to be successful long term."
Though the company will continue to work with 3PLs, bringing it back in house, says Smith, will result in better delivery lead times and better overall quality in supply chain control. "Everything we manage internally, we do a better job at. If we're a lot bigger in the future, we would constantly evaluate what model we'd use. For where Lenovo is right now, to stay competitive for cost and delivery, internal is the way to go."
In Lenovo's case, logistics is driving changes not only to its DC network, but to its manufacturing network too.
Not long after announcing the movement of its global ad hub to India, Lenovo announced it would be investing $30 million in new manufacturing plants in Mexico (750 employees) and in India (350 employees) as part of its plan to situate plants closer to customers. The Indian facility to be constructed in Himachal Pradesh is the company's second in the country.
"Logistics was one of the prime decision criteria," he says of the North Carolina and other projects. "We looked extensively at distribution routes.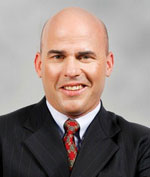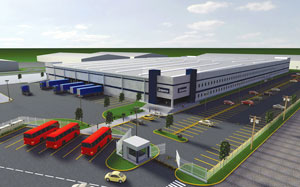 We brought in partners, asked for advice, leveraged industry best practices and looked at numerous models. There were a lot of heated and tense conversations before the site selections in Guilford County and Monterrey."
Among the areas examined for the North American projects have been South Carolina, Kentucky, Tennessee and Canada. Helping make the case for Guilford County – where the company withdrew its local incentives application and received no state incentives either – was proximity to an existing facility in Mooresville.
Lenovo's summer earnings announcement showed the firm to be growing at twice the rate of the market. Smith says his team examined where growth was happening, and tried to put DC and fulfillment centers appropriately. He says his first year has been full of project announcements, but there will be more, including one on the U.S. west coast and another somewhere in central or eastern Europe.
Smith says the decisions are all made holistically, and that the key driver is end-to-end cost.
"I run the entire global supply chain. All the people report to me. The Americas and India regions are separate, but we leverage the same tools, teams and people. We view this as an entire project – we didn't break this up in pieces. It's global manufacturing, a network footprint. The final icing on the cake for the strategy will be the announcement in EMEA." Smith says the company is in final negotiations with several entities in that part of the world.
"Logistics is really the crux in my mind," Smith emphasizes, noting the decision-making involvement of everyone in his organization. "We looked at the routes, added in overhead costs for that. We looked at the labor pool, political stability in the regions, and the maturity and capabilities of local governments. We went in-depth and did cross-functional analysis, including cost for shipping lanes. We sent out RFIs with affected governments, [asking about] labor pools, education levels, migration levels of businesses."
In the case of India, the company chose to go into a 130,000-sq.-ft. (12,077-sq.-m.) spec facility in Baddi rather than the greenfield route, in part because the latter process in India would have been considerably slower due to regulatory and other government process detail. "Time to volume was very important," says Smith, "because India is one of our fastest growing markets. It's important to put a footprint in that part of the country."
Lenovo already operates a facility in Pondicherry, three hours south of Chennai. Smith says the logistics structure of India is a challenge. But Baddi is an exception because of what he calls its "great infrastructure from a highway perspective." He expects suppliers to cluster nearby.
"India is a pretty exciting place," he says. "It reminds me of seeing Shanghai about 10 years ago. It's a huge
A City for Movement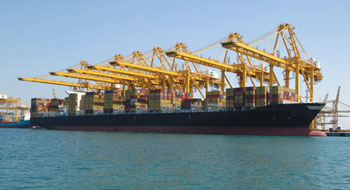 opportunity for global companies, and I'm excited Lenovo is investing there."

Need a Hub?
Asked about the importance of proximity to intermodal hubs in the spate of projects the company has been pursuing, Smith says they were "absolutely a consideration we took into account. They are not 100 percent of the decision process, but it's personally one of my hot buttons."
They're also hot buttons for railroads around the world. All the Class I railroads in North America are pursuing them as part of grander corridor plans. They're essential to
Norfolk Southern
's "Crescent Corridor," and to the plan for the entire I-95 east coast corridor submitted by
CSX
to the U.S. Dept. of Transportation's "Corridors of the Future" program (see sidebar).
As director of strategic development for BNSF, Skip Kalb is responsible for the development and implementation of the railroad's logistics park strategy, which includes its rail/truck transload network. BNSF is pursuing projects in that realm in the Chicago area, Dallas, Seattle, southern California and Gardner, Kan., where Logistics Park-Kansas City is now taking shape in partnership with the Allen Group.
The Kansas City area has no shortage of logistics-driven projects, even as the new mayor of the Missouri city at its core vows to reform its incentives and TIF policies. Kansas City Southern railroad, for instance, continues to push its plan linking the U.S. heartland to newly expanded ports on the Mexican west coast. Johnson County's New Century AirCenter continues to lure projects because of its intermodal capabilities, including a recent distribution center from Kimberly-Clark. And in June, the Kansas City Aviation Dept. and Trammell Crow Co. unveiled their plan for the 800-acre (324-hectare) KCI Intermodal BusinessCentre, to be located on the southeast corner of Kansas City International Airport.
Phase I of that project will begin construction this fall, on a 300-acre (121-hectare) parcel near the American Airlines overhaul and maintenance base. It will feature 2.7 million sq. ft. (250,830 sq. m.) of commercial space in approximately seven buildings. Phase II involves extending infrastructure to another 400 acres (162 hectares) that front directly on the main runways of KCI.
In Gardner, the BNSF/Allen Group project is in its environmental and permitting phase, and is expected to open sometime in 2009.
Kalb says he's been involved in his share of intermodal projects over his 32 years in the business. He says the fact that his firm now has several of them going on at once indicates the unprecedented role of logistics in the overall economy, not only as a mover of goods, but as an employment sector that can take up some slack from a loss of manufacturing jobs.
That said, "you can't put a major logistics park in every community either," he says. It takes Class I mainline track, at least two miles (3.2 km.) of railroad frontage and "large amounts of developable land that can be entitled for the customers."
Intermodal is BNSF's fastest-growing business segment, and it sees it as one solution to traffic congestion that spokesman Steve Forsberg says costs the nation nearly $180 billion in wasted time and fuel each year. "Just a one-percent increase in rail's freight share would save taxpayers $27 billion over 20 years, because of reduced highway maintenance and construction," he says. The railroad just ran its first 10,000-ft. train in May, carrying over 400 containers.
Environmental effects of such logistics parks on the regional airsheds are also a rising issue. Kansas City just this spring violated ozone standards for the first time, says Kalb, and that has to be factored into development. Likewise, with California's stringent standards, the railroad has made multiple special accommodations at its Southern California International Gateway. Kalb says the railroad is installing electric gantry cranes at multiple facilities, and using check kiosks and load pre-clearance in order to reduce truck idling time. Kalb notes too the positive attributes of brownfield redevelopment for these facilities, which took place at the former arsenal in Joliet, Ill., and is taking place at a new center in Victorville, Calif.
Possibly helping intermodal development is a federal investment tax credit currently under consideration by the U.S. Congress, available to shippers, businesses, developers and railroads alike who invest in new freight rail infrastructure.
While BNSF serves the steamship and trucking companies that in turn serve large retailers' DCs, Forsberg cites the importance of moving large volumes large distances to the ability of those retailers to maintain low prices.
"We show how it's so much more economical to locate one of their distribution facilities near a logistics park, because the money they think they save on land costs is overwhelmed by the proximity to the logistics facility. If that type of facility is a heavy user, it makes a very big difference."
The Allen Group quantifies it using a marketing tool it calls the Drayage Calculator. Using a 1-million-sq.-ft. (92,900-sq.-m.) building as an example, moving 30,000 containers per year with a standard drayage rate of $2 per mile, the difference between being one mile from an intermodal facility and 50 miles from it is $60,000 a year vs.
U.S. Dept. of Transportation
Intermodal Association of North America
European Intermodal Association
$3 million a year, or $0.06 per sq. ft. vs. $3 per sq. ft.
BNSF is in an advisory position to rail and intermodal development in China. Forsberg says the People's Republic has announced at least a couple dozen logistics park projects, in addition to general rail network expansion and $54 billion in port expansions.
"On top of the port number, at the time of the MOU in 2004 with us, they'd announced an investment of $242 billion in their rail network by 2020," says Kalb. "That would in essence recreate the BNSF and UP systems in 10 years."
"Over my 32-year career, my observation is that transportation has always led commerce," says Kalb. "In the late 1970s and 1980s, we got away from that a bit. What I'm seeing now is this convergence of mobility and technology, which will take us to the next level in global trade, and it's fun to be a part of it."

Site Selection Online – The magazine of Corporate Real Estate Strategy and Area Economic Development.
©2007 Conway Data, Inc. All rights reserved. SiteNet data is from many sources and not warranted to be accurate or current.