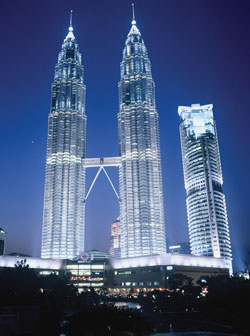 Dynamic
Stability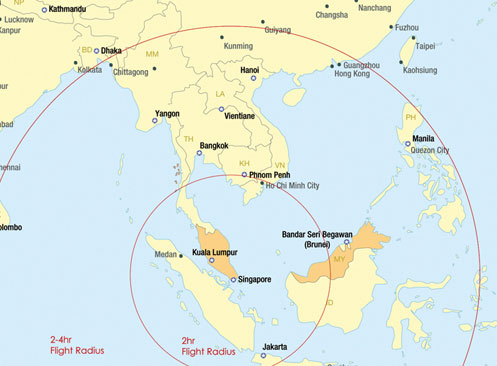 A
sian tiger Malaysia knows it is in danger of being declawed by cats larger and smaller in terms of GDP — Vietnam and China are the obvious culprits.
"Compared to a country like Vietnam, the costs are slightly higher here in Malaysia, but the education level and skill level and productivity are higher."
Which is why the government in early 2007 dusted off its industrial-development blueprints with an eye to competing more aggressively for foreign direct investment. The new plan is to lose Malaysia's "developing nation" status by 2020 and to reinvigorate economic development policies in order to remain a key business and industry destination.
Central to the strategy is an aggressive development campaign in the northern and southern parts of the peninsular section of the country — western Malaysia — as well as continued development of the central region in and near Kuala Lumpur, the capital. A new, north-south motorway does the job of connecting the Thai and Singapore borders through Malaysia, but it is the investment in huge technology parks and related developments near those borders and elsewhere that hold the most promise for luring desirable industry projects in the years to come.
Whereas electronics manufacturing kept Malaysia's economy humming in the 1990s (prior to the currency crisis that affected Southeast Asia beginning in 1997) and heavier industry did the trick in the previous decade, a new slate of industry sectors will be called upon to deliver in the years ahead. These include biotech and pharmaceuticals, medical device and machinery manufacturing, logistics, R&D and higher-end electronics production.
In several ways, Malaysia has a distinct advantage over Vietnam, China and other FDI hotspots in Asia. Chief among these is political and economic stability. Even in the throes of the Asian currency crisis triggered by the collapse of the Thai baht, Malaysia did not require financial support from the International Monetary Fund. Malaysia's infrastructure is highly developed, from the motorways to the new international airport south of Kuala Lumpur to the seaports and industrial parks. Similarly, Malaysia has in place banking and legal systems that favor foreign investment and a pro-business government that is committed to cutting red tape for foreign investors.

Growth on All Fronts
These attributes are helping Malaysia's diverse slate of industries prosper. Consider these 2006 figures from the
Malaysian Industrial Development Authority
(MIDA): The manufacturing sector expanded by 8 percent in the first three quarters of that year, contributing to 32 percent of the country's GDP. The non-government services sector grew 5.9 percent and accounted for 50.7 percent of GDP.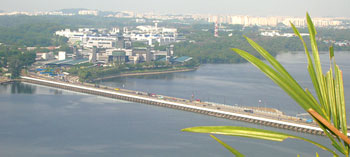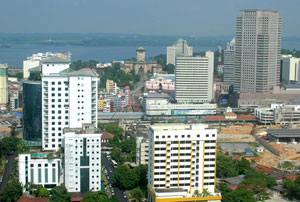 The manufacturing sector's Industrial Production Index increased by 7.3 percent to 138.8 in 2006, with growth resulting from increases in the production indices of 25 out of 38 industries. These include semiconductor and other electronic components (10.4 percent), chemicals and petroleum products (7.6 percent), food manufacturing (7.5 percent) and textiles and apparels (7.3 percent).
"Despite the increasing global competition, Malaysia continues to attract global foreign investment outflows, reflecting the country's cost-competitiveness as a manufacturing and export base," noted Dato' Seri Rafi dah Aziz, Minister of International Trade and Industry, in February 2007. Foreign investments in approved projects in 2006 amounted to 20 billion Malaysia ringgits (RM) or US$5.8 billion, the highest level recorded to date. Domestic investments that year amounted to RM 25.8 billion ($7.5 billion), up 42 percent from 2005.
"It is encouraging to note that existing companies, both foreign and domestic, continue to expand and diversify their operations in Malaysia," observes Minister Rafidah. "This is reflected in the approval of 424 expansion and diversification projects with investments of RM16.6 billion [$4.8 billion], accounting for 36 percent of total investments. These reinvestments by existing companies are a testimony of their continued confi dence in the investment climate in Malaysia."
Virtually every direct investor interviewed for this survey identified Malaysia's political, economic and social stability as a key factor in locating or expanding operations there. Tangible steps the government has taken recently to boost the national business climate include improving the government's delivery system, providing customized incentives for qualified investments and reducing the corporate tax from 28 percent to 27 percent in 2007 and to 26 percent in 2008.
Other steps include (1) establishing an Immigration branch in MIDA to facilitate the
"Top management seems very comfortable with the Johor area, enough so that they want to move everything that's in Singapore here."
issuance of work permits to expatriates working in Malaysia and (2) establishment of the Cabinet Committee on Investments, chaired by the deputy prime minister, to ensure that high-impact projects requiring consideration by multiple ministries and agencies are approved expeditiously.

Iskandar Development
Region Takes Shape
Meanwhile, massive initiatives are under way in southern Malaysia near Singapore, the Kuala Lumpur area in central Western Malaysia and in the north, where a second bridge will connect the industrial island of Penang to the mainland.
A new spirit of cross-border cooperation between Malaysia and Singapore is the driving force behind major new developments in the southern part of the state of Johor, adjacent to the island nation of Singapore.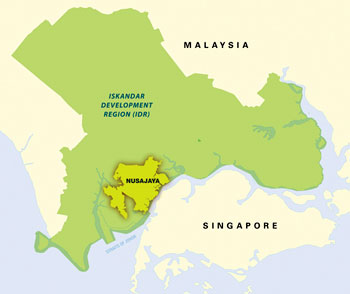 Prime Minister Abdullah Badawi has worked in recent months to reinvigorate relations with Singapore and to encourage investors there to consider nearby Johor as an alternative location that delivers quick access to Singapore's business center as well as lower operating costs.
Central to the prime minister's plan for southern Johor was the creation in 2006 of the
Iskandar Regional Development Authority
, a federal statutory body charged with administering development of the Iskandar Development Region (IDR). The region spans 2,200 sq. km. (850 sq. miles) — two to three times the size of Singapore. In fact, the prime minister is so committed to the success of IDR that he co-chairs IRDA's board of directors. Johor's chief minister, Dato' Abdul Ghani Othman, is the other co-chair. IDR development is concentrated in five flagship nodes, each representing a significant set of projects in their own right. They are:
•
Johor City Center:
State capital Johor Bahru will see an upgrade of its central business district and a new financial district, a causeway to Singapore and the Danga Bay Integrated Waterfront City. The latter is an 1,800-acre (729-hectare) project on the waterfront with leisure, commercial, financial, residential and tourism components;
•
Nusajaya:
A seven-pronged development a short drive west of Johor Bahru that will be the new home of the state government;
•
Western Gate Development:
An infrastructure-rich district that is home to the Tanjung Pelepas Port (
see sidebar
), the RAMSAR World Heritage Park, the second crossing to Singapore near the national north-south highway and a free trade zone.
•
Eastern Gate Development:
This area, too, is primed for additional logistics activity, as it is home to the Tanjung Langsat Industrial Complex, the Kim-Kim Regional Distribution Center and two ports — Tanjung Langsat and Pasir Gudang.
•
Senai-Skudai:
The fifth node is the only one not based along the strait separating Malaysia from Singapore. It's inland, in the central IDR, in the vicinity of Senai International Airport, the Senai Cargo Hub, a multimodal logistics center and a high-tech park.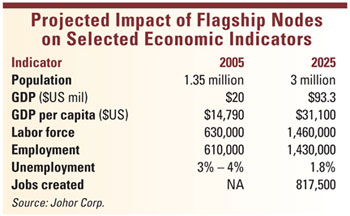 The nodes on the waterfront facing Singapore represent an area of about 175 square miles (44,990 hectares) known as the Special Economic Corridor. This area will be the focus of initial investment into IDR, and much activity is well under way.
Johor's leaders are aware of the importance of their role, alongside IRDA's, in maximizing the area's proximity to Singapore and location at the confluence of east-bound and west-bound shipping routes. Southern Malaysia is approximately equidistant between China and the subcontinent by water.
"Johor is strategically located within a four-hour flight of major international cities with an integrated market of more than 600 million people," says Tan Sri Muhammad Ali Hashim,
Johor Corp.
's Group Chief Executive. "It is a stone's throw away from Singapore, so industry will spill over from Singapore in the form of supporting industries and banking facilities. Investors can enjoy the best of Malaysia and Singapore."
Johor Corp., the state economic development agency, forecasts substantial economic impact from the five IRD nodes by 2025 (see chart). Much of the impact quantified will result from new infrastructure and new multinational corporations investing in IRD.

Johor's Singapore Connection
But much of the impact will result from what is already in place in Johor and greater Malaysia. As the area's current investors know, several factors make Johor a compelling option for manufacturing or distribution operations:
"There is a lot of buzz surrounding the Iskandar Development Region, and this will translate into benefits for the whole region."
• Johor is the only state in Malaysia with three seaports and an international airport (Senai International is being positioned as the national cargo hub).
• Johor has one of the fastest-growing economies in Malaysia with an average growth rate of at least 5 percent over the past 10 years.
• Several universities support key industries in the state, and Johor Corp. operates its own skills development center.
• Industrial parks cater to industry sectors. The Simpang Renggam, Kluang and Mengkibol industrial areas, for example, cater to wood, paper and packaging, food and beverages, textiles, electronics and rubber and plastic.
"Most of our industrial areas are located at strategic locations and are within easy reach of such cities and countries as Kuala Lumpur, Singapore and Indonesia," says Muhammad Ali. "Most MNCs in Singapore have relocated their operation to Johor in order to take advantage of the abundance of quality labor supply, cheaper cost of doing business and strategic industrial location. But at the same time, they maintain their headquarters in Singapore."
That is exactly what Super Food Specialists is doing. Based in Singapore, the maker of instant coffee and other instant foodstuffs is in the midst of a consolidation in Pasir Gudang, east of Johor Bahru. The new facility is close enough to Singapore for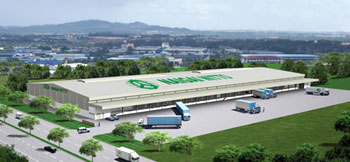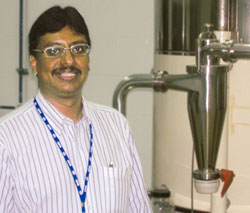 General Manager V. Joseph to see company headquarters from the top floor of the bean-roasting and processing facility he oversees.
"This operation had been in Singapore since 1998," says Joseph of the Pasir Gudang location. "When we wanted to expand capacity, we wanted to stay near Singapore, and Malaysia was the better place." With the latest in processing systems in place, the plant employs 150 workers. "But if you total all the operations we have here in Malaysia, the number will be closer to 400," he points out.
That number will likely grow as the company expands its presence there.
"This is a freehold land which belongs to the Super group, so we already had investments here," says Joseph of the location. "But also in terms of operating costs, we determined that it would be much more economical to operate from here. Here, I am referring to labor, energy, water and so forth. Now, we have not yet been operating here a full year, but I believe we will easily realize a 30-percent cost advantage overall, which is significant."
Testing and proximity to the headquarters are the key advantages to the Malaysia location, says Joseph. "It helps us to have a bird's-eye view all the time of the operation, and the controls are right there, which are easier to work with than from a remote location. The other big advantage of course is the cost."
"The time to come to this [Johor] region is now," says Joseph, adding, "Malaysia has a lot of ambitious plans in place. There is a lot of buzz surrounding the IDR, and this will translate into benefits for the whole region. For plans that are to be carried out by 2020, Malaysia is implementing things quite early. Malaysia is still competitive and effective, and Johor is ideal for us."

A New Logistics Option
Similarly, Naigai Nitto Agency Malaysia has been capitalizing on the Johor region's proximity to its Singapore headquarters since 1990. The agency provides freight forwarding, logistics, warehouse management and related services from offices throughout Southeast Asia. And it was not about to miss out on business opportunities associated with southern Malaysia's emerging status as a distribution hub.
"Malaysia was booming in the '80s and early '90s, and we saw significant potential for Naigai Nitto to expand within Malaysia and offer our services to the growing number of Japanese investors in Malaysia and also the Malaysia business community," says Andrew Fleury, general manager at Naigai Nitto Agency.
"We have seen the emergence of free zones with a positive business climate and also the success of various ports," he continues. "
Port of Tanjung Pelepas
[PTP], for instance, is a catalyst for growth, and around the PTP area is the emerging southwest of Johor, which falls under the Iskandar Development Region. This is an example of Malaysia's dynamism in creating new sectors for the advancement of the country."
Naigai Nitto also operates facilities in Port Klang and the Nilai Industrial Area in the greater Kuala Lumpur area that cater to hinterland clients, whereas the Johor operations serve regional and international clients seeking an alternative to the port facilities of Singapore.
"The location of the Pelepas facility is within 20 to 30 kilometers [12 to 18 miles] of our regional headquarters in Singapore. As such, we enjoy the cheaper land cost in Malaysia and the synergy that the Singapore headquarters offers."
Fleury says Malaysia's hinterland will play an increasingly important role as a launch pad for regional distribution services.
"The hinterland enables us to operate using a base volume and gain opportunities from the local hinterland. Malaysia also offers excellent regional connectivity by air and sea and the road and rail connections that extend to Thailand and Singapore. This ensures our cost proposition to clients is competitive."
But it is the government's establishment of the IDR that has Naigai Nitto Agency most optimistic about its future prospects in Malaysia.
"The formation of the Iskandar Development Region within the south Johor area has been excellent," he observes. "Once our new facility being built in Pelepas is operational, we will be able to take advantage of the growing FDI in south Johor." That FDI will gain momentum as incentives related to IDR take hold. These include corporate tax benefits, regional distribution center incentives and the ability to meet with key government agencies in one location — "a true one-stop processing center," says Fleury.

Competitor and Collaborator
Johor Corp. has been watching the region's ties to Singapore carefully as the Badawi government reaches out to its neighbor with new commercial and investment overtures.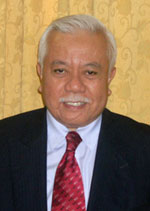 "Singapore is of course our major competitor today in many ways, but we complement each other in others," says Muhammad Ali, Group Chief Executive of Johor Corp. "However, when it comes to ports, we tell those looking at the region that we can offer better ports in Malaysia than what Singapore can offer. We know that Singapore has its limitations, simply put. But this is where we can compensate for that."
Specific competitive considerations aside, "The idea of Johor and Singapore working together is pretty formidable," says Muhammad Ali. "There is more to be gained by working together."
But what should western investors know about southern Malaysia in 2007 that they might be overlooking in their analysis of the region?
"In the global context, any new location will attract a lot of exuberance at first, such as China," he notes. "But people are now beginning to be more realistic about the situation in China now in that there is more than what appears on the surface. You can see that in the social tension and so forth. As you look around outside of China, Singapore and Malaysia have tremendous appeal. "Secondly, we do not have the kinds of problems that other places in Asia have," he adds. "We don't have population tension, for example; the political threats we see elsewhere are much less so here. If you look at the overall risk assessment in terms of political and environmental and so forth, in this one location you have very little of those." Johor Corp. also manages a portfolio of 29 technology parks and industrial estates catering to key industries via its subsidiary
TPM Technopark Sdn. Bhd.
In the same region, the Tanjung Langsat port is being positioned as a biodiesel hub for Malaysia and the entire Southeast Asia region. A key part of the IDR, the 700-acre (283-hectare) niche port is scheduled to start full operations in February 2008. A 4,000-acre (1,620-hectare) industrial base is adjacent to the port, where prime land can be leased on a 60-year-minimum term.
"Tanjung Langsat is in a strategic position to tap not only the crude palm oil supply in the peninsula area, but also the feedstock that comes from the Sumatra area of Indonesia," noted Plantation Industries and Commodities Minister Datuk Peter Chin Fah Kui in a statement issued in March. "This is a very exciting development under the IDR," he added.
"It is just a matter of putting emphasis on ensuring that the supporting infrastructure is available and getting companies to site their biodiesel and biofuel installations in that area [of Pasir Gudang]."
Private investment already is under way at the port. In April, energy industry service provider Dialog Group Berhad agreed to build tank facilities at the port for Dutch oil trader Trafi gura Beheer BV. The tank terminal will have a storage capacity of 500,000 cubic meters of petroleum and petroleum-related products. About four hectares of land adjacent to it will house the centralized tanker facilities, which will serve the terminal and others to be developed in the vicinity. The project represents an RM600 million ($173 million) investment.
"The proposed facilities will propel the Port of Tanjung Langsat into a world-class logistics, liquid-bulk handling and trading hub of petroleum and petrochemical products," observed Dialog in a statement issued at the time the deal was finalized.
Article continues below …

'World Destination' Under Construction
Not far from the Port of Tanjung Pelepas, west of Johor Bahru, earth was moving in July at one of IRDA's cornerstone development nodes — Nusajaya. In the works since the early 1990s, the 24,000-acre (9,720-hectare)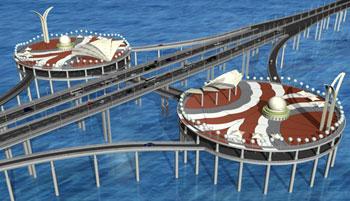 development got a boost in 2003, when new analysis of the project gave birth to seven catalyst projects. They are:
(i) a 2,400-acre (972-hectare) destination resort along the lines of a Disney resort — a formal announcement concerning park ownership will take place later this year;
(ii) Puteri Harbour, a marina, commercial and residential development;
(iii) the Johor State New Administrative Center, which will replace the state government complex in central Johor Bahru;
(iv) the 600-acre (243-hectare) EduCity with purpose-built university campuses and international university operations (Carnegie Mellon University and the U.K.'s University of Newcastle Upon Tyne are early players);
(v) Medical City, comprised of hospitals, clinics and R&D facilities;
(vi) the Southern Industrial and Logistics Clusters, a 1,300-acre (526-hectare) industrial park designed for the advanced technologies, health and nutrition and logistics sectors; and
"Without Singapore, Nusajaya would only achieve up to a certain standard. With its cooperation, it will do quite well."
(vii) a residential plan for up to 500,000 residents.
"We see that we certainly have the opportunity to create a world destination rather than just a local one," says Wan Abdullah Wan Ibrahim, managing director of UEM Land Sdn. Bdh. the government-linked company developing Nusajaya. "Why? Because of the location being next to a first-world country, which is Singapore. The playground, which is Singapore, has already been built, so our position is to complement that, not compete with it."
Wan Abdullah acknowledges that if Nusajaya were located anywhere else, it would be a normal economic zone like many others in Malaysia. "There are high-tech parks around, but they are not integrated," he explains. "In the IDR, Nusajaya stands out with its diverse developments as an integrated, regional city."
Like others interviewed for this survey, Wan Abdullah points to the warming of relations with Singapore as a key driver of Nusajaya's success in the future. Multiple cross-border, highlevel meetings have taken place recently signaling Singaporean interest in investing in Nusajaya components. This will add momentum to the project, even as some components — the EduCity and Medical City, to name two — remain on the drawing board. "This was not happening a year ago, so this is a very exciting time for this region," says Wan Abdullah.
Two components were well under way in July: the Puteri Harbour development and the Johor State New Administrative Center. Puteri Harbour is being created from coastal property, which involves massive relocation of terrain, but which will create a residential and marina complex of interest to serious domestic and foreign investors in private real estate. The idea is to get these investors in place so as to attract more down the road.
The new Johor government complex gives developers an opportunity to create a new state legislative and departmental campus, away from the bustle of Johor Bahru, and one that will distinguish the state capital from most others, given its modernity and architectural scale.
"In terms of infrastructure, as you approach Johor Bahru city center, you veer to the right to get to the second crossing to Singapore from the city," says Wan Abdullah. "And a new, federally funded coastal highway will improve connectivity to Nusajaya and to the whole city. By the end of this year, the entire state government is moving to the
new administration center in Nusajaya, so there is no question the road will be complete by then."
Given its scale, Nusajaya is very much a work in progress. UEM Land develops some projects on its own and seeks strategic partners on others. "We want them to bring the market with them," Wan Abdullah explains. "With Puteri Harbour, we are talking with investors from about 40 countries."
Completion of the entire development will take decades, says Wan Abdullah. "But our magic date is 2011. By then, we will have reached a certain critical mass whereby each of the projects will be feeding off the other. The [$1.8 billion] theme park will be ready by then; the EduCity will already be sending out graduates; at the medical city, a couple of hospitals will be built; the State Administration Center will be in hyper-activity mode; and the industrial area will house factories."
The warming of relations with Singapore will be a key driver of the development's success. "That is why the timing is perfect for Nusajaya," says Wan Abdullah. "Without Singapore, Nusajaya would only achieve up to a certain standard. With its cooperation, it will do quite well."

Northern Lights
Northern Malaysia, too, has a central role to play in the country's emergence as a global center of innovation and high-end industrial output. Penang has been known as "Silicon Island of the East" for years, thanks to foreign direct investment in the IT and electronics industry, and higher-end, higher-value industrial niches are now settling in on the island. For more on Penang, see the
editorial profile
in the September 2006 issue of
Site Selection
.
The mainland in the north has also contributed to Malaysia's success as a leading producer of high-end electronics and semiconductors. Since 1993, much of this activity has taken place at Kulim Hi-Tech Park in the southern part of the state of Kedah. To date, the 1,700-hectare (4,200-acre) park has attracted more than $5 billion of investment from such multinationals as AIC Semiconductor, Intel, Infineon Technologies, Fuji Electric and BASF Electronic Materials, among many others. The park is managed by
Kulim Technology Park Corp.
(KTPC) Sdn Bhd.
Malaysian industrial recruiters are cognizant that electronics manufacturers can find less expensive labor in other Southeast Asian markets. So the government is targeting 12 high-tech specialties with incentives in the hope that companies will combine them with infrastructure in place at such industrial estates as Kulim Hi-Tech Park. The 12 target areas are:
Wafer fabrication and related activities
Semiconductor and related activities
Advanced electronics industries
Medical and scientific instruments
Process control and automation equipment
Optical and electro-optical applications
Optoelectronics
Biotechnology
Advanced materials
Alternative energy resources
Contract R&D services
Product testing and analysis services
The presence of more of these types of enterprises will go a long way toward fulfilling park management's vision of transforming Kulim Hi-Tech Park into "The Science City of the Future." In the meantime, of particular interest to Dato' Ahmad Shukri Tajuddin, KTPC's group chief executive officer, is "technology to green the earth," such as solar panels.
"We are now seeing a lot of interest in Kulim from these companies," says Dato' Ahmad Shukri, "because [Phoenix, Ariz.-based] First Solar has begun construction here on a new facility. Once one decides, the rest tend to follow, so we anticipate a cluster forming around solar technology activities."
First Solar broke ground on its fourline solar module manufacturing plant in April and anticipates bringing it online in early 2008. The 500-employee plant will have an expected minimum annual nameplate capacity of 100MW.
Dato' Ahmad Shukri says the park's value proposition lies in its integration of infrastructure, services and support activities. "We provide continuous education and training by blending education and training facilities in the park itself," he explains. "We manage the whole process of bringing investors in by helping obtain approval from government agencies until they start operations and after that." One criterion for operating in the park is that tenants invest at least 1 percent of annual turnover to R&D. Average R&D investment now among park tenants is 1.5 percent.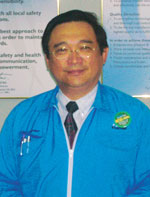 Why High-Tech
Players Are Expanding
Fuji Electric (Malaysia) Sdn. Bhd. occupies a 52-acre (21-hectare) site in the park where it has produced semiconductor, imaging and magnetic media products for 10 years. According to Chong Nee Hwa, senior general manager, the company considered locations in China, where it operates several plants, as well as the Johor region of Malaysia. But a combination of incentives from MIDA, clean air and water and a good supply of technically skilled workers landed the plant in Kulim.
"Plus, our customers are nearby," says Chong. "On the labor side, people who had moved to Singapore or Kuala Lumpur or Penang were willing to come back to Kulim. That is a very significant factor. We can find the people we need locally. We would ideally like to get more graduates from Japanese universities because of their language capabilities, but they have too many other options here in Malaysia."
Chong characterizes the park's service level as "excellent" and appreciates management's attention to roadway infrastructure, training and other matters. That can only help the park lure more high-tech tenants. "Semiconductor makers choose Malaysia because politically it is quite stable," says Chong. "Compared to a country like Vietnam, the costs are slightly higher, but the education level and skill level and productivity are higher here in Malaysia."
Intel has been in Penang since 1972, when it opened its first offshore assembly plant on the island. It has since added locations in Kulim and Cyberjaya near Kuala Lumpur, bringing its work force in Malaysia to around 10,000. Besides manufacturing, Intel conducts design and service activities in Malaysia.
"Malaysia is considered a key site for Intel related to future growth and support activities," according to an Intel statement provided to
Site Selection
for this report. "Our location in Malaysia is accessible to the huge market in China and India, while tapping on the potentials offered by the Southeast Asian neighbors."
How does an operation the size of Intel's find Malaysia with respect to labor and logistics? On balance, quite good.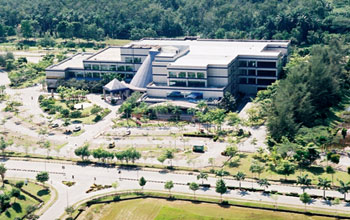 Infineon will open a second, identical plant at the site in 2009 or 2010, assuming the market for its products stays as strong as it is in 2007.
On labor: "Hiring fresh graduates and direct labor is not a problem. Hiring Masters and Ph.D. candidates is difficult. It is also difficult to [lure] scientists and R&D engineers working overseas back to Malaysia." As for logistics, "Malaysia offers a good range of air and ship routes to nearly all worldwide locations coupled with an excellent partnership with Customs locally in the Free Industrial Zone."

Fabs on the Fast Track
Infineon Technologies (Kulim) Sdn. Bhd. opened its semiconductor chip facility in the Kulim Hi-Tech Park in February 2006, but it had been in Malaysia, in the state of Malacca, for years prior to that. But the land area there was not conducive to expanding. Kulim, on the other hand, was built originally for wafer fabs with on-site power generation, water availability and — critical to Infineon — room to grow.
"And costs were not exorbitantly high compared to other regions, so you add those factors up, and it was a pretty easy decision to locate the facility at Kulim," says Tan Soo Hee, vice president and managing director. "Another factor is the fact that 30 percent of the plant's customers are in the Asia-Pacific region, so this location lets us take advantage of customer proximity."
Tan says the 86-acre (35-hectare) site was chosen in November 2004, ground broke in March 2005 and the plant opened just 11 months later with production commencing in April 2006. "It went so smoothly, it was unbelievable. I was in a state of shock," Tan recalls. "We did a lot of very hard work getting the government to remove barriers, such as immigration, because we needed to bring in specialized people and specialized building materials. That process could have dragged on a long time. But help from MIDA and Kulim Technology Park Corporation helped us get to the right people. It's not just the federal government, but the state as well."
Of the Infineon facility's 915,000 sq. ft. (85,000 sq. m.) of space, 108,000 sq. ft. (10,000 sq. m.) is clean-room or production space. "It is a huge facility for the products we are making," says Tan, adding that it can produce 100,000 wafers per month with room to increase that rate. The facility is operating at about 30 percent capacity. What's more, Infineon will open a second, identical plant at the site in 2009 or 2010, assuming the market for its products stays as strong as it is in 2007. Infineon's chips are used in the industrial and automotive industries, among others.
Finding engineers to staff the huge facility was not terribly difficult, says Tan. But finding
Malaysian
engineers meant looking in China, the United States, India and other markets for Malaysians willing to come home. Of the original batch of 120 critical-task engineers, 97 percent are Malaysian. The idea is the lower the percentage of expats working there, the fewer expats there will be who decide to return to their native country. "There is a tendency to think that home is somewhere else," says Tan, "so if home is not somewhere else, then that is better for us from a cost perspective.
"We are building this business for the long term, not the short term," he adds. "For personnel development and for the success of the business and the ability to compete in the world, you have to have consistency in people. I cannot manage in such a way that I am always wondering if some of my management will leave — we are not running a call center here."

Site Selection Online – The magazine of Corporate Real Estate Strategy and Area Economic Development.
©2007 Conway Data, Inc. All rights reserved. SiteNet data is from many sources and not warranted to be accurate or current.