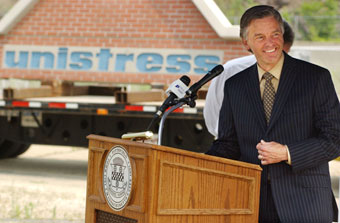 ocations in western Massachusetts, particularly in the Berkshire Mountains, don't make it onto very many large industrial site lists, which is fine with business recruiters there. That lets them focus on small to mid-size enterprises that don't require large, flat tracts of land or hundreds of employees.
Unistress Corp., for example had outgrown its facility in Pittsfield and considered relocating to a spot closer to the New York City area, where much of the company's market for pre-cast and pre-stressed concrete products can be found. But Unistress chose to stay in Berkshire County. Of the approximately 20 business location announcements made in the past year, half were from existing businesses looking to expand.
"Western Massachusetts and Berkshire County have a long history of having a large industrial base, but over time that has shrunk," says Unistress President Perri Petricca. "That has left us with a number of people who are used to working in a manufacturing environment who no longer have those opportunities. So we have had great success in recruiting a blue-collar work force to work in our manufacturing operations." Unistress' concrete products, most of which are between 15 and 20 tons, are used in multi-level parking garages, bridges, industrial buildings, arenas and other structures.
The company had outgrown its existing facility in Pittsfield due to rapid growth during the last several years. "Our options were to do nothing and stay the size we were, to expand here or to expand elsewhere, most likely near New York," says Petricca. "We looked at six or eight sites in New Jersey, Pennsylvania and north of New York City, some of which were raw land and some were industrial buildings we would have had to renovate.
"Ultimately, we were better off expanding here in Pittsfield," he notes, "but there wasn't enough room for growth on site. So we are now expanding on three sites in close proximity to each other. The first is our current production facility, the second is land we own virtually across the street, and the third is another property we own in the area, which is where the new facility will be sited."
The project, which will create 40 new jobs, had been slated to go to the William Stanley Business Park in Pittsfield, where General Electric had a transformer manufacturing plant. "But geotechnical analysis we did showed us that the soil there would not support the weight of the building, and it wasn't worth putting in piles," says Petricca.

Process of Elimination
New Jersey wasn't the right fit in terms of the work force, taxes and the business structure, he explains.
"We looked at Pennsylvania most closely, which had to do with the specifics of our industry. There are some ready sources of aggregates there and some large cement producers. We also looked north of New York, but by the time we got far enough away from Westchester County to where the land was affordable, we were getting into markets where we were afraid we would have trouble getting the right labor. Since we already had all the office and
Unistress' decision to stay in Berkshire County is significant, given the area's transition from manufacturing to a cultural and tourism center. The Boston Symphony Orchestra has spent its summers at Tanglewood in Lenox since 1937; the site has since become a center for music festivals.
"The transition has been difficult for a lot of people, because we're replacing traditional manufacturing jobs with jobs in the service industry, which don't carry the same level of pay and often don't include benefits," says Petricca. "That has helped our industry, because it has made us one of the preferred employers. We're still paying manufacturing wages and have full benefits. Being one of the few manufacturing companies in the area that's experiencing significant growth, we have had very little trouble recruiting our work force."
As for the Bay State's business climate, Petricca says that had less to do with the decision not to relocate to the New York City area than labor supply. "We certainly prefer the workers' comp and liability rates over those of New York," he says, "and I think Pennsylvania rates are pretty comparable to Massachusetts. The income tax issue was not a real factor relative to access to raw materials, labor and energy costs."

Site Selection Online – The magazine of Corporate Real Estate Strategy and Area Economic Development.
©2007 Conway Data, Inc. All rights reserved. SiteNet data is from many sources and not warranted to be accurate or current.