alifornia's status in the renewable energy sector figures to pick up considerable steam with an array of new projects, including a new US$125-million bioenergy research center and an ambitious plan by a startup company to build the world's largest solar farm.
The U.S. Dept. of Energy announced in late June that the new federal research center will be established through a partnership between UC Berkeley, UC Davis, Stanford University, Lawrence Berkeley National Laboratory, Sandia National Laboratories and the Lawrence Livermore National Laboratory. The Joint BioEnergy Institute is one of three being developed by DOE. The others will be in Oak Ridge, Tenn., and Madison, Wis.
/
The Northern California JBEI will be built at a site to be determined in the East Bay. Research will focus on biofuels. It will feature four interdependent science and technology divisions:
Feedstocks, aimed at improving plants that serve as the raw materials for ethanol and the next generation of biofuels;
Deconstruction, aimed at investigating the molecular mechanisms behind the breakdown of lignocellulose into fermentable sugars;
Fuels synthesis, in which microbes that can efficiently

convert sugar into biofuels will be engineered; and
Cross-cutting technologies, which will be dedicated to the development and optimization of enabling technologies that support and integrate the institute's research.
Meanwhile,
Cleantech America
, a San Francisco-based startup, announced in July that it plans to build a colossal solar energy plant in west Fresno County. Cleantech plans to develop in three phases an 80-MW solar farm by 2011. The project would be the world's largest solar farm. Currently, the largest announced facility in the U.S. is a 15-MW solar plant at Nellis Air Force Base in Nevada.
/
"The extraordinary economies of scale which can be achieved by facilities of this magnitude would have a dramatic effect on helping solar energy achieve grid parity," said Bill Barnes Cleantech's CEO. "Solar on this scale would unquestionably attract many solar manufacturing, fabrication and related jobs to the San Joaquin Valley, and further promote the region's growing image as California's 'Solar Valley.' And because in-grid zero emission solar provides peak power when it is needed most, during the hottest times of day during the hottest times of the year, it supports increased generation reliability in the region."
The region's burgeoning "cleantech" sector, which focuses on development of alternative energy sources, is also growing in the San Jose area, where Palo Alto-based
Nanosolar
plans a manufacturing facility in a former Cisco Systems Building. Nanosolar has developed proprietary technology that makes it possible to simply roll-print solar cells that require only 1/100th as thick an absorber as a silicon-wafer cell, yet deliver similar performance and durability.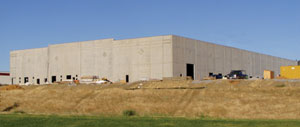 Nanosolar plans to manufacture enough solar cells annually to generate 400 MW. The company is also establishing a facility in the Berlin area as its European manufacturing site.

Shasta in the Middle
Interstate 5, the main north-south highway artery for the three west coast states, bisects Shasta County, a location that just happens to be equidistant from Los Angeles and Seattle. Those are the precise reasons that
Fresenius Medical Care North America
, a division of the world's largest integrated provider of dialysis products, selected a site in Shasta Gateway Industrial Park for its new west coast distribution center, according to Kevin King, the company's senior director of distribution operations.
The 70,000-sq.-ft. (6,500-sq.-m.) facility will become part of Fresenius' integrated distribution system. The company expects to employ 40 when it opens later this year. Fresenius has a network of approximately 2,200 dialysis clinics throughout the world. The company, based on Bad Homburg, Germany, provides dialysis treatment to more than 170,000 people around the globe. Fresenius' North American sales were more than $6 billion in 2006.

Site Selection Online – The magazine of Corporate Real Estate Strategy and Area Economic Development.
©2007 Conway Data, Inc. All rights reserved. SiteNet data is from many sources and not warranted to be accurate or current.