he pending rebirth of the U.S. nuclear power sector has its leading supplier in all-out expansion mode.
Westinghouse Electric Co.
, which has built 62 of the country's 104 nuclear power plants and about 40 percent of the approximately 440 around the globe, needs a much bigger headquarters campus to accommodate projected growth. Westinghouse, which delivered the first full-scale nuclear power plant in Shippingport, Pa., in 1957, will benefit in a major way from the U.S. industry's expansion: Utility companies have chosen Westinghouse to build 12 of the 28 plants now in the application process.
Westinghouse's global reach is expanding, too. The company signed multi-billion-dollar contracts on July 24 to provide four nuclear power plants in China, the first-ever deployment of advanced U.S. nuclear technology in that country. Westinghouse, which was acquired last year by Toshiba Corp., says the China projects will create or sustain at least 5,000 jobs for it and its consortium partner, The Shaw Group.

Expansion Need Sparks Seven-State Search
When Westinghouse realized its projected growth would exceed the capacity of its current 550,000-sq.-ft. (51,000-sq.-m.) headquarters in Monroeville, Pa., it embarked on a quest to find the right site with two main criteria in mind: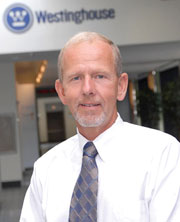 flexibility for expansion and plenty of room for parking.
"We first had to decide if we would stay or relocate, and we looked first to the areas where we had existing sites," says Russ Bussard, Westinghouse's facility manager for the project. "That meant Pennsylvania, Connecticut, the Carolinas, Maryland, Georgia and Virginia. These were states with existing operations or we felt that with our potential new customers we would benefit from having a presence nearby."
Bussard says Pennsylvania became the state of choice following the passage of legislation last November allowing for special strategic development areas (SDA). These areas qualify for tax breaks for companies committing to create or maintain 500 or more jobs or making an investment of at least $45 million within three years.
"The legislation narrowed it to Pennsylvania," Bussard says. "Then we had to decide whether to remain in our existing location and expand or move and build a new facility."
Westinghouse selected the Cranberry Woods office park for its new campus. The site is full of logistical advantages. Cranberry Woods is a northern suburb of Pittsburgh, about 15 miles (24 km.) north of downtown and about 10 miles (16 km.) from Pittsburgh International Airport. The business park is adjacent to I-79 and the Pennsylvania Turnpike.

Site Offers Flexibility For Future Growth
Westinghouse's new headquarters campus will be a three-building, 772,000-sq.-ft. (72,000-sq.-m.) office complex that will be owned by Wells Real Estate Investment Trust II and will be developed by Trammell Crow Real Estate Development & Investment. CB Richard Ellis/Pittsburgh represented Wells in the deal.
"There is significantly more space to expand and most importantly, it gives us the option to expand in phases," Bussard says. "We are able to go a little longer for the second construction phase and that allows us to understand how many people we will build for here."
The first phase is a five-story, 410,000-sq.-ft. (38,000-sq.-m.) office building that will house 1,600 employees. That building is due to open in April 2009. Bussard says planning for the second phase will begin near the end of this year or in early 2008. That phase, which involves two smaller buildings to be connected to the larger main building, is slated for completion in June 2010.
Westinghouse has an option on a 25-acre (10-hectare) adjacent parcel to construct a fourth building if necessary. Following completion, Westinghouse will occupy the property under a 15-year lease with Wells. The new campus could ultimately swell to 1.2 million sq. ft. (111,500 sq. m.)
The complex will likely be designed to achieve LEED certification as a green development project, making it one of the largest private-sector green properties in the U.S. The project is also believed to be the largest Class-A suburban office built-to-suit project in Pennsylvania history.
"The facility is designed for approximately 3,200 people," Bussard says. "We have the opportunity to expand to 3,600 people and we currently have 1,900 at our present location."
Westinghouse has hired 800 people in the last two years and will hire 1,300 this year. A third of these will be moving into the company's Pittsburgh-area operations. Most of these positions are engineering jobs, some are in procurement and others are in project management.

HR Aspect Provided Interesting Challenges
Staying in Western Pennsylvania also avoided the colossal disruption that would have come in moving to another state. The Staubach Company advised Westinghouse during its search, which began in late 2005. Staubach's Drew Saunders, senior managing director in the firm's New York office, says the search was an unusually interesting project. Saunders was the lead Westinghouse liaison for Staubach and project coordinator.
"The most interesting part of this engagement was that it was clearly to solve an HR issue and that's rare for a real estate firm," Saunders says.
| | |
| --- | --- |
| | "Westinghouse couldn't risk losing the expertise of the Pittsburgh area." |
"Westinghouse is expecting 30 percent attrition over the next several years and is going to hire a ton of people."
Another issue for Westinghouse was whether to keep its operations at one site, or to develop a dual hub, with some of the functions moving to another location, possibly out of state. Saunders says Westinghouse never considered moving all of its operations from the Pittsburgh area. The apt code name for the undertaking was "Project Growth."
"It quickly became apparent that if we were going to keep everything in one place, Pittsburgh was the place to do it," Saunders says. "Westinghouse couldn't risk losing the expertise of the Pittsburgh area."
Westinghouse's projected attrition is a legacy of the last major hiring surge in the 1970s during the last major period of nuclear power plant construction. Many of those hires are at or near retirement age. These employees were retained during subsequent downsizings to keep their experience and expertise, Saunders says.
"We did look at seven states, but the decision came down to keeping everything in Pittsburgh or to creating a second hub in the Charlotte area and moving 1,000 to 1,500 employees there and keeping 2,000 in Pittsburgh," Saunders says. "A division headquarters would have been moved to Charlotte. We priced the full occupancy cost analysis of relocating those employees, training new employees, incentives and capital costs and at the end of the day, Pittsburgh was very competitive. It wasn't the cheapest – it was slightly more expensive than Charlotte – but the executives at Westinghouse ultimately made the decision that the business disruption of moving to Charlotte wasn't worth the risk."
When Pittsburgh became the choice, it was a matter of either expanding its current facility at Monroeville or moving up to Cranberry Woods, Saunders says. Infrastructure constraints eliminated a Monroeville expansion.
"There is a need for deck parking and to get that many people in and out of the site," Saunders says. "Really, that's why we ended up in Cranberry."
Project Growth presented a variety of challenges, which made the effort especially interesting, Saunders says.
"We were driving off of headcount projections and there was the acquisition by Toshiba during the middle of the process. Toshiba was a new ownership we needed to get updated and to explain what we were trying to accomplish. Westinghouse still doesn't know exactly how many people they are going to hire. I wouldn't be surprised if these buildings grow before they are completed. It teeters on how many nuclear plant orders they get."
The Staubach effort was directed by two other key people in addition to Saunders. Jay Koster, a Staubach senior managing director who heads the firm's financial services arm, led the real estate negotiations, and Ann Woessner, a senior vice president in Staubach's Dallas office, led the incentive negotiations with the involved states.
Joe Oglesby, a Wells senior vice president, was Wells' lead in the deal, which adds significantly to the company's growing Pennsylvania presence.
"This is our third asset in the Greater Pittsburgh area and our first build-to-suit," Oglesby says. "Westinghouse is a global name and we're glad to be involved with them in meeting their expansion needs by building a first class campus for them."

Site Selection Online – The magazine of Corporate Real Estate Strategy and Area Economic Development.
©2007 Conway Data, Inc. All rights reserved. SiteNet data is from many sources and not warranted to be accurate or current.