I
f corporate project attraction trends are any indication, the top metro areas of Dallas-
Ft. Worth-
Arlington and Houston-
Baytown-
Sugar Land will continue to grow in both projects and people. But they soon may be joined at the top by their central Texas brethren Austin and San Antonio.
The latter saw
Microsoft
break ground on a US$550-
million, 447,000-
sq.-ft. (41,526-
sq.-m.) data center in the city's northwest in late July, following Microsoft's January choice of the city based in part on data center site selection analysis conducted by The Boyd Company. A model data center would cost $10.3 million a year to operate in San Antonio, said the Boyd research, second in the nation only to Sioux Falls, S.D.
Helping Microsoft make its decision were sustainability considerations: a water recovery program already in place with the San Antonio Water System, and the possibility of wind power purchases from the state's growing portfolio of wind farms (see sidebar, p. 754). Also aiding the decision were 10-year exemptions from taxes on personal and real property improvements on the 40-acre (16-hectare) parcel granted by the city and by Bexar County, with the city calling the area the Westover Hills Reinvestment Zone. One element in the economic impact that justified such breaks is the expected $1.4 million annual revenue shot from the facility's use of electricity supplied by CPS Energy.
Expected to be complete by July 2008, the Microsoft facility will employ 75 people paid an average wage of $70,000, substantially higher than the average area IT-sector wage of $43,000. They will join the approximately 12,000 people who already work in the metro area's IT sector, which has an economic impact equivalent to 7 percent of the metro's overall economy.

A Different Kind of Rack Space
Those numbers will rise significantly because of yet another IT investment announced a few days after the Microsoft groundbreaking:
Rackspace Managed Hosting
, a managed Web hosting company and leading vendor to Microsoft, will move its 1,300-
employee headquarters across town into the former Windsor Park Mall, to the northwest of downtown in Windcrest, and plans to increase employment there to 2,000 people by 2009 and to 4,500 by 2012.
In an e-mail interview, Randy Smith, manager of real estate services for Rackspace, says those jobs will be in all areas of the company: customer care, sales, finance, product development, accounting and marketing.
"We never considered leaving San Antonio altogether," he says of the site selection. "But we thought our next wave of growth could take place in some other locale. Austin and several sites in North Carolina were among the most attractive options."
Instead, jeans and greeting cards will give way to a corporate campus as the company invests $100 million in the mall's redevelopment in Windcrest. The state's Texas Enterprise Fund will offset $22 million of that with a grant.
Also clearing the way for the project was a new San Antonio ordinance allowing the city to formalize a master incentives agreement with the City of Windcrest and the Windcrest Economic Development Corp., the entities that first introduced the idea to the firm. It called for the turnover of taxing rights on the 221-acre (89-hectare) mall and surrounding property to Windcrest, which will lease the mall to Rackspace for a 30-year term.
City on the Make … Again

That boundary change was, in turn, facilitated by state legislation permitting it, introduced by Rep. Joe Straus, R-San Antonio. Next door, another parcel is about to undergo a transformation into a $225-
million mixed-
use complex.
Ultimately, the goal was to find "the right long-
term home for our Rackers," Smith says, referring to his fellow employees. A team consisting of "a fairly broad cross-
section of our organization, including our founders, senior executives, and the Board of Directors," took their time doing so. "The chief criteria were to find the right place that would foster the delivery of Rackspace's Fanatical Support, strengthen our company culture and maintain a competitive advantage," says Smith. "This campus has to physically embody our company's core values and who we are."

Creating a Talent Hub
Asked how you turn a mall into a corporate campus, Smith says it's "a balancing act. On one hand, the structure itself was designed to foster a sense of community and to quickly get people from one place to another. On the other, the acoustics and lighting in a mall are less than ideal for office space. We have a great deal of confidence in our design team to introduce as much natural light as possible into the space and to create places where people want to be."
Asked to characterize the momentum of the tech sector in San Antonio, Smith says, "The city is a great place in which to build or operate a data center. San Antonio is basically equidistant from both coasts and is relatively protected from certain natural disasters like earthquakes and hurricanes. The cost of power is less expensive than in other markets, as is the cost of living. We're able to tap into talent from the local military bases and universities to staff our teams.
"This initiative stands to have an impact for decades to come through the presence of Rackspace and the additional investment that the company will attract to the surrounding area, which has been in decline and heavily underutilized for many years," said Windcrest Mayor Jack Leonhardt at the project announcement. "This effort represents the best of intergovernmental cooperation, because the two cities, Bexar County and the state focused on the collective benefits to be gained for this region and the state."
The deal involves a 14-year tax exemption, with payment-
in-
lieu-
of-
taxes going to the school district during that time, and a PILOT for the 16 years thereafter being split between Windcrest and San Antonio. San Antonio in all could see as much as $34.5 million in direct revenue from the deal over the 30 years. Graham Weston, founder and executive chairman of Rackspace, also serves as CEO of Weston Properties, which owns 700,000 sq. ft. (65,030 sq. m.) of industrial and office space in Texas.
Founded in 1998, Rackspace already maintains a significant presence throughout the state, with offices and two data centers in San Antonio, another data center in Dallas and offices in Austin. Its other data centers are located in Herndon, Va.; London, U.K. (three); and Slough, U.K., where the company's facility is powered directly by alternative energy from the local utility as part of Rackspace's GreenSpace program. The company's entire global data center space amounts to a mere 90,000 sq. ft. (8,361 sq. m.), but it packs a mighty economic punch, as the company has grown by more than 50 percent a year since its inception.
Asked about whether the growing alternative energy portfolio of Texas was part of company site search criteria,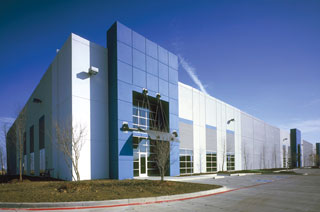 Smith says, "Rackspace's other data centers are not currently powered by this source. However, as we look to acquire new space, power savings and the availability of 'green resources' will be part of the evaluation process."

Knowledge Base
The company already had fostered a productive relationship with the San Antonio Economic Development Corp., choosing in 2006 to partner with that group and the Alamo Community College district to create a Technical Hiring Boot Camp to help fill the firm's many tech job openings. Leading more than 100 candidates from various colleges and tech institutes through a 10-week course that covered such topics as operating systems, networking, hardware and database management, the boot camp graduated 25 candidates in December, who were immediately eligible to be interviewed for job openings at the company.
"Our ultimate goal is to find a position within Rackspace for everyone who completes our training class," said Staci Marshall, director of Rackspace University. "Rackspace's vision is to continue with future boot camps, increasing technical expertise citywide, with the overall objective to help the city compete technologically with the larger cities in the U.S."
San Antonio's facility development scene is by no means confined to the IT sector. In July, the city's Texas Research Park was named one of five finalists for the $500-million National Biological and Agro-Defense Facility. Since its inception in 1986, the 1,236-acre (500-hectare) park has welcomed $140 million in public and private investment, including the arrival of 12 biotech companies. Promoted by the Texas Biological and Agro-Defense Consortium, the site will vie for the facility with sites in Georgia, Kansas, Mississippi and North Carolina, with a final decision expected by early 2008.

Austin Power
To the north of San Antonio, the state capital is welcoming its own blend of technology projects, including the opening of a new semiconductor manufacturing plant by
Samsung
this summer, a project honored in these pages as a Top Deal of 2006.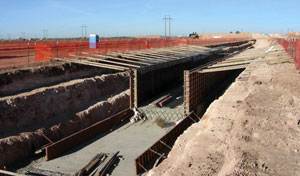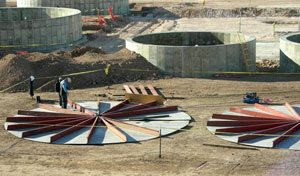 Samsung Austin Semiconductor has hired about 700 new employees during the construction of the plant and now has 1,600 employees in Austin. The payroll for Samsung in Austin will grow from $60 million annually (eight-
inch plant only) to about $100 million once the new plant is in full operation. The Austin complex continues to be the company's only owned semiconductor plant outside South Korea.
"Samsung's investment in Austin is both a statement of our faith in the Austin community and its human resources," said Dr. Chang-
Gyu Hwang, president of Samsung Electronics Semiconductor Business, "but also a testament to the work and energy of our current work force which has proven that we can compete in a global market in Austin, Texas."
Samsung and other chip companies were no doubt pleased in April when the Austin City Council unanimously approved an ordinance decreasing electricity rates for larger energy customers. The special Large Primary Service Special Contract (LPSSC) Riders I & II rate may also be applied to data centers if their electricity consumption reaches 25,000 kilowatts.
Earlier this year, Borland Software followed in the footsteps of fellow cost-
conscious California companies such as Dimensional Fund Advisors, Education Finance Partners and IndyMac Bank in making a move to Austin, where it will employ up to 200 people a year from now, some coming from the company's existing R&D facility in the city.
Other recent successes in Austin include a corporate headquarters from biometric software firm
Merkatum
, a data center from
Citicorp
, and semiconductor cleaning technology company
KoMiCo
. Opportunity Austin reports that, between January and April, 438 companies worked with the organization on potential relocations to the region, 35 prospects visited and 14 relocations were announced.
No wonder Thomas Properties Group Inc. earlier this year saw fit to spend $1.15 billion on a group of 10 Austin office properties belonging to Blackstone Real Estate Advisors, most of which makes up more than half of the city's central business district.
The transaction closed in June. The portfolio comprises approximately 2.5 million sq. ft. (232,250 sq. m.) downtown and 1 million sq. ft. (92,900 sq. m.) in the city's growing northwest submarket.

Dallas Data
The electronics tradition spearheaded in the Dallas-Ft. Worth area by Texas Instruments show no signs of waning either. In May, Sunnyvale, Calif.-
based integrated circuit firm
Maxim Integrated Products
received a $5-million TEF grant to help it fund the $38-
million purchase of the former Atmel semiconductor plant in Irving, where it will invest approximately $200 million and create 1,000 new jobs over seven years. The state and the company had worked out a similar deal in 2003 in San Antonio.
The facility, located on 39 acres (16 hectares), includes 562,000 sq. ft. (52,210 sq. m.) of office space and approximately 60,000 sq. ft. (5,574 sq. m.) of clean room space, which can be expanded to as much as 100,000 sq. ft. (9,290 sq. m.).
Maxim recently hit the $2 billion mark in annual revenues for the first time, part of a stair-stepping growth trend: In April 2006 it ranked first in profit as a percent of revenue among semiconductor companies in the Fortune 1000. Its real estate portfolio includes fab and test facilities in California, Oregon, Philippines and Thailand, as well as technology and design centers in five foreign countries and 11 states, including a design center in Austin.
Data center deals are no stranger to the Dallas-
Ft. Worth metro either, including speculative plays. Among the recent entries is the Collider Data Center in what was formerly the Superconducting Super Collider, located just south of the city, and the June sale by Hillwood of the 88,600-
sq.-ft. (8,231-
sq.-m.) Alliance Gateway Data Center in the Fort Worth Section of AllianceTexas to Dallas-based commercial real estate firm Skyrise Properties. Two Fortune 500 firm data centers already operate at Alliance.
"There's been an increased demand for data centers over the past few months," said Steve Aldrich, vice president of Hillwood Properties, the developer of Alliance. "Not only have we completed this sale, but we're seeing several land deals for data centers to be built at Alliance. Power redundancy, multiple fiber providers and the overall reliable infrastructure of the project are some of the keys that make Alliance jump to the top of the list for data center sites."
Skyrise is also redeveloping the former Alcatel campus in Richardson into a data center campus – all 1 million sq. ft. (92,900 sq. m.) of it.

Goods Movement Shows
Good Movement
Alliance and the Dallas outskirts are better known for logistics prowess, and new projects are sustaining that reputation.
One of the latest to strike Alliance's 17,000-acre (6,880-hectare) development is an 81-acre (33-hectare) container storage facility just completed near the BNSF Intermodal Yard at the Alliance Global Logistics Hub in Haslet. Announced in January and built by Weir Bros., the facility will have initial capacity for more than 3,000 containers. Since 2001 the Alliance BNSF intermodal yard has experienced a 40-percent increase in cargo containers handled, with the total number now at 600,000 containers annually.
"This project is part of the overall effort to speed the movement of international goods from the West Coast seaports through the Alliance BNSF intermodal yard to the customers," said Mike Berry, president of Hillwood Properties, the developer of the Alliance Global Logistics Hub. "This facility will provide a place to store containers that are currently kept in the intermodal yard. This allows BNSF to have more on-site space to accept arriving shipments and to improve overall efficiencies in the supply chain."
At the same time, work continues to progress on The Allen Group's Dallas Logistics Hub, a 6,000-acre (2,428-hectare) logistics park in South Dallas County that purports to be the largest new logistics park in development in the U.S.. General contractors for the park's first two spec buildings were chosen in July. Ultimately some 60 million sq. ft. (5.6 million sq. m.) of distribution, manufacturing, office and retail space is expected, thanks to the park's location next to Union Pacific's Southern Dallas Intermodal Terminal, a proposed BNSF intermodal facility, four major highway connectors (I-20, I-45, I-35 and the future Loop 9/Trans-Texas Corridor) and Lancaster Airport, which is in the master-planning stage to facilitate air-cargo distribution.
A significant step toward that BNSF intermodal terminal was reached in April when The Allen Group granted BNSF the rights to purchase between 387 and 530 acres (157 and 215 hectares) within the park to construct it.
Kicked off with a grand opening in April, the Dallas Logistics Hub is aiming to create 31,000 new direct jobs plus 32,000 new indirect jobs and increase the tax base for the municipalities of Dallas, Lancaster, Wilmer and Hutchins by $2.4 billion. The economic impact of facility construction and employment for operation within The Hub from 2006 through 2035 is projected to be $68.85 billion.
"Texas has led the nation for the past five years in export revenues, totaling more than $150 billion in revenues last year alone," said Texas Secretary of State Roger Williams, who was in attendance. "The new Dallas Logistics Hub opens this region up for even greater opportunities and helps us further solidify and expand our presence throughout the global economy."
Another step occurred in June, when the park signed an agreement with INVITE, an agency of the State of Nuevo Leon, Mexico, whereby goods that are manufactured at the Interpuerto in Monterrey would be sent to the Dallas Logistics via a new, secure and proprietary transportation system, including an enclosed highway system dedicated for trucks and a sprinter train line, and then distributed throughout the southwest U.S.
"We are excited at how quickly the pieces are falling into place."

One Way or Another,
New Power on the Way
TXU Corp.
made the biggest energy splash in Texas earlier this year when it announced that, as a condition of its $32-billion buyout by a group led by Kolhberg Kravis Roberts & Co. and TPG, formerly Texas Pacific Group, it announced it would pull back from investing in new coal-fired power generation, and opt for several nuclear plants, among other paths to more generating capacity. It's being joined in its Texas nuclear ambitions by Exelon Corp., Amarillo Power and NRG Energy Inc.
But they're just part of the always-evolving Texas energy landscape:
Gov. Rick Perry in July unveiled a bio-energy strategy that featured a $5-million Texas Emerging Technology grant to Texas A&M University to help recruit commercially focused faculty to market innovative research for the next generation of biofuels. Among companies already active in the field are
Panda Energy
(ethanol) and
GeoGreen Fuels
, based in Houston, which hopes to follow up its first biodiesel plant in the south Texas town of Gonzales with up to 10 more across Texas.
However, biofuel producers in the state were dealt a slight setback when legislators chose not to renew funding for the Texas Biofuel Incentive program, which until the end of August offered a 20-cents-per-gallon incentive.
On Aug. 1, Perry submitted the state's two offers to the
FutureGen Industrial Alliance
for the town of Jewett or town of Odessa to become home to the U.S. Department of Energy's (DOE) FutureGen project, a $1.5 billion public-private initiative to build an innovative, near-zero emissions coal power plant. The Alliance is expected to announce the winning site by the end of 2007.
Mesa Power
, owned by T. Boone Pickens, may build the world's largest wind farm near Pampa, northeast of Amarillo. Reported to contain as many as 2,000 giant turbines, the farm would spread across nearly 200,000 acres (80,940 hectares). The firm presented its plans to 250 landowners in mid-June. "We are now meeting with Panhandle landowners and negotiating wind lease and easement agreements," said T. Boone Pickens in mid-August as Mesa filed papers with state power regulators. "We are excited at how quickly the pieces are falling into place."
In a related project, the U.S. Dept. of Energy in late June chose a site in Ingleside, near Corpus Christi, as one of two sites nationally to host a testing center for wind turbine blades, the other being in Charlestown, Mass. (see sidebar). The project, on 22 acres (9 hectares) donated by BP PLC, will be funded with $2 million in federal monies and $18 million from the Lone Star Wind Alliance, composed of public and private entities including several Texas universities.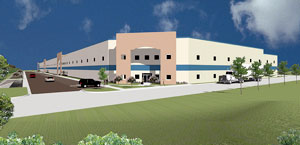 Brownsville Boom?
Positioned at the southernmost point of Texas, on the Gulf of Mexico and across from the Mexican maquila capital of Matamoros, Brownsville is trying to help keep south Texas "the front door of North American trade."
That's what U.S. Rep. Solomon Ortiz called it in early March when Port of Brownsville leaders visited him in Washington, D.C., to call for continued funding for the port's Dock 16 project, widening and deepening project and continued operations and maintenance dredging. Leaders are seeking to increase the $400,000 in dredging support over the coming months, as they compete with other port authorities for scarce U.S. Army Corps of Engineers dredging dollars.
Three weeks later, the lobbying paid off, when Ortiz announced that the Army Corps of Engineers intended to fund more than $48 million in South Texas projects, including nearly $6 million for the O&M dredging in the port's Brazos Island Harbor, and feasibility studies for two further projects in the area.
The Port, a man-made basin, is located three miles (4.8 km.) north of the Rio Grande and the Mexican border and seven miles (11 km.) from the rail and highway border crossing, and is connected with the Gulf of Mexico by a 17-mile-long (27-km.) ship channel.

Focused Education
It was big news in August 2006 when the University of Texas System regents approved a 10-year plan that includes $1.6 billion in construction and renovation, much of it focused on science, following the approval of another $1 billion over the previous year.
Among the 26 projects it will support are a $62-million biomedical research and education center at the UT Health Center in Houston; an $85-million physical sciences and engineering building at UT-El Paso and a $33.8-million science and technology learning center at UT-Brownsville.
But seed money of just over $5 million in the McAllen area may be of special interest to manufacturers.
That's the amount awarded to the North American Advanced Manufacturing Research and Education Initiative (NAAMREI) by the U.S. Dept. of Labor's Workforce Innovation in Regional Economic Development program in February.
A consortium of some 16 schools, economic development agencies and manufacturing associations plans to "develop a rapid response manufacturing (RRM) facility and create a sustainable premier manufacturing infrastructure in South Texas' Rio Grande Region." The Texas Workforce Commission has also committed an additional $3 million in training funds to bolster the project.
"Our local economy is flourishing and we already have a solid manufacturing infrastructure in place to act as a basis for this new rapid response research and advanced manufacturing complex," said Keith Patridge, president and CEO of the McAllen Economic Development Corporation.
NAAMREI's vision for the four-county Rio Grande Valley region includes a 280-acre (113-hectare) "North American Research and Education World Premier Park"; collaboration to support secondary school math and science curriculum development that, in turn, supports rapid response manufacturing; and establishment of advanced manufacturing institutes at three area colleges.
"The long term goal of the initiative is to position the region as the 'Third Coast,' acting as a major distribution hub for North America and as a major research center for rapid product innovation and advanced manufacturing," said U.S. Congressman Rubén Hinojosa.
The area already has made significant progress toward that goal, as companies locate facilities on the U.S. side and in the Mexican metro of Reynosa, which boasts a population some three times that of McAllen as well as 10 growing industrial parks.
The good news on the federal front was followed up in July by the awarding of grants totaling more than $740,000 to the South Texas College Partnership for Business and Industry Training by the Texas Workforce Commission.
"A prominent leader in work force training statewide, South Texas College deserves its well-earned recognition as the first training institution in Texas to earn National Institute of Metalworking Skills (NIMS) accreditation," said Texas Workforce Commission Chair Diane D. Rath. "Such dedication to employers, the work force and the community are what enable the college to provide the training programs, curricula, quality faculty and facilities that have earned this accreditation and set an example for other Texas schools to follow."

Site Selection Online – The magazine of Corporate Real Estate Strategy and Area Economic Development.
©2007 Conway Data, Inc. All rights reserved. SiteNet data is from many sources and not warranted to be accurate or current.