utomotive specialist
Johnson Controls
has had a growing footprint in Eastern Europe since the early 1990s. The company now has 25 locations in nine nations in the region. Two of the latest facilities have opened in Slovakia and Macedonia.
Johnson Controls picked Bratislava, Slovakia, for its new Automotive Business Center due to its central location, good infrastructure and available work force, said Richard Johnson, vice president, information technology. The new facility, which will eventually employ 330 in purchasing, IT, financial services and human resources functions, is the company's seventh in Slovakia,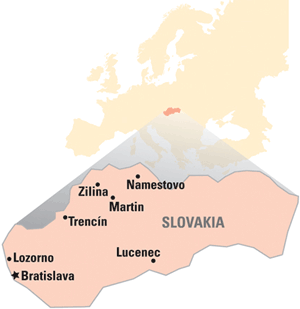 and gives the company a total of 3,300 employees in the country.
Bratislava is also home to new
AT&T
service center to serve the telecom giant's multinational client base. The new facility will house up to 350 employees performing a variety of functions to support the company's customer base in the EMEA region. AT&T expects to attain a work force of 1,000 in Slovakia during 2008.
Johnson said Bratislava is a good position for Johnson Controls to serve growth markets in Eastern and Central Europe. The company also operates production plants in Lozorno, Lucenec, Martin, Namestovo and Zilina, and an engineering center in Trencin.
A free economic zone in Bunardzik, near Skopje, Macedonia, is the site of Johnson Controls' new $20-million automotive interiors plant that will primarily supply the Slovakia market. The Bunardzik facility will employ 150 by the end of 2008. Plans call for a gradual capacity expansion.
Germany-based commercial vehicle builder
MAN Nutzfahrzeuge
officially opened a new truck assembly plant near Cracow, Poland, in October, following a mid-year production launch. The plant is building heavy MAN trucks with gross weights of more than 16 tons. Current employment is about 400, but MAN expects to have at least 650 workers at the facility by 2010. MAN's network of plants in Germany and Austria will supply the facility with axles, cabs and engines.
"We are assuming that the markets in Eastern Europe and the CIS will be growing at above average rates," said Lars Wrebo, production director at the MAN Nutzfahrzeuge Group.

Southeastern Surge
Bulgaria and Romania both experienced a spike in foreign direct investment during 2006, according to the United Nations Conference on Trade & Development's World Investment Report 2007. UNCTAD credits the countries' admission to the European Union on Jan. 1, 2007, as a factor in the investment surge. Most of Romania's inflows were linked to privatization. Bulgaria ranked seventh in world FDI rankings measured against GDP, and Romania was 21st.
Sweden-based telecom equipment conglomerate
Ericsson
opened a new Global Service Delivery Center in Bucharest, employing 200 engineers.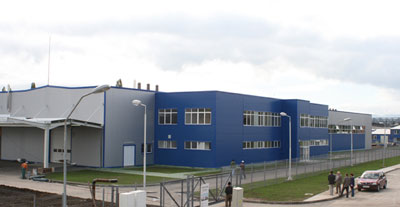 Ericsson supplies fixed and mobile networks and services to more than 40 customers in 11 countries in southeastern Europe and employs about 3,000.
Another Swedish firm,
Cardo AB
, invested nearly $5 million in a new plant in Hunedoara, Romania, for its Doors & Logistics Solution's Crawford brand of industrial doors. The move is part of an optimization process for Cardo, and also involved the closing of a plant in Wennigsen, Germany.
"This investment should be seen as helping to achieve our ambition of having the lowest production costs in the industry," said Peter Aru, Cardo's president and CEO. "What's more, there is strong growth in transport, logistics and retail in the eastern parts of Europe and with this investment in Romania we are strengthening our position in a strongly growing region.
A recent report by German consultancy Roland Berger asserts that Bulgaria will remain attractive for labor-intensive sectors in the coming years as salaries are expected to grow at a relatively low rate. One of the latest firms to open a manufacturing site in Bulgaria is the Swiss firm
Oskar Ruegg
, which has opened a metal assembly facility in the mid-Bulgaria city of Star Zagora. The company plans to hire 400 by 2011.

Site Selection Online – The magazine of Corporate Real Estate Strategy and Area Economic Development.
©2008 Conway Data, Inc. All rights reserved. SiteNet data is from many sources and not warranted to be accurate or current.