erospace industry supplier
Eurocast
was established in Tunisia a few years ago as a base to serve some of the leading names in the industry such as Rolls-Royce, France's Snecma, GE Aerospace and Honeywell. The move has proved successful for the company, now a subsidiary of Arizona-based Paradigm Precision Holdings, which is owned by American Capital. Eurocast, which uses investment casting manufacturing to produce components for aero and land-based gas turbines, has NADCAP (National Aerospace & Defense Contractors Accreditation Program) approvals for aerospace manufacturing and has plans to boost capacity and increase its work force from 60 to 100 over the next few years.
Eurocast's facility in Tunis is about five miles (8 km.) from the Mediterranean port of Rades. The former colony of France offers proximity to Europe and labor cost advantages, says Eurocast's top executive.
Tom Wendt, Eurocast's vice president and general manager, says the Tunisian government's effort to develop a knowledge society through free university education and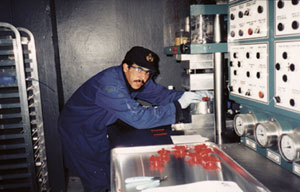 establishment of technology centers has made the country an ideal location for manufacturing.
"A lot of people don't realize the amount of technology being produced in Tunisia," Wendt says. "Tunisian people are very adaptable to doing more than one job, and we train them to multitask. Tunisians are very disciplined and have a technical nature. They love our kind of work."
Proximity to a Mediterranean port is also a plus, Wendt says. Eurocast's base raw materials of metal and sand are heavy and are brought into the country by sea, he says.
Tunisia, with a population of about 10 million, has several key industrial sectors. These include electronics, mechanical industries, plastics, ICT and textiles and apparel.
Footwear is a key sub-sector, as two large firms have established manufacturing operations. Altek, an Italian firm, produces security footwear and employs 800. German footwear manufacturer Rieker also has a factory in Tunisia, employing 160. Production of both factories is entirely for the export market.

Auto Industry Pushes Investment Across Region
The
ThyssenKrupp
Tailored Blanks group has built a new plant in Bursa in western Turkey, becoming the nation's first manufacturer of laser-welded tailored blanks. Car manufacturers including Ford, Fiat, Renault, Toyota, Honda and Hyundai produce around 700,000 vehicles per year in Turkey, mainly for export. Industry experts believe that figure will rise to 1 million by 2010.
ThyssenKrupp's factory will supply joint venture production sites of Renault and Fiat in Bursa with tailored blanks, which are sheets of different thickness, steel grade and coating joined by laser welding.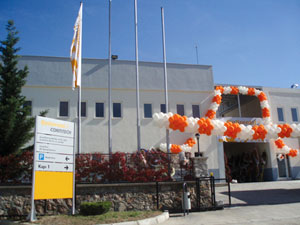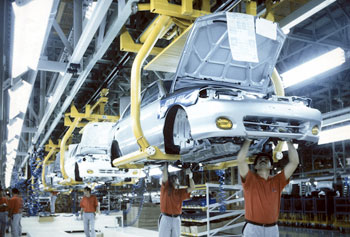 Bursa is located about 56 miles (90 km.) south of Istanbul at the foot of the Uludag Mountains.
Also expanding in Bursa is ContiTech, a division of German automotive supplier
Continental AG
. ContiTech is expanding the production area in its ContiTech Lastik Sanayi ve Ticaret plant by 20 percent to meet the growing demand for air springs. The operation, which employs 250, has already boosted its output from 105,000 units when it opened in 1999 to 900,000 in 2006.
Sweden-based automotive safety systems specialist
Autoliv
has opened two new manufacturing facilities in the Gebze area, near Istanbul. The first plant will have the potential to produce 1 million steering wheels per year when it's fully utilized. This corresponds to approximately one-fifth of Autoliv's existing European steering wheel capacity.
The new plant will produce both polyurethane-foamed and leather-wrapped steering wheels. The new manufacturing building provides 43,000 sq. ft. (4,000 sq. m.) of production area at the Taysad Industrial Zone in Gebze.
The second new plant is 25,848 sq. ft. (2,400 sq. m.) of production area on the same site. This plant will assemble rewinding spring cassettes for seatbelt retractors. The annual manufacturing capacity will eventually exceed 30 million cassettes when the plant is fully utilized. Main customers of Autoliv Turkey are Toyota, Renault, Ford, Tofas-Fiat and Hyundai/Kia.
Major automakers are also investing in Turkey.
Ford Otosan
opened an engineering facility in Gebze in September. The facility employs approximately 200 engineers and staff.
The largest recent automotive announcement in the Mediterranean region came in September in Tangier, Morocco, where the
Renault Nissan Alliance
plans to build an $883-million industrial complex to support a manufacturing capacity of 400,000 vehicles per year. The facility will be one of the largest in the Mediterranean and will be on a 741-acre (300-hectare) site. The complex would eventually employ 6,000.
Managed by Renault, the Alliance facility would produce new-generation light commercial vehicles, 90 percent of which would be exported.

Turkey's Hunger for Steel
Two major joint venture steel industry projects are in the works to supply Turkey's booming steel market, which industry observers expect to continue to grow at a robust rate for the next decade.
ArcelorMittal
, the world's number one steel company, and
Borusan
,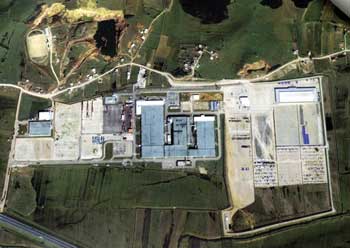 one of Turkey's leading steel producers, plan a 50/50 joint venture to build a $500-million hot strip mill in Gemlik.
The mill, which will be located in Turkey next to ArcelorMittal and Borusan's jointly operated Borçelik plant on the Marmara sea coast, is planned to come online in first half 2010 with a capacity of 4.8 million tons.
Slabs will mainly be sourced from ArcelorMittal, which will ensure a regular supply of high quality products to better serve the booming Turkish steel market.
Russia-based
Magnitogorsk Iron & Steel Works
, which ranks as the world's 20th largest steelmaker, is partnering with the
Atakas Group
of Turkey to build a $1.1-billion metals works.
The new physical plant will be located on two sites far apart, with the core production to be installed in Iskenderun, near Syria, and a second site in Istanbul.
The facilities will specialize in the production and processing of hot and cold-rolled sheet, galvanized and color-coated rolled steel products.
"The dynamic and rapidly growing market of Turkey is not fully sufficient in metal production capacities and is thereby attractive to steel producers," said Viktor Rashnikov, chairman of Magnitogorsk Iron & Steel Works, when the project was announced.

Site Selection Online – The magazine of Corporate Real Estate Strategy and Area Economic Development.
©2008 Conway Data, Inc. All rights reserved. SiteNet data is from many sources and not warranted to be accurate or current.