o for a spin in the new Dodge Viper and you will appreciate the power of American muscle-car engineering.
What you may not know is what it took to produce that vehicle, as well as the business environment that allows the car's unique production process to flourish.
The new Viper may go from zero to 60 in about three seconds, but it takes a lot longer than that to create a climate that fosters economic growth – a lesson that Michigan officials are learning and now putting into practice.
From revolutionary automotive assembly plants to polycrystalline producers to oil pipelines and refineries, Michigan is reaping a whirlwind of advanced manufacturing investments that were a long time in the making.
Following a record-breaking run of five consecutive
Site Selection
Governor's Cup victories in the late 1990s and early 2000s, Michigan entered its own rebuilding phase earlier this decade when the collective fortunes of the Big Three U.S. automakers began a sharp and protracted decline.
Forced by necessity to retool aging manufacturing plants and its entire economy, Michigan literally went "back to the basics" by focusing on what made it the industrial leader of the American heartland in the first place: forward-thinking investment in higher education, technological R&D and work-force training.
"We lost 500,000 manufacturing jobs in the last five to six years," says James Epolito, president and CEO of the Michigan Economic Development Corp. "We were content for a lot of years to rely on the strength of the automotive industry. But when the auto industry catches a cold, we get the flu. We are seven times more dependent on the auto industry than any other state."
Michigan's revised game plan, Epolito says, includes refreshing older plants, luring and supporting around 330 R&D operations in advanced manufacturing, focusing more on producing high-tech talent (such as graduating 6,000 engineers from Michigan schools every year), and putting more capital into automotive R&D than the other 49 states plus Mexico and Canada combined.
Diversification is a must for Michigan, says Ed O'Neill, director of global real estate for Federal Mogul Corp., a $6.3-billion, tier-one supplier to the Big Three.
"Michigan is a great state, but the auto industry is really hurting in this state right now," says O'Neill, whose company is based in Southfield, Mich. "It's all the result of the chasing of cheap labor around the globe. One worker here must produce the same output as 10 workers internationally. The only way we can do that is through mechanization."
Epolito says Michigan officials recognize that reality and are dealing with it.
"The future of economic development in the 21st century is going to be dependent on the ability of businesses to partner with universities to create a pipeline of talent and create a curriculum and train people to come into those workplaces," says Epolito. "Chrysler works with a local community college to design the curriculum and train the workers for Chrysler plants in Michigan."

Testing the Limits of Speed
There's no better example of that than Chrysler's Conner Avenue Assembly Plant in Detroit, where the 2008 Dodge Viper SRT10 is being built by hand by 48 master craftspeople. The street-legal sports car features a 600-horsepower, 8.4-liter, V-10 engine.
Chrysler LLC announced the manufacturing launch of the new Viper on Oct. 24 at a time when most assembly plants are replacing people with robots. Each worker is hand-picked to serve on the 705-ft. (215-m.) assembly line.
"Our assembly process is just as exceptional as the car," said Melissa Holobach, plant manager at the Conner Avenue plant and Sterling Heights Vehicle Test Center. "The process of building these vehicles by hand has allowed us the freedom to produce race-inspired performance without the constraints of mass production. Our work force is committed to producing the best vehicles possible, and it shows in their commitment to detail."
The new Viper engine is also assembled by hand on a 24-station circular line by nine highly skilled craftspeople.
The upgrades in Detroit are part of Chrysler's $1.78-billion plant expansion program in Michigan announced on April 18, 2007. Called the "Recovery and Transformation Plan," the powertrain initiative includes $730 million for a new engine program in Trenton, $700 million for a new axle program in Marysville, $300 million for a new Sterling Heights Assembly Paint Shop, and $50 million for upgrades to the Warren Truck Assembly Plant and Warren Stamping.
"This is an important day for the future of the Chrysler Group and in particular for the continued competitiveness of our operations in the state of Michigan," Chrysler Group President and CEO Tom LaSorda said at the time of the announcement. "We have a vision to grow our business and transform the Chrysler Group into a stronger company that will be competitive for the long run."
Michigan Gov. Jennifer Granholm is pushing for more. On Oct. 26, she announced approval of a state tax credit to encourage Chrysler to invest $336 million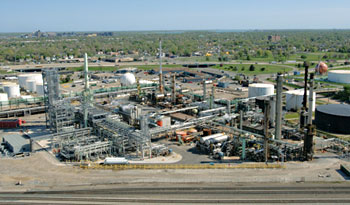 in an expansion of its Jefferson North Assembly Plant in Detroit that would create hundreds of new jobs.
The state is offering a tax credit worth $6 million over seven years, while the city of Detroit is considering a 12-year abatement worth $40.2 million to support the Chrysler expansion.

Fuel Source of the Future
For Michigan, the two single largest capital investments this past year have come not from the automotive industry, but from something that every automobile needs: energy.
Those two investors are
Marathon Oil
and
Hemlock Semiconductor
. Marathon is investing $1.9 billion into expanding its Detroit refinery and extending its Michigan pipeline, while Hemlock is investing $1 billion to expand its polycrystalline plant in Saginaw County.
The Marathon project may well live up to its name, given its scope and reach in the oil and gas industry. On Oct. 31, the board of Marathon approved the heavy oil upgrade project that will increase the Detroit refinery's heavy oil processing capacity by about 80,000 barrels per day and its total crude oil refining capacity by 15 percent to 115,000 barrels per day.
When completed in late 2010, the project will add more than 400,000 gallons of clean transportation fuels per day to the market.
"The Detroit refinery expansion and upgrade will enable us to link our recently acquired Canadian oil sands production, along with its significant growth potential, with a lower cost, higher value refining option," said Clarence Cazalot Jr., president and CEO of Houston-based Marathon.
The project will create 60 new full-time refinery jobs and 75 additional full-time contract positions. The construction project will require an average of 800 workers per day, peaking at 1,200 daily workers during the three-year construction period.
Construction of the 29-mile (47-km.) segment of pipeline through six Monroe County townships and one Wayne County township is expected to begin in mid-2009 and be completed in 2010.
The twin projects provide a more stable supply source for Michigan's only refinery by connecting it to the second largest oil reserves in the world in Canada.
The expansion of the 22-acre (9-hectare) refinery in Detroit is crucial to Michigan's future competitiveness, notes Epolito. "We have pretty high gas prices here in Michigan, and we are looking to reduce those prices," he adds. "We simply haven't built enough refineries. Marathon is also investing in R&D in alternative fuels."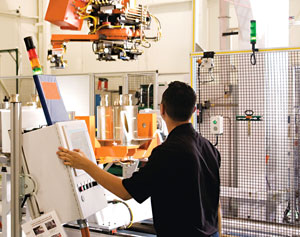 A Clear Alternative
One alternative fuel source expected to impact the Michigan economy in a big way is solar energy.
"Michigan is the number one producer of polycrystalline," Epolito says. "The investment by
Dow Corning
at Hemlock Semiconductor is huge. We have heard many solar companies tell us, 'If you will get me more polycrystalline, you will get me to locate my business in Michigan.'"
One such company that isn't waiting around is
United Solar Ovonic
, a company that makes a thin-filmed solar panel the width of a roofing shingle that enables homes to collect energy from the sun even on cloudy days.
"United Solar is back-ordered three years in the production of these roofing shingles," says Epolito of the company that is headquartered in Auburn Hills and locates its production facilities in Greenville, Mich. Michigan beat out South Carolina for the USO plant.
"Alternative energy is a big play for us," notes Epolito. "United Solar is building six different solar plants. They are taking more than 6,000 former Electrolux workers who were out of a job and retraining them to work in the solar industry." (One of
Site Selection
's
Top Deals of 2006
, this family of projects was first reported as the Online Insider's "
Incentives Deal of the Month
" in May 2006.)
Among other targets, the Wolverine State is aggressively pursuing projects in the fields of cellulosic biofuel, wind energy, photovoltaics and advanced energy storage.
Like the new Dodge Viper that tests the speed limits of hand-built automobiles, Michigan is racing against the clock to become America's leader in alternative energy technology.
"We learned the hard way that we have to invest and diversify our economy," says Epolito. "For the first time, we're becoming more than a fly-over state for venture capitalists looking to invest in alternative energy space. They are stopping here."

Site Selection Online – The magazine of Corporate Real Estate Strategy and Area Economic Development.
©2008 Conway Data, Inc. All rights reserved. SiteNet data is from many sources and not warranted to be accurate or current.