A
s the whole continent awaits Volkswagen's location decision for a new manufacturing plant following its high-profile headquarters move from Michigan to Virginia, vehicle companies from across both oceans and from California are seeking to supercharge the automotive industry in North America with a niche play in switched-on cars.
In early December, Smith Electric Vehicles, a division of U.K's
The Tanfield Group
, confirmed that it is searching across the U.S. for a new manufacturing site that could get up to speed by 2010 in producing 10,000 zero-emission vehicles a year.
"Electric vehicles offer a next-generation automotive industry for America," said Darren Kell, CEO of The Tanfield Group, and one of two executives, along with Operations Director Brendan Campbell, leading the company's site selection effort. Kell said there's a U.S. market demand for 200,000 electric commercial vehicles.
Kell said the new plant would require up to a 300-acre (121-hectare) site, including a 500,000-sq.-ft. (46,450-sq.-m.) assembly facility, test track and space for rolling stock. It would create at least 500 jobs.
The company is already the world's largest manufacturer of road-worthy electric vans and trucks, having ramped up at a former LG Electronics facility in Washington, Tyne & Wear, U.K., that is now known as Vigo Centre. That 250,000-sq.-ft. (23,225-sq.-m.) facility in northeast England has capacity for 1,500 vehicles, and should be home to some 400 new jobs within the next three years.
Tanfield's entry into the U.S. marketplace came via its other division, aerial platform (or "cherrypicker") manufacturer UpRight Powered Access, which Tanfield bought in June 2006. The company has since invested millions to expand the capabilities and payroll of its plants in California, says spokesman Dan Jenkins, primarily at a 70,000-sq.-ft. (6,503-sq.-m.) site in Fresno, where between 30 and 40 new jobs were created during the past six months alone.
He says the company is investing €10 million (US$20.3 million) into the cherry picker business in the U.S. with most of it going toward a plant in Elwood, Kan., just across the Missouri River from St. Joseph, Mo., where it plans to double production.
Earlier in 2007, Smith Electric launched vehicles nicknamed Edison and Newton, and was scheduled to ship 250 units in 2007 to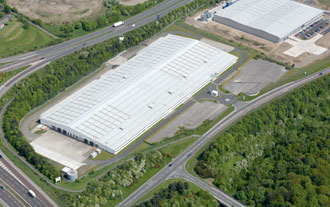 U.K. customers such as DHL, Starbucks, the Royal Mail, CEVA Logistics and others.
Smith uses part of the Fresno complex for a pilot-scale plant that has an annual capacity of 1,000 electric vehicles, says Jenkins. Already, however, both the U.K. and U.S. facilities are maxed out with orders, he says, and so the company is pursuing simultaneous site selections on both sides of the pond.

The Pool Expands
Jenkins says the company began looking for a new U.S. site in February 2007, working via the U.K. Trade & Investment team housed at the British Embassy in Los Angeles. Driven largely by end markets such as New York City and California – where congestion and political support for green technology and laws are both market-leading – the company's initial search had already engaged economic developers in the East Coast, Midwest and California.
But Jenkins says the December announcement brought some 18 new communities into the site selection mix, "which was extremely pleasing." They include several in the U.S. South.
"Planting our flag has offered us some additional alternatives we'll be exploring, in particular some of the southern states, which have a great deal going for them in terms of automotive experience and willingness of economic development agencies to support growing companies like ours," he says. "What we'll now do is engage in a more detailed review of which of these areas can provide all the assistance and required labor we'll need going forward.
The level of support from economic developers is important, he says, but the site choice is being driven primarily by how it will fit into the firm's U.S. supply chain, whose vendors include California companies that export to Smith's U.K. operations.
Last year California-based
Tesla Motors
tried to locate a manufacturing project for its own electric car business in the state of its founding, only to pick an attractive offer from Albuquerque, N.M., when no financial support from the Golden State was forthcoming. That $35-million, 400-job project also will aim to make 10,000 vehicles a year – albeit of the high-priced sports car variety.
Tesla will make the "WhiteStar" four-door electric sedan in a 150,000-sq.-ft. (13,935-sq.-m.) facility adjacent to the city's Tempur-Pedic mattress plant.
"This is a major step toward making New Mexico a center for 'green' manufacturing," U.S. Senator Jeff Bingaman said. "In my role as chairman of the Senate Energy and Natural Resources Committee, I will continue crafting policies at the federal level to ensure that the electric cars like those made by Tesla – and other companies specializing in cutting-edge renewable energy technologies – will eventually be commonplace."
Gov. Bill Richardson asked multiple state agencies to look into purchasing 100 WhiteStars. They can hope for a significant discount on the model's planned $50,000 price tag when it starts rolling off the assembly line in 2009.
Tesla also is ramping up an 60-person R&D operation in Rochester Hills, Mich. Like Smith, it also has the U.K. connection, launching production of its first two-seat vehicle at a Lotus facility there in 2007.
Key to the New Mexico deal were two years of financial commitment from the state totaling $7 million, which will go to Bernalillo County for building and infrastructure investment. Also key was the promise by Southern California-based developer SunCal, which is making big plans for the 57,000 acres (23,000 hectares) it recently acquired on Albuquerque's west side, that it would pledge 75 acres (30 hectares) of adjoining land free of charge if the company expanded in the future.
Those are the kinds of incentives packages now landing on Tanfield's U.K. desk. Asked about Tanfield's experience of California support thus far, Jenkins says it has been very positive.
"One of the reasons California remains fairly attractive for us is the supply chain perspective," he says. "In terms of willingness at the state level, they take those on a project by project basis. We think we can make a strong argument for why we should receive their financial support."
Asked if the company might replicate the LG Electronics experience with a similar look at existing buildings in the U.S., Jenkins says he expects both the U.S. and U.K. projects to be greenfield, owing to the need for the test track, a large space for rolling stock and the factory space itself: "Finding an existing brownfield site that fits the bill would be a pleasant surprise."
Jenkins says the company does not want to rush a decision on plant location, but is working toward resolution early in 2008.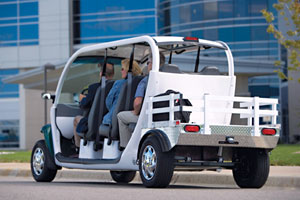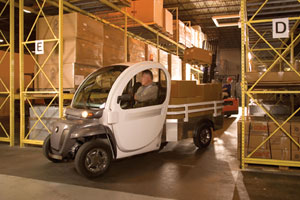 "Where we site this electric vehicle facility will be crucial for the future growth of the company in years to come," he says.

¡Viva Campeche!
Geography has always been the calling card for the Mexican state of Campeche, which celebrated its sesquicentennial in 2007. The City of Campeche was the south terminus of the Camino Real, or "Royal Road" built by the Spaniards to the Yucatan capital of Merida. Before that, it was a path of commerce in the Mayan world.
Today, a place associated with conquest may now be at the heart of an incredible industrial turnaround, all thanks to the incursion of yet another foreign entity: South Korean cash.
Could a Korean conglomerate really be investing $1.8 billion and creating 20,000 jobs at the south end of El Camino Real?
All circumstances seem to indicate as much, according to scattered Spanish-language media reports, though sources indicate that the promised job total is an "indirect" target, and that the new electric-vehicle and subcompact plants will employ a more modest 2,000 people. The complex would occupy land near the cities of Hecelchakán and Calkiní, and manufacture the Atos and Attitud compact cars, as well as electric vehicles and golf carts.
Operating under the name Bering Co., which previously made the Atos in partnership with Hyundai, the company will reportedly construct some of the smaller plants using prefabricated building sections. Jorge Carlos Hurtado Valdez, the governor of Campeche, told reporters the chosen parcel is near rail, federal highway, pipeline and electrical power infrastructure, is served by quality water resources and is also located near the port of Seybaplaya, which would help Bering ship its products to Central and South America.
The investment breakdown of the megaproject includes $504 million for the compact-car plant, $320 million for the electric-car plant, $18.8 million for the golf cart plant and $456 million for the supplier park. Another $230 million will go toward a cogeneration plant.

It Takes a Village
Notwithstanding the tourism to the area's north, the area's primary industry has been oil, driven by the Cantarell oil field in the Bay of Campeche. But that field is petering out.
More recently, drug trafficking and illegal northern immigration have found purchase in the area, both aided by its geographic position linking North and South America. Which may have caused some eyebrows to rise when media reports cited the Bering site choice deriving in part from the "safety, peace and tranquility of Campeche."
John Schuetz, executive vice president of California-based consulting firm Location Management Services, previously worked for Ford Motor Co., then both Kia Motors America and Daewoo Motor America. He says his contacts in that country's investor community say up to 65 different manufacturing facilities are in the works for Campeche – "basically a Korean enclave," he says, beginning with 700 acres (284 hectares) for the manufacture of electric and compact cars, as well as golf carts. He says there is talk of four supplier plants taking part of the immediate footprint, as well as a provision for the construction of 5,000 homes.
Mexico has seen another recent project from Chinese carmaker FAW. "It's interesting to see that Asian manufacturers are looking at North American manufacturing," Schuetz says. "It's a back flow."
That kind of flow spreads well beyond Mexico and back up to the States, explaining why so many governors and their commissioners have been lining up trade missions and new offices in China, including Tennessee opening up a new office in Beijing in late 2007. After all, even if Chery Automotive's planned entry into North America has been delayed, it's probably still coming.
"If you fail to develop a China strategy, you are compromising the opportunities for your businesses in the state," says Matt Kisber, commissioner of the Tennessee Department of Economic and Community Development, in citing his state's phenomenal growth in exports to that nation.
"We are working to get exposure in front of the Chinese automotive companies," he said in a fall 2007 interview. "I think that Chrysler's recent announcement that they're contracting with Chery is the first step of what we're going to see replayed from the Japanese automotive experience. I think the Chinese will join the Japanese and Indians and others in having manufacturing occurring in the North American market, and I want to see Tennessee considered for those opportunities."

No Connection, But a History
Back in Campeche, Schuetz sees the hand of the Mexican government. As it happens, stalled talks for a Korea-Mexico free trade agreement were relaunched in early December, as were talks between South Korea and the MERCOSUR countries of Argentina, Brazil, Paraguay, Uruguay and Venezuela.
The Campeche car project may also do its part to cool the law enforcement challenges of the area, which recently welcomed 250 federal troops swooping in on drug traffickers.
"Some economic development would help stabilize the area," says Schuetz.
As of December, says Rafael Tatua, director of investment for Campeche's state government, the investors were still shuttling back and forth from offices in Mexico City, but about to establish an office presence in Campeche.
The last time the Bering company name was heard in the North American automotive context, it was part of the Bering Hyundai International joint venture that was building plants in Front Royal, Va., where it was based, and in Puebla, Mexico, for the manufacture of commercial trucks and buses.
That business ceased operations in 2001 after Hyundai terminated its agreements with Bering, which was its exclusive distributor of cab-over trucks in the U.S., upon establishing a relationship with DaimlerChrysler. An international arbitration panel in 2004 found Hyundai had breached its agreement in bad faith, and an out-of-court settlement was reached in 2006 after a federal anti-trust case was filed by Bering against both Hyundai and DaimlerChrysler.
Asked for comment on the new Bering project, Hyundai spokesperson Esther Park says, "Hyundai has not had any relationship with Bering Co. group."
But others observe Hyundai has spent its share of time cultivating a relationship with Mexico.
"Hyundai has big plans for Mexico which have been in development for the last 10 years," says Gary Swedback, president of NAI Mexico. "They started with their plant in Tijuana at El Florido making shipping containers and chassis for trailers. It was been widely expected that they will parlay that experience in metal and equipment fabrication in Tijuana into a full-blown OEM automotive plant, in Tijuana or elsewhere."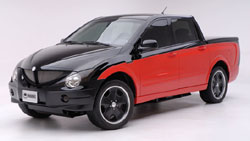 Small World
In a cyclical twist, Puebla is now slated to get an electric-car plant of its own. California-based
Phoenix Motorcars
is considering joining forces with
Pristine International
to invest between $50 million and $100 million in a new plant there, located near the facilities of anther partner in the venture that has long been associated with Puebla manufacturing:
Volkswagen
.
Phoenix has orders for over 600 vehicles for 2008 delivery, as it targets fleet operators in the U.S. with its mid-size sport utility truck and SUV models that it makes at its Ontario, Calif., facility.
The Puebla complex under consideration will not make those models, but a sedan targeting the Mexican market, says Bryon Bliss, vice president of sales and marketing for Phoenix. Negotiations are ongoing with the possibility of a formal announcement in January.
The company has been manufacturing in a new space in Ontario, Calif. since early fall 2007, benefiting from the existence of a foreign trade zone.
"It allows us to import the vehicle's shell, consider it for other markets and not have to worry about paying duties," says Bliss, who says all finalist sites for the Ontario facility decision were located in the Inland Empire.
He says the firm wanted to stay in Southern California for prototyping and initial manufacturing because of proximity to the Port of L.A. and to end markets, and because most of the company's 100-percent U.S. parts suppliers are based in the state.
While unable to disclose incentive details, Bliss says, "The city has been very helpful and supportive of our venture, helping us find a facility and helping us make it financially feasible."
State support amounted to approval of that local agreement, and "it was a long process to get to that point," says Bliss, echoing the experience of Tesla Motors, with whose founder (now ex-CEO) Martin Eberhard Bliss says he just spoke a few weeks prior.
"We're both looking at making deliveries at about the same time," he says of the two companies.

Site Selection Online – The magazine of Corporate Real Estate Strategy and Area Economic Development.
©2008 Conway Data, Inc. All rights reserved. SiteNet data is from many sources and not warranted to be accurate or current.