arnessing the power of the sun isn't a job just for Superman. It's quietly become the mission of Saxony-Anhalt, the eastern German state that has transformed into the world's fastest growing cluster of solar cell companies.
/
But unlike the famed comic book superhero, who uses the power of the sun to fight evildoers, high-tech firms in Saxony-Anhalt hope to capture the sun's rays to provide the energy needed to power everything from factories to electric toothbrushes.
With no less than 10 solar plants founded by North American companies being built in Germany – many of them in Saxony-Anhalt, a former East German state – the region that gave the world Martin Luther and the Reformation is about to change the way the world generates energy.
In fact, solar cell companies are growing so rapidly in this German state that it has earned the nickname "Solar Valley."
According to Dr. Carlhans Uhle, director of the Investment and Marketing Corp. of Saxony-Anhalt GmbH, "nearly 10 percent of the solar cells produced throughout the entire world come from Saxony-Anhalt." That's half the solar cell production in Germany.
Q-Cells AG
, the largest European producer of solar cells, employs 1,700 workers in the city of Thalheim and Saxony-Anhalt. Since 2001, the company has made more than 100 million solar cells. Q-Cells' sales volume climbed 95 percent in the first nine months of 2007.
To date, the firm has invested €500 million (US$719 million) in Saxony-Anhalt.
"In the core business, we are a manufacturer of mono- and polycrystalline solar cells. We are the second biggest in the world," says Stefan Dietrich, spokesman for Q-Cells. "We develop and commercialize photovoltaic technologies. Several subsidiaries will start production of thin-film PV modules in 2008."
Q-Cells plans other expansions. Says Dietrich, "We just opened production line five, and line six is in planning and will be constructed next year. We have built three factories for subsidiaries on the site, and the further expansion of one of them has been agreed upon. The others will probably follow soon."
Dietrich says Q-Cells plans to reach 5,000 employees and expand its core business to more than 1 gigawatt of capacity by 2010.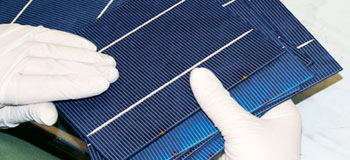 Also in Thalheim,
EverQ
– a joint venture with Norwegian REC and U.S.-based Evergreen Solar – has established a presence, as has Australian-based
CSG Solar
. EverQ plans to increase production capacity from 100 megawatts today to 600 megawatts by 2012 and create 900 new jobs. Construction for EverQ's third factory has begun.
Companies like
SolarWorld
,
ersol
and
First Solar
are also planning various expansion projects in the region. U.S. firm First Solar invested €115 million (US$165 million) into establishing what it calls "the world's most modern plant" for thin-film solar cells. About 400 people are employed there.

Building a Solar Cluster
Schuco International KG Bielefeld
and
E.ON AG Dusseldorf
will erect a joint-venture company in Osterweddingen called
Malibu GmbH & Co. KG
to establish a thin-film production for solar cell modules that can be integrated into the fašades of buildings.
This €100-million (US$144 million) investment will create about 130 new jobs in Saxony-Anhalt. Construction is under way and should be completed by mid-2008.
Schuco executives said they selected this location in Saxony-Anhalt because of the logistical advantages of being located on motorway A14, the availability of a skilled work force, a site that was ready for development and the proximity of the site to the capital city of Magdeburg.
Scheuten-Group
of the Netherlands will build a €190-million (US$273-million) plant in Saxony-Anhalt to produce flat glass, an important material in the solar industry. The firm will locate in the same Osterweddingen business park that is home to Euroglass, Nice-Pak, Schwans-Food, Edeka, Esparma and DHL.
Construction begins this spring on the Scheuten-Group plant that will employ 260 workers at a new company called
ESP 620 GmbH
. Herbert Kohler, managing director of ESP 620, says the project received good support from all parties involved in the deal.
Upon production at this new plant, Saxony-Anhalt will supply about one-third of Germany's flat glass and about 10 percent of Europe's.
U.S.-based Applied Materials Inc. will deliver the equipment that ESP 620 will use to produce the solar cells from the extra-large glass modules.
Global giant
BP Solar
, meanwhile, has built one of the largest solar plants in the world in Krumpa, a 4-megawatt plant that covers 395 acres (160 hectares).
Other major solar industry companies currently doing business in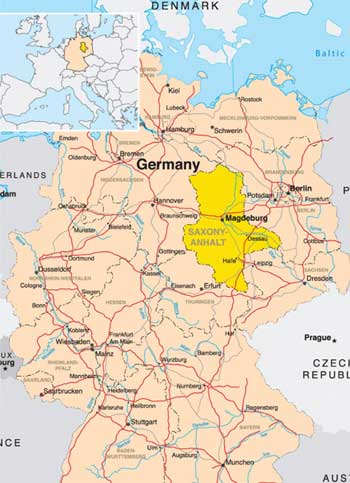 Saxony-Anhalt include
Silicon AG
,
Conergy
,
Solibro
,
OderSun
,
Solarwatt
,
Schott Solar
,
SunWays
,
Galyxo GmbH
,
Brilliant 234
and
Solar Screen Factory AG
.
The German photovoltaic market exceeded €3 billion (US$4.3 billion) in 2005 and is growing by at least 30 percent annually right now. The main driver of this growth is the German Renewable Energy Sources Act, which rewards solar energy investments with a 20-year incentive of 40.6 cents to 56.8 cents per kilowatt hour.

Researching the Sun
Supporting the solar industry in Saxony-Anhalt is the new Fraunhofer Center for Silicon Photovoltaics (CSP) at the Weinberg Campus in Halle/Saale. Established last June with an investment of €60 million (US$86 million), the center supports applied PV research at two Fraunhofer Institutes: the Institute for Solar Energy Systems and the Institute for Mechanics of Materials.
The executive director of the CSP is Dr. Jorg Bagdahn, who says the center is focused upon three primary areas of research: development of new processes for fabrication of solar silicon, module integration and micro-structure investigation.
The non-profit CSP receives 20 percent of its funding from the government. "The institutes have to earn the other 80 percent," says Bagdahn. "In general, 50 percent is contract research."
Bagdahn adds, "We believe silicon will be the dominant material in photovoltaics, as it is in microelectronics. The annual growth rate is 40 percent or more. The trend is toward thinner silicon wafers, cheaper silicon and higher efficiency."
Alternative energy companies say they like doing business in Saxony-Anhalt because of its strategic advantages. They cite such factors as a large pool of highly skilled labor; a long-established chemical industry with leading scientists and researchers; a large supply of natural gas in the region; a highly developed network of transportation and logistics; and ample support from the government in the form of incentives and expedited permitting.
Saxony-Anhalt makes available incentives to companies doing expansion projects in the state. The public grants and subsidies include R&D grants, work-force cost subsidies, investment grants and loans. Nowhere in the EU are there higher grants for investors.
Saxony-Anhalt is a European Union-subsidy region. A typical industrial company making an investment of €30 million (US$43 million) in Saxony-Anhalt, for example, could qualify for up to €12 million (US$17.3 million) in incentives.
Saxony-Anhalt obtains 20.5 percent of its net power generation from renewable energy sources, compared to the national average of 10.2 percent.
The conversion to green energy is helping the environment. From 1990 to 2004, energy-induced carbon dioxide emissions were more than halved in Saxony-Anhalt; they were reduced by 46 percent in eastern Germany and by 14 percent in all of Germany. As a result, the states of eastern Germany have contributed to two-thirds of Germany's carbon dioxide emission reduction.
Not even Superman could do that.