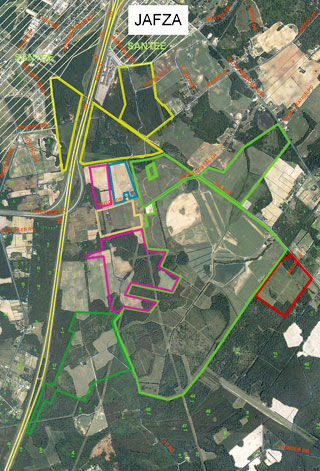 afza International
, developer of Dubai's Jebel Ali Free Zone, is pursuing possible free zone logistics developments in territories from Djibouti to Romania to Libya. So it was only natural that the well-heeled developer – the global free zone operations arm of Economic Zones World that was established in 1980 by none other than His Highness Sheikh Rashid bin Saeed Al Maktoum – chose to make its newest investment in the logistics haven of … Orangeburg, S.C.?
Jafza announced in October that it had acquired some 1,300 acres (526 hectares) of land in Orangeburg from CaroLink for the purpose of establishing a logistics and business park comprising light manufacturing, warehousing, and distribution facilities.
"Jafza's long-term strategy is to develop a global logistics platform, and Orangeburg is one more major step in that direction," said Mrs. Salma Hareb, CEO of Jafza and Economic Zones World.

Successful Model
With an investment of around US$600 million, Jafza hopes to leverage private investment of around twice that amount, as well as spur the creation of more than 8,000 jobs over the next decade.
"We equate South Carolina and Orangeburg with the conditions we had in Dubai when Jebel Ali was under development," said Chuck Heath, managing director, Jafza International, in a prepared statement. "The state has reliable power, sufficient labor and quality infrastructure. It's quite close to the model we developed in Dubai."
In an e-mail interview, Heath says the project was first brought to his attention in February 2007. "The team consisted of myself as team leader, KPMG (financial due diligence and tax), Kennedy Covington (Attorneys), LCP (Logistics and market demand validation), Brixton Group (Corp. Strategist ) and Hodges Consulting (political advisor)," he writes. Chief criteria were "global connectivity, market demand, land and development costs, infrastructure/utility quality."
Asked if the unhappy U.S. experience of Dubai Ports World in 2006, when its attempted investment in several ports was rebuffed due to security concerns, had any influence on the process, Heath says,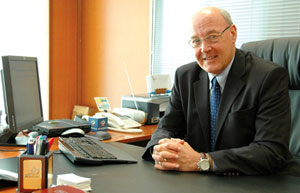 "The DP World experience had no impact, since we operate under a different model."
Heath says four sites in the southeast U.S. were considered, and the final decision was executed "based on the enthusiasm and cooperation of the authorities, particularly the Orangeburg Economic Development Commission."

Gradual Assembly
Gregg Robinson, executive director of the Orangeburg County Development Commission, says work is in progress on environmental due diligence, with Jafza poised to choose an engineering and design team for the overall project in order to pull together appropriate requirements for permitting. He says the property was agricultural land belonging to eight landowners, though Jafza is looking at purchasing "a few more acres here and there to round off the property itself."
Robinson says his organization had originally shown the parcel to CaroLinks with a similar vision of an eventual industrial and logistics park. CaroLinks had purchased some options in the hopes of developing its own $250-million inland port, and was the entity that introduced Jafza into the picture.
As recently as fall 2006, CaroLinks was planning a linked development plan that included a cargo hub at the former Macalloy Steel plant in North Charleston. The company abandoned that plan in October 2006 to concentrate on Orangeburg. Other landowners involved in the deal included Jim Roquemore, president of Orangeburg's Super Sod Inc., and Ben Copeland, CEO of Patten Seed Co., who together controlled approximately 900 acres (364 hectares).
The site offers water, sewer, gas, electrical power and CSX rail, all crucial components to attracting the eye of the Dubai developer. A new Interstate interchange, supported by federal funding, is also part of the picture. Robinson says the area is now beginning to live up to its "Global Logistics Triangle" strategy.
"By design, we've been promoting the infrastructure necessary to recruit a company of this caliber," he says.

Worldwide Connection
The project comes just as two other major logistics-focused projects also get up and running in South Carolina.
Texas-based logistics megapark developer Hillwood announced in November that it would develop the 750-acre (304-hectare) Charleston Trade Center logistics and light manufacturing park in Berkeley County, located in a sweet spot near the Port of Charleston, I-95 and I-26. The park will feature a planned 9 million sq. ft. (836,100-sq.-m.) of primarily industrial space, with the first of 13 buildings due to be finished by the end of 2008. The developer hopes to see some 3,000 jobs created by the project.
Among the locational benefits cited by Hillwood were "no inventory tax, the lowest corporate income tax rate in the southeastern U.S. with corporate income tax credits available for jobs and headquarters facilities, fee in lieu of tax incentives to allow for fixed real and personal property tax rates for 20 years, a special source revenue credit that provides 25-percent property tax abatement, and dual electricity providers for heavy users."
The Port of Charleston already handles nearly 2 million TEUs annually, and a new container terminal will increase that capacity by nearly 50 percent.
Gary Frederick, senior vice president of Hillwood Investment Properties, called the port "a key East Coast entry point for goods imported from Asia" which should "continue to handle more containers due to increased use of the Suez Canal and the expansion of the Panama Canal."

One More Port to Plug Into
Four days prior to the Hillwood announcement, the ports authorities of Georgia and South Carolina in early November announced they would finally put aside their legal tussles and move forward together with a jointly owned and operated port in Jasper, S.C., along the Savannah River.
The 1,400-acre (567-hectare) parcel is owned by Georgia, and has been used until now for dredged muck from that river. Now each of the ports authorities will pay $3.5 million to buy the land from the Georgia Dept. of Transportation, invest $3 million each in a project office to conduct environmental and feasibility studies, and share river dredging costs.
Sharing the load may not stop there. In a development geographically paralleling the Orangeburg project, state elected officials and area economic developers in the Peach State are considering the feasibility of an inland port in Cordele, Ga., that would take on some of the fast-growing Port of Savannah's trade volume.
Jafza, meanwhile, has its own plans to implement when it comes to developing the world's first global platform, according to Chuck Heath.
"We are conducting due diligence in every corner of the world, i.e. Asia, Subcontinent, Middle East, Africa, Europe, and the Americas," he says.
– Adam Bruns