W
hich event was the tipping point for the alternative energy movement?
Was it Dow Chemical Company's announcement May 28 that it would raise the price of all of its products by up to 20 percent, driven by rising energy, feedstock and transportation costs?
Was it Cistern Enterprises President Ned Harvey's prediction April 21 that the construction of another major coal plant in the U.S. in the next four or five years is unlikely?
Was it Goldman Sachs' estimate that consumers worldwide now transfer US$1.8 trillion of their wealth every year to oil companies – or was it simply the crunch the average driver felt when gas prices in many cities exceeded $4 a gallon?
Whatever the impetus, one thing is certain: the world is now in the middle of a record-breaking investment binge into renewable fuels and other forms of alternative energy, and it is highly improbable that investors will retreat anytime soon.
Wind turbines, solar energy, ethanol, biodiesel, biomass, hydrogen fuel cells, wave energy, nuclear power, geothermal sites, cellunol and other renewable sources are all suddenly in vogue.
A recent United Nations report showed that global investment into renewable energy climbed from $80 billion in 2005 to a record $100 billion in 2006. "While renewable sources today produce about 2 percent of the world's energy, they now account for about 18 percent of world investment in power generation, with wind generation at the investment forefront," the U.N. report noted. "Solar and biofuel energy technologies grew even more quickly than wind, but from a smaller base."
In the United States, the growth of corporate investment in renewable power facilities has been even more dramatic,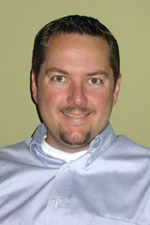 doubling from $15.4 billion in 2005 to $30.1 billion in 2006, and then rising another 37 percent to a record $41.2 billion last year.
The Conway New Plant Report shows that, from 2005 through 2007, Ohio led the nation with 350 facility projects in the alternative energy sector. Michigan placed second, with 177, followed by Tennessee (150), Texas (142) and Alabama (133).
Over that same three-year period, there were a total of 2,456 renewable energy facility deals in America, creating 115,435 jobs and $86.7 billion in capital investment. The average facility investment increased in size over that time, from $24.9 million in 2005 to $53.2 million last year.
While rising energy demand and concerns over the impact of carbon emissions drive the research and development into alternative fuels, there is still considerable debate over which types of renewable sources will become the preferred power engines of the future.
The infrastructure demands of connecting wind farms and solar panel fields to the electricity grid are both complex and costly – factors that make site selection for alternative energy firms even more difficult.
"For the past 100 years, the grid of the world has been based on central generation and a one-way delivery of the power from us to the customers," says Charlie Allcock, director of economic development for Portland General Electric in Oregon. "We will have to go to a two-way street. Depending on the time of day and day of the week, the grid flow may change direction. At two o'clock in the afternoon, most of the cars on the grid may be flowing one way, and at five they may be flowing the other way."
What does this mean for utilities? "We will have to change the traffic control systems so that the grid works in both directions," Allcock says. "You are going to see a lot more distributed generation throughout the country – and solar is a good example. Decentralization of power generation will be a given in the future. We have to bring in the technology to make that happen."

From Breadbasket to Windmills
One place where the transition is happening quickly is Nebraska, where an aggressive approach to supporting alternative energy is attracting both manufacturers and power generators.
Northstar Wind Towers
is a prime example. The company announced earlier this year that it will construct a $24-million manufacturing facility in Blair, Neb., creating 80 to 100 new factory jobs making modular wind towers for commercial use.
"The wind industry is in a crunch right now," says Peder Hansen, senior vice president of Northstar. "To continue upscaling the size of wind turbines, the towers have to become bigger and bigger. There comes a point where the size of the structure becomes a limiting point for manufacturers."
Hansen notes that larger towers require a larger-diameter base, a key factor influencing site selection for the plants that manufacture these towers. "The location of the plant needs to be as central as possible in the U.S. for shipping these towers," he says. "We figured out several years ago how to make a larger tower more efficiently and effectively. We own the patent on this new modular tower."
Northstar will be the nation's first tower-production facility to use a modular design in which tower pieces are manufactured in Blair, about 20 miles (32 km.) north of Omaha, and then assembled at the construction site. The results of this new technology are lower transportation costs, making wind energy more affordable.
Hansen and his business partner Jeff Willis said they chose Blair primarily because of its transportation infrastructure. Blair offers easy access to the railroad and to interstates 29 and 80, as well as the Missouri River.
"The Midwest has the best wind resources in the country, and wind energy is expanding greatly in the region," Hansen says, "making Blair an excellent center."
By locating the plant "right in the heart of the U.S., we can deliver our products much farther and reach into Canada and Texas," he adds. "We are in close proximity to our steel suppliers. We are going to go through 100,000 tons of steel a year, so we need our own rail line into our plant."
The Blair location is significant for other reasons too. The area is home to one of the largest ethanol plants in the country, as well as the only factory that commercially produces polylactid acid, a corn-based plastic polymer.
Blair, like Nebraska, is becoming an alternative energy leader for the nation.
Hansen says that fact could help other manufacturing companies. "For manufacturers looking to hedge their fuel costs, locating in states that have a high concentration of wind power makes sense," he says. "When they put a wind turbine up, the capital cost has already been put in place. You basically have free energy after the structural costs have been covered, and you know exactly what those costs are going to be. With the gas-fired power plant, you have to go out on the market and buy the fuel, and you cannot predict those costs for the next 25 years."

New Leaders in Going Green
The question is – where are alternative energy firms making the biggest investments?
According to Ernst & Young, the U.S. had the most attractive location on the planet for renewable energy investments as of the fourth quarter of 2007. Ranking second is Germany, followed by India, Spain and the United Kingdom.
Within the U.S., Ernst & Young reports, Texas is the most attractive state for renewable energy investment, followed by California, Colorado, New Mexico and Washington.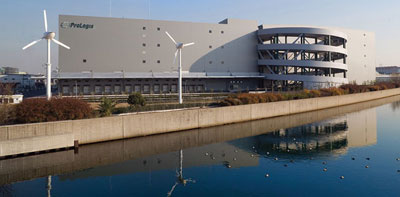 But don't expect these rankings to last, the consulting firm warns.
"Europe is gaining ground on the U.S. as the most attractive destination in the world for investment in renewable energy," the new Ernst & Young report states. "The EU announcement to mandate the increased use of renewable energy across Europe by 2020 has significantly boosted Europe's overall attractiveness for investors in the sector. Six of the top 10 countries in the index are EU member states."
The E&Y Renewable Energy Country Attractiveness Index shows that the U.S. lost ground in the fourth quarter of 2007 to second-place Germany. "Germany's industry has been boosted following the announcement of the Renewable Energies Heating Law, which requires all new buildings built after January 2009 to incorporate renewable energy heating systems," the report states.
The consulting firm also advises investors to watch India and Spain closely. In India, the Ministry of New and Renewable Energy has identified 216 potential sites for onshore wind power developments along India's east coast, representing an estimated potential of 8.2 gigawatts of generation capacity, "more than India's current total onshore wind capacity of 7.5 GW."
The Spanish government, meanwhile, announced an increase in its wind energy capacity target from 13 GW currently to 29 GW by 2016. "As a consequence, sector participants believe they can have a total of 40 GW of onshore wind and 5 GW of offshore wind capacity installed by 2020," the report notes.
The United Nations recently published its own report, titled "Global Trends in Sustainable Energy Investment 2007." In that report, the U.N. states: "In 2007, the upward trend (in renewable energy investment) continues, with capital investments occurring in sectors and regions previously considered too risky and too illiquid to merit the attention of the institutional investment community."
The hottest sectors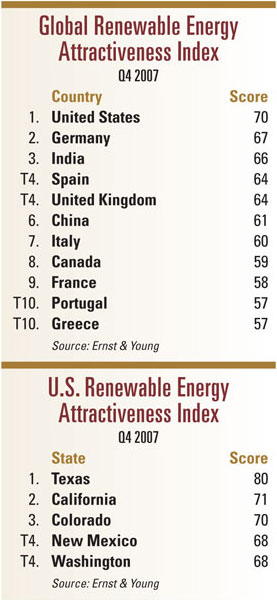 drawing investments today are wind, solar, biofuels, biomass and waste energy, the U.N. reports. Wind attracted the most investment, 38 percent of the total, followed by biofuels (26 percent) and solar (16 percent).

Texas Airs it Out in Capacity
The American Wind Energy Association recently published a report identifying the top states in the U.S. for wind capacity.
As of the end of 2007, AWEA reports, Texas led all states with 4,446 megawatts of installed wind power capacity. California ranks second with 2,439 MW, followed by Minnesota (1,299), Iowa (1,271) and Washington (1,163).
Texas also led the nation with the most new wind capacity added in 2007, according to AWEA. Last year, the Lone Star State added 1,618 MW of wind power. Colorado ranked second in 2007, adding 776 MW, followed by Illinois (592), Oregon (447) and Minnesota (405).
Nationwide, more than 5,000 MW of wind energy were added in 2007, bringing total installed wind power capacity to more than 16,800 MW in the U.S.
GE Energy leads all manufacturers in both total installed capacity of wind turbines and the number of turbines built. GE has produced 1,560 wind turbines and is responsible for 2,340 MW of installed capacity. Vestas ranks second in the U.S., with 537 turbines built and 953 MW of capacity installed.
Ocean Energy Surges Forward as Exciting Source of Alternate Power