I
n the newly published book
How the States Got their Shapes
, author Mark Stein explains how politics and economic development have gone to battle with topography in defining some very important boundaries between each of the 50 states. But the converse may also be true in the U.S. Southeast: Where those lines are drawn is inciting both calls to arms and calls for collaboration.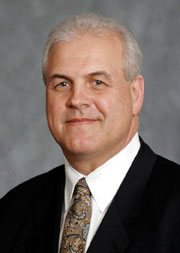 Up With ThyssenKrupp
Of the 18 employers listed as offering career opportunities through Alabama Industrial Development & Training (AIDT) in late May, 10 of them were located in counties bordering state lines.
Their number will soon include
ThyssenKrupp
. It will also include their many suppliers. The supplier and services activity surrounding this project as well as the looming Northrop Grumman/EADS aerial tanker manufacturing complex in Mobile has prompted Alabama Gov. Bob Riley to issue a call for large plots of acreage in the state's southeastern counties that can serve as industrial parks.
Bob Soulliere, president and CEO of ThyssenKrupp Steel USA, says in an interview that most of the grading work is now complete at the company's US$3.7-billion carbon and stainless steel manufacturing complex in Calvert, Ala., after breaking ground in early November 2007.
"There is some major excavation going on for our hot strip mill, and there is a whole lot of piling going on in all areas of our site," he says. Foundation work was expected to be under way by early July. Design work has just been completed for the company's terminal on the Tombigbee River, and the state's work on a separate transload terminal on Pinto Island is on schedule.
Part of what made the site a winner was the overt support offered by governors in neighboring Mississippi and Florida. Today that support is being expressed in the form of overall work-force response.
"From the beginning to now, we have around 20,000 job applications," says Soulliere. "I know they are from multiple states. AIDT has been great, living up to everything they had promised to do and more. We have gone through and processed two classes, with the second about to complete. The process is well along, and they certainly do a good job." "I think that there is a willingness of everyone to share the wealth wherever it makes sense," says Soulliere of the multi-state nature of such a gargantuan project. "I know when we sit and talk with representatives from the State of Alabama, they know some of our workers will come from Mississippi and Florida. They're encouraging whatever we have to do to make sure our business is successful, and they want to support it."
The wealth is shared in many ways, including contract distribution.
"For our infrastructure work, excluding equipment, 50 percent of our business has been with Alabama firms, and another 45 percent with companies across the southeast," says Soulliere. Logistics contract discussions are ongoing.
Soulliere says he can't say enough about the warmth and hospitality extended to ThyssenKrupp staff from Germany and "even to U.S. people moving down to Mobile." Even more promising is the receptivity he's seeing among prospective customers.
"We've been going around meeting with potential customers all around the southeast, Mexico, and all around the country, and we're getting a warm welcome in all of our discussions," he says. He found it surprising and interesting how many of those prospects said, 'We'd like to be signed up for purchase order Number One.'
"When they see how we're facilitizing our plant, and the process equipment lineup, they see we're going to produce some very high quality grades of steel," he says. "We're taking our business process we use in Europe and bringing it to North America. And our customers embrace that."

Steel Belt
When Alabama was courting ThyssenKrupp, there was some concern expressed to state leaders by
U.S. Steel
, a longtime denizen of the state. But there's nothing like competition to whet the appetite for investment.
In April, U.S. Steel announced it would invest more than $150 million in Port of Epes, in Sumter County, part of a bi-state Black Belt region that has been trying to extract itself from hard times for many decades. A fertile plain for agriculture, the 300-mile (483-km.) band of land in Mississippi and Alabama known as the Black Belt was primarily known in recent decades for producing not much more than voluminous studies on how to make it economically fertile again.
Designed to improve the cost competitiveness of the company's Fairfield Works near Birmingham, U.S. Steel's Epes plan calls for construction of a carbon alloy synthesis facility and a cogeneration facility. The alloy will be made using technology from Carbonyx, Inc., that produces a product to displace traditionally manufactured coke for steelmaking, and does so with significantly lower emissions.
The project will create 75 full-time jobs in its first phase. Depending on business conditions, a second phase would bring the employment to 235 and the capital investment to $450 million over a period of years.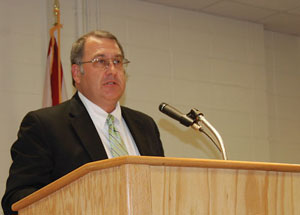 The Black Belt includes several counties in eastern Mississippi, and is essentially bounded by I-20/I-59 to the north, I-65 to the east and I-10 to the south. David Hooks, managing director of municipal finance for Montgomery-based Sterne, Agee & Leach Inc., has in the past served as senior manager of industrial recruitment for the Tennessee Valley Authority, and served as director of the Alabama Department of Economic and Community Affairs (ADECA) under Gov. James Folsom, Jr., in the early 1990s when the state attracted a plant from Mercedes.
In February 2008 he was appointed by Gov. Riley as chair of the Black Belt Action Commission's Manufacturing Committee. He says manufacturers' concerns in the area have to do with infrastructure, work force skills and access to markets. In addition, his group is taking an active role to make sure several federal funding programs for the area that manufacturers have taken advantage of to grow their operations will be extended before they expire in the next couple of years.
Hooks says one of the problems he saw coming in as head of ADECA was piecemeal use of grants for various infrastructure projects, but no connectivity between them. The decision was made to focus on improving Interstate-related development on the region's periphery while also choosing a core city from which to build out. Though some wanted Demopolis, Selma was the chosen city. Hooks says the past 15 years have validated that plan, and thinks the entire region taking in the Mississippi portion of the Black Belt could be developed collectively with the same type of program.
"When we talked about regionalism 10 or 15 years ago, we were talking about two cities in a three-county area going together," says Hooks. "As world markets have changed and things have become more international, the same regionalism we talked about at the local community level has had to expand to a regional approach at the state level. For a project like an automotive manufacturing facility, you're talking about competing among North and South America, not between Atlanta and Birmingham."

Long Reach
There may be another opportunity coming down the pike for Alabama to display its regional approach to megaprojects: The state – along with Tennessee and Michigan – is a finalist for the location of a new Volkswagen manufacturing plant. The company has announced it will make a decision later this summer.
For such projects, Hooks looks to the regionalism fostered at TVA, which involved sharing leads in a five-state area on a regular basis.
"When it got to the final selection, we'd fight like cats and dogs to get it internally," he says, "but to get someone at the global level to look at the region, we absolutely approached it regionally."
Projects like the one from U.S. Steel have been few and far between in the Black Belt, but that may be starting to change. Another large warehouse project is considering locating in Livingston, Ala. And even the ThyssenKrupp project may provide the region with a positive boost, Hooks says, comparing its employment reach to that of the state's family of successful automotive manufacturing projects.
"I think the steel mill does the same thing," he says. "It will come up into Wilcox County, possibly as far up as Marengo and Dallas counties, in terms of drawing employment. My guess is, when all said and done, ThyssenKrupp will have as many workers from Mississippi and Florida as they do from Alabama, and they'll probably have another third that will move in from all over the world."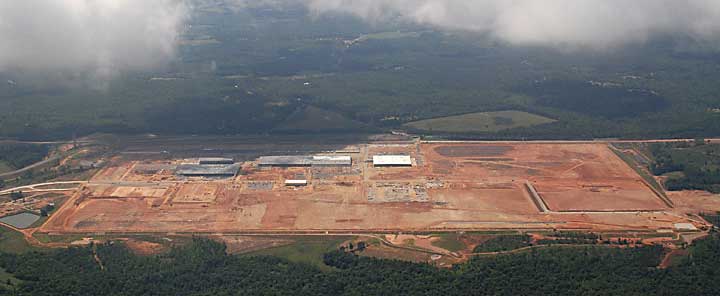 Kia Finding No Surprises
Workers from all over is a phenomenon familiar to Randy Jackson, director of human resources and administration for
Kia Motors Manufacturing Georgia, Inc.
He saw 43,000 job applications for hourly work at the company's $1.2-billion plant in West Point, Ga., hard by the Alabama line, flood into the company in 30 days, all striving to fill one of the company's announced 2,500 jobs.
"Seventy-five percent of them are from Georgia, 20 percent from Alabama and about 5 percent from other states, including one from Hawaii," says Jackson, the senior U.S. staff member at the Georgia site. He says Georgia's award-winning Quick Start program was the company's chief partner in the online hiring approach.
"They did a wonderful job supporting us there," he says. "Michael Thurman, the state's labor department commissioner, helped us. And we had people across the line in Alabama who assisted us as well."
Jackson says the project is on schedule, with steel up and roofing and siding going on in mid-June at the 2,245-acre (909-hectare) site. The ribbon was cut on a $20-million training center in late March. Jackson says the spinoff is evident, from new hotels and restaurants to new residential developments and a new golf course.
"Everybody has to eat and everybody has to fill up with gas," he explains. "There are a lot of people paying taxes and sales taxes. The economic power is getting stronger in this region because of us.
"All of the communities have been extremely thankful and very appreciative of what we're doing for the region," he says. "There were a lot of jobs in textiles here over the years that have been lost, and we're hoping some of the things we're able to do will help the people who have lost their jobs get back on their feet."

Supplier Overlap
The project team is getting on its own feet through what Jackson calls a blending of Korean and American cultures, talking and collaborating, learning and sharing ideas: "We have a lot of experience on this project from both the American and Kia side," he says, including many people who have been through startups.
Thus it's been smooth sailing and no surprises for the company with "the power to surprise." Jackson and his team often refer to their plant's bi-state neighborhood as their backyard. There may be a state line running through it, but so far there is no fence.
That's just how Kia and its parent corporation Hyundai like it. In fact, there is a geographic parallel between Hyundai's plant in Alabama and Kia's in Georgia with the corporation's situation in Eastern Europe, which finds a Hyundai plant in the Czech Republic and a new Kia plant in neighboring Slovakia. In both cases, the multiple plants are able to draw from an overlapping supplier base.
"Internationally, manufacturing companies are looking for every way to lower cost and maximize profit," observes David Hooks. "When they do that by virtue of location, having an overlap of suppliers is a natural fallout."
Among recent supplier announcements was a new plant in Cusseta Industrial Park in Chambers County, Ala., from
Daedong Hi-Lex of America, Inc.
, which will invest $10.9 million and employ up to 103 people at its 65,000-sq.-ft. (6,039-sq.-m.) facility that will initially produced door hardware system modules for Kia.
Another came from Kia logistics provider
Glovis
, which will create 600 jobs. The 558,131-sq.-ft. (51,850-sq.-m.) plant will be located on 95 acres (38.5 hectares) at the Kia site in West Point, with production expected to begin in Dec. 2009, just as Kia itself gets up and running.
"With this latest announcement, total job creation by the Kia plant and supplier facilities in Georgia will near 6,000," said Georgia Governor Sonny Perdue in early June.
That number includes the 310 jobs coming to a new
Johnson Controls
plant, also located near the Kia site in West Point, that will make vehicle seating and other interior products. Johnson Controls will construct a 130,000-sq.-ft. (12,077-sq.-m.) facility on 20 acres (8 hectares) at Harris County's Northwest Harris Business Park. Like other suppliers, Johnson Controls already works with Kia in Europe and in Asia.
Now they'll work with them in Georgia, where Exit 6 from I-85 will soon indicate the way to Kia Boulevard.

Good Neighbors?
Among Mark Stein's findings in
How the States Got Their Shapes
was the fact that Oregon was made taller than Washington because making those two states equal in stature "would have placed the vitally important Columbia River entirely in Washington," thus giving that northernmost state the cities of Portland and Seattle.
In the Southeast, one state wants to be a little taller, so that its water resources will be a little deeper.
Georgia is seeking legal remedy to what is widely agreed to have been a cartographer's error in the drawing of its northern border back in 1815. According to those making the state's case, the northwest corner — including access to the vitally important Tennessee River – should belong to the Peach State. The Volunteer State, however, is volunteering nothing.
When was the last time a state line was altered?
"After admission to the union as a state, a state's line cannot be altered without the consent of the state," explains Stein in an e-mail. "The most recent alteration of a line due to the consent of the state (at least, for a significant amount of land) was in 1862, in a swap between Rhode Island and Massachusetts."
However, a correction occurred more recently, he says, in 1897, when "the U.S. Supreme Court agreed with Oklahoma's interpretation of the U.S.-Spanish treaty defining the boundary of the Louisiana Purchase and Mexico, and consequently Texas had to alter the boundary it had declared. Most recently, in 1990, the Supreme Court accepted New Jersey's interpretation of its 1833 agreement with New York regarding a segment of their boundary that has two simultaneous lines. The ruling resulted in Ellis Island now being Ellis Island, New York/New Jersey."
So there is precedent for sharing of an asset. Stein says many minor border disputes are still adjudicated, with most falling into the same category as the Tennessee/Georgia spat, regarding access to water from rivers or to landforms in waterways. Thus the stage may be set for yet another Supreme Court case.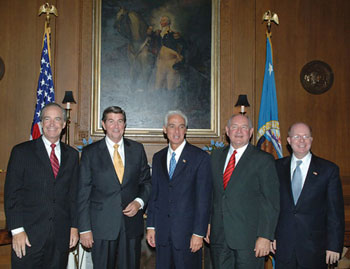 The Original Water War
That two-state tiff is unfolding against the backdrop of a larger water war Georgia has been waging with Alabama and Florida for 20 years.
While progress has been more swift in the past two years than in the previous 18, the three governors, despite two meetings convened by U.S. Secretary of the Interior Dirk Kempthorne late in 2007, have failed to reach an accord. A court-ordered mediator has said the states are at an impasse and further mediation cannot help. Consequently, as of early June, the Dept. of the Interior put into action an interim plan of operations that continues to slow water releases flowing downstream, while also calling for the states to keep trying to reach a solution beyond the courtroom.
In the meantime, the U.S. Army Corps of Engineers has officially said it will update an outdated water control plan for the drought-ravaged Apalachicola-Chattahoochee-Flint River Basin, which serves the three states. Besides meeting the water needs of the Atlanta MSA, the system also serves power plants along the Alabama line, and feeds the fisheries of Florida as it empties into the Gulf of Mexico. A separate plan to update the water control plan for the Alabama-Coosa-Tallapoosa River Basin was undertaken in late 2007.
An opinion issued by the U.S. Fish and Wildlife Service in early June said the reduced flows are not irreparably harming the survival chances of certain rare shellfish and fish species in Florida.
What does this have to do with economic development? Everything. Some point to Georgia's lack of planning as the crux of the issue. Florida officials are upset about the fisheries, but more upset about the slow action in Georgia even as it draws more people and more companies every year.
"As outlined in the Service's Biological Opinion, municipal and industrial consumption will increase by 27 percent by 2017, further emphasizing the need to for Georgia to recognize its overall effect on the system and implement reasonable and prudent actions to better manage water resources," Florida DEP Secretary Michael Sole told the Associated Press.
"The only reason we're involved in this is because of the threatened and endangered species in the Apalachicola River," says Jeff Fisher of the U.S. Fish and Wildlife Service's Atlanta office. "We don't face a simple issue here. We have folks up and down the basin who work for Fish & Wildlife who are concerned about the drought, it's persistence, and how it's affecting the fisheries and natural resources, but also local economies and tourism.
"We're a small player in this gig," he says of the water wars. "But as citizens, we're hopeful we can find a way to reach some meaningful solution down the road."

Carolina Collaboration
If any region can talk with experience about state-line ups and downs, it's one just up the road from Atlanta along I-85: Charlotte, N.C., where the past few years have seen plenty of sturm and drang over the number of corporate projects landing just across the line in South Carolina, as well as just outside the Census Bureau's official Charlotte boundary, into booming micropolitan areas such as Statesville-Mooresville.
Now there's a new/old water battle in this region too, as the State of South Carolina sues its northern neighbor over allocations from the Catawba River.
"That particular issue has not spilled over yet into an economic development issue," says regional peacekeeper Ronnie Bryant, president and CEO of the Charlotte Regional Partnership, whose 16 counties include several on the South Carolina side. "The bigger issue is not the short-term transfer of water. We have a long-term concern about whether we have adequate water resources to support the substantial growth we're experiencing. We're bringing together our elected officials, getting them to understand the significance of the issue. You'd be surprised how little people understand about our water supply … including myself."
That supply will only be more tested in the coming years. It's just one reason the Partnership, the Centralina Council of Governments and the Catawba Regional Council of Governments have convened CONNECT, a planning and visioning project that aims to deal with population growth that it says will add the equivalent of Denver, Cincinnati, St. Louis and Pittsburgh to the area by 2030.
Bryant's experience includes leadership positions in two of those cities –St. Louis and Pittsburgh– both of them places where regionalism needed to be embraced. He says the new effort in Charlotte is trying to "take regional cooperation to a higher level, and truly engage all the political organizations in our region in addressing the issues we face. We want to work together in an effort to make the Charlotte region as competitive as possible, but also as aesthetically pleasing as possible from a quality of life perspective."
Two years ago, a study was commissioned by the Partnership and carried out by Ticknor & Associates to evaluate how the organization lived up to its name.
"I think Ticknor helped us realize, and it's been manifested recently, that there is a natural decentralization taking place, and we're really fighting the wrong battle," says Bryant. "How can we ensure our region accepts the decentralization, but also work on backfilling? CONNECT is helping us focus on some of the issues in the region. The Ticknor study has truly given us the background data needed, and minimizes the significance of a company moving across a jurisdiction or line, or from one county to another."
That said, Bryant admits administration would be a lot easier if the Census' definition of the MSA would just catch up with the Partnership's economic development footprint.
"The CONNECT initiative brings together two cogs," he says. "If we were one MSA, we would be one cog, and there would be more opportunities for our elected officials to interact among themselves."
Bryant says there have been a number of successful projects recently that have looked at both sides of the line.
"Our process mandates an above-board process of negotiations, and all counties are encouraged to be as competitive as possible," he says. "An open process is very pleasing to the eyes of the prospects, and the county that meets the requirements wins the project. It's not bi-state competition as much as it's an individual county competition, regardless of whether they're on the South Carolina or North Carolina side."
Asked what elements differentiate a real regional partnership from one that's just cosmetic, Bryant says it will show in the work in process.
"If it's cosmetic, when you have a project looking, the flaws in your system will become very evident. I've been very fortunate, in both St. Louis and Pittsburgh, that both organizations were at a point for truly regional thinking, and executed a strong regional program. I made it clear during the interview process in both places that if it was cosmetic, I wasn't the person they needed. I could not have an allegiance to any particular county.
"From my perspective, they're all the same, and that's the way my staff and I have to operate," says Bryant. "Any regional organization has to take that stance."

---
Site Selection Online – The magazine of Corporate Real Estate Strategy and Area Economic Development.
©2008 Conway Data, Inc. All rights reserved. SiteNet data is from many sources and not warranted to be accurate or current.