T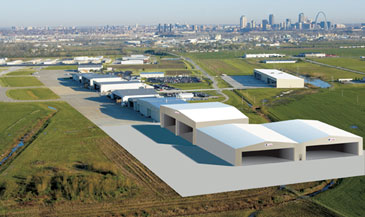 aken as a metropolitan region, the bi-state St. Louis area comes out tops in the tally of new plants and expansions announced between July 2006 and December 2007, according to the Conway Data New Plant database, helped not only by St. Charles and St. Louis counties on the Missouri side, but St. Clair and Madison counties in Illinois.
One of the Illinois projects is taking place within spitting distance of the Gateway Arch, in Sauget. There, British concern
ZincOx
is redeveloping the Big River Zinc electrolytic refinery into a recycling facility for the collection of zinc from oxide concentrate, which in turn is recovered from the 4 million metric tons of dust generated by the kind of electric arc furnaces used by steel mini-mills. The plant will produce 90,000 metric tons per year of zinc for steelmakers and other customers, in addition to a lucrative business supplying powder to alkaline battery manufacturers.
After 60 years in operation, the 37-acre (15-hectare) Big River electrolytic refinery was shut down in early 2006 by Korea Zinc, costing the area 300 jobs, when the cost of zinc ore became prohibitive. The project, aided by US$2 million in tax relief and training credits from the Illinois Department of Commerce and Economic Opportunity, calls for 200 new jobs to be created. The operation aims to commence hiring in spring 2008 and start up full production in the fall. ZincOx analysis calls for the Big River project to generate a 35-percent internal rate of return. "The refurbishment of the Big River plant and installation of solvent extraction will take approximately 16 months at a cost of about $90million," read the company announcement.
The project is nothing if not international: The oxide concentrate will come from separate ZincOx rotary hearth projects in Ohio and in Aliaga, Turkey, totaling $213 million in investment. The process being put in place at Big River comes fresh from demonstration at the company's Skorpion mine in Namibia. The firm's recycling strategy recently was recognized by
Mining Journal
for Outstanding Achievement in the field of Sustainable Development.
"These two projects, together with our new Turkish Project, complete the operating structure for our first fully integrated zinc, lead and iron recycling concept," said Andrew Woollett, ZincOx's chairman, in February 2007. "This structure will enable us to recycle virtually all the valuable metals found in electric arc furnace dust, a problematic waste material produced when galvanized steel is recycled. This structure and the proprietary technology involved represent a blueprint that we intend to repeat elsewhere in the world."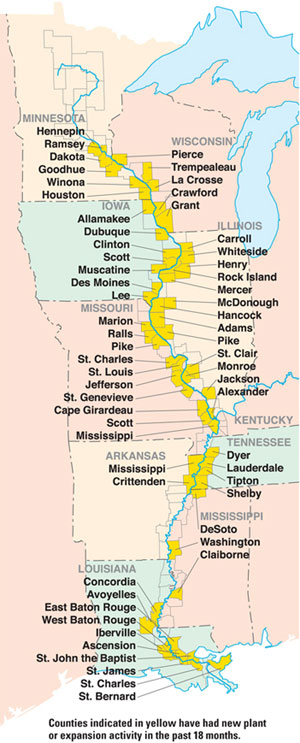 Global Connections
ZincOx may find a market for its product just down the road: Pending state environmental approvals and permits,
U.S. Steel
is planning to invest $350 million at its Granite City Works complex, one of five integrated steelmaking sites the company operates in the U.S.
John Armstrong, manager, public affairs for U.S. Steel, says part of the investment will be a non-recovery coke battery to be built, owned and operated by Sun Coke: "We would take from that coke, and take the steam they would generate," he says. "It would be a heat recovery unit as opposed to a byproduct coke oven." For the second part of the investment, "We'd build a cogeneration facility to make electricity and to use the steam as process steam. We'd own and operate that."
Environmental permitting is a long process, says Armstrong. According to state EPA documents, the public comment period ended in December 2007.
A January report in the
St. Louis Post-Dispatch
listed the U.S. Steel project among several that a local economic development agency said are delayed or displaying concern because of a probable federal decertification of the levees protecting an area including St. Clair, Madison and Monroe counties, often referred to as "Metro East." Armstrong says the company has evinced no such concern with respect to the Granite City project.
New flood maps developed by FEMA in the wake of Hurricane Katrina are expected to say that the Metro East area is at risk in a "base flood," which would put added insurance and construction burdens on industrial property owners, reported the
Post-Dispatch
. The same risk is apparently present with several levees on the Missouri side as well, according to Corps of Engineers officials.
Another January report, from the Tri-City Regional Port District in Granite City, said the port had an economic impact of more than $208 million in 2007. The port has 64 tenants or operating companies employing over 500 employees and $73 million in assets. Some 2,500 barges are loaded or unloaded each year at the port.
"2008 should see a dramatic increase in the Port District's economic impact upon Madison County," said Bob Wydra, executive director of the Tri-City Regional Port District. "Over $200 million is planned to be invested at the port with construction of an ethanol plant in 2008. Its construction and operation alone would have an estimated additional $500-million economic impact on the Madison County economy and an additional direct and indirect employment impact of over 300 jobs."
In early February, reports surfaced that
International Voyage Corp.
had purchased an 86-acre (35-hectare) parcel in Granite City that was formerly owned by Cara Metals, and U.S. Steel before that. The California-based company supplies scrap metal, fertilizer and agricultural products to Asia, Europe and Central America, with a heavy emphasis on Vietnam. Broker Wayne Barber, Jr., of commercial real estate firm BarberMurphy Group in Swansea, Ill., says available steel scrap from the dismantling of a shuttered industrial site played a big role in the site selection, as did rail access, the port's barge-loading facilities and heavy industrial zoning.

Small Planes, Big Business
Among the other institutions displaying economic impact in the port's document was St. Louis Regional Airport in East Alton, packing an $80-million punch. But Downtown St. Louis Airport in Cahokia, Ill., is bringing its own power to the table.
That's where
Midcoast Aviation
in 2007 opened a $12-million, 119,000-sq.-ft. (11,055-sq.-m.) hangar and also broke ground on an $18-million, 145,000-sq.-ft. (13,471-sq.-m.) hangar. The company offers line and base maintenance, interior completions and painting, while its parent corporation, Switzerland-based Jet Aviation, provides FBO, aircraft management and charter support services.
Midcoast has 1,300 employees and was the 14th largest employer in southern Illinois as of December 2007.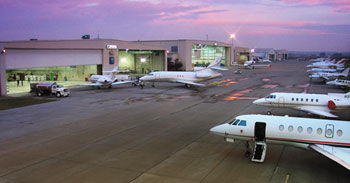 It will soon occupy a total of 650,000 sq. ft. (60,385 sq. m.) of space. The company has been adding 100 professionals annually for the past several years and anticipates adding 200 more staff members in 2008. No wonder the company was honored by the Southwestern Illinois Development Authority as an Outstanding Development of the Year.
Jet Aviation's St. Louis operation is part of a North American footprint that includes locations operated by Midcoast Aviation in Boston/Bedford, Mass.; Chicago, Ill.; Palm Beach, Fla.; Teterboro, N.J., and, soon, Savannah, Ga. The company's global reach includes more than 20 facilities, including operations in South America, Europe, the Middle East and Asia.
Kurt Sutterer, Midcoast president, says the company's newest two hangars will allow it to centralize completions activities for narrow-body aircraft from companies such as Bombardier, which flies them "green" into Cahokia.
"Midcoast then will have five hangars dedicated to supporting our significant maintenance business, which is growing at 12 percent annually, twice the industry rate of 6 percent," he said. "Additionally, we have two hangars for aircraft painting."
The newest hangar project will receive a $17.5-million investment, aided by a $4-million incentive package from the State of Illinois.
Separately, at the same airport, Martin Aviation Group is planning a $1-billion "mega airpark" that calls for 3.5 million sq. ft. (325,150 sq. m.) of Class A office space.
The Midcoast, ZincOx and U.S. Steel projects are part of what Leadership Council Southwestern Illinois, compiling data for just St. Clair and Madison counties, says is a development pipeline representing some $9 billion in investment, led by energy projects from such companies as ConocoPhillips, Abengoa and Omni Bioenergy.
On the Missouri side in the St. Louis metro, new facility projects topping the investment charts are coming from
Pfizer
,
Continental AFA
,
Emerson Electric
,
Monsanto
,
Pepsi Americas
and
Steel Warehouse
.
Among the very top projects by investment in 2007 along Missouri's side of the river is
Continental Cement
's $100-million expansion taking place in Hannibal, the birthplace of the river's most celebrated historian and pilot, Samuel Clemens.

Death Does Not Derail Wind Tower Project in Keokuk
A $34-million wind turbine tower manufacturing plant in Keokuk, Iowa, will go forward as planned, despite the accidental death of the industrialist who championed the project.
Ken Hendricks, 66, was the founder of building materials firm ABC Supply Co., and a staunch advocate of economic development and industrial redevelopment in his adopted hometown of Beloit, Wis. He helped revive two massive factory complexes in the town's center, owned more than 30 companies as part of Hendricks Industries and was one of the state's handful of billionaires, making Inc.'s December 2006 cover as entrepreneur of the year. In late December 2007, he fell through a tarp covering a hole in a construction site at his home and died of head injuries.
Two months earlier, Hendricks had stood with Iowa Gov. Chet Culver, Keokuk Mayor David Gudgel and others to announce the construction of the tower manufacturing plant, creating 350 new jobs.
"Our new location in Iowa, the heart of America's windbelt, puts our company in the perfect position to serve a market that is projected to triple production by the year 2020," Hendricks said. "We look forward to joining the Keokuk community and are grateful for the support state and local officials provided during our search process. Hendricks Industries brings a tremendous amount of knowledge of the wind turbine tower industry having produced tubular towers for wind turbines since 1982. The Keokuk site provides low cost opportunities by maximizing barge transportation and minimizing rail transportation."
Among the incentives available to the project are $1.7 million from the Iowa Physical Infrastructure Assistance Program, tax breaks from the High Quality Jobs Creation and Targeted Jobs Withholding Tax Credit programs (average pay will be just under $20 an hour) and $2.3 million for training at Southeast Iowa Community College.
Wind energy manufacturers
Acciona Energy
,
Siemens Wind Power
(just up river in Fort Madison) and
Clipper Windpower
all have chosen Iowa for manufacturing investments in the past two years.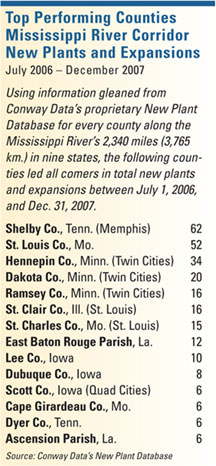 "Our proud tradition in advanced manufacturing coupled with our position in the Windbelt makes Iowa the ideal location for both wind energy turbines and the production facilities that produce them," said Iowa Dept. of Economic Development Director Mike Tramontina at the October announcement. "A recent study projects that, within a 600-mile [965-km.] radius of Iowa, $3.2 billion dollars in wind generation projects will be constructed each year over the next seven years. That equals $22.4 billion in new economic development potential for the region."
Keokuk, located at the tip of the Iowa thumb that stretches southeast between Missouri and Illinois, has had its fair share of economic development success lately. In December it welcomed a 225-person call center from Cedar Rapids-based contact center outsource firm
Thomas Cardella & Associates
, whose namesake hails from Keokuk. And the port area has welcomed several ethanol and biodiesel plants.

Personal Mission
The 347,000-sq.-ft. (32,236-sq. m.) facility for the manufacture of the 80-ton towers is just one component of the project. The company also plans to invest $2.5 million in improvements at the Southeast Iowa Port Terminal. However, in January the company was considering a Keokuk site away from the port for the manufacturing plant, and had purchased options on the property. According to press accounts, Hendricks planned to invest up to $90 million in all in the town.
Already, he had invested significantly in Keokuk assets, starting with what used to be the Iowa Gateway Terminal, now called the Southeast Iowa Port Terminal. Hendricks Industries also has purchased a parcel formerly belonging to Ferro-Sil. And it purchased the Orba-Johnson transshipment company just upriver from Keokuk, primarily engaged in moving Powder River Basin coal from Wyoming onto barges. Now known as Hendricks River Logistics LLC, the firm has a 250-acre (101-hectare) parcel on which to expand. Both are close to a new ethanol complex being developed by
Roquette America
.
Yvonne Knapp, vice president of planning and programming for Lee County Economic Development Group, says at one time the port authority was planning on purchasing the terminal. But then Hendricks arrived on the scene, bringing with him the same kind of energy he'd already brought to Beloit's redevelopment.
"He could do quite a bit more with the property than a public entity could," says Knapp. "When he came down and spoke to the city at the Grand Theater, it was standing room only. Everyone came away from there in awe of the gentleman and what he'd accomplished.
"He was such an unassuming person," she observes. "I went to the memorial services in Beloit, and the overwhelming response to his life and legacy was just unbelievable. With what he was bringing to this community, I think the community really had a spring in its step. There was a lot of hope – there still is – and we would have loved to have been able to share in these successes with him, because he would have shared with us."

Site Selection Online – The magazine of Corporate Real Estate Strategy and Area Economic Development.
©2008 Conway Data, Inc. All rights reserved. SiteNet data is from many sources and not warranted to be accurate or current.