ven in the wide-open western U.S., finding a suitable 100-acre (41-hectare) site can be a challenge. In fact it was the biggest challenge facing Schott Solar's expansion into the U.S. The company is a subsidiary of Mainz, Germany-based
Schott AG
.
"There were not a lot of 100-acre sites out there that met our criteria," says Mark Finocchario, president and CEO of Schott Solar. "We started with 75 sites after we narrowed it down to five states. Proposals were submitted and many were disqualified because they did not meet our operational requirements. We probably looked at 25 sites, maybe 30."
But the best site soon became apparent in Albuquerque's Mesa del Sol master-planned community,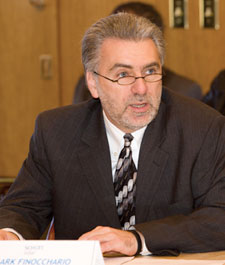 which is quickly becoming the state's solar manufacturing cluster.
Advent Solar
, a manufacturer of advanced solar cells and modules, opened a manufacturing facility there in February 2007.
Schott Solar is investing US$100 million to build a new solar energy technology production facility that initially will manufacture receivers for concentrated solar thermal power plants and 64 MW of photovoltaic modules. Breaking ground on the 200,000-sq.-ft. (18,580-sq.-m.) facility in February, Schott expects to move into the building in November with the first products coming off the line in March 2009. The factory will initially employ 350, but Schott has ambitious plans to grow much larger, ramping up to 1,500 employees and 800,000 sq. ft. (74,320 sq. m.) with a total investment of $500 million by 2012.
New Mexico emerged as the winner in what began as a 12-state contest for the project. Site analysis whittled the list to five states and then to four. Locations in the northwest and northeast, plus another southwestern state, were also in contention, says Finocchari.
"We started the process by doing an analysis of regions where we thought we would want to locate the business," he explains. "That quickly factored to states within each region with an initial macroeconomic analysis, and New Mexico passed. As we went through subsequently more stringent filters along the way, they survived every step of the way, taking into account overall business environment and work-force availability.
"New Mexico has been friendly towards companies that are environmentally friendly like us," he says, "and has been very aggressive in trying to attract renewable energy companies."

Tax Credits Driving Growth
A major factor in the growth of the U.S. solar industry has been the 30-percent solar investment tax credit enacted by Congress in 2005. This credit is set to revert to 10 percent at the end of 2008, after an effort to get the full 30 percent included in the energy bill signed by President Bush in December 2007 was turned back. Supporters of the tax credit now are pushing for either a one-year extension or an eight-year extension to be included in upcoming federal legislation. But Finocchario says the Albuquerque project will proceed regardless.
"Federal incentives are certainly a factor in our plans. We basically at this point see it as an accelerant and an enabler to pull our plan even faster. In general, we are optimistic the program will be renewed, hopefully for the eight-year extension being proposed. We anticipate very strong growth and we are basically putting in this investment in anticipation of that."
State incentives also came into play.
"New Mexico's incentives certainly were a factor in our decision, but the surviving states in our search were all offering nice packages," Finnocchario says. "New Mexico was not the highest total dollar value, but it certainly was within range for us, so it was a factor."
The solar industry is projected to grow at a 50 percent annual rate.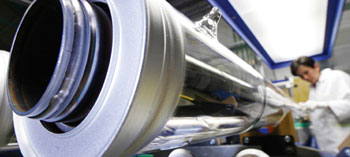 That growth is mostly commercial, but Finnocchario believes it will eventually spread to the residential market:
"It's going to take a while to move to residential. There will have to be continued cost reduction on installed equipment. The longer-term eight-year extension of the tax credit will open up that market."
Schott was also attracted by New Mexico's 20-percent renewable portfolio standard, which mandates that, by 2020, 20 percent of energy consumed in New Mexico must be generated by renewable energy sources, of which 4 percent must be from solar power.
Good highway access was another consideration. The Albuquerque site has good access to I-25, an important factor as Schott Solar's products will be distributed by truck. Also, raw materials such as glass, extruded and machined stainless steel parts and insulating materials will arrive via truck.
"Interstate access is important," Finocchario says.
The Albuquerque site also offers proximity to key solar PV module and concentrated solar thermal power plant markets of the Southwest, and to Sandia National Laboratories, one of the world's leading solar energy research centers.
The ramp-up pace of the highly-automated plant will hinge on market growth. The new site complements Schott's Billerica, Mass., facility, which has capacity of 15 MW and produces one of the largest available standard-sized solar PV modules.

Solar's Silicon Valley
One of the solar sector's leading trade associations believes the Schott project will spur even greater growth in New Mexico.
"Solar manufacturing is definitely an economic engine," says Monique Hanis, director of communications for the Solar Energy Industries Association. "We have seen growth across the country in states where there have also been additional incentives.
"What is great about the Schott project is it demonstrates not only that development can occur in states that have very high solar resources where you would actually locate a large utility-scale plant, but that there are also opportunities for manufacturing to support that industry," she says. "New Mexico has the potential to become a Silicon Valley for solar. The state can become a hotbed in terms of job generation, especially if government policy continues to support renewable energy in this country in the form of investment tax credits."

Site Selection Online – The magazine of Corporate Real Estate Strategy and Area Economic Development.
©2008 Conway Data, Inc. All rights reserved. SiteNet data is from many sources and not warranted to be accurate or current.