TO admission and a low-cost manufacturing base to rival China's were among the factors that caused foreign investment pledges in Vietnam to rise to more than US$20 billion by late December 2007 from a total of $12 billion in all of 2006. Much of that investment is coming from corporations in fellow Asian nations, and much of that in turn is of the "South-South" variety, from one developing nation to another.
According to the Conway Data New Plant Database – which tracks new facility investments involving more than $1 million invested, more than 50 new jobs created or more than 20,000 sq. ft. (1,858 sq. m.) of new space – Vietnam led the region in 2007 with 61 projects, including seven involving investment of more than $1 billion. Singapore had 42 projects, followed by Malaysia with 36, Thailand with 24, Philippines with 22, Indonesia with 14 and Taiwan with 13.
Four of Vietnam's top 10 projects in 2007 by investment total were in the steel sector. India-based
Essar Steel
, through its Singapore-based Vietnam holding company, is pursing a 2-million-ton steel plant in a joint venture with Vietnam Steel Corp. (VSC) and Vietnam General Rubber Corp., both state-owned companies. The $527-million hot strip mill complex is expected to be completed in 30 months at a site in the Phu My Industrial Zone, Ba Ria Vung Tau province, in southern Vietnam, where VSC already operates a cold rolling plant and a mini-mill.
According to the Vietnam Urban and Industrial Zone Development Investment Corporation, the 1,532-acre (620-hectare) Phu My zone, located on a major national highway and on the Thi Vai River, offers land subleases at a rate of $4.18 per sq. ft. ($45 per sq. m.), excluding VAT, for lease terms of up to 47 years.
Among the possible projects to land in Vietnam in 2008 is a joint-venture 1.2-million-ton steel plant being mulled by Korea's
Posco
in a venture with customary rival
Nippon Steel
. Posco's construction and engineering division also is behind a $3-billion satellite city development outside Hanoi.

Spread the Wealth?
Several Vietnam investments are from companies diversifying their low-cost production bases from a purely Chinese model. Their number includes a proposed all-new 3,212-acre (1,300-hectare) industrial park in Hoa Tam, Phu Yen Province, to be developed by Singapore-based
SP Chemicals
. The project, which would begin with a $1.5-billion naptha cracking complex to be completed by 2014, is the core of a push by the company to expand upstream and thereby ensure reliable raw material supplies.
Both projects received in-principle approval from the Vietnamese Prime Minister's office in August 2007. The company's projected price for the naptha complex rose by $300 million because of a need to invest in jetty and port facilities. Development of the overall park would take place on a timeline ending in 2024.
"A project of this scale is long term and would require more than 15 years to implement," said Chan Hian Siang, CEO of SP Chemicals. "The sheer magnitude of the project and the technicalities involved necessitate the conducting of rigorous studies and intensive planning, to ensure the viability of the development before we move forward. This first overseas manufacturing plant is very important, so we have to prepare carefully to ensure success."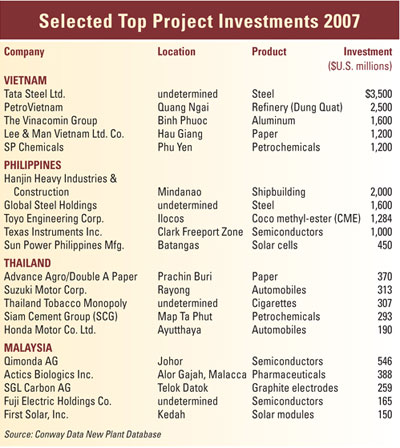 The company prides itself on its low-cost status as a result of a successful 11 years of production in China, where it's investing another $153 million in styrene monomer capacity in Taixing's China Fine Chemical Industrial Park. Even so, during an investor Q&A last year, company leaders fielded questions about the Chinese government's crackdown on pollution and its withdrawal of support for companies making basic materials. They responded that the effects of such measures would largely be felt by smaller producers with lower environmental standards.
It isn't just China-based industrial development that's moving offshore to other Asian economies. Indonesia, too, is seeing some of its manufacturing base head to Vietnam and other markets, in part because of onerous labor laws that went into effect in 2003.
Another firm diversifying from its Chinese production base is
Lee & Man Paper Manufacturing
, whose first production site outside of a pulp mill in California and multiple paper plants in China will be in Hau Giang, Vietnam. The 21.5-million-sq.-ft. (2 million sq. m.), $1.2-billion complex will include a $630-million investment in two separate plants for the production of 420,000 tons of containerboard
Vietnam Urban and Industrial Zone Development Investment Corporation
and 150,000 tons of bleached hardwood kraft pulp annually.
Vietnam's next wave might be in niche services. In a 2007 report on globalization trends, India-based advisory firm Tholons said it expects the "emergence of 'multi-shoring,' where different sub-processes will be performed from multiple locations and as part of a re-engineered globalized network of delivery (e.g. software development in Shanghai, China, with testing performed in Ho Chi Minh City, Vietnam)."
NAI Global reports that rents for Class A office space in Ho Chi Minh City have broken the $50-per-sq.-m. ($4.67-per-sq.-ft.) barrier, and may continue to climb before new projects are delivered in 2009-2010.

Site Selection Online – The magazine of Corporate Real Estate Strategy and Area Economic Development.
©2008 Conway Data, Inc. All rights reserved. SiteNet data is from many sources and not warranted to be accurate or current.