ustal
's US$254-million shipyard expansion in Mobile, Ala., announced in September 2007 and approved for local incentives in January 2008,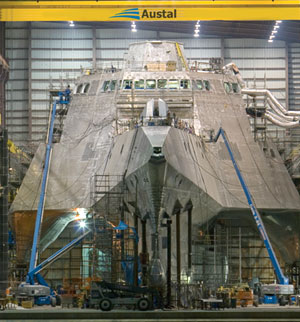 turns on moving big things short distances.
When a vessel's component modules can weigh anywhere from 15 to 50 tons, says Austal USA CEO Bob Browning, a key question becomes, "How do you transport them to the assembly bay?"
"If you have a facility in a different state 600 miles [965 km.] away, usually you're going to have to put that module on a barge, and it doesn't take long before you're eating up any inducements from the state," he explains.
That was the turning point in a site selection process that began in March 2007, he says, led by a team featuring the company's COO, vice president of government programs, contract manager and McCallum Sweeney Consulting.
"The chief criteria were labor costs and proximity to existing facilities," says Browning, who says the search's scope encompassed navigable waters in the U.S. southeast.
"We narrowed it down to the site in Mobile, a site in Natchez, Mississippi, and one in Vicksburg, Mississippi," he says. "The real turning point was when the two governors in Alabama and Mississippi got personally involved. We spent a lot of time on the phone. It turned up the competitive juices for the two states. And it made it a difficult decision at the end of the day, because both offers were pretty good."
That was saying something, given that the project was coming along just as Alabama was landing the ThyssenKrupp steel complex and Mississippi was juggling its own recent bevy of new megaprojects. But Browning is quick to point out that any hurdles overcome were primarily internal, and mostly involved the module shipment factor.
"That became the most difficult sticking point for us," he says. "It was never about the states, it was our own internal machinations. And then there was geographic viability – remediation of land, access to waterways. All of that had to be factored in."
"Regardless of how many projects they have, both Mississippi and Alabama go after every project like it was the only project they had," testifies Ed McCallum, giving due credit to Alabama Development Office director Neal Wade and the Mississippi Development Authority's Gray Swoope. "They're probably both overworked and overtaxed, but they aggressively pursued this project," he says of the agencies. Of Swoope and Wade, he says, "Typically people delegate it, but these guys take it personally."
So do their governors. Alabama Gov. Bob Riley, says Browning, "sat with us for three hours … we kind of crafted the arrangement between us right there at the table."
Among the incentives for the 1,000-job, 700,000-sq.-ft. (65,000-sq.m.) expansion are $24.4 million in sales and property tax exemptions granted by the Mobile Industrial Development Board. Half of that square footage will be constructed by July 2009, with phase two expected to be complete by July 2011.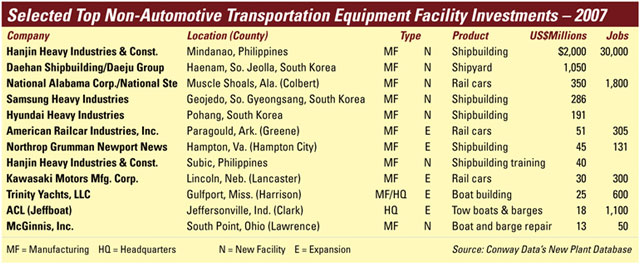 From a Bay to a Campus
The investment follows a steady growth curve for Austal in Mobile, where it built its first assembly bay in 2004. That was followed in 2006 by the completion of two more bays for the U.S. Navy's Littoral Combat Ship project, and an administration building, for which the company received $5 million in incentives from the state and $2.5 million each from the City of Mobile and Mobile County.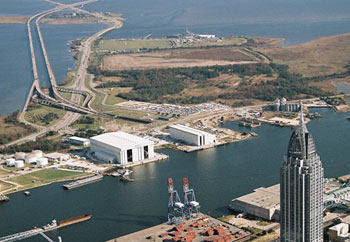 In 2007, Austal completed more facilities and received $5 million in state incentives.
The company's had no problem meeting job goals associated with those agreements.
"We currently have 1,160 employees," says Browning. "As part of the incentive, we were able to include subcontractors. When you include them, we're closer to 1,500 employees and subcontractors, which is well above the numbers we submitted."
For the new project, the company is researching the pros and cons of utilizing federal Gulf Opportunity Zone low-interest loan funds that may be available. The Mobile IDB has indicated support for such a request.
"On the one hand, it's a cheap source of capital, and on the other it belongs to the state," says Browning of the GO Zone funds. "We're sorting through that, but it's seriously being considered."
Asked what proportion of the project's cost might be paid for with those funds, he says less than 50 percent. Meanwhile, $33 million will come from the Navy, from a pool of $140 million made available for shipyard recovery in the wake of the hurricanes.
Austal's Mobile facilities took a shot from Katrina, but it was mercifully brief, says Browning, thanks in part to the facility's design and specs: "We got about four feet of water, basically scraped the mud out and were back to work in about four days," he says.

The Talent Quotient
Browning was thrust into the project as soon as he started at his new CEO position in August 2007, moving back to the States from Perth, Australia, where he held a similar position with a leading energy infrastructure firm. He says it's a steep learning curve to adjust to shipbuilding, but he has made the transition in part by surrounding himself with good people.
Finding good people with good skills is one of the leading issues on the minds of corporations looking to site anywhere on the Gulf Coast, where the talent pool for construction and other industrial skills has been thinned ever since the hurricanes of 2005.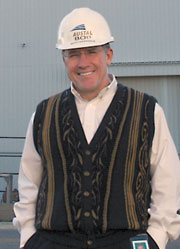 Browning says between 25 and 50 people at Austal's complex moved to Mobile from New Orleans. McCallum says the movement of the New Orleans labor force is not concentrated in any one area, but spread across the entire Gulf Coast.
So a big key to the Mobile deal is a 60,000-sq.-ft. (5,600-sq.-m.) training facility, co-located with the state's 37-year-old training organization AIDT, that will be two-thirds occupied by Austal and one third by AIDT's programs for other shipbuilders and related firms. Browning says the company will be putting approximately 100 employees through the facility at any one time.
"You can't just go recruiting people and bringing them in and playing the bidding game," says McCallum. He says the best way forward is through state training programs. Browning agrees.
"It's particularly difficult for us because we weld aluminum," he says. "Even qualified steel welders have to go through an apprenticeship program. Employers are trying to stay out of a bidding war and instead make the workplace a better place to stay."
One enticement is the introduction of more design work into the Mobile complex.
"When Austal was first established here, it was totally dependent on the design team in Australia," says Browning. It didn't take long before the geographic and time differential took its toll between the drawing board and the assembly bay. Consequently, he says, "We've been building up our own design staff over the last year and a half. It works really well when you can walk a designer to the bulkhead. We're getting more autonomous in the U.S. for that element of the value chain.
"It was particularly important we get that skill set here when you're dealing with the U.S. Navy," he adds. "We get a lot of rework and changing, and to have to do that with a design crew on the opposite side of the world was just impossible."
Browning notes that the western Australia he came from is undergoing its own work-force shortages, including the same welders and pipefitters, as its resource base supplies raw materials for China's nonstop growth. But the economic development style is a bit different.
"In Australia it tended to be more formulaic, and as a result, the approval cycles could get much longer," he says. "U.S. state governments are a bit more entrepreneurial."

Site Selection Online – The magazine of Corporate Real Estate Strategy and Area Economic Development.
©2008 Conway Data, Inc. All rights reserved. SiteNet data is from many sources and not warranted to be accurate or current.