he family that eats together stays together.
That maxim has proved true in the case of the Columbus family of business and community leaders, some of whom gathered at the home of Leslie H. Wexner, founder of Limited Brands, and his wife Abigail in December 2007. They were there to host Richard Santulli, the former Goldman Sachs principal who purchased Executive Jet in 1984, invented the concept of fractional jet ownership two years later, and has since shepherded
NetJets Inc.
to soaring performance as its chairman and CEO.
In addition to other business leaders, also attending that night were Ohio Gov. Ted Strickland, Columbus Mayor David Coleman and newly installed Ohio State University President Gordon Gee. Their collective mission? To make the case that the surging company, which had been conducting a search for a place to grow its operational hub, should keep that hub right where it was in Columbus.
On March 12, 2008, the company revealed it would do just that, with a multifaceted expansion and growth plan that will include the construction of a $200-million campus at Port Columbus International Airport, the hiring of 810 more people, the creation of the world's largest flight training facility by sister company FlightSafety International and a new sense of partnership with the city, the state and the state's flagship university.
"That dinner was a turning point for NetJets," says Daniel H. Rosenthal, a member of NetJets' Office of the Chairman along with Santulli and Vice Chairman Jim Jacobs. Rosenthal's responsibilities include directing strategic initiatives across NetJets' global operating units, active management of NetJets Aviation day-to-day matters, and supervising the relationship with NetJets Aviation's pilot group. "We understood for the first time at that dinner that the barriers to growth we perceived could and would be overcome, and we would partner with the local community to accomplish that."

Towers and Talent
NetJets' predecessor Executive Jet was founded in 1964 by Brigadier General O.F. "Dick" Lassiter as a civilian version of the Air Force's Special Missions Squadron, and included on its four-person board actors Jimmy Stewart and Arthur Godfrey. By 1965 the company was already training the FAA itself in how to administer check rides.
In 1998, after three and a half years of satisfying NetJets ownership, Berkshire Hathaway Chairman Warren Buffett bought the company, which retains its headquarters, sales and marketing teams in Woodbridge, N.J. Later that same year, he and Santulli announced a landmark $3-billion order for 161 business jets. Following the establishment of a 10-year incentive agreement in 1997, the company's FlightSafety Center was established at Port Columbus International Airport in 1999, followed by the opening of a 200,000-sq.-ft. (18,580-sq.-m.) operational headquarters complex in 2000.
But, says Rosenthal, even that was not enough room for a company which manages 390,000 flights a year, flies more flights than all its competitors combined and maintains a 70-percent market share in a market growing at approximately 8.5 percent annually.
"We recognized in February 2007 that we had a problem," he says, "one of those good problems to have." The company's growth meant it was managing 150,000 sq. ft. (13,935 sq. m.) of leased space. In addition, it was conducting flight training at eight different facilities around the country. The Columbus training site had seven simulators on site and no more room for expansion. "We wanted to have all of our training at one location, but there was no way to do that at the current facility," says Rosenthal. So Santulli authorized a team to explore facilities and locations.
"Initially we had no thought of adding facilities anywhere outside of Columbus," says Rosenthal. "As we dug into the process, we discovered certain barriers to growth in Columbus we had not realized existed, and we needed to overcome for the next generation."
One of those barriers was literal: an airport surveillance radar (ASR) tower at Port Columbus International Airport that precluded NetJets from building above 65 ft. (19.8 m.) and from using many materials.
"We wanted to build a world-class campus, and the presence of the ASR and the restrictions on growth meant we would not be able to build the facility we wanted," says Rosenthal. "So we needed that barrier to growth removed."
Even as the firm worked to resolve the issues in Columbus, "we had a fiduciary responsibility to our shareholder Berkshire Hathaway to explore these other locations and do our due diligence," says Rosenthal.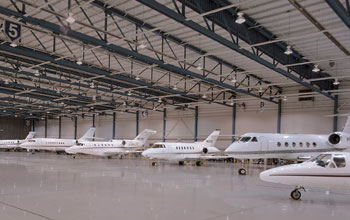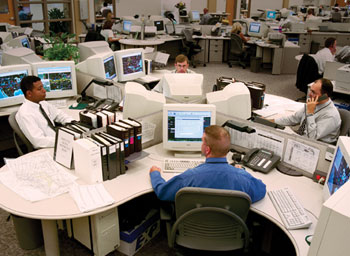 What's In Your Backyard?
Typical of Warren Buffett's management style, his firm let NetJets leadership do the leading.
NetJets retained SZD Whiteboard, a division of law firm Schottenstein Zox & Dunn, and CB Richard Ellis to assist with a nationwide site selection and demographic analysis. Charged with bringing the best options to Santulli for the ultimate decision, the internal team included Adam Johnson, senior vice president of logistics; David Powell of SZD, who later joined NetJets as vice president of government relations; and Rosenthal. The team later expanded to include CFO and Executive Vice President Matt Harris; Bram van der Ploeg, the company's chief technology officer; and Todd Deavers, vice president of facilities.
Together, that team established a series of gates to define its decision-making process for "Project Horizon," beginning with whether other locations offered opportunities. They did.
"Gate Two was a balance of the benefits of each location," explains Rosenthal. "Money did not enter into it at that point. It was about how we ensure that NetJets will be able to grow for years to come. We were concerned about site and about ability to attract talent."
"We are the nation's largest campus, but we are not a world unto ourselves. We are located in Columbus, in Ohio, in the United States. We are in the service of these larger communities."
As it turned out, the brain drain that allegedly afflicts Ohio's business landscape is not as free-flowing as executives may be led to believe. The site selection exercise led NetJets' team to discover what resources it already had at its disposal. Rosenthal cites the company's emphasis on higher education partnership.
"Shame on us that we had not done that in Columbus with Ohio State University and the other institutions in the community, " he says, citing a particular example of expertise overlooked:
"We are always focused on making our planes more luxurious, so we met a couple months ago with a European company that does auto interiors, working on seat comfort issues. They said, 'We're very focused, and we've engaged the world's premier expert on seat comfort, William Marras. You may know him, he's a professor at Ohio State.' We did not know him. So shame on us, and right in our own backyard. It was an example of the importance of the higher education relationship and due diligence."
That relationship arrived front and center thanks to the direct involvement of OSU President Gordon Gee, who came back to the university in 2007 after a prominent stint as chancellor at Vanderbilt University. In his inaugural address to the faculty in early October 2007, he said, "We must promote and sustain external partnerships that have the capacity to transform knowledge and innovation into new technologies and new companies and put them to work for Ohio and its citizens." That was the kind of thinking NetJets wanted to hear.
"He immediately and aggressively recruited us," says Rosenthal. "by laying out his vision for Ohio State, not just as a university, but as a catalyst for economic development throughout the state of Ohio. That was an important vision for us to hear and understand. His vision weighed heavily in our decision-making process."
So, finally, did the partnering among state, city and airport authority officials, says Rosenthal, giving special mention to Lt. Gov. Lee Fisher and Mayor Coleman, and to the need to break free from the very Midwestern habit of keeping to oneself.
"The community doesn't talk itself up a lot," says Rosenthal. "Mayor Coleman started to talk about Columbus needing to get its swagger back. That meant something to us. It told us we can grow here – we just needed to better understand what actually existed here.
Everything
existed here, but no one was trumpeting it."
The State of Ohio, City of Columbus, Franklin County, and the Columbus Regional Airport Authority have offered a combined growth package that includes work-force development, job credits, tax abatements and other direct assistance valued at $67.6 million, including $37.4 million from the state, $22 million from the city and county, and $8.2 million from the airport. These figures do not include approximately $30 million in incentives related to area site improvements, loans and marketing.
Despite reports in the North Carolina press about incentives packages steering the decision, Rosenthal says that point ("Gate Three") was never reached.
"The decision was to weigh the benefits of each location outside of the incentive packages offered by them," he says. While a finance team did the preliminary evaluation of each package in case quick action were necessary upon a decision to move further forward in discussions, "their work was not brought to bear in the ultimate decision," he says.

Way Beyond One Company
The new campus will potentially enlarge NetJets' footprint sixfold from its current 19 acres (7.7 hectares), and retain its current employment of 2,022. Now that the plan is official, Rosenthal says, "one of our biggest concerns is how we get from today to the time that this campus is built. We are exploring temporary solutions to that right now," including more short-term leasing.
But the project is all about the long term, especially when it comes to the FlightSafety International component, which holds the promise of seeding an entirely new aviation cluster in Columbus. The company maintains 43 flight-training centers in 25 states and four countries, but now its NetJets training facility will be the big kahuna, essentially doubling its current footprint.
"We benefit from having all of our training in one location," says Rosenthal. "It's a chance for management to see the pilots, to ensure our high standards are met, and for us to have everyone be excited and understand the NetJets brand. So we wanted to have the world's largest flight safety training facility be on our campus, and FlightSafety agreed to do that."
He says the number of simulators will be determined over time based on demand, but predicts it will easily pass the 16-simulator count at FlightSafety's current largest training complex. While NetJets will be the primary customer, "to the extent that the simulators have open time, which they will, we are very comfortable with outside companies coming in," says Rosenthal.
Thus has a site selection taken a company and a community on a journey that began with self-discovery, but is opening onto a vista of opportunity beyond the immediacy of today.
"Together we have engineered a truly innovative collaboration that not only positions NetJets to continue as the worldwide leader in private aviation, but more importantly makes NetJets and FlightSafety International the cornerstone of Ohio's effort to become the aviation innovation capital of the country," said Santulli at the project announcement.
"This project has become more than we ever envisioned, and is about so much more than the growth that NetJets will experience," Rosenthal says.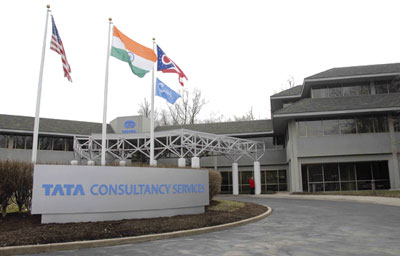 Closing the Circle
When Indian conglomerate
Tata Group
's signature steel company got its start, company founders learned the ins and outs of the steel industry by visiting Ohio. Now its consulting division, Tata Consultancy Services, engaged in the type of software development outsourcing known for whisking jobs out of North America, instead is sweeping 1,000 jobs into Cincinnati.
The project is taking shape on 220 wooded acres (89 hectares) called Seven Hills Park in Miami Township, Clermont County, which previously served as the home of James River Corp. The company purchased the facility for $13 million, and will invest $7 million in its renovation, helped by a $19-million package from the Ohio Dept. of Development that includes a $15.5-million, 90-percent tax credit for eight years and a $2.5-million Rapid Outreach Grant to assist in the building purchase. To fulfill its side of the agreement, TCS must maintain the Ohio operation for 16 years. Other partners included the Cincinnati USA Partnership and Clermont County Economic Development.
Amid a general incursion of India-based corporate capital investment into the U.S. (more than $10 billion worth in 2007, according to the Federation of Indian Chambers of Commerce), Ohio is getting its fair share. Other projects include a forthcoming truck manufacturing site from another $22-billion company,
Mahindra & Mahindra
, which reportedly is planning two further assembly plants in North America.
The new TCS complex will be the company's largest in North America, where it operates 35 offices in the U.S., five in Canada and several in Mexico, including a global delivery center opened in Guadalajara in 2007. Altogether, TCS employs 100,000 at 155 locations in 41 countries, and contributes some $4.3 billion to the $22-billion Tata Group.
It comes as no surprise that the ultimate consultancy conducts site selections without outside help, forming its team with professionals from its HR, finance and operations departments.
"One of the reasons we chose Cincinnati is that good talent is available at relatively lower cost if you compare it with New York or California."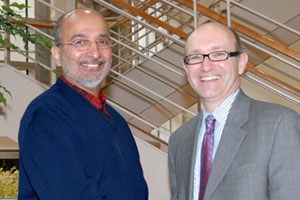 Anil Bakshi, a facility manager for TCS who helped drive the site selection process, says the company considered 52 locations in the U.S., short-listing 17 based on the following criteria:
• education and talent availability
• domestic and international connectivity
• cost and quality of living
• overall climate for business
• demography
• proximity to current and prospective customers
• weather and operational risks
• minimum wages and cost of talent
Cincinnati came out on top in part because of a potential recruiting pool found among the more than 972,000 students enrolled at 300 colleges within a 200-mile (322-km.) radius. At the same time, "One of the reasons we chose Cincinnati is that good talent is available at relatively lower cost if you compare it with New York or California," says Bakshi.
Pay for the 1,000 new jobs will average more than $60,000 annually.
He says the new center "will help us reduce customer infrastructure costs where TCS onsite teams are located in high cost customer real estate. In terms of proximity, the center will help serve as a staging ground for future offshoring to cost-effective locations as well as a possible Business Continuity Planning (BCP) option for risk management for on-site customer locations."

Metro State
When the Brookings Institution issued its "MetroNation: How U.S. Metropolitan Areas Fuel American Prosperity" report in late 2007, it listed the 100 largest cities by employment. Only California had more cities among those 100 (10) than Ohio, Pennsylvania and Florida, each of which boasted seven apiece. The intellectual capital and critical mass of industry that those Ohio cities boast in turn makes for a chain of brainpower that's a lot less rusty than many media stereotypes might lead one to believe.
Edward W. (Ned) Hill is Professor and Distinguished Scholar of Economic Development at the Maxine Goodman Levin College of Urban Affairs of Cleveland State University. He is also a Nonresident Senior Fellow of the Metropolitan Policy Program at The Brookings Institution. He says the recent imaging campaign conducted by the Ohio Business Development Coalition builds on the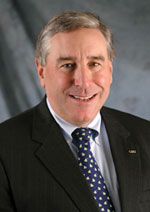 powerful images of the state's 6 to 8 regional economies, ranging from polymers in Akron to Cincinnati's bi-state economy to Dayton's transition from "hospice for Delphi" to aviation capital.
Hill admits that Ohio and other states still have to battle the inexorable flight of investment toward right-to-work states over the past 20 years, where personal income has grown along with the job totals. But helping fight that trend are the state's recent tax reform, still being implemented, and energy deregulation, the full impact of which may take a couple years to unfold when it comes to site selection.
Hill co-authored "Ohio's Competitive Advantage: Manufacturing Productivity," released in 2001. Asked to evaluate that report's conclusions today, he reveals what he finds are some interesting facts about the $85 billion in GDP that comes from the state's manufacturers.
"If you look at growth in GDP from 2001 to 2006 in Ohio, it grew by 8.6 percent, correcting for inflation," he says. "However, in manufacturing, it was 12.1 percent. At the same time, employment in manufacturing from 2001 to 2006 fell by 16.8 percent. That is a stunning increase in productivity."
Even the non-manufacturing increase in GDP owes much of its lifeblood to manufacturing spin-off, whether via back office, temp help, logistics or other goods and services.
"If it wasn't for manufacturing, this state economically wouldn't exist," says Hill. And he quips that while the rest of the country bemoans the drop in the dollar, Ohio will still accept it as currency this year.
"I think most of the macroeconomists have the fall of the dollar completely wrong," he says. "They're concerned about flight of the dollar from the U.S., which is true for financial capital, but for production capital, they're looking at the U.S. as a production player in the post-China economy. Ohio will be a huge player there."

Talent Begets Talent
Look no further than the state's fertile crescent of Honda facilities clustered outside Columbus, traditionally known as a city of services. Honda has 16,000 direct employees in the state, says Hill, who was due to release a study of the company's impact in Ohio in April. Even the Japanese firm's choice of Indiana for its newest assembly plant is helping Ohio too.
"With the Indiana plant, there's a lot of demand being put on their supply chain," he says. "Part of the Columbus metro area tends not to be top of mind, but it's hugely important. It's globally competitive at a local level. And in many ways, you can see the intellectual weight of the domestic auto industry shifting from southeastern Michigan to places such as Honda's R&D center in Marysvlle and Toyota's technical center in Kentucky."
Hill says the intellectual firepower of Cleveland Clinic's campus is also something to look to as a guiding light, though he admits to being "grumpy" about healthcare as a foundation stone for a regional economy.
"The Clinic is a different case," he says, "because clearly it's a global healthcare player, very aggressive in expanding in Abu Dhabi, Toronto, Russia and South America. More than 10 percent of their revenue comes from out-of-region medical customers. That's something most prominent metro healthcare systems can't do. It's among 12 to 20 providers in the U.S. that truly export their product outside their metro area, and their multibillion-dollar investment is reshaping how the metro thinks about itself. "
It's also reshaping the grant-fund totals at Hill's own higher education institution.
"I asked why all of a sudden we're wining grant competitions," he says. "Mary Jane Saunders, provost of Cleveland State, said it was due to the number of post-docs at the Clinic. Whenever our biology or chemistry department has an opening, we get 150 applications from the Clinic itself. The end result is grants are going through the roof. It shows you how a world-class company makes a difference to other institutions in the neighborhood."
Hill argues that the same equation may bring an answer to Bridgestone Firestone, which is currently mulling whether to keep its technical center in Akron (as Goodyear recently did with a major headquarters reinvestment plan) or to move it out of state to Nashville.
"Bridgestone and Firestone found most of their research scientists come from the University of Akron," he says. "If they move the lab, they'll lose most of that talent."

Site Selection Online – The magazine of Corporate Real Estate Strategy and Area Economic Development.
©2008 Conway Data, Inc. All rights reserved. SiteNet data is from many sources and not warranted to be accurate or current.