F
or the period from July 2007 through August 2008, the Conway Data New Plant Database shows 190 projects in the counties abutting the river, nearly equivalent to the number of projects tallied during the same span of months in 2006-2007, though still down from the totals of the previous three years, which hovered around the 240 mark.
New to the top 10 is Daviess Co., Ky., in the Owensboro metro, whose six projects join with the total project tallies of its fellow western Kentucky river-oxbow cities Paducah (6) and Henderson (3) to represent US$162 million in investment and more than 480 new jobs, many of them in river and barge industries.
But the traditional leaders in the greater Cincinnati and Louisville metro areas account for seven of the top 10 spots in project totals, rejoined this year by a resurgent Allegheny County in the Pittsburgh metro area.
Since Bayer specialty chemical and materials spin-off
Lanxess Corp.
(see "
World Reports
,") chose the Pittsburgh-area town of Findlay Township for its U.S. headquarters in 2004, the company has continued to invest incrementally in its presence there, investing $3 million in a 360,000-sq.-ft. (33,444-sq.-m.) facility in 2007, and most recently, in August 2008, pledging to combine its U.S. and Canadian services organizations into a North American Service Organization based in Pittsburgh. The company is one of approximately 70 German-owned firms in the Pittsburgh area.
Other industrial expansions in the metro area have included new facility investment from
Curtis-Wright Corp.
in Harmar, to support the growth of its flow control business related to the AP1000 nuclear reactor program of business partner
Westinghouse
, which also expanded in a major way in the past year at its new headquarters in Cranberry Woods, north of the city.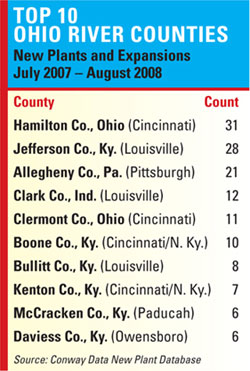 More recently, in late September, a major energy player in Appalachia recommitted to downtown Pittsburgh. Natural gas firm
Equitable Resources
announced it would lease more than 250,000 sq. ft. (23,225 sq. m.) in order to headquarter two non-utility business units, Equitable Production and Equitable Midstream. The company's regulated utility, Equitable Gas Co., will continue to operate from one of its current locations on Pittsburgh's North Shore.
According to the state, the project will create 354 jobs, protect 772 positions, and cost approximately $61 million. In exchange, Equitable gets an incentive package worth more than 2.8 million, including a $1.4-million opportunity grant, $350,000 in job training assistance, and $1.06 million in job creation tax credits.
"Although we are anticipating a good bit of growth outside of Pennsylvania, we're happy to be keeping our corporate headquarters in Pittsburgh," said Murry Gerber, Equitable Resources' chairman and CEO, at the September announcement.
The move comes even as the company in October has pledged to reduce capital spending in 2009 while staying out of the capital markets.
Pennsylvania Gov. Ed Rendell said the city won out over sites in other states. He also said the company may consider developing a training and research facility at a separate site.
The downtown project joins an active scene that features the recently topped-off Three PNC Plaza, a $200-million, 26-story skyscraper that is the first building over 20 stories to be constructed in Pittsburgh in 20 years. Featuring a hotel and an adjacent park, the facility is due to be occupied in 2009 by primary tenants PNC and international law firm Reed Smith.


Good Place for a Gateway
Northern Kentucky Tri-ED, the economic development agency for Boone, Kenton and Campbell counties in the Greater Cincinnati metro area, announced in early September that 2,264 primary jobs were added in Northern Kentucky in 2007, or 58 percent more than the Vision 2015 strategic plan's goal of 1,430 primary jobs annually. The job creation is led by the finance and insurance and manufacturing sectors.
According to a report on the new jobs, compiled by Policom Corp., their average wage was $60,922, 156 percent of the area average and exceeding the target wage of $48,263. On payroll taxes alone, local governments realized more than $2.07 million from these primary jobs in 2007. Projects continuing the momentum in 2008 include a ZF Steering Systems expansion in Florence and a new $30-million manufacturing, distribution and headquarters campus from United States Playing Card Co. in Boone Co.
Later in September, Jean-Paul Herteman, CEO of France's
SAFRAN Group
, dropped in to Boone County as part of a whirlwind tour that saw him inaugurate three new facilities in three days across the U.S.
Messier-Bugatti USA, which SAFRAN purchased recently, has built a new facility at its plant in Walton for the production and assembly of wheels and carbon brakes. SAFRAN said the products are "primarily intended for U.S. clients: airlines that deploy the Boeing 737 Next-Generation twinjets and the 777-200LR/300ER longer-range wide-body twins; and the U.S. Air Force's C-17 and KC-135. This facility will also produce electric brakes for the 787 Dreamliner."
The company's other facility openings were at a Sagem Avionics site in Grand Prairie, Texas, and a Turbomeca Manufacturing plant in Monroe, N.C. Some 3,500 of the SAFRAN's 7,500 North American employees are in the U.S.
Messier-Bugatti's 200,000-sq.-ft. (18,580-sq.-m.) facility is located on a 40-acre (16.2-hectare) site and employs 214 people. The company has invested $94.5 million in Kentucky since its location there a decade ago, and in that span has received nearly $8.3 million in state incentives through the Kentucky Industrial Development Act and the Kentucky Enterprise Initiative Act.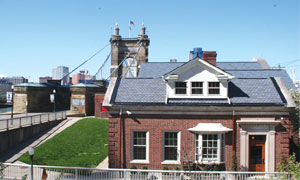 "Our aim is to continue to extend our industrial network in the country and to contribute to the development of the aerospace and security markets as an American company, to ensure optimum service for our civil and military customers in the United States, but also, obviously, to reduce our costs and exposure to the U.S. dollar," said Herteman. "We're looking forward to seeing what other SAFRAN Group investments could come to the remaining 20 acres [8 hectares] of the Walton property."
On the waterfront itself, an investment on a smaller but no less meaningful scale is going into the John A. Roebling Suspension Bridge Toll House, owned by Anchor Properties. That's where bioLOGIC Corp., LLC, the U.S. Midwest member of global life science management and investment company
SIDIS
, will locate its 10-person headquarters. According to a press release, bioLOGIC's base in Covington, in Kenton County, will function as the Greater Cincinnati Area Midwest Portal and Management Consulting Group for affiliate companies that focus on life sciences development.
Those firms include drug development company PrimeDP, genetic testing provider and diagnostic development firm PHD Diagnostics, protein development firm Propexion and Propel Labs, a medical instrumentation company focusing on prototyping and short-run manufacturing. They use bioLOGIC for business functions such as finance, administration, management, marketing and business development services.

Ready to Soar
On the Ohio side of the river, late August saw the announcement that GE Aviation had selected Duke Realty to construct a 403,800-sq.-ft. (37,513-sq.-m.) built-to-suit office campus in West Chester. will include two, four-story "L"-shaped buildings, into which GE Aviation will consolidate approximately 1,400 office personnel, including more than 1,000 engineers, from three other facilities in the Cincinnati area.
According to a Duke Realty release, the 43-acre (17.4-hectare) site is the former home of the Queen City Sports Complex, the site is well-suited for a corporate campus and has the added advantage of being in close proximity to GE's manufacturing facility on I-75. Duke is also working with
GE Aviation
on its new manufacturing facility in Batesville, Miss.
On the Cincinnati riverfront, a plethora of public and private projects is renewing the urban landscape, from the reconstruction of Fountain Square to the new 41-story Queen City Square building, which will be the city's tallest when it opens in 2011. The mixed-use project called "The Banks" will essentially raise eight city blocks out of the river's floodplain, and open onto a 45-acre (18.2-hectare) park along the riverside. According to the Cincinnati USA Regional Chamber, "the development will bring more than $800 million in private investment to Cincinnati's urban core."
Groundbreaking for the park took place this fall at the foot of the Roebling Bridge.