T
o the extent foreign trade zones compete for investment, the Ras al Khaimah Free Trade Zone (RAK FTZ) in the United Arab Emirates has a distinct advantage – it is virtually anywhere in the RAK Emirate an investor needs it to be, and then some. RAK is the northern-most of the seven UAE Emirates and is about 650 square miles or 1,700 sq. km. in size. When the Emirate's ruler promulgated his economic development vision in 2000, part of that vision was a new definition of "free trade zone," one that does not restrict an investor to locating his facility in a specially zoned area near the airport or seaport.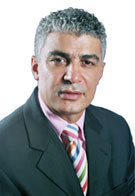 "
Our clients like
dealing with one entity
for their location needs
in the area.
"
"The ruler enacted a law in 2000 that sets up a free zone in different parts of the Emirate," says Oussama El Omari, CEO of the RAK FTZ. "It should not just be an enclave in one area, but rather multiple sites. This was the first time this concept was applied in the region."
Even before an investor is ready to commence operations at a free zone site, adds El Omari, he can take advantage of free zone benefits in office space the RAK FTZ makes available in the city of Ras al Khaimah.

Riding Dubai's Wave
In its seven-year history, about 5,000 companies have established operations in one or more of its three primary sites – the RAK Free Trade Zone Technology Park south of the city, the RAK Free Trade Zone Industrial Park north of the city and the RAK Free Trade Zone Business Park in the city's business district. This investment has helped transform the Emirate's natural resources- and agriculture-based economy to a heavily service-based economy that supports and cultivates the tremendous growth in the nearby Dubai Emirate.
"Dubai's boom has made it one of the most expensive locations in the world," notes El Omari. "Therefore, it is much better for service providers working with clients or projects there to come to RAK, 45 minutes away, and provide their services from here." About US$1.5 trillion worth of development is under way in the region, he adds, so there is no shortage of service opportunities. "We are an affordable location option for a wide range of industries."
Several free zone benefits are behind that affordability, including 100 percent foreign ownership of the enterprise, 100 percent import and export tax exemptions,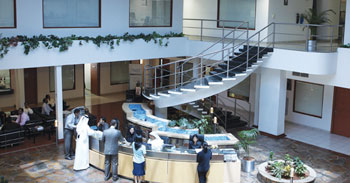 100 percent repatriation of capital and profits, no corporate taxes for 15 years (renewable for an additional 15 years) and no personal income tax. For more details and a list of clients, visit
www.rakftz.com
.
In recent years the RAK FTZ has opened remote offices in India, Turkey and Germany, including one in New York City opening before the end of 2008, to help explain to potential U.S. investors the merits of a Ras al Khaimah location – particularly as investment prospects in North America lose their luster. The offices include representatives of major Middle Eastern developers and legal experts who can answer questions about investing in the area without the investor traveling to the UAE.
What's more, RAK FTZ has also established business centers in Dubai and Abu Dhabi. That way, an investor can locate his manufacturing or distribution facility in RAK and have his office in one, or both, of those two key business hubs.
"This type of arrangement does not exist anywhere elsewhere in the region," says El Omari. "Our clients like dealing with one entity for their location needs in the area."
Site Selection Online – The magazine of Corporate Real Estate Strategy and Area Economic Development.
©2008 Conway Data, Inc. All rights reserved. SiteNet data is from many sources and not warranted to be accurate or current.