K
odak Park in Rochester, N.Y., has been the home of Eastman Kodak film and film-related products since 1880. At one time this mammoth industrial complex covered more than 2,000 acres (809 hectares) and was the largest industrial complex in the U.S., extending about four miles (6.4 km.) through Rochester and the Town of Greece.
Today, the park is about 1,100 acres (445 hectares), with Kodak still owning 80 percent of the property.
The photography industry's transformation to digital has had Kodak in transition mode for several years. Over the past four years, the company has spent US$250 million to reduce its space by half in Rochester, to about 12 million sq. ft. (1,114,800 sq. m.). Kodak has sold some properties and has demolished some buildings in the process. Kodak hit its high-water mark for employment in Rochester in 1981 with 61,000, a number that gradually has been trimmed to about 9,500.
Since film remains a multi-billion dollar business, Kodak will continue to have sizeable manufacturing and other operations in the park, but the company is assessing the best future use of available property, which includes about 3 million sq. ft. (278,700 sq. m.) of various types of facilities and more than 300 acres (121.4 hectares) of developable property.
"
We are on the map with these guys because
we have the space, the electricity, the water and the rail access
they need.
"
Kodak Park has been renamed Eastman Business Park, and Kodak is now assessing the best future use of its excess space. The park has about 30 tenants, many of which are divested Kodak businesses. The site offers an array of infrastructure, including a 50-million-gallon-per-day water treatment plant, a power plant, railroad service throughout the park and around-the-clock security and access control. Kodak has invested $20 million since 2005 to upgrade the infrastructure.
"We have to leverage what we have in the park as the film business continues to shrink," says David Stoklosa, director, Kodak Rochester Facilities.
Stoklosa says the site has drawn the attention of about 20 companies, including several in the solar manufacturing sector. A solar firm could potentially take 100 to 150 acres (41 to 62 hectares), he says. Kodak can offer electricity to tenants from its 120-MW power plant at 7.5 cents per kilowatt-hour, which Stoklosa says is significantly cheaper than the grid.
"We are on the map with these guys because we have the space, the electricity, the water and the rail access they need," Stoklosa says. "We have five potential solar plays we are responding to with information."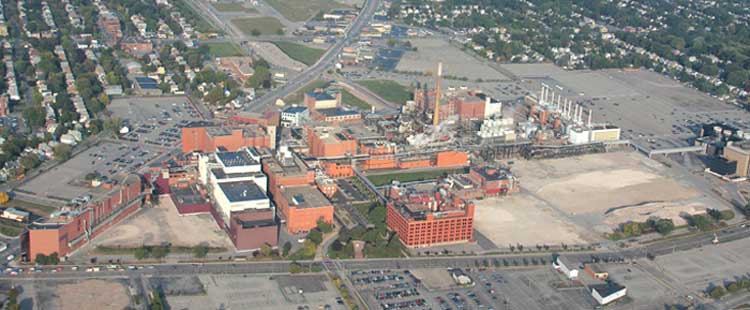 Green Corridor Emerging?
If a solar panel manufacturer lights in Rochester, it could be supplied by
Globe Specialty Metals
, which is reopening and expanding a manufacturing facility in Niagara Falls, about 90 miles (145 km.) west. Globe is cranking up an old silicon plant that it acquired in 2006, and is upgrading equipment to produce about 30,000 tons of metallurgical-grade silicon annually.
Globe also plans to build a 100,000-sq.-ft. (9,290-sq.-m.) facility in Niagara Falls to annually convert its silicon into 4,000 tons of solar-grade silicon, enough to produce 500 MW of solar power. The current scarcity of solar-grade silicon is one of the impediments to the industry's development.
Empire State Development and New York Power Authority created a package that provides Globe with 40 MW of hydropower over five years and up to $25 million in Empire Zone benefits for up to 10 years. Globe is investing $60 million in the project.
As part of its agreement with the state, 25 percent of Globe's upgraded metallurgical-grade silicon production from its new Niagara Falls facility will be used to attract new solar panel manufacturers to New York State. Globe expects to complete both projects by March 2009.
"This project will add needed capacity of silicon for solar-grade silicon and will be a cornerstone for New York State to realize the goal of making New York a major center for production and research for renewable energy and, in particular, solar energy products," said Alan Kestenbaum, Globe's chairman.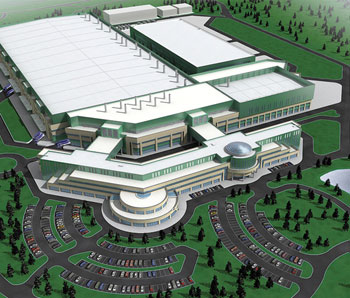 Following the Fab
AMD's planned 300-mm. semiconductor manufacturing facility took a new turn in October when the company announced a partnership with the
Advanced Technology Investment Company (ATIC) of Abu Dhabi
. The companies announced a new global company with the temporary name of The Foundry Company. The deal provides a new infusion of capital for projects, including the fab, planned for Luther Forest Technology Campus in Saratoga County. ATIC's financial backing includes between $3.6 billion and $6 billion over the next five years to fund expansion of AMD's fabs, including its growing complex in Dresden, Germany.
The Foundry still expects to create more than 1,400 jobs, as promised during the AMD announcement in 2006, and estimates the facility will spur an additional 5,000 jobs in the region. Foundry officials say that, once operational, the New York facility will be the only independently managed, leading-edge semiconductor manufacturing foundry in the U.S.
The company has said it will build the plant in Malta as long as the state approves the transfer of a $1.2-billion incentives package to the new partnership. If approved by the end of the year, construction on the two-year project could begin in mid-2009. Initial layouts show the plant will include four major buildings with 890,000 sq. ft. (82,681 sq. m.) of space. Building construction and infrastructure will cost about $800 million, company officials said. The new company will get a permanent name following the closing of the deal.
ATIC was created earlier this year as a technology investment company wholly owned by the Emirate of Abu Dhabi. It focuses on investments in the advanced technology sector.
Biotech in Buffalo