I
f lower Manhattan's Wall Street weren't blocked by Broadway and Trinity Church (to say nothing of the Hudson River), it might keep going in a westerly direction all the way into northeast Pennsylvania. The former cow path, now the most recognized road in all of finance, never leaves Manhattan. But a chunk of northeast Pennsylvania has been calling itself Wall Street West since 2006. That was the year a consortium of public and private partners – economic development offices, schools and universities, chambers of commerce, work-force-development boards, private companies and others – were awarded a $15-million U.S. Dept. of Labor WIRED (Workforce Innovation Regional Economic Development) grant. The Commonwealth kicked in $6 million, making it possible for the consortium to formally launch the initiative.
The project is designed to transform the regional economy by equipping the work force with skills required by high-paying industries and by putting the electronic and connectivity infrastructure in place needed to support the data center, back-office and disaster-recovery requirements of such mission-critical industry sectors as finance and healthcare.

Wall Street Is Just the Beginning
Finance was the original target industry, stemming from the need for financial services companies in nearby New York City and Philadelphia and other cities to have remote operations – data centers – able to support transaction processing, telecommunications and other critical electronic services in the event their urban facilities are incapacitated. Lots of Manhattan-based companies opened such centers in closer-in New Jersey and other areas in the weeks and months following 9/11, but the market for back-up and related operations is anything but saturated. In fact, Wall Street West's market is much bigger than financial companies' computer back-up centers.
The health care industry's move to electronic medical records management, for example, is driving demand for data center and telecom capacity among doctors' offices, hospitals and insurance carriers. As more industries evolve and more data needs to be backed up, the Wall Street West initiative will expand to support them, ideally to the point where companies move more than just data centers to the area.
"We want the back-office, higher-skill jobs, accounting departments, human resources – functions that don't need to be in high-cost business centers," says Jim Ryan, director of outreach for Wall Street West. "As was the case in New Jersey, companies dipped their toes there, especially after 9/11, with a data center. Over time, they moved more back-office operations there. It was data and machine space first, followed by people space. We believe that model will play out in northeastern Pennsylvania."
Part of the physical infrastructure able to support investment is the TEK Park technology campus in the western part of the Lehigh Valley. That's where
DBSi
will open its latest Advanced Technology Center (ATC) in late 2008. DBSi is a regional provider of secure hosting, disaster recovery and data center services. The TEK Park ATC joins others in the Lehigh Valley and Valley Forge, Pa.,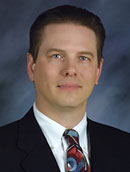 "
The
real key in selecting
data centers today is the fiber optic infrastructure and the power.
"
supporting high-speed synchronous and asynchronous data replication between all of DBSi's ATC facilities and client locations in the region.
"We looked at New York, New Jersey, Maryland – we had lots of very attractive options, all the way out to Missouri actually," says DBSi CEO William Bachenberg. "There are several technical reasons why we chose the TEK Park location, and the Wall Street West initiative definitely helped by putting us together with the Governor's Action Team and looking at some low-cost loans and training credits. They were a component of the decision."
The TEK Park campus will help DBSi execute its "cloud computing" strategy, which gives companies 24/7 application availability; clients in any of DBSi's three sites have a redundant, third site near enough to the others to deliver synchronous replication.
"The real key in selecting data centers today is really the fiber optic infrastructure and the power," says Bachenberg. "PPL, the local utility, can supply us with 100 MW of power. That was a major factor in our selection of the TEK Park site. We already had dual substations at the facility with a tremendous amount of power and the ability to upgrade to even more. Also, at 137 acres [55 hectares] of land, there's room for expansion, so we can add quite a bit more data center space there. Once we build the infrastructure, we like to leverage it among the multiple buildings we'd be putting there."
The regional infrastructure complements what's in place at specific sites and technology parks in the region. Part of that infrastructure is a high-speed network into northeastern Pennsylvania from New York City that the Commonwealth commissioned telecom network provider Level 3 Communications to build as part of Wall Street West.
"That contract calls for $16 million of Commonwealth funds and $8 million on the part of Level 3," says Ryan. "So take that $24 million and add the $15-million WIRED grant, and you have about a $40-million initiative to improve the skill sets of the work force and improve the infrastructure build-out between New York and Pennsylvania."

Forecast: More Facilities in '09
"The Commonwealth is interested in high-paying jobs," he adds. Moving the region's economy beyond the steel and coal industries was central to the application for the WIRED grant. "We wanted to see the area's work-force skills updated to support the financial services sector, information technology and back-office and accounting activities."
The area already is home to more than 20 insurance and financial services companies, including Guardian Life Insurance, Prudential Financial, Sallie Mae and Blue Cross. The sector employs about 20,000 in the region. Wall Street West will facilitate the growth of the financial sector as well as the medical services and IT industries.
Ryan believes the nine-county region is on the cusp of seeing strong investment on the part of IT companies that have put off investing in new facilities during the last couple of years.
"Senior executives know they need to continue to make investments, and have had plans on the drawing board to locate back-up operations around the country," he says. "At least a half dozen have told me that their '09 technology budgets are increasing after being throttled back in '08." One leading data center operator plans to build multiple smaller co-location facilities around the country rather than one large one, he adds. "So they are continuing to invest.
"You don't transform a region in two or three years," says Ryan. "It's a long-term process. We believe this initiative will plant the seeds and get it moving forward to the point that in five or 10 years, we'll look back and say, 'That was all started by the WIRED initiative in 2006.' "

Commonwealth Wins a Renewable Energy Project
Germany-based
Flabeg
, a global producer of high-tech glass and mirror applications, will create 300 manufacturing jobs when it opens its first solar mirror production facility in the United States, in Allegheny County. The company will use the facility to manufacture parabolic solar mirrors, which are used to help generate electricity at large-scale solar power plants.
Flabeg plans to lease a 20-acre (8-hectare) site in the Clinton Commerce Park in Findlay and build a 209,000-sq.-ft. (19,400-sq.-m.) manufacturing facility. The building will be constructed in two phases, with phase one starting this fall.
The total investment in both phases of the project is expected to be $30 million; the state is investing $9 million in the project. Flabeg will retain 198 jobs at its other Allegheny County location, in Brackenridge, which manufactures mirror glass for passenger cars and commercial vehicles.
Pennsylvania's funding offer includes a $1.2-million opportunity grant, $3 million from the machinery and equipment loan fund, a $2 million loan from the Pennsylvania Industrial Development Authority, $1.5 million in Infrastructure and Facilities Improvement Program grants, $900,000 in job creation tax credits and $400,000 in job training assistance.
"This was a very competitive project, and Flabeg's decision to expand operations here shows that the international community continues to take notice of Pennsylvania's business environment and pioneering clean-energy efforts," Governor Ed Rendell said at the project announcement on August 20th. "With international leaders like Gamesa, Iberdrola, and Conergy already doing business in Pennsylvania, it's clear that the Commonwealth has established itself as a leader in the development of clean energy solutions.
"We've already created more than 3,000 jobs in the renewable energy industry and leveraged $1 billion in private investment," he added, "and with solar energy production growing at an incredible pace and markets continuing to expand, it's clear that we've only seen the tip of the iceberg," the Governor said.
Pennsylvania's Alternative Energy Portfolio Standard requires that, by 2021, at least 18 percent of all electricity sold at retail comes from clean, advanced energy resources. The state's clean energy law ensures that, when the solar share is in full effect in 2021, Pennsylvania will benefit from over 850 megawatts of solar-produced electricity.
Is a 'Business Privilege Tax' Lurking on Your Site List?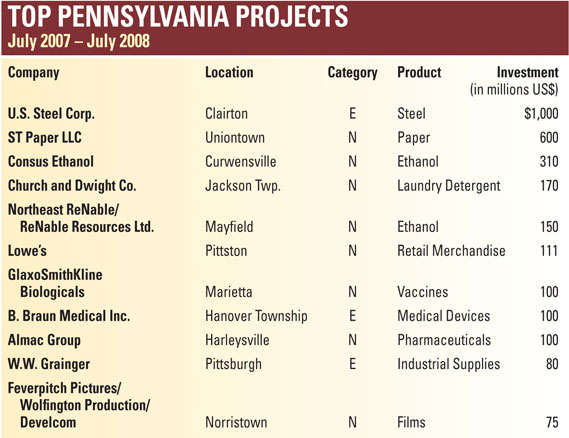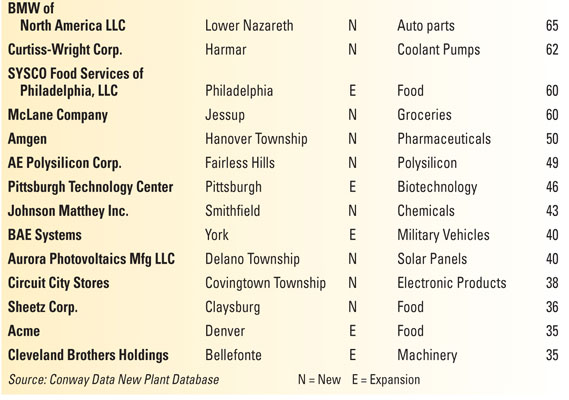 Site Selection Online – The magazine of Corporate Real Estate Strategy and Area Economic Development.
©2008 Conway Data, Inc. All rights reserved. SiteNet data is from many sources and not warranted to be accurate or current.