T
he solar industry is big business in Spain and growing rapidly. A sizeable section of Spain lies within the sunshine belt that brightens southern Europe. That gives the country a decided advantage in this sector's ongoing development.
Government incentives have propelled the industry at a rapid clip. But that may slow as Madrid eyes a reduction in subsidies by the end of the year. The proposed cap on subsidies would be 300 MW, about one third of current levels. Many industry observers believe such a cap would severely slow Spain's solar momentum.
Spain's Association of the Photovoltaic Industry (ASIF) calculates that industrial investment in the solar sector topped €536 million (US$833 million) in 2007, an increase of 500 percent over 2006. ASIF says installed power rose more than 400 percent in 2006, elevating Spain to second place globally behind Germany, and just in front of the U.S. and Japan. The sector employs more than 26,000.
Spain's solar sector is rife with industry superlatives.
General Motors
recently announced that it will install the world's largest rooftop solar photovoltaic power installation at its car assembly plant in Figueruelas, Zaragoza, Spain. When the project is complete this fall, the installation will cover about 2 million sq. ft. (185,800 sq. m.) of roof at the plant with about 85,000 solar panels. When fully operational, the Zaragoza installation will generate about 12 MW of power.
Emerging Energy Research, a consultancy with offices in Cambridge, Mass., and Barcelona that tracks new energy technologies, says Spain and Germany are setting the pace for photovoltaic development in Europe. EER says that Spain, with the fastest growing market, will grow to 5.6 gigawatts of installed capacity by 2012.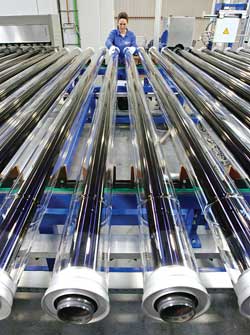 Six countries – Germany, Spain, Italy, Greece, France, and Portugal – are expected to hold the lion's share of PV development activity over the coming years by adding 22 GW from 2008 through 2012, says EER.

Schott Grows Globally
Schott Solar
, a Germany-based leader in the global photovoltaic sector, began production of solar receivers at its new plant in Aznalcollar, near Seville, Spain, in March. Proximity to market was the driving factor for location of the plant, which will produce key components of solar thermal parabolic trough power plants.
"The main attractiveness of Spain is Andalusia, where our customers are," says Dr. Gerrit Sames, managing director of Schott Solar GmbH. "There are about 100 projects for concentrated solar power in the province with more than five gigawatts capacity. Our decision was to look for a convenient site in the center of where our customers are."
Schott Solar's site search was exhaustive, scanning 107 potential sites in Andalusia. That list was pared to 14, and then to a short list of three.
"We, of course, looked for subsidies, we looked at the availability of electric power for our production needs, and we looked at the availability of qualified personnel," Sames says. "Is there a university? Is there a major city in the area? Because we didn't want to be in the flat land alone. We are really happy with the decision. All the criteria turned out to be true."
Sames says the company has been able to recruit a good staff for the plant, filling key technician and engineer positions critical to the plant's operation.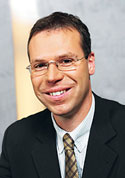 "
We cannot imagine that Spain would
damage this new and upcoming industry
. Why would they endanger all this?
"

Solar Cluster
Andalusia is in the center of a high solar irradiation area in Spain, Sames says, noting that the region has lots of available flat land suitable for solar industry development.
The Aznalcollar plant has one production line running with capacity of 200 MW. A second line will be added by the end of 2008, doubling capacity. The plant currently employs 100, a figure that will rise as the second line ramps up. When the second phase is complete, the facility will have an area of 270,000 sq. ft. (25,000 sq. m.). Schott invested €25 million (U.S.$38.8 million) in the project's first phase, but has not released its projected investment in the second phase.
Sames believes the Spanish government will eventually develop a subsidy agreement agreeable to the industry.
"We cannot imagine that Spain would damage this new and upcoming industry," Sames says. "Why would they endanger all this? Spain will continue to be a leader. Spain developed the first big activity for concentrated solar power in Europe. The next emerging market will be in the U.S. Southwest. We are expecting huge growth and demand for concentrated power in the U.S."
The new plant is the third for Schott. The company began operating its first industrial manufacturing plant for solar receivers in Mitterteich, Bavaria, in 2006, and is currently building a plant in Albuquerque, N.M.
Another major industry player,
BP Solar
, is building a photovoltaic solar module assembly factor in Puertollano, Castilla La Mancha, approximately halfway between Madrid and the cities of Malaga and Seville on the country's southern coastline. The first phase of the plant will have an annual production capacity of 300 MW, or enough energy to meet the needs of between 150,000 and 200,000 homes. The plant will employ 500 to 600. BP Solar says if market conditions warrant, the plant could be expanded to 500 MW.
Site Selection Online – The magazine of Corporate Real Estate Strategy and Area Economic Development.
©2008 Conway Data, Inc. All rights reserved. SiteNet data is from many sources and not warranted to be accurate or current.