T
he idea of the rock-solid character bred in the Central Plains is as old as the Black Hills, and just as real. But just as meaningful may be the region's rock-solid and affordable power infrastructure.
A September 2008 presentation on U.S. electricity prices by James Bushnell, research director at the University of California Energy Institute and a lecturer at U.C. Berkeley's Haas School of Business, made one Central Plains business advantage clear: Over the past three years, the collective rise in cost for electrical power has been virtually nil. Moreover, the six states of Oklahoma, Kansas, Missouri, Nebraska, South Dakota and North Dakota have held their retail power prices significantly below the U.S. average.
As companies look to monitor their carbon footprints, other power-related factors boost the Plains states' collective profile. Primary among them is that electricity generation plants in the region have relatively light greenhouse-gas emissions compared to the rest of the country.
Thus the stage is set for high-energy users such as food processors and data centers. The latter niche is under special pressure: A November 2008 McKinsey Quarterly report stated that total cost of running data centers typically accounts for 25 percent of total corporate IT budgets, and the cost is rising by as much as 20 percent a year. A newly published white paper by Ron Bowman, executive vice president of Tishman Technologies and author of the new book
Business Continuity Planning for Data Centers and Systems
, says asynchronous centers will be driven to increasingly remote corners of the globe, but smaller, synchronous data centers near urban environments will house critical applications, and will be "reasonably close to primary functions to utilize high-speed telecommunications fiber-optic transmission conduit that executes at the speed of business."
That the Plains may epitomize the happy medium among such factors as remoteness, affordable power and "speed of business" goes part of the way to explaining why
Bank of America
is investing $90 million in a doubling of space at its data center located at AirWorld Center near Kansas City International Airport in Missouri. Not far away, on the Kansas side of the K.C. metro,
U.S. Bank
in 2007 chose to site a $200-million, 130,000-sq.-ft. (12,077-sq.-m.) data center in Olathe, slated to open in 2009. The bank cited less costly electricity as a primary factor.

Yahoo! Says 'Yes!'
While most such projects are short on the job creation end, October 2008 saw Nebraska take it to another level, with the announcement that
Yahoo! Inc.
would locate both a 150,000-sq.-ft. (13,935-sq.-m.) data center and a separate customer care center in the Greater Omaha area. Yahoo! will apply for incentives under Tier 4 of the Nebraska Advantage business incentives package, which calls for companies to invest at least $100 million and create 100 new jobs, thanks to an update of that program during the state legislature's 2008 session that allowed Internet Web portals to qualify.
Low-cost utility rates were among factors cited by Yahoo!, whose site selection effort was led by Kevin Timmons, vice president of operations, and Sylvia Kang, senior manager of data center operations. Yahoo! executives were not made available for an interview.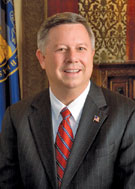 But
Nebraska Gov. Dave Heineman
was. He says that at an early March breakfast with Yahoo! executives at the governor's residence, "I asked them point blank, 'What will it take to get to "Yes"?' There were four or five issues we agreed were critical. Some involved a couple legislative changes we achieved, and some involved how we negotiated the deal."
One of the things that impressed Yahoo! the most, says Heineman, was a secure Web site set up just for their project within two days. "It was great Web site, and those are their words," says Heineman. "That sent an immediate signal – 'Wow, these guys really do want us to come to Nebraska.'"
Over the next several months, says Heineman, the Nebraska team – which involved Lt. Gov. Rick Sheehy, Nebraska Economic Development Director Richard Baier, Nebraska Public Power District, Omaha Public Power District, the Greater Omaha Chamber of Commerce and Sarpy County Economic Development, among others – "basically met all of those conditions. From that point on, my sales pitch to Yahoo! was 'We did everything we agreed to. Time for you to sign on the dotted line.' "
Heineman says the relationship built with the company ultimately sealed the deal. But the gambit taken by the legislature on "Project Cowbell" was especially noteworthy, given that the name of the prospect couldn't be revealed.
"That's a bit of a challenge with a public legislative body," admits Heineman, "but they were able to get it done. I told the leaders this was a big deal, that this was worth the effort. We were able to talk in general terms, but also be very specific that we were dealing with a company which had made it very clear to us that this could make a difference to them in their decision."
Asked if there are other industry sectors just outside the Nebraska Advantage program's definitions which might be eligible for a policy tweak, he says companies routinely tell him his state has one of the nation's best economic development packages. At the same time, he says, "We are competing in a free market economy in which you have to be adaptable and flexible every day. As governor, I believe we have to be open for change every year to try to make it better. We're not locked in where we pass our incentives legislation and then don't review it for 10 years. I know we're going to have legislation this year that we will pass and make it better for us.
"We have to think like a business," he continues, " 'If you were in their shoes, what else would you need that would make Nebraska a preferred choice?' "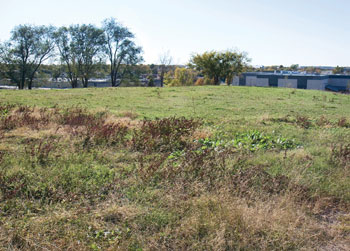 They'll Take Manhattan
Heineman was in their shoes for the big announcement: Yahoo!-style purple sneakers and shirt. A big project announcement in Kansas in December involved a lot of purple too: the trademark color of Kansas State University (KSU), where the U.S. Department of Homeland Security's (DHS) Science and Technology Directorate is recommending to build its much-coveted National Bio and Agro-Defense Facility (NBAF).
A formal Record of Decision will be published on Jan. 12, 2009. Facility design will begin in 2009 with plans for construction to begin in 2010. It is estimated that the project will provide approximately 700 construction-related jobs per year during its four-year construction period, and be fully operational by 2015, when it will be home to 300 scientists.
When fully built out to as much as 520,000 sq. ft. (48,308 sq. m.), the complex will include three security levels of biolab space and a current good manufacturing practice (cGMP) lab needed for small-scale vaccine and reagent production. In addition, "projected research demands resulted in a facility design that could house approximately 200 to 300 animals at any given time, including cattle, swine, and sheep," read the final Environmental Impact Statement (EIS).
"This facility, once built, will help us to protect our livestock industry, food supply, and public health from the accidental or intentional introduction of a foreign animal or zoonotic disease in the U.S.," said Homeland Security Under Secretary for Science and Technology Jay Cohen, calling the process "extensive."
A truer word was never spoken. While details on corporate site selections are often hard to come by, federal processes are as transparent as possible. Much can be learned about the NBAF decision by studying the immense documentation made available at
www.dhs.gov/nbaf
.
The EIS containing the Manhattan recommendation analyzed the risks associated with potentially building the NBAF at each of the six proposed locations: Athens, Ga.; Manhattan, Kan.; Madison County, Miss.; Granville County, N.C.; San Antonio, Texas and Plum Island, N.Y., where the existing Plum Island Animal Disease Center (PIADC) exists. DHS had outgrown the Plum Island facility, which had aging infrastructure.
Among the juicy details is this nugget: While the chosen site in Manhattan, Kan., was projected to be the second most expensive candidate for annual maintenance costs ($10,359,339), it tied with the Flora Industrial Park site in Mississippi for lowest salaries cost ($27,408,870), and beat all comers when it came to lowest projected annual utilities costs over the initial eight years of operation ($6,758,870).

Strength Across the Board
A glance at aerial photographs of the candidate sites shows the Manhattan parcel to be among the most densely populated of the alternatives. But from the beginning, getting close to the action was deemed more important than getting away from it. DHS initially evaluated 26 expressions of interest in 2006 based on proximity to work force and to research capabilities, acquisition, construction and operations requirements and community acceptance. DHS needed at least 30 acres (12 hectares) for the project. Eighteen sites were identified for analysis in the second round of the selection process in August 2006, with the six finalist sites named in July 2007.
Further analysis conducted since then included a threat and risk assessment, a site cost analysis, a site characterization study and a Plum Island facility closure and transition cost study. Finalists were also asked to submit by the end of March 2008 their offers for offsets to site infrastructure costs. The Kansas offer of a $105-million bond package was significant enough to bring the projected construction cost from second most expensive (after Plum Island) at $563 million to "among the least expensive to construct," according to DHS documents. The announcement from KSU pegged the cost of the project at $451 million.
Other site strengths delineated by DHS in the final EIS included proximity to the research capabilities at Kansas State University and to its relevant work force at the school's colleges of veterinary medicine and agriculture, as well as its Biosecurity Research Institute.
In addition, the EIS found relatively few environmental impact concerns with the site and found the Threat and Risk Assessment result to be comparable to other alternatives. Perhaps most meaningful, "the Manhattan Campus Site also demonstrated a very strong community acceptance from local, state, and Federal officials and stakeholders."
"It's off the charts as far as an economic development opportunity for Kansas State University, for the city of Manhattan and for the entire state of Kansas," says Lyle Butler, president and CEO of the Manhattan Area Chamber of Commerce. "We will see a lot of related industries coming not only to Manhattan but also to the state of Kansas."
"If Kansas is the final choice for the NBAF next month, as it should be," said Tom Thornton, president of the Kansas Bioscience Authority, at the announcement, "we will be ready on day one to get this work done safely and securely – for the good of all Americans."
(On Jan. 12, the Department of Homeland Security officially approved the Manhattan site for the NBAF facility. –Editors)
Site Selection Online – The magazine of Corporate Real Estate Strategy and Area Economic Development.
©2009 Conway Data, Inc. All rights reserved. SiteNet data is from many sources and not warranted to be accurate or current.