E
very city and its sister want to be the next logistics gateway. But some have nicer gates than others.
You may know Rotterdam and Long Beach, Indianapolis and Duisburg, but do you know Novorossiysk (Russia), Constantza (Romania), Aktau (Kazakhstan), Djen-Djen (Algeria), Aden (Yemen), Algerciras (Spain), Laem Chabang (Thailand) and Manzanillo (Panama)?
All of the above have major port expansion activity in the works, whether keyed into such drivers as the Russian energy market, Asian imports or the increasingly interdependent economic heft of emerging economies.
On the regional hub scale, things are no less busy, driven by the enduring long-term lessons learned from high fuel prices in 2008.
"Today's economic forces are testing traditional supply chain strategies and causing companies to evaluate their distribution networks as profit erodes," writes Michael McDermott, an associate with Grubb & Ellis Strategic Consulting. "As producers and distributors of supplies and consumer goods feel the effects of rising production and delivery costs, many will look to minimize operations costs, tracing opportunities back to their real estate portfolios."

Cases In Point
Go no further than
Home Depot
for an example: The company's remake of its supply chain setup (well on its way before recent fuel price fluctuations) includes plans for up to 20 new "rapid deployment centers" in the U.S. over the next few years, at $10 million a pop. According to a profile of the company's efforts in the Atlanta Journal-Constitution, the company operates three already, in suburban Atlanta, Dallas and Chicago.
McDermott, in a special report for
Site Selection
, shares another example:

"A recent Grubb & Ellis Strategic Consulting Group client requested a business location analysis that placed greater emphasis on logistics network optimization," he writes. "Exchange rate shifts, rising transportation costs and a poor building layout led this Canadian-based manufacturer to consider the ability of its existing facility to handle long-term growth. The facility was far from the majority of customer locations and at odds with industry trends pointing to rapid growth in the eastern and southern U.S."
Grubb & Ellis focused on transportation costs to identify an optimal location for a North American headquarters and manufacturing facility.
"The network analysis identified locations with minimized shipping costs to existing distribution centers and direct customers while accommodating for future market growth," writes McDermott. "From this base, we evaluated labor market data, transportation costs, tax burdens, and real estate expenses for identified buildings and markets to create a total delivered cost of production in each location. A considerable drop in transportation costs was the main driver in the recommendation to relocate to a Midwestern city, based on production savings on a per unit basis despite increases in utility and rental costs."
"Over the last year, companies have been realigning their infrastructure because of the high price of fuel," says Bruce Lambert, executive director of the Institute for Trade and Transportation Studies and a former senior economist for the U.S. Army Corps of Engineers, Institute of Water Resources, with a focus on port facility investment. "There was a move to be closer to the consumer. Now that the price of gas has plummeted, you're not hearing those discussions. But that doesn't mean people have forgotten – they recognize some fundamentals."
Asked to name some emerging hubs, Lambert points to Mobile, Memphis, Savannah and Kansas City. While already recognized as hubs, these port cities are taking things to another level with a combination of movement and manufacturing investment. Some have agreements with other hubs, such as the Memphis agreement with the new Port of Prince Rupert in British Columbia or the relationships between the Port of Lazaro Cardenas in Mexico and Kansas City, as well as Port San Antonio in Texas. The Mobile Container Terminal, with an eventual volume goal of 850,000 TEU per year, just opened in November. And logistics growth continues to cluster around both airport and railyard assets in the Kansas City metro area.
All emerging hubs also have the common trait of an international link, be it a free trade zone or free, unhampered movement by rail, river, seaport or international airport. What can make it challenging, however, is the moving target of volume:
"Like rain, you either have too much, or you don't have enough," says Lambert. "There's never an optimum amount."
But before that volume climbs, the will to sustain it has to be optimal too.
"There has to be a business community committed to making it work, and there has to be the local political will to execute what is needed," says Lambert of those with hub aspirations. "Chambers of commerce can promote everything they want, but if the local municipality fights them, there's no traction, and nothing gets done."

Numbers on the Verge
Something is getting done in some warm spots for logistics around the globe, which appear to be on the way to being very hot if corporate logistics facility project frequency is any guide. Some are already quite visible, others less so – if only because they're right under people's noses.
Take Montréal, recently recommended for significant container port expansion by the two-year private-sector "St. Lawrence and the Great Lakes Trade Gateway Study." Through August 2008, container traffic was up by more than 10 percent from the y ear earlier. Analysis of corporate facility projects with a logistics component entered in the Conway Data New Plant Database during 2007-2008 found 14 such projects either in Montréal or within an hour's drive. They include projects from
Avon Canada, Sandoz, Tommy Hilfiger and Canadian Tire
, which is investing $230 million in a facility in Coteau-du-Lac.
All the right indicators are in place, which is why the Port of Montréal is investing the equivalent of nearly US$2 billion in its Vision 2020 infrastructure improvement plan, which will eventually take container capacity from 1.5 million 20-ft. units (TEU) to 4.5 million TEU. New container terminals may be added to the existing four terminals either in eastern Montréal or some 25 miles (40 km.) down the St. Lawrence.
Based on New Plant Database numbers, other North American locations that seem to fit the "emerging" profile include north Texas and Houston; Greensboro-High Point, N.C.; Scranton-Wilkes-Barrie, Pa.; Pittsburgh, Pa.; Portland, Ore.; Nashville, Tenn.; Minneapolis-St. Paul, Minn.; Richmond, Va.; Louisville, Ky.; Orlando and Polk Co., Fla.; and St. Louis, Mo.

Just One Piece
What happens when a hub loses a critical bearing? In Ohio's case, it doesn't mean a loss of direction or focus.
The state carries more than its weight when it comes to logistics: Combined, the metro areas of Cincinnati, Columbus, Cleveland and Dayton saw 76 facility projects with some kind of logistics component in 2007-2008. Canton-Massillon came in with eight projects in its own right, Portage and Summit counties (Cuyahoga Falls and Aurora, outside Cleveland) had seven apiece. No wonder, then, that Ohio Gov. Ted Strickland announced recently that $100 million of the state's $1.57 billion stimulus program would be directed toward the state's logistics and distribution industry.
Certainly some of that will be welcome in Wilmington, east of Cincinnati, where DHL, even with an outsourcing agreement with UPS pending since last May, is pulling out of its primary domestic hub operation, costing the area as many as 7,000 jobs. What will happen to DHL's 2,200-acre (890-hectare) Wilmington Air Park? Some have reported that DHL is prepared to donate it to the community.
"That is something we have been discussing with the state," Jonathan Baker, a DHL spokesman, told Site Selection in November. "There has not been a determination made on that, pending the final agreement with UPS. Our plans are to continue to operate out of the facility in Wilmington" for the company's continuing international service.
The move could simultaneously come across as a semi-gracious gesture while also getting the company off the property tax hook.
DHL is also closing hubs in Riverside, Calif., and Allentown, Pa. (Riverside was recently cited in a Grubb & Ellis presentation as one of two optimum locations for a bi-coastal, two-distribution center logistics strategy in the U.S., the other being Chambersburg, Pa., two hours to Allentown's southwest).
Christian Schock, executive director of the Clinton County Regional Planning Commission, says in an e-mail interview that a local task force co-chaired by Ohio Lt. Gov. Lee Fisher and Wilmington Mayor David Raizk will soon release an RFI for redevelopment of the airpark, a former Air Force base that was already redeveloped once by DHL in 2005, with the help of $400 million in incentives.
The county could lose as much as 14 percent of its tax base with the DHL pullout.
"Obviously our first goal would be to retain DHL's international business, along with other existing users to the greatest extent possible," says Schock. "We also recognize the importance of diversification, so we would be aggressively seeking both symbiotic and complementary business opportunities."

Multiple Vectors
Schock cites the area logistics cluster that includes the corporate headquarters of R&L Carriers and Sewell Motor Express, "exclusive access to one of the largest fresh water sources in the region, ample sewer capacity, many available industrial-zoned parcels with full utilities and short-line rail access, a highly skilled work force and established training centers...and all of which is but a 30 minute drive time of Cincinnati and Dayton and 45 minutes from Columbus." He says inquiries have come already from prospects, as well as those interested in consulting, marketing and managing the property.
Just as the DHL crisis is rising, so is the promise of a CSX intermodal rail terminal in North Baltimore, Ohio. To be built on 500 acres (202 hectares) purchased by the railroad, the new $80-million rail hub will employ 100, but the biggest jobs numbers would come from the end users eager to be close to it.
The railroad's plan is predicated on running trains from numerous other hubs, but especially three ports important to its east-west network: Wilmington, N.C.; Portsmouth, Va.; and Baltimore, Md. Meanwhile, like its counterpart Norfolk Southern's "Heartland Corridor" plan, the railroad is seeking state and federal assistance in rebuilding tunnels and bridges to accommodate double-stack trains, in a program it has dubbed the "National Gateway."
CSX opened a similar intermodal facility in 2007 in the aforementioned Chambersburg, Pa., and is also expanding a similar facility in Charlotte, N.C.
"As our nation faces combined pressures from an increasingly globalized economy and deteriorating transportation infrastructure, it is critical that we work together to bolster this pillar of our national economy," said Dan Hertwig, president of CSX Intermodal, in a well-timed post-election statement as the incoming presidential administration considers massive infrastructure investment. "CSX remains committed to investing in our nation's freight rail and intermodal network."

All Over the World
Jafza, the UAE-based logistics developer that is part of Dubai World Group's Economic Zones World division, knows how to take advantage of emerging locations. Those include its namesake Jebel Ali free zone and port, where 16 tandem lift gantry cranes and 38 rail-mounted gantry cranes now service a booming container volume.
The area just welcomed the opening of a $51-million facility from Danzas AEI Emirates, part of DHL.
Jafza is also growing in Subic Bay, Philippines, where the company signed an MOU for major hub development at the Subic Bay Freeport in early 2008. A few months later, Kuwait-based KGL pledged to invest in "Global Gateway Logistics City" on (167 hectares) in the Clark Zone, part of the former U.S. military base. That separate project anticipates $1 billion in investment and some 35,000 jobs.
One of Jafza's other new hubs is Orangeburg, S.C., where the company is embarking on a $600-million, 1,300-acre (526-hectare) mega-logistics project that, like CSX's terminal further inland, takes advantage of three ports.
Steven Eames, senior vice president of operations – Americas for Jafza International, says of the Orangeburg project "We consider ourselves port agnostic. We'd like to be able to draw from Savannah, Charleston and Wilmington [N.C.]."
Some of those ports themselves are hubs of regional collaboration, all growing their capacities. But when it comes to international trade, the definition of "region" must be enlarged.
"Ultimately, with ports competing, it might be a fine thing that [one port] grabs a lion's share of the trade, but if it goes down because of a natural disaster, where do you shift?," says Eames. "That's why we tend to sit further back, and capture two or three ports. Customers get options."
Jafza itself is beginning to look at Latin America through just that kind of lens.
"Obviously, Brazil is on everyone's radar," says Eames. "One regional hub [candidate] is Lima, Peru. With some smart infrastructure plays, it could be quicker to get massive natural resources out of Brazil and through Peru to China."
Mexico, too, is under scrutiny, in the wake of Jafza's 2008 acquisition of Gazeley Limited, the Wal-Mart-owned global provider of sustainable logistics space that had developed some 60 million sq. ft. (5.6 million sq. m.) of logistics space around the world.
"With the Gazeley acquisition we have begun integration with their team based in Mexico City," says Eames. "There are some interesting potential mega-hub plays that we have identified. However, we are moving with caution – the Mexican federal, regional and local authorities are new to the concept of sharing cost, risk and reward through the multi-jurisdictional industrial park concept. As this is Economic Zones World's area of expertise, our Mexico team will certainly work to develop these opportunities with the corresponding government entities."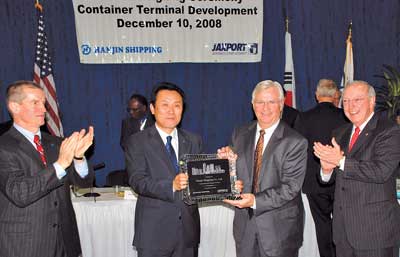 Lowcountry Update
Back in the U.S. Southeast, however, public entities are more than ready to work on such concepts.
In Jacksonville, JAXPORT just signed its latest MOU, with Hanjin, for a new $300-million container terminal. Further south in Florida, as the U.S. Sugar agreement to sell off its holdings to the state for Everglades restoration continues to grow in complexity, Palm Beach County is making provisional plans for the swath of land. In late 2008, the county commission initially approved an overlay designation of 99,500 acres (40,268 hectares) for the potential development of an inland industrial distribution center in South Bay, Belle Glade or Pahokee. A similar plan has been advanced by another sugar company, Florida Crystals, on 319 acres (129 hectares) near its mill.
In Charleston, though container volume has fallen off in recent months, a new container terminal is set to debut at the former Charleston Navy Base even as the state's once-planned 1,300-acre (526-hectare) "Global Gateway" expansion project on nearby Daniel Island fades into the woodwork. About half of that Daniel Island property is ripe for development, while the other half is used for dredge disposal.
Ninety minutes up Route 17, just across the Savannah River from Savannah, Ga., another decades-old dredge disposal site may hold the key to the next Lowcountry logistics hub – literally emerging from the marsh on that very dredge material, known to be good for construction.
The Jasper Ocean Terminal, jointly owned by the states of Georgia and South Carolina, is a long-term project that, once fully constructed in 2024, would handle up to 6 million TEU. That would be roughly equivalent to the 6.5-million-TEU capacity of the Port of Savannah, whose growing phalanx of cranes is visible just up river, though the port's most recent annual numbers put its volume at 2.7 million TEU. The port just announced further expansion plans in November.
A study released in October by the Jasper terminal's Joint Project Office suggested an economic impact of up to $2.3 billion in earnings. The project is being managed by Moffat & Nichol, which is also helping the nation of Colombia expand the TEU capacity of a port on the Aguadulce Peninsula. Another study, due in January from Wilbur Smith Associates, will evaluate the South Carolina's overall railroad infrastructure needs, including those related to the proposed port.
On an early December visit to the 1,400-acre (567-hectare) Jasper County site, a quick turn at the foot of the grand bridge reaching across the river to Savannah took visitors to where Corps of Engineers staff oversee continuous dredging activity. Across the way from the site, on Elba Island, cranes are active in the expansion of the Southern LNG terminal.
On the Jasper County side, where the two states' governors chose to exchange neckties last year in marking their historic agreement, there are no cranes yet, but there are plenty of active wildlife species filling the relatively unspoiled spoil site. Hawks, wild boar, alligators, kingfishers, ducks and rattlesnakes are said to be plentiful. A sign at the road's beginning announces "No Hunting, No Fishing, No Nothing."
But there may be something soon. One knowledgeable engineer characterizes the project as similar to the greenfield development of any industrial park, with an emphasis on infrastructure access planning. Near the highway, a bridge carries what used to be the CSX spur to nearby Hutchinson Island. Another spur would need to reach from the new port site to this line, and then travel 12 miles (19.3 km.) northeast to the railhead in Hardeeville, S.C.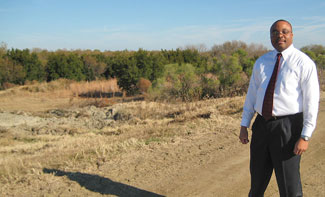 "It's going to change the way the economic developers in this region work projects," Stacy Watson, manager, economic and industrial development for the Georgia Port Authority, says of the Jasper County port. "The traditional battle lines for economic development were usually state lines. This project is going to blur that distinction. It's going to have an effect on either side of the bridge."
In fact, says Watson, such a regional dynamic is increasingly in play, whether at the state-line site of the new Kia plant near the Alabama line or in the multi-county effort Georgia is applying to its sometimes underdeveloped transportation corridors, such as I-16 between Savannah and Atlanta.
All of which brings more places into play, depending on a company's given situation. As Michael McDermott of Grubb & Ellis explains, although renewed scrutiny of distribution locations "would appear to erode the competitive logistics advantage of certain cities, individual companies will create an optimized network unique to their customer locations.
"In certain cases, well-connected but often overlooked markets can emerge as the top location for serving a territory … Until the distances and quantity of product to each customer and intermediary is assessed, no location can be overlooked in the formation of an optimal logistics network."
---
Site Selection Online – The magazine of Corporate Real Estate Strategy and Area Economic Development.
©2009 Conway Data, Inc. All rights reserved. SiteNet data is from many sources and not warranted to be accurate or current.