W
ith manufacturing technology advancing rapidly, companies making everything from compact cars to plastic bottles are being forced to recruit a new breed of talent — knowledge capital.
A good example is the
Brown Bottling Group
, which announced plans Nov. 6 to build Pepsi South, a US$49-million bottling plant in Hattiesburg, Miss.
The 235,804-sq.-ft. (21,906-sq.-m.) facility is being built in the Forrest County Industrial Park. It is expected to open in late 2009.
"The labor force here is very good and talented for this type of work," says Bill Brown, president of the Brown Bottling Group. "The University of Southern Mississippi has a Polymer Research Institute, and that was instrumental in the deal."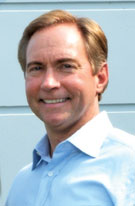 The plant will open with 60 employees and increase to 100 within a year, notes Brown, who adds that "there will be a lot of indirect labor created by this plant. Trucking companies and the people who supply Brown will add jobs to support our operation."
Brown says his firm, which has been a Pepsi bottler in central and southern Mississippi for 36 years, needed a site that maximizes market reach at a good price.
"All bottlers are consolidating production sites for efficiency," Brown says. "Hurricane Katrina really brought this to the forefront with federal dollars for financing. We approached Pepsi and said we would like to do an analysis of where to place our new production facility to take advantage of trucking lanes and other resources."
A study commissioned by Pepsi determined that bottlers needed to be in the area. "It came in hands down that the Hattiesburg area was the best location," says Brown.
Specifically, Brown notes that "Mississippi won for the shipping lanes to the Southeast. Secondly, land costs and availability were key factors."
Brown Bottling is a member of the Wisconsin-based bottler consortium Wis-Pak. Brown operates its flagship facility in Brandon in Rankin County near the state capital of Jackson. A $15-million plant, this 132,000-sq.-ft. (12,263-sq.-m.) building was completed in December 2007. About 160 workers are employed there.


Nissan Teaches State Lessons
Even smaller companies have noticed the improved work force in Mississippi. The
Hol-Mac Corp.
, a family-owned metal fabrication company, will add about 75 positions at its recently expanded facility in Bay Springs, halfway between Hattiesburg and Meridian.
"Most (workers) are local, with a small percentage traveling 30 miles," says Charles Holder, founder of the company. "They have a good work ethic and accept training really well. We make some very sophisticated products which require training continuously."
Holder says the $4.5-million expansion was made possible by a one-time loan offered through the local economic development program. "This seed money allowed a very rural county to further its economic development, by making this financial source available to at least six other local developments," he says. "To my knowledge, this is a one-of-a-kind program. The fund has now grown to quite a sum."
Since starting the company with three employees and $5,000 in 1963, Holder says his firm has grown to include four plants in Mississippi with 675 workers. "If history is any indicator, we will continue to expand, and as long as we can secure a skilled work force it will be in Mississippi."
Gray Swoope, executive director of the Mississippi Development Authority, says his state learned a lot about work-force development from the arrival of Nissan in Canton nearly a decade ago.
"When they first started employing people from 80 of the 82 counties in Mississippi, we learned from that," Swoope says. "With Toyota, we put $30 million into our bond bill for our community colleges so that they would not have a shortage of funds for training workers for Toyota and all the suppliers."
Swoope adds that "our community colleges in this state are some of the best in the country. Each has a work-force training center that is part of their outreach effort."
Swoope notes that, despite economic challenges being faced by all states, Mississippi is landing more than its share of high-quality factories.
Among them is
Steel Development Co.
's $175-million rebar manufacturing plant in Amory in Monroe County. The 80,000-sq.-ft. (7,432-sq.-m.) factory creates 200 jobs and pays an average annual wage of $60,000 to $70,000.
Mississippi Gov. Haley Barbour says projects like this affirm his state's strategy for economic development.
"If you look at who has chosen Mississippi in the last five years, you will see a diverse group of companies," he says in an interview. "We have a very friendly business climate. We have solved our civil justice problems, and we are a low-tax state with an extremely good work force."

Suppliers Gear Up, Toyota Downshifts
Barbour says that labor was a key driver in landing Toyota's $1.3-billion automotive assembly plant in Blue Springs near Tupelo — a project that was put on hold indefinitely by Toyota in mid-December pending economic conditions.
Since March 2007, seven Toyota suppliers have located in the area, representing a combined capital investment of $410 million and the creation of 1,970 new jobs.
The Toyota Prius plant, along with the supplier network, represents nearly $2 billion in announced capital investment to date, but local and state leaders say that is just the beginning of the real change occurring in the Magnolia State.
"The state and region have received a lot of image enhancement throughout this entire process," says David Rumbarger, president and CEO of the Community Development Foundation of Tupelo/Lee County.
"This was the most sought-after plant in the U.S., from the premier automobile manufacturer in the world," says Gov. Barbour, "and they chose to make their eminent, environmentally friendly vehicle in Blue Springs, Mississippi. That speaks volumes and affirms that you can come to Mississippi and find what you want."
Recalling his talks with top Toyota officials, Barbour added, "Toyota told us that the principal reason they came here was the quality of our work force."
As of press time, it was uncertain when the new plant would open for production. The company announced that it would finish construction of the assembly building but delay installing the necessary manufacturing equipment.
"Due to the uncertainty of the market, it is impossible to say at this time when production will begin," Toyota said in a statement.
The building is currently 90 percent complete, according to company spokesman Mike Goss.
"For employees already on staff at Toyota Mississippi, their jobs are secure," he noted. "We appreciate the patience and understanding the people of Mississippi have shown in recognizing this is an extraordinary and unprecedented time for the auto industry. We are committed to completing the Mississippi plant when market conditions allow."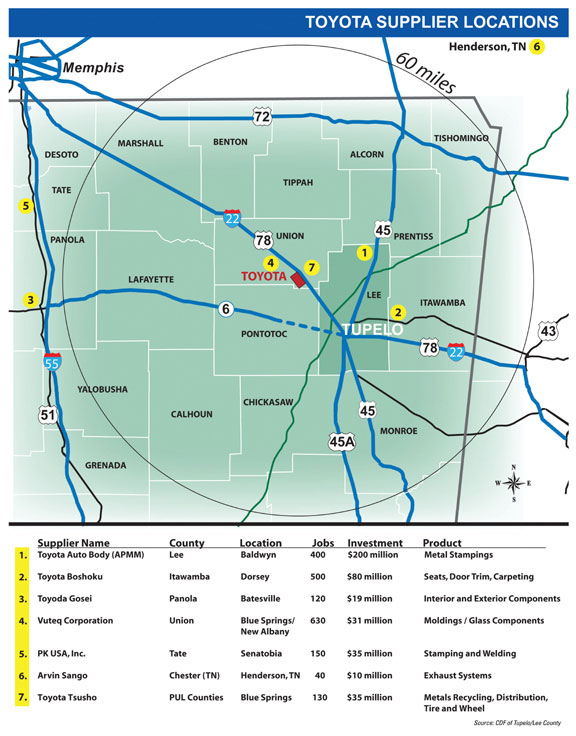 Site Selection Online – The magazine of Corporate Real Estate Strategy and Area Economic Development.
©2009 Conway Data, Inc. All rights reserved. SiteNet data is from many sources and not warranted to be accurate or current.