T
he burgeoning renewable energy sector is poised for major expansion in the U.S., with numerous leading manufacturers of components for wind turbines and solar cells at various stages of development. Manufacturing clusters are taking shape in several states, including Arkansas, Colorado, Iowa and Oregon.
Wind turbine manufacturing investment was especially robust in 2008. The American Wind Energy Association released a report in October that tallied the opening of eight new wind turbine component manufacturing facilities, expansion of nine others and the announcement of another 19. AWEA estimates the share of domestically made components in wind turbines has risen from about 30 percent in 2005 to 50 percent today. The new facilities will create an estimated 9,000 jobs.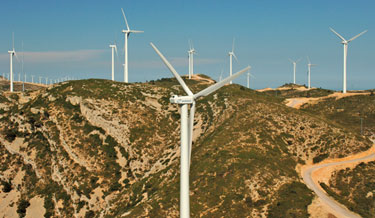 Manufacturers of wind towers, wind turbine blades and nacelles (the turbine housing units that sit atop the tower and contain key components like the gearbox, generator and transformer) are investing heavily in the windy regions of the U.S. Most of the leading companies are based in Europe, but are quickly increasing their presence in North America, which is viewed as the world's most promising market.

Fair Breeze Blows in Arkansas
Many of those jobs are in Arkansas, where there are no doldrums when it comes to wind energy. Jonesboro and Little Rock are becoming the cornerstones of the state's wind equipment manufacturing cluster.
Germany-based
Nordex
, which has somewhere between 5 percent and 7 percent of the global wind turbine market, is establishing its first U.S. manufacturing platform in Jonesboro. Nordex had exited the U.S. market in 2003 after providing turbines from its European factories for five years. The company is one of the fastest growing in the wind energy industry, growing at a compound annual growth rate of 50 percent from 2004-2007. Now, the company plans to re-enter the U.S. market in a large way, says Ralf Sigrist, president of Nordex USA.
"We intend that the U.S. market will represent 20 percent of our revenues by 2012," Sigrist says.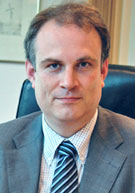 Nordex found its ideal site in Jonesboro after a lengthy search that encompassed many of the nation's wind-enhanced states. Sigrist says the search covered a region stretching south to North Texas, north to Southern Iowa, east to Tennessee and west to Northern Colorado. Or as Sigrist describes it, "in the middle of the high wind regions."
Proximity to market was the key driver in bringing Nordex to Jonesboro, which got the nod over sites in Kansas and northern Texas. The four finalists were whittled from an initial list of about 35 sites.
"We wanted to be close as possible to the major U.S. wind regions for logistics purposes," Sigrist says. "Our further criteria were an area outside of earthquake or flood-prone regions, a site served by at least two rail companies, and Interstate highways going both north-south and east-west. We determined that Jonesboro would cost less money and would be achievable in a short time frame."
Nordex is investing US$100 million in the new plant, located on a 187-acre (76-hectare) site in the Craighead Technology Park. It will employ 700 at an average hourly wage of $17. The plant will manufacture every component of a wind turbine except the tower.
A location with a university offering mechanical and electrical engineering degrees also was a prime consideration.Sigrist says a major determining factor was the interest and dedication expressed by representatives of Arkansas State University in Jonesboro to provide individualized training.
"They sent their professors to Germany to see our production to get their own impression of the basic skill set our employees will need," Sigrist says.
Nordex expects the plant to be operational by January 2010. Construction will be in two phases. The first will be for nacelle assembly and the second phase involves rotor blade manufacturing. The 700-employee level will be reached when the second phase is completed in 2012.
During its previous five years in the U.S. market, 100 Nordex wind turbines were installed across North America. Nordex is now concentrating on large-scale turbines. Last May, Nordex set up a prototype for Minnesota Power in Hewitt, Minn., and is in the process of installing 25 turbines at the Highland Wind Project in Cambria County, Pa.
Current economic woes notwithstanding, Sigrist believes there's a gusty future for wind energy development in the U.S.
"The sector will see some constraints due to financing over the next several months," he says. "Banks are hesitating. We think the U.S. is the fastest growing market worldwide. In light of the need to replace existing power plants, wind is a very viable and competitive alternative. Fuel for wind turbines is free of charge."
Denmark-based
LM Glasfiber
is the wind heavyweight in Little Rock. The world's leading supplier of wind turbine blades, the company opened its North American headquarters and manufacturing facility in October 2008. LM Glasfiber is investing $150 million in the operation and expects to create 1,000 jobs.
Also coming to Little Rock are
Polymarin Composites
, a rotor blade manufacturer that plans to employ 630 at a $16-million facility within four years.
Wind Water Technology
, a supplier of nacelles to Polymarin, is investing $4 million to employ 200 at the same facility.

The Velocity of Vestas
Vestas
, the Denmark-based world leader in wind turbine manufacturing with a 23 percent market share, is well under way in establishing a major U.S. presence. In early December, Vestas announced it would consolidate its six offices in the Portland, Ore., area into a 500,000-sq.-ft. (46,450-sq.-m.) North American headquarters building at a site to be determined in Portland. Vestas says the facility will be LEED-Platinum certified.
Roby Roberts, Vestas' senior vice president of external relations, says Portland is a natural choice for the new headquarters since the company has had offices there since 2002 and now employs more than 300 in the area.
"It's a livability issue in the Portland area," Roberts says. "Certainly people want to live here. The government supports the environment here, and there is a critical mass of utilities and developers in the Portland area. The region attracts bright, young people who are interested in clean energy."
Roberts says Vestas has plans to employ more than 4,000 people in North America by the end of 2010. The company's U.S. operations include a recently announced R&D hub in Boston, a major R&D center in Houston and a nacelle supply chain office in Chicago. But the major growth spurt is coming in Colorado, where Vestas is developing two blade manufacturing plants, a tower factory and a nacelle plant. Altogether, Vestas will invest nearly $700 million and create 2,450 jobs in the state.
"It's a robust expansion during the next few years," Roberts says.
The 400,000-sq.-ft. (37,160-sq.m) blade factory in Windsor, Colo., is up and running and will eventually provide jobs for 630. Vestas is also investing $240 million in a tower manufacturing facility in Pueblo that will produce up to 900 steel towers annually, employing 450 to 550. It is scheduled to open in 2009 and is the largest single investment in the company's history.
Vestas is also developing a major complex in Brighton that includes a $180-million blade manufacturing facility, a $110-million nacelle assembly factory that will create 700 jobs and a technology and production engineering office.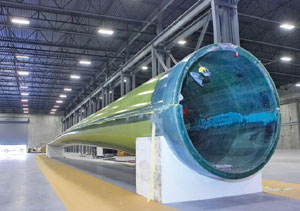 Roberts says Colorado is appealing to Vestas because of its proximity to markets, good transportation access, its well-trained work force, and government policies supportive of wind energy development. Vestas currently has 10,000 wind turbines installed in the U.S. and Canada.

Washers to Windmills
Newton, Iowa, a town of 16,000 about 35 miles (56 km.) northeast of Des Moines, rapidly emerged as a center of wind equipment manufacturing during 2008. It's a big change for Newton, the former headquarters of the Maytag Corp., once the area's largest employer. When Whirlpool acquired Maytag in 2006, 1,800 people were put out of work. It also made about 1.9 million sq. ft. (176,510 sq. m.) of manufacturing space available.
Trinity Structural Towers
took 300,000 sq. ft. (27,870 sq. m.) for a wind turbine tower plant that will create 140 jobs.
Newton's gust of momentum continued in September when
TPI Composites
opened its 316,000-sq.-ft. (29,356-sq.-m) wind blade factory not far from the old Maytag site. TPI plans to eventually employ 500.
Wind equipment manufacturing is a natural for Iowa, which ranks fourth among states in wind energy generation. More manufacturers could come to Newton, possibly in more former Maytag space.
"The fact that the Maytag facility is so large [means] it's a natural fit," says Kim Didier executive director of the Newton Development Corp. "It provided a turnkey solution."
Didier says her organization is recruiting suppliers of Trinity and TPI. She says the two companies, which will replace 1,000 to 1,100 of the lost Maytag jobs within three years, have hired many of the former Maytag employees. Many of the skills used in the production of washers and dryers at Maytag are transferable to wind equipment manufacturing, she says.

Solid Solar
Japanese firm
Kyocera
started its solar energy business in 1975 and is now one of the world's leading manufacturers of solar panels. Kyocera, which currently produces solar sells at its Yohkaichi Plant in Shiga Prefecture, Japan, recently announced plans to build a 572,360-sq.-ft. (53,144-sq.-m.) plant in Yasu City, Shiga Prefecture, to expand production volume.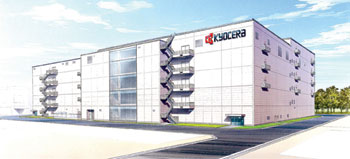 These cells are shipped to four Kyocera assembly plants in Mie Prefecture, Japan; China; the Czech Republic and Mexico. This is part of the company's market demand strategy to assemble solar modules in areas closest to the world's major markets.
"The European market experienced rapid growth in the past few years, especially in Spain and Germany," says Kyocera spokeswoman Akiko Chuujo by e-mail. "We still expect moderate growth to continue," even though the government-fixed purchasing price for electricity generated by solar systems (the feed-in tariff) is decreasing in those very countries. "However, new markets such as Italy, France and Greece are expanding rapidly and we therefore expect continuous growth of the entire European market in the future," writes Chuujo. "Even though the economic situation is not good, solar energy industry will be growing due to Feed-In-Tariff.
"In the U.S., 44 states now have subsidies or related programs, and the federal tax for renewable energy could accelerate the expansion of the market," says Chuujo. "Asia, India and South Korea also have programs that governments or utility companies purchase renewable energy at good rates, so we expect rapid growth in those countries as well."
Kyocera also recently expanded its Kyocera Mexicana operation in Tijuana. The company plans to continue adding production facilities and equipment in the future, says Chuujo.
Japan-based
Sanyo
is also in expansion mode. Sanyo plans to increase overall production capacity for solar cells and modules to more than 600 MW by March 2011. To accomplish this goal, Sanyo is focusing strategic investments into facilities to accommodate the growing production expansion. Examples include the recent announcement of the new $80-million plant in Salem, Ore., to manufacture solar ingots and wafers. The Oregon plant will be Sanyo's seventh solar facility in the world, and it plans to begin operations there in October 2009. Sanyo is also expanding its Monterrey, Mexico, factory, which assembles solar modules for the North American market.
Sanyo solar officials say Oregon was chosen for the plant for the following reasons:
• The ambitious energy plan that the state currently has, with incentives to build and with promises of full government support;
• The fact that Oregon is well known for its semiconductor/silicon processing facilities and existing knowledge of manufacturing processes vital to making ingots and wafers;
• The availability of people who are trained and educated in the silicon production industry, making it easy to find qualified, skilled personnel.
Sanyo officials say that while the European market is growing rapidly, North America is a largely undeveloped market. Improved tax credits for both residential and commercial installations in the U.S. will help greatly, they say.
The solar industry's infrastructure in the U.S. was helped greatly in mid-December, when Hemlock Semiconductor, a
Dow Corning
company, announced it was investing $1.2 billion in a new polycrystalline silicon plant in Tennessee and $1 billion in expanding its home complex in Hemlock, Mich., in Saginaw County.
"This announcement offers solar industry leaders confidence that polysilicon supply will be available as the solar and electronics industries continue to grow and innovate," said Rick Doornbos, president and CEO of Hemlock Semiconductor Corporation. "The exact scale of this investment will be determined by market conditions. Making this investment in today's volatile economic climate is a testament to both the long-term outlook of the solar industry, as well as Hemlock Semiconductor's ability to add capacity to meet the needs of customers."

Combined, the new Clarksville facility and the expanded Hemlock operations may add up to 34,000 metric tons of polysilicon capacity and ultimately as much as $3.0 billion in investments to support the solar industry.

Germany's RE Culture
Germany's encouragement of renewable energy development since the early 1990s has produced a culture in the country of 82 million people that has helped propel it to world leadership status. A 1990 renewable energy feed-in law, which requires electricity grid operators to pay a premium price for power generated by independent renewable energy operators, has helped expedite development in wind and solar projects.
Nearly 20,000 wind turbines rotate across Germany, supplying 7 percent of the nation's electricity needs. Energy companies, manufacturers and others in the sector generated more than 11.7 billion EUR ($16 billion) in domestic and export business in 2007, according to the German Wind Energy Association.
The sector, which employs about 90,000, has a presence in 13 German states, but it is centered in the northwest, anchored by the "wind capital" of Husum. A quaint port city on the North Sea, Husum's economy has indeed become wind-centric in recent years, with one in three jobs related to the sector.
With winds from the North Sea as abundant feedstock, Husum is ringed by wind farm. Wind equipment specialist
REpower
operates a nacelle assembly operation in a former shipyard.
REpower, based in Hamburg, expects to soon join the growing list of European wind power equipment manufacturers seeking to establish a U.S. manufacturing platform. The company's CFO, Pieter Wasmuth, says the search is just now in the conceptual stage, but a site somewhere in the U.S. wind region could be selected by the end of 2009.
"We have to be present in all of the relevant big markets with not only our products, but also the assembly of our products," Wasmuth says. "The U.S. is definitely a core business for us, and we also have an obligation to the Canada market."
Besides proximity, key infrastructure will be crucial as REpower strives to bring its products to key customers such as John Deere Renewables, a financial services business of Deere & Company.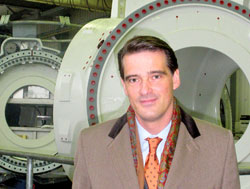 "Rail access is very important to our industry because transportation of our products is expensive," Wasmuth says. "We need a location where we can aggregate lots to fill a complete train. We are just thinking about a manufacturing site in abstract terms because you have to build up a pipeline of projects first. John Deere is important as a customer. They are one of the key players in the Midwest. In Iowa, John Deere is like part of the family."
REpower also has its eye on moving its current North America headquarters from Portland, Ore., to a city near the U.S. windfields.
"The west coast is nice, but there is a nine-hour time difference from Germany," says Wasmuth, adding that Denver may be the frontrunner for the new headquarters, but other cities such as Chicago may also be considered.

Smart Spots for Solon
More than 60,000 are employed in Germany in the various sub-sectors of solar power, many of them in the former East Germany. Berlin-based
Solon
, one of Europe's largest producers of photovoltaic modules, likely has one of the corporate world's most eye-catching slogans in "Don't Leave the Planet to the Stupid."
Solon moved its Berlin headquarters and manufacturing facility in 2008 to a €40-million ($56.7-million) building in the sprawling Berlin Adlershof Science & Technology Park. The new plant, which will have an annual capacity of 50 MW, is the company's smallest solar module assembly facility. Solon was previously located in the center of Berlin and needed expansion room.
"We use this site as well for testing new machines and new cells," says Solon spokeswoman Katrin Evers. "This [Berlin Adlershof] is an interesting environment. Here we have the space and possibilities to think about innovation. There are lots of other technology companies and research institutes here, and we have enough space to grow."
Solon, which began U.S. manufacturing in Tucson, Ariz., in 2008, also has manufacturing operations in Greifswald, Germany, Austria, Italy and Switzerland.
Site Selection Online – The magazine of Corporate Real Estate Strategy and Area Economic Development.
©2009 Conway Data, Inc. All rights reserved. SiteNet data is from many sources and not warranted to be accurate or current.