Tennessee megasites are dropping like flies, for one reason or another.
Just months after Volkswagen selected Chattanooga's TVA-certified Megasite for its new assembly plant,
Dow Corning
's Hemlock Semiconductor division announced in December it would invest $1.2 billion in a new polycrystalline silicon manufacturing operation at the Commerce Park megasite in Clarksville, Tenn. (Another $1 billion will be invested at the company's existing site in Hemlock, Mich.)
Combined, the new Clarksville facility and the expanded Hemlock operations may add up to 34,000 metric tons of polysilicon capacity and ultimately as much as $3.0 billion in investments to support the fast-growing solar industry. The Clarksville operation will employ 500 to start, potentially expanding the payroll to 800 upon further expansion.
"We've been searching for a location for a new polysilicon facility for some time, as a second site assures a stable, secure supply of polysilicon," said Hemlock Semiconductor President and CEO Rick Doornbos. "Tennessee's business climate coupled with a superb site in Clarksville, a strong, productive work force and an excellent location in proximity to our supply chain and customers made this the right decision. This investment will allow us to meet growing customer demand both in the near term and in the decades ahead."
The plant will occupy the entire 1,215-acre Commerce Park site, and the company plans to acquire an additional 947 acres adjacent to the site for additional build-out and buffer space.
"The state of Tennessee and the Clarksville-Montgomery County community showed true partnership in making this project a reality," said Dr. Stephanie Burns, chairman, president and CEO of Dow Corning. "I believe this is a watershed announcement for all of us."
"This announcement shows Tennessee's commitment to becoming a significant player in the development of 'green collar' jobs related to clean energy technologies," said Tennessee Gov. Phil Bredesen.
Not far away, the West Tennessee Auto Park Megasite in Crockett County, Tenn., near Jackson, is no more. According to a TVA spokesperson, the community decided not to renew options on the 2,100-acre parcel, thus removing the site from the TVA Certified Megasite program.
"A lot of options we had, we got understanding that if Toyota didn't select us, the options go back to the owners," explains Crockett County Mayor Larry Griffin, "and that's what they've done. We've scaled down from a megasite, but we do have acreage available that we think is prime acreage, adjacent to the railroad and I-40."

On the Grid
When paper companies planted experimental forests in southeast Georgia, the lines of planted trees were as straight as the trees themselves, a grid for growth. Today, a different experiment is under way on some of those parcels, and it's the infrastructure grid woven through that forest that may prove bountiful for industrial prospects looking to thrive.
Such is the case with 2,600 acres (1,052 hectares) just outside Savannah in Effingham County. Once the province of International Paper, the still-treed Research Forest site features CSX and Norfolk Southern mainlines crossing its property, just six miles (9.6 km.) by rail from the Port of Savannah, as well as the main natural gas line from El Paso. A 36-inch water line comes to the site, as does sewer service. A Georgia Power generation plant sits not far away on the Savannah River. A recently built elementary school stands just outside the forest's gates, which are adorned with signs warning away hunters. If some leaders' vision for the area stays on course, the next wave of hunters may be carrying surveyor's transits instead of rifles.
"Over the past 20 years, we've had in excess of 50 percent growth in population," says John A. Henry, CEO of the Effingham County Industrial Development Authority and executive director of the county's chamber of commerce. Most of that growth, which as taken the populace to over 50,000, has taken residential form, as the once-rural county (where you can still dial a phone number without an area code) serves as a bedroom community to the booming port city of Savannah.
"There has been tremendous residential growth, but 70 percent of our work force leaves the county every day, simply because we don't have areas prepared for industrial growth," says Henry.
It's a good problem to have: The county's major industrial park only has 60 acres (24 hectares) left, thanks to the big 2007 project from Portuguese power transformer manufacturer
Efacec
, which will employ 672 at its facility now under construction. A nearby Georgia Pacific paper mill is the county's largest employer. And it just missed out on the American Titanium Works project that just announced in South Carolina.
"
I-16 was built as an economic development corridor.
With the growth of the ports, its time has come.
"
Henry says the situation was begging for some action. So the IDA took it, and is now the single owner of two large tracts, both purchased from International Paper.
"We knew the time was right, and had some money in the bank," he says. "We want to get ready for this next wave of port growth."
The county's other megasite consists of 1,750 acres (708 hectares) along I-16, eight miles (13 km.) from I-95. The county took some steps at one point to develop a logistics park there, but then stepped back, owing in part to the nearly 4 million sq. ft. (371,600 sq. m.) of warehouse space currently on the market in the Savannah region. Nevertheless, logistics and light manufacturing may eventually be that tract's calling.
The county has inched along the growth curve. Recent passage of liquor-by-the-drink legislation means it's no longer a dry county, and will start to see full-service restaurants sprinkled among the big box development. And though it once refused to fund a bypass for fear of what it would do to its commercial corridor, it wishes it had one now. The proposed Effingham Parkway would run near the Research Forest site. All in all, the county's proximity to so much activity means it's ready for a piece of the action. So is the region, whose main highway to Atlanta has never really caught on with developers up to now.
"I-16 was built as an economic development corridor," says Henry. "With the growth of the ports, its time has come."
Both sites are also not far from the state-owned Chatham County Megasite, prepared six years ago for a DaimlerChrysler project that never came, and still pad-ready. Henry says the IDA's Interstate tract could serve that site as a supplier park. Meanwhile, the focus for the longer-term Research Forest site is aerospace and defense. After all, says Henry, there's even room for a 9,000-ft. (2,740-m.) runway.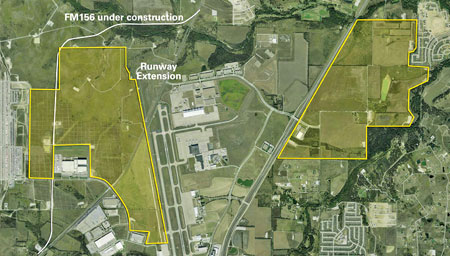 Texas Tracts, Indiana Gem, Jamaica Jewel
Airports are already in place near several notable 1,000-acre-plus (405-hectare) sites among the dozens on our Super Sites chart (pp. 46-49), including AllianceTexas, the Hillwood development held up as a model for logistics-oriented property development. The development near the Dallas-Ft. Worth metroplex was recently recognized by the U.S. Foreign Trade Zone Association as having the top FTZ in the country, with $4 billion in foreign imports and some 200 companies in operation.
So it may come as a surprise to some that the park still has two parcels that measure 1,000 acres or more. One, says David Pelletier, director of corporate communications for Hillwood, is between the BNSF Intermodal Facility and Fort Worth Alliance Airport.
"In addition to the costs savings for companies receiving or sending containerized goods through the intermodal yard, the site also can accommodate buildings that are directly rail served," he says. "We also are establishing an area adjacent to the intermodal yard to handle heavy loads. The area is accessible by a private road so that containers won't have to use public roads and be subject to the weight limits of those public roads. This will allow a company that handles tile, for example, to put more of its product in one container and save costs from having to use multiple containers to keep the weight under the limit."
Making the site more accessible is a runway extension project currently under way at the airport, stretching them to 11,000 feet (3,350 m.) in length. The project requires movement of a road and a rail line, but opens up new possibilities, says Pelletier.
"First, it allows more land adjacent to the runway because the runway is being extended and the road is being removed," he says. "Second, the new road makes the property to the northwest of the airport and northeast of the intermodal yard more accessible by car or truck."
The area's other large parcel "is a little more secluded and quiet than the Super Site by the airport," says Pelletier, and runs along the east side of I-35W. "The site is labeled the Alliance Advanced Technology Center, but it is open to all uses. It has electrical and fiber redundancies and is a very developable site. At one point the Dallas Cowboys looked at the property for its new stadium that is now being built in Arlington, Texas. The site also is close to Texas Motor Speedway, which may be of interest for an auto-related company."
The formally defined sites come in at 800 and 950 acres (324 and 385 hectares), respectively, but what qualifies them for our list is the presence of significant vacant land adjacent to both sites that owners are willing to sell.
Near Terre Haute, Ind., the 7,000-acre (2,833-hectare) Chinook Mega-Site sits next door to what Steve Witt, president of the Terre Haute Economic Development Corp., calls "our underutilized gem of an airport – Terre Haute International Airport-Hulman Field. We can accommodate most any sized aircraft at HUF, thus making Chinook very accessible for air cargo, corporate aircraft and so forth."

The parcel, located on I-70, is a combination of undisturbed farm ground and reclaim (to a high standard) surface mine, and has two owners. Major utilities and rail are either on site already or in close proximity. Witt says his team is close to obtaining CSX's "Large Industrial Mega-Site" designation for the property, and has submitted it for one automotive and one aerospace project to date. Preliminary engineering studies have been done for a new I-70 interchange, and Clay County (one of two counties the property occupies) recently received a USDA grant that will further examine infrastructure needs for the property. The most recent cost estimate from Indiana-American Water for extending its services five miles (8 km.) to the site is about $1.3 million. As for wastewater, Witt says the direction forward depends on the needs of the prospect.
"We have discussed extending a major new line from the Terre Haute treatment plant, extending a smaller line from the airport area or doing some sort of on-site treatment," he says.
Near Kingston, Jamaica, a $2.4-billion project called Canamas Economic Zone (CEZ) includes a vision for business incubators and support services in its eight-phase plan. But Tanikie McClarthy, consultant, Ministry of Industry, Investment and Commerce for Jamaica Trade & Invest, says it's early enough in the plan that a single end user could still be entertained. In a presentation at the World Free Zones convention in Charleston, S.C., in December, she said the island nation's leaders were spurred to create the zone after visiting Chinese zones many years ago.
"One thousand acres [405 hectares] was allocated by the Urban Development Commission," she says of the project's formerly agricultural parcel. "Luckily, that body has a lot of power, and was able to bypass a lot of the processes that go into rezoning."
In close proximity to Portmore, six minutes from the world's seventh largest harbor at New Port West and 45 minutes from an international airport, the site may also be home to its own small-craft airport for domestic and international flights. The Jamaica defense force is located next to the site. The Ministry is looking for private sector partners at this time, in addition to welcoming the involvement of the World Bank, whose studies for the master-planned development should be complete by summer 2009.
"We want the CEZ to become the Caribbean's first fully serviced industrial park," she said.
But if you're a single end user with a better idea, this park, like many others, is all ears.