C
an a community tap into the tradition and neighborliness rooted in its past in order to plan for the future? In Suwanee, Ga., leaders are banking on such a strategy to shape a vibrant, growing community that in some ways hearkens back to earlier days.
Today, there's not a lot of outward evidence that for centuries Native Americans roamed the area's forests. A few more signs of the largely agrarian and railroad-focused community that existed in the late 19th and early 20th centuries remain in this now bustling suburb 30 miles north of Atlanta.
In the past decade, Suwanee's population has nearly doubled, and in the decade before that the population almost quadrupled. But as they work to proactively manage growth and shape Suwanee's plan for the future, the visionary leaders of this rapidly growing community say that they are attuned to preserving the best of its past as well.
"The real challenge is to preserve the unique history and charm of Suwanee," says Dave Williams, mayor of the 16,000-resident city in the heart of Gwinnett County, an area of 800,000 people along Interstate 85 northeast of Atlanta. "We don't want to try to force things that wouldn't make sense here."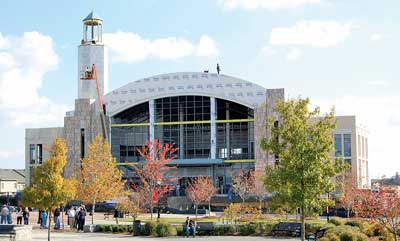 Instead, Williams and other leaders have carefully crafted a plan, since 2000, that incorporates elements of New Urbanism and Neotraditional design to form a pedestrian-friendly, park-oriented community that beckons businesses like a magnet.
While not exactly returning Suwanee to its hunting, gathering and agrarian roots, these officials are focused on bringing back elements of "earthiness" and green space to attract residents and commerce alike.
The editors at
Money
magazine like the outcome. In August 2007, they named Suwanee the 10th best place to live among small towns in America.
"We have not invented some magical formula," Williams says. "We have done a lot of research and tried to emulate best practices. You see in Suwanee a combination of things that make sense in a lot of other places."
The result is a network of parks (more than 300 acres), pedestrian and bike paths, open-air shopping and eatery villages, Celebration-style neighborhoods and heavily landscaped business parks that form the backbone of the area's economy.
Rob Satterfield, vice president of
AES Clean Technology Inc.
, says his company chose Suwanee largely because the community "exudes on-target, cutting-edge, urban planning. It is exemplary of the type of community that advanced technology companies, like AES, seek out when looking to expand their businesses."
On Oct. 31, AES celebrated the opening of its 80,000-sq.-ft. facility in Suwanee. The $5-million capital investment houses 50 employees and includes office and manufacturing space. AES operates modular cleanroom manufacturing and engineering sites.
Satterfield says his firm relocated from Buford, Ga., to Suwanee "because of access to I-85, plus the beauty, quality and planning of Suwanee. This community really says 'quality' and ' well-thought-out design.' The industry we are in is all about cleanliness, appearance and quality, and we are in a town that screams that. We are proud to bring our customers here."
Much of the town's infrastructure, as well as its new approach to business development, began under Nick Masino, who served as mayor from 2000 through 2007. Today, Masino heads up economic development for Gwinnett County.
"This is a well-planned community," Masino says of Suwanee. "The elected officials have been citizen or homeowner advocates with strong business experience. There is no behind-the-door politics here. The city is served by elected officials who care."

Fiber, Friendliness Sell Suwanee
High-end master-planning, from the downtown Suwanee Town Center along Buford Highway to the office-oriented Suwanee Gateway area at I-85, isn't the only component to the city's business development plan.
Executives who have recently located facilities in Suwanee also cite the two "F"s – fiber and friendliness.
Michael Kurtz, Southeast general manager for
Quality Technology Services
, says fiber was "absolutely critical" to his company's selection of its Satellite Boulevard location. The firm employs 150 workers at its 375,000-sq.-ft. data center.
"Space, power and pipe, or fiber, are the three critical factors for us," Kurtz says. "We purchased an old e-DeltaCom facility in Suwanee because of these factors. AT&T, TimeWarner and Verizon are all our partners. That network is critical to us and our customers. There are fiber connections to all the major players."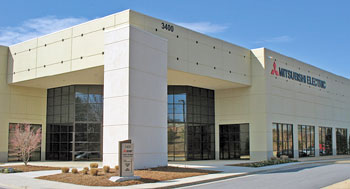 Kurtz also cites the "tremendous support of Gwinnett County and the City of Suwanee. They assisted us in doing surveys for process improvement and employee skill sharpening. We invest a lot in our employees, so retention of skills is absolutely imperative for us. Tapping into the program at Gwinnett Technical College to support our training was critical."
John Gabilondo, director of operations and logistics for the business services group of
Mitsubishi Electric
's HVAC Division, says his firm selected Suwanee because of its real estate and friendliness.
"We looked at about 12 available properties in Gwinnett, but most didn't suit our needs," he says. "Most were either vacant or spec space. We found an undeveloped site that we liked in Suwanee and designed the building. The mayor got involved in helping us. The economic development team assisted us. Even the police chief came over and introduced himself. This place is kind of like Mayberry. It wasn't the money that attracted us. We came because we knew we were getting a nice piece of property, and the city really cared about us."
Gabilondo says his firm "liked the developer a lot. The presence of IDI, and the architect they hired to design our facility, was the biggest selling point."
Today, the company operates a 147,000-sq.-ft. warehouse and 25,000-sq.-ft. office at the corner of Lawrenceville-Suwanee Road and Satellite Boulevard. The firm employs 85 people at the site in the Shawnee Ridge business park.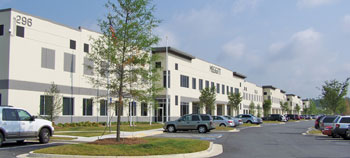 Business Parks for the Future
A common theme for executives who located facilities in Suwanee is the presence of high-quality business parks and the infrastructure that supports them.
Another developer at the forefront of that effort is Opus South Corp., which is developing a 148-acre, mixed-use project called the Terraces at Suwanee Gateway at the intersection of I-85 and Lawrenceville-Suwanee Road. Upon completion, the project will include 580,000 sq. ft. of Class A office space, 360,000 sq. ft. of retail, 138 luxury townhomes, 340 urban-style apartments, 14 retail outparcels, a full-service hotel and conference center, and a "town center" with a secured parking deck.
William Valentine, real estate manager for Opus South, notes that "large, mixed-use projects are not yet prevalent in northern Gwinnett. We are one of the first, and a lot of the users will respond positively to that."
He adds that Suwanee's visionary plan for the future was a principal draw for Opus South. "Suwanee is a very progressive place, and their land planning is reflective of that," he notes. "I think that Suwanee Gateway has a lot of those fingerprints on it."
As more companies follow suit –
Hewlett Packard
,
Meggitt Defense Systems
and
Dish Network
are just a few of the high-tech employers to call Suwanee home since 2005 – the city's leaders believe that quality planning is the key to preserving the community's unique value.
Site Selection Online – The magazine of Corporate Real Estate Strategy and Area Economic Development.
©2009 Conway Data, Inc. All rights reserved. SiteNet data is from many sources and not warranted to be accurate or current.