ritish Columbia is home to one of the world's leading clusters of digital media. Anchored by major names such as Entertainment Arts Canada and Radical Entertainment, the Vancouver-centric sector encompasses some 1,100 companies, generates more than C$2 billion (US$1.5 billion) in annual revenue, and has created more than 16,000 jobs at companies involved in video game development, animation, visual effects, interactive marketing and design, e-learning and Web 2.0 activities. That critical mass bodes well for digital media's future success in the province, industry leaders say.
Digital media is an industry that some describe as being nearly recession proof, and it has indeed created thousands of jobs in Western Canada. As is the case with many digital media clusters, British Columbia's industry was propelled by growth of the major companies, which were acquired by major names in the business.
"A lot of those studios, although owned by large publishers, were started by Distinctive Software, which became EA Canada and Radical, which was bought by Activision," says Kelly Zmak, Radical Entertainment's president. "There is a very good entrepreneurial spirit here. There is a good investor base in British Columbia, it's a tremendous place to live and there is a large talent pool. All of that kind of fostered the industry, and other media started to spring out of opportunities here. It's a growing community of individuals with a goal to create a center of entertainment media."
EA Canada has the largest presence, with about 280 employees, and Radical has more than 160. Most of the companies are much smaller.
"What is fascinating to me is the generation behind me and the one behind them are both submerged in technology," says the 46-year-old Zmak. "It's an afterthought to them. My generation was the first generation to adopt and use technology as a tool. The generation behind me used games and technology as a form of entertainment, and the generation behind that looks at the broad range of technology to provide entertainment. They are choosing to play games instead of watch TV. Converging technologies bode well for our industry."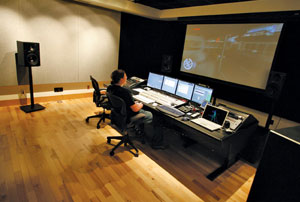 Zmak says the Vancouver area is well positioned to continue its growth because of its breadth of opportunities across industry sectors.
Kenton Low, president of industry association New Media BC, says the province has a great creative convergence between technology and the arts for the purpose of entertainment, information and education. He says British Columbia has all the necessary ingredients for the industry's continued growth.
"Our post-secondary institutions are churning out great students with technical degrees and degrees in fine arts and design," Low says. "The government here is interested in working closely with the industry to figure out what the best economic climate is to allow the industry to flourish over time."
British Columbia companies have had a large impact on the industry. Flickr, the online photo-sharing site, started in the province, as did the children's online gaming site Club Penguin, now owned by Disney.

Rest of West Growing Too
British Columbia is indeed the acknowledged leader among Canada's western provinces, but the industry does have a sizeable presence in Alberta. And although it is relatively small in Saskatchewan and Manitoba, it is growing.
Digital media in Alberta is much smaller than in British Columbia, but it is thriving, spurred in part by the massive oil and gas sector in the province's northern regions. It covers the entire gamut of industry sectors. Most of the companies are small "mom and pop" shops of five to 10 employees.
"We have quite a strong and diverse industry," says Ron Thiele, president of Xpan Interactive, a Calgary company specializing in the burgeoning field of e-learning. "Alberta is becoming a hot bed of technology."
Thiele, who also serves as president of Digital Alberta, the province's industry association, says about 60 percent of the industry is centered in the Calgary area, with Edmonton claiming about 30 percent.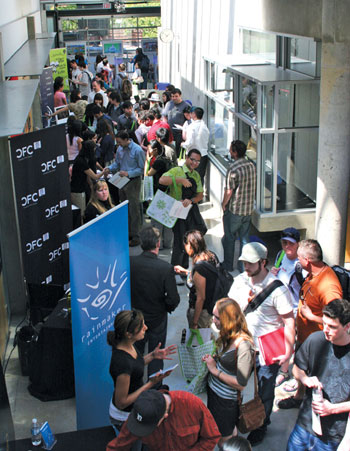 "Alberta is an oil and gas province, and there is quite a bit of software development and digital technology related to that industry," Thiele says. "Some of these companies are working right in that industry. The two main ones are Web-based applications that help with oil and gas operations such as getting data from the field, and managing data. There is also a lot of visualization work in terms of the geophysical and seismic side, with visualization and simulation of gas fields."
Thiele says the e-learning segment of the business is benefiting from the economic downturn as corporations cut training budgets and view e-learning as a more cost-effective investment.
"We are excited about the possibilities here," says Deborah Black, president of the Saskatchewan Interactive Media Association, and president of D Black Communications, a Web site design and interactive media company in Saskatoon.
"Our government is a year old and is doing interesting things for the province overall," she says. "For the first time we feel that our interactive industry is being taken seriously, and they recognize our potential to grow and keep our young people in Saskatchewan."
Black, who estimates there are about 700 people working in digital media in Saskatchewan, says the development of serious games, which uses the technology of entertainment games for educational and training purposes, is a growing business in the province. The SaskInteractive Summit 09, set for March, will focus on serious games, particularly in the area of health care, she says.
"The Super Mario generation has come of age and they are using their hands and scientific methods to explore ideas," Black says. "They learn fundamentally differently from previous generations."
Manitoba's interactive media industry, which is centered in Winnipeg, is significant, employing about 6,800 people across all of its sub-sectors.
"Digital centers here seem to be smaller and more boutique," says Todd Pluchinske, founder and president of the IC Group, a company that focuses on digital consumer marketing. "We have an active digital industry that primarily works in films. It's flourishing and healthy."
Site Selection Online – The magazine of Corporate Real Estate Strategy and Area Economic Development.
©2009 Conway Data, Inc. All rights reserved. SiteNet data is from many sources and not warranted to be accurate or current.