T
o some outside observers, the unprecedented growth in Saxony-Anhalt's life-sciences sector may seem like an overnight success story.
But to those who know better – like Dr. Ralph Pfirmann of
IDT Biologika GmbH
– the seeds of this achievement were sown many years ago.
"Our grandfathers founded this company back in 1921," says Pfirmann, managing director of IDT. "We run a bio-pharmaceutical company that has many decades of history behind it, but our current site in Saxony-Anhalt dates back to 1993. After the Berlin Wall came down in 1990, we knew that a new site selection was going to be done, and we selected Dessau-Rosslau in Eastern Germany."
The rest, as they say, is history.
Thanks to large-scale government support in Saxony-Anhalt, IDT has grown to become a global leader in the development and manufacturing of vaccines for animal health.
This year, IDT is investing some €14.6 million into research, development and production. Since being privatized in 1993, the company has invested around €200 million into its current biopharmaceutical site in Saxony-Anhalt.
A recent survey, conducted by Bio Mitteldeutschland, found that nearly 6,000 workers are employed in the biotech and pharmaceutical industry in Saxony-Anhalt. That number is expected to increase with new capital investments being announced by expanding companies in the region.
"We employ about 700 people at IDT, plus another 150 workers representing guest companies at our site," says Pfirmann. "We have close to 70 years of history in biological products, including a long history of several generations of families working on this site. We still have members of those families working here today. We are still a family-owned business."
The company has diversified considerably since 1993, notes Pfirmann. "Animal vaccines were 100 percent of the business in 1993. Since then, we have grown in human vaccines," he adds. "We like being here for several reasons. First, there is the network of bio-pharmaceutical companies here in Saxony-Anhalt. The Fraunhofer Institute for Factory Operation and Automation IFF and several universities are located here to support this industry."

Saving Humans and Gorillas
This network of support has enabled IDT to grow three major business lines: pharmaceuticals, animal health vaccines and human vaccines. Among its work today is groundbreaking research into a new vaccine that could protect gorillas from the deadly Ebola virus.
"We own 1.5 square kilometers in the city of Dessau, about 80 kilometers north of Leipzig," Pfirmann says. "And we are no longer subsidized by the German government. We will do about €100 million in business this year, and we won a major award in Philadelphia two years ago for operational excellence in our facility."
The company recently invested about €5 million into a high-speed packaging line for syringes. Pfirmann says the firm expects to expand again soon with another line for vaccines.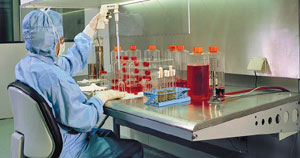 Also on the cutting edge of biotech research is
KeyNeurotek Pharmaceuticals AG
, located in Magdeburg. The company recently achieved a major breakthrough in research into the cellular mechanism that causes Huntington's disease, a hereditary condition that causes severe motor deterioration and dementia.
Dr. Frank Striggow, CEO and co-founder of KeyNeurotek, says his firm was established in Magdeburg nine years ago for several reasons.
"Magdeburg is quite famous for its scientific research. There is a lot of activity in the universities in this region," he says. "There is an excellent incubator in the new technology park on the campus of the medical school of Magdeburg University, making many kinds of cohabitation possible. The Fraunhofer Institute IFF is another strategic partner of KeyNeurotek, enabling us to develop new technology."
Striggow also points to the "many opportunities for financing throughout the state, financial incentives available through the government, and investment banks" that support the life-science industry in the region.
KeyNeurotek has about 30 employees but plans to grow. The firm occupies about 400 square meters and expects to expand that space within the technology park, adds Striggow.
"The pharmaceutical industry and the biotech industry are progressing well here in Saxony-Anhalt and will continue to grow," he adds. "Our goal is to develop new products for important clinical applications. We are looking for partners in the pharmaceutical industry to seek co-development agreements and marketing agreements. Once you have a product, you have to be very fast and efficient."
The company has raised about €20 million in venture capital, Striggow says. "But to bring our products to market, we need to raise more money. We have just closed on one VC fund, and we expect to close on others."

Competing for Young Talent
IDT Biologika and KeyNeurotek Pharmaceuticals are far from alone in Saxony-Anhalt. Many life-sciences companies are thriving in the central region of Eastern Germany, and others are sure to follow, according to industry observers.
Annual sales of pharmaceutical companies doing business in the state top €1.1 billion, having tripled from 1999 to 2007. Many of these firms are centered around Magdeburg's Otto-von-Guericke-Universitat and the Leibniz Institute for Neurobiology. Other support systems in the region include the Network for Neuromedical Engineering.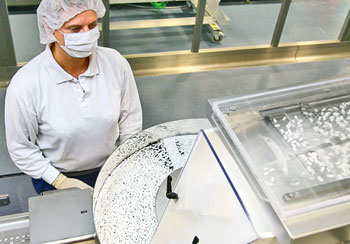 And not all the success stories are startups. Global giants like
Bayer AG
continue to thrive in Saxony-Anhalt. At
Bayer Bitterfeld GmbH
, the manufacturing of staples like Aleve and Aspirin Effect add to the region's resume.
"In 2008, we achieved a record production of 8.6 billion tablets," says Dr. Christian Schleicher, executive director of Bayer Bitterfeld GmbH. "With the planned commissioning of a new production line, we will be able to expect a similarly high level [for new aspirin products]."
This year, Bayer expects to construct a new multi-purpose building in Bitterfeld-Wolfen, according to Schleicher.
Other companies expanding rapidly in the region include
IMTM GmbH
;
Salutas Pharma GmbH
, a
Sandoz
company;
Oncotec Pharma Produktion GmbH
;
Icon Genetics
;
Probiodrug AG
;
Novosom
and
Serumwerk Bernburg AG
, among others.
"Without any doubt Saxony-Anhalt is competitive in comparison to other regions in Germany," says Dr. Jens Katzek, managing director of BIO Mitteldeutschland GmbH. "An essential contribution was made by the state government's research promotion and policy."
The key to this growth is twofold, he adds: supporting startups and winning the race for young talent.
If what's happening in 2009 in life sciences is any indication, Saxony-Anhalt is succeeding on both counts.
Site Selection Online – The magazine of Corporate Real Estate Strategy and Area Economic Development.
©2009 Conway Data, Inc. All rights reserved. SiteNet data is from many sources and not warranted to be accurate or current.