H
ow important is transportation infrastructure to defense contractor
Northrop Grumman
? In the case of one new plant on the Mississippi Gulf Coast, it is critical.
Bryan Mahoney, site manager for Northrop Grumman's plant in Moss Point, Miss., says his company could not have located its manufacturing facility at the site near Pascagoula without the surrounding network of roads, highways, seaport facilities and the adjacent Trent Lott International Airport.
Assembling the Fire Scout unmanned aircraft vehicle (UAV) for both the U.S. Navy and the U.S. Army is mission-critical work, says Mahoney. For Northrop Grumman, that means keeping every task on time – a requirement that mandates a highly efficient network of logistics.
"We are less than two miles from Interstate 10. We ship via the port and railway and the Trent Lott International Airport," Mahoney says. "We have the ability to land our aircraft here as well. The surrounding roads and infrastructure provide a lot of opportunity for growth here. They are solid and consistent."
The US$13-million plant employs 68 workers in a two-building, 101,000-sq.-ft. (9,383-sq.-m.) complex. In addition to Fire Scout assembly, the Northrop Grumman plant assembles the Global Hawk RQ-4B for the U.S. Air Force and the Euro Hawk UAV Hale Fuselage.
"One thing we liked about this site is that it offers rights on 30 acres [12 hectares] directly north of us for expansion," Mahoney says. "There was a lot of commitment from the government and the company to establish an unmanned vehicle operation on the Gulf Coast. We could not have done this without the help of the Jackson County Economic Development Foundation, the Jackson County Port Authority and the Mississippi Development Authority."

More Options the New Norm
Throughout the Gulf Coast region of Mississippi and Alabama and the whole Southeast, transportation infrastructure is becoming increasingly vital to the fortunes of growing companies. Demanding a multimodal logistics network is now the new norm for potential corporate facility locations.
Mississippi has succeeded in recent years in securing large corporate facility projects on certified mega-sites:
SeverCorr
and
PACCAR
in Columbus,
Toyota
near Tupelo. In each case, McCallum Sweeney Consulting performed the site certification work for the Tennessee Valley Authority. Another site certified by McCallum Sweeney, in Limestone, Ala., was briefly considered by
Volkswagen
before the automaker chose Chattanooga, Tenn., another McCallum Sweeney-TVA site, for its $1-billion assembly plant.
But not every site needs to be "super" to bag a deal. Along the Tennessee-Tombigbee Waterway in Mississippi, transportation infrastructure was a key selling point in securing two projects earlier this year:
G&G Steel
in Tishomingo County and
Mississippi Investment Petroleum Co.
in Aberdeen. Together, the two plants represent 172 new jobs and more than $12 million in capital investment for the region.
"We are seeing an increasing demand for more options – rail, water, truck, and so forth," says Gray Swoope, executive director of the Mississippi Development Authority. "We have seen a lot more interest generated through water traffic. We have been working to rebuild the Port of Gulfport to make it the launching pad for Mississippi products. It was pretty much wiped out after Hurricane Katrina, but it is open for business and our volumes are back to near pre-Katrina levels. We are currently deepening the channel so that the port will be able to handle the Panamax vessels in the future."
Neighboring Alabama is seeing its share of logistics-driven industry as well.
ThyssenKrupp
's planned $3.7-billion steel operation in the Mobile area began hiring its first hourly workers in May 2009. TK is using the help of Alabama Industrial Development Training to fill some 1,000 positions over the next year.
Old Dominion Freight Lines Inc.
announced a $6-million investment in Birmingham, where 86 workers will staff a new warehouse.
Rainbird
announced a $10-million expansion of its manufacturing and distribution facility in Steele, resulting in 30 new jobs; and
J&M Tanklines
completed construction on a $2-million manufacturing and logistics plant in Sylacauga in Talladega County.
"We chose Talladega in order to be close to our customers – and for logistics purposes, it was a good decision," says Deanne Bush, director of corporate communications for J&M. "The site is near Interstate 20 and has plenty of good roads and highways nearby."
The 7-acre (2.8-hectare) site, which employs 40 workers, became operational earlier this year.
"Improving our infrastructure is critical to our continued growth," says Steve Sewell, executive vice president of the Economic Development Partnership of Alabama. "We are building a new container facility at the Alabama State Docks. That is important for economic development. And we also have several prime sites in Northeast Alabama that are well positioned on major highways to be either just-in-time suppliers or tier-two suppliers for Volkswagen in Tennessee."

Airborne Sunshine
Across a portfolio of 21 commercial service airports and 71 general aviation airports in Florida, a wide range of related industrial development activity is either under way or in the works.
In addition to the much-publicized opening of a new airport in Panama City, the projects include
Embraer
's location of a new $50-million, 200-worker assembly operation for executive jets at Melbourne International Airport, part of Florida's Space Coast, announced in May 2008. Economy and whispers about executive jets aside, ground was broken on the project in December 2008. In 2008 the company also expanded in Fort Lauderdale.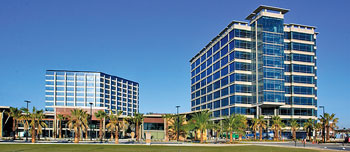 In Tampa, the corporate growth by the airport is not necessarily industrial – at least not directly. Early this year, internationally renowned infrastructure consulting company
PBSJ Corp.
, which employs 350 of its 4,000 nationwide employees at its home base in Tampa, signed a long-term lease for 83,000 sq. ft. (7,711 sq. m.) at MetWest One, a LEED-certified office building recently opened at MetWest International in the Westshore Business District, directly across from Tampa International Airport and International Plaza. When complete, the 32-acre (13-hectare) urban-oriented development MetWest International development, financially backed by MetLife, will include nearly 1 million sq. ft. (92,900 sq. m.) of Class A office space, a retail village, a 260-room upscale hotel and 254 residential units.
"When looking to relocate our office to support our evolving needs, we looked for a facility that could accommodate our unique requirements, offer our employees a great place to work, maintain our current proximity to valued clients and reflect our sensitivity to sustainable design strategies," said John B. Zumwalt, III, chairman and CEO of The PBSJ Corporation. "MetWest International fit that bill in terms of office space, location, LEED certification, and pedestrian-oriented site design."
Tampa International Airport in March announced it was ready to put to work its $8 million in federal stimulus funds, targeting such projects as its $52-million taxiway reconstruction and bridge project and a previously planned $26-million infrastructure project at its north terminal, the schedule of which the stimulus funds will jump start by as much as three years. The two one-year projects could employ as many as 265 people.
At Cecil Field in Jacksonville, whose assets the Jacksonville Aviation Authority took over in 1999, new facility development continues apace a decade later, including the March 2009 announcement of a 150-person expansion of the U.S. Coast Guard's Helicopter Interdiction Tactical Squadron (HITRON) complex. HITRON now leases a 32,000-sq.-ft. (2,970-sq.-m.) facility for command and support – a building that used to house flight simulators.
Today it helps drive the very un-simulated capture of illegal drugs and smugglers.
"This is a tremendous facility," said Commander Daniel Kenny. "It's located near our primary training areas in the St. Johns River and Atlantic Ocean and it has plenty of airport facilities." HITRON Jax now employs 50 Coast Guard officers and 170 enlisted personnel with a total annual payroll of approximately $12 million.
Among Cecil Field's other recent recruits is a $100-million, 300-person project from
Alenia North America
, which will assemble and deliver its C27J cargo plane at the site. Cecil's wide range of aviation-related industrial prospects includes maintenance, repair and overhaul (MRO) operations. Cecil's assets include four runways with full length parallel taxiways, 40 major buildings totaling 1.5 million sq. ft. (139,350 sq. m.) including hangar, warehouse, industrial and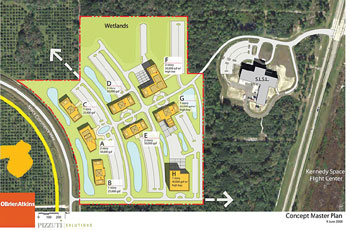 general-use space, and 537,000 square yards (449,000 sq. m.) of aircraft parking apron. Completion of a $2-million, 21,000-sq.-ft. (1,950-sq.-m.) spec hangar is expected in fall 2009.

Putting the Space in Aerospace
In April, Space Florida announced it had selected The Pizzuti Companies to enter into a master development agreement to design and build Exploration Park® (a registered trademark of NASA), a research park supporting government and commercial space activity to be located at Kennedy Space Center.
NASA and Space Florida entered into a long-term land use agreement in December for the 60-acre (24-hectare) site, located outside KSC's restricted access area. Phase I will feature eight buildings totaling 315,000 sq. ft. (29,263-sq.-m.) on Kennedy Space Center property, starting with a 25,000-sq.-ft. (2,323-sq.-m.) facility, and a potential 50,000-sq.-ft. (4,645-sq.-m.) clean room facility next door. The first tenant? Space Florida.
"Exploration Park will greatly enhance the science and technology research capabilities that currently exist at the nearby Space Life Sciences Laboratory, which has a proven track record of preparing science payloads bound for space," said Space Florida President and CEO Steve Kohler.
In the center of the state, a major 4,000-acre (1,619-hectare) industrial park is set to rise, thanks to the City of Ocala and the Ocala Airport. The project could put the area even more in the running for large manufacturing or distribution facility projects. Mark Mondell, director of the office of long term planning and sustainability for the City of Ocala, says the 700-acre (283-hectare) first phase announcement on May 1 already has attracted interest from a wide range of developers, as well as a manufacturer. There are a few existing buildings on the property that are being marketed, but the vision is broader.
"We have gone a step further beyond the bubble diagram and prepared a preliminary development plan that shows a variety of uses in various locations," says Mondell. "We may get a proposal from a master developer who wants to take it all down. But in the interim, we want to put people in place without jeopardizing the whole."

Small Airports, Large Opportunities
Similar development on different scales is occurring at other general aviation airports in Florida. The Southwest Florida International Airport plan near Fort Myers boasts a 750-acre (304-hectare) Skyplex Commerce Park and 25-acre (10-hectare) Madden Research Loop, and saw a master plan approved in 2008 that includes demolition of its old terminal and construction of a new one. Sebring Airport features a 200-acre (81-hectare) business park and a 40-acre (16-hectare) rail-served site. Enterprise Charlotte Airport Park near the Charlotte County Airport features 4,000 acres (1,619 hectares) of public and private land, a special overlay district, and flexible zoning built into the design standards.
The Volusia County Department of Economic Development announced in June that Indianapolis-based
Ameribridge Services
has leased 18,500 sq. ft. (1,719 sq. m.) at the Ormond Beach Airport Business Park. "The company will provide rehabilitation, repair and modification of passenger boarding bridges fo the Daytona Beach International Airport and the Miami International Airport," said the agency. "The Volusia County Department of Economic Development has been working with Ameribridge to demonstrate the efficiencies of establishing a reconditioning facility in Volusia Coiunty, versus transporting the equipment to Indiana. The long-term plan would allow Ameribridge to service major airports in the southeast from the Ormond Beach location. Employment is estimated to grow to at least 20 employees."
The current plan in Ocala includes 121 acres (49 hectares) of mixed-use commercial, 444 acres (180 hectares) of industrial-distribution including a technology loop, and 113 acres (46 hectares) of aviation flex space.  Infrastructure extension design and permitting is under way, and should be complete by February 2010. While the city prefers long-term leases, it is open to land sales (fee simple), pending approval of the FAA and the Florida Dept. of Transportation.
The park arrives amid converging demographic and climate trends that may spell healthy population growth for north-central Florida in coming years, as both residents and businesses look for alternatives to the coasts.
Such patterns are doing nothing to hurt Orlando. In March, avionics specialist
Nomad Aviation
flew in 124 new jobs with the announcement it would double its work force, including the addition of 33,000 sq. ft. (3,066 sq. m.) to its existing complex based at Orlando Sanford International Airport. The company will have access to state training funds and assistance from Seminole Community College in training for the new jobs, which will average $65,000 in salary. The jobs come on top of the 130 new jobs that
FedEx Ground
recently created in Sanford at its new 112,734-sq.-ft. (10,473-sq.-m.) operations facility.

Piedmont Triad Seeks Aerotropolis
North Carolina's Piedmont Triad region, already a regional logistics hub, hopes to build on that strength with an initiative to create an aerotropolis aimed at positioning the region as the global logistics center of the U.S. East Coast. The move follows an array of recent distribution center projects and the opening on June 1 of the
FedEx
hub at Piedmont Triad International Airport.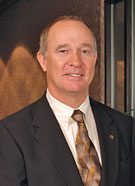 David Congdon, CEO of Thomasville-based
Old Dominion Freight Lines
, chairs a board of about 25 Piedmont Triad leaders pushing for developing of an aerotropolis. He says building on the region's logistics base will help it recoup some of the thousands of jobs lost in the textile and furniture industries. The Triad's location, halfway between New York and Florida and Atlanta and Washington, D.C., and the fact that half of the U.S. population is within 650 miles (1,046 km.), are major advantages, he says.
"Everywhere FedEx has put a hub, an aerotropolis has developed around it," Congdon says. "I see the airport becoming a global logistics hub for air freight."
The expansion of the Panama Canal will also provide the region with greater logistics opportunities as cargo once bound for the West Coast will come through the canal on its way to the Eastern U.S.
Congdon says his committee's top priority will be to develop a regional master plan to assess the region's assets and possible future infrastructure improvements such as an intermodal rail hub. The committee's due diligence will include study of aerotropolis development in areas including Dallas, Indianapolis, Detroit and Huntsville, Ala., he says.

S.C. Aviation Park Eyes Momentum with Name Change
The South Carolina Technology and Aviation Center in Greenville, S.C., the industrial park formerly known as Donaldson Center, has been around for 45 years, but has had its current name for less than a year.
"It more accurately describes who we are," SCTAC president and CEO Jody Bryson says. "We rebranded because we needed to use the South Carolina name to capitalize on the state's good business reputation."
SCTAC, a former U.S. Air Force base, is home to the state's largest general aviation airport. It is also home to several aviation companies, including
Cytec
, which is in the midst of a carbon fiber manufacturing plant expansion due to be completed by the end of the year. Total investment in the expansion could fall between $200 million and $250 million.
Bryson says the current economic downturn has placed one potential SCTAC aviation project on hold. He can't reveal the company's name, but says it would involve an assembly and finishing operation: "We know we are on their short list in the U.S. They put the brakes on it, but we feel like it will come back around."
Bryson says SCTAC plans to develop its second runway, a 5,000-ft. (1,524-m.) strip that is inactive, as a potential aviation-manufacturing site.
"It gives us a 275- to 290-acre [111- to 117-hectare] parcel where that runway could be used as ramp space and can be developed on both sides. We think the site is going to serve us well, especially as the economy rebounds."
SCTAC is seeking federal funding for most of a $4.5-million project to improve its taxiway.
Site Selection Online – The magazine of Corporate Real Estate Strategy and Area Economic Development.
©2009 Conway Data, Inc. All rights reserved. SiteNet data is from many sources and not warranted to be accurate or current.