on't tell Britt Weaver that the outlook for solar cell manufacturing is being dimmed by an over-supply of product and resulting price rollbacks.
The chief financial officer of
Sencera International
begs to differ, at least when it comes to demand for his company's products and the role his firm's location plays in meeting that demand.
"We make solar modules, or panels, and we are hiring workers in North Carolina right now," says Weaver, who is overseeing a US$36-million manufacturing and headquarters expansion for Sencera in Charlotte.
"We have been here since 2003. We looked at other locations before deciding to stay right here," he adds. "The State of North Carolina incentives, as well as the access to workers from around Mecklenburg County, helped us remain in Charlotte."
So did the location: next to Interstate 85 and only one block north of Charlotte Douglas International Airport. Access to local and global markets was a huge selling point in convincing Sencera to expand in Charlotte.
The company will add 65 jobs over three years as part of the expansion, which will more than double the firm's space to about 24,000 sq. ft. (2,230 sq. m.).
Sencera's expansion comes even as other solar manufacturers experience reduced profit margins caused by shrinking prices and a glut of product on the market.
After five straight years of double-digit growth, makers of photovoltaic cells and solar panels saw their fortunes change in late 2008 and early 2009 as prices for their output started dropping. Prices for rooftop solar systems – the dominant solar energy product on the market – have dropped 10 percent since October 2008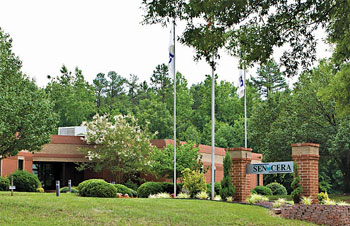 and are predicted to dip another 15 to 20 percent by the end of 2009.
"Solar panel prices are tumbling," says Wilson Rickerson, a Boston-based consultant who focuses on renewable energy policy and markets. "With the economic downturn, the capital markets have tightened up and raw material prices are coming down in general. Spain, which had been the most super-heated solar market in the world, panicked and backed off their feed-in tariffs. As a result, they were left with a glut of solar panels. These panels are now looking for homes around the world. They are kind of stranded for the moment."

Policy Shapes Solar's Future
Rickerson, founder and principal of Rickerson Energy Strategies and the policy advisor at the Center for Sustainable Energy at Bronx Community College in New York, says there are many factors that influence the growth of solar energy manufacturing both in the U.S. and abroad.
"Public policy at the national level is the main driver," he says. "Germany, Spain, Japan and California have been the global leaders in enacting policies that foster the growth of the solar energy industry. Internationally, the U.S. is behind, but the extension of the 30-percent federal investment tax credit for solar through 2016 was big. This is for both commercial and residential use, and utilities were allowed to take advantage of the tax credit for the first time."
Solar energy development in the U.S. is expected to receive a big boost from the recent passage of President Obama's economic recovery plan, which includes $50 billion for renewable energy projects.
The second major issue is the "financial crisis that wiped out a lot of the banks that had the tax credits," Rickerson says. "In that void, there is a scrambling for capital. Solar and wind energy companies are calling for refundable and tradable tax credits. That is, if you don't have tax equity, you can trade credits or get a refundable credit from the government instead of a tax write-off. That is what everyone is pushing for at the federal level."
The third major driver is state policy, he adds. "The existence of rebates can be a big factor. With a $3 to $5 per-watt rebate, solar energy can get a boost from states. Renewable portfolio standards (RPS) with carve-outs for solar are also pivotal. For example, in New Jersey and Maryland, the RPS states that 2 percent of their states' energy must come from solar. The District of Columbia has a similar carve-out; so does Pennsylvania."
In terms of state policy, Rickerson considers California to be "far and away the market leader. New Jersey, with a solid record of support for solar, has been market number two. Three is Nevada largely because of the 18-megawatt Air Force base project under construction. And four is Colorado."
Ernst & Young, which quarterly produces a
Renewable Energy Attractiveness Index
, offers its own ranking of the top solar locations. According to E&Y, California is the best location for solar energy, followed by Texas and New Mexico, which are both tied for second. New York is fourth and Oregon fifth in the latest E&Y ranking.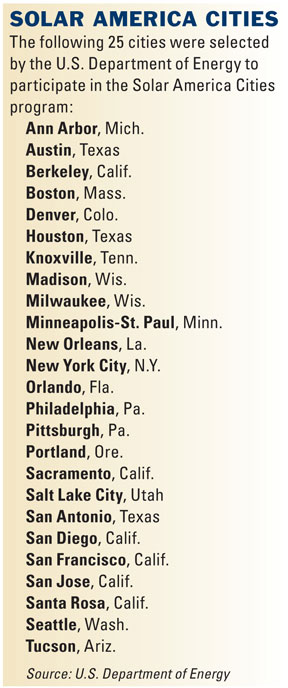 E&Y forecasts a bright outlook for solar power across the U.S. "Two large solar power plants are to be built in California that together will produce more than 12 times as much electricity as the largest such plant operating today – the latest indication that solar energy is starting to achieve significant scale," the E&Y report states. "Pacific Gas & Electric has signed an 800-megawatt PV solar power agreement with
Optisolar Inc.
and
Sunpower Corp.
, which will be constructing the 550-megawatt and 250-megawatt plants, respectively."
Also in California,
Stirling Energy Systems
announced in late 2008 that its planned 750-megawatt solar power plant had cleared a key hurdle in the development process by securing a permit from the California Energy Commission.
Elsewhere, Sunpower was selected by
Florida Power & Light
to build two PV plants at the Kennedy Space Center. The two projects will have installed solar capacity of 25 megawatts and 10 megawatts, respectively, according to the E&Y report.

Germany, U.S. Top Global List
Internationally, E&Y reported that Germany overtook the U.S. to become the most attractive global location for solar energy. The U.S. remained a solid second, followed by Italy, Spain, India and Australia. Rounding out the top 10 were France, Greece, Portugal and Austria.
Within the U.S., Rickerson says the Department of Energy's Solar America Cities program could go a long way toward "knocking down as many barriers as possible to solar growth."
The DOE selected 13 cities to participate in the program in June 2007 and added another 12 cities in March 2008 to help lay the foundation for a solar energy market that can serve as a model for cities around the nation
Rickerson serves as the liaison for Boston's Solar City program. "Each city is given a pot of money by DOE to lay out a solar energy plan and then implement it," he says. "In Boston, we are doing things like budgeting $200,000 for technical lab assistance through DOE grants."
Other cities are following suit. "Portland [Ore.] has commercial and residential solar permitting guides. Berkeley has been doing a property finance model," Rickerson says. "Ann Arbor has mapped the whole city for solar water heating by 2015. And San Francisco is developing its own rebates for some 700 solar installations."
Editor's Note: For a comprehensive list of solar energy projects in the U.S. and around the world, go to the "Project New America" section on
www.SiteNet.com
.
Site Selection Online – The magazine of Corporate Real Estate Strategy and Area Economic Development.
©2009 Conway Data, Inc. All rights reserved. SiteNet data is from many sources and not warranted to be accurate or current.