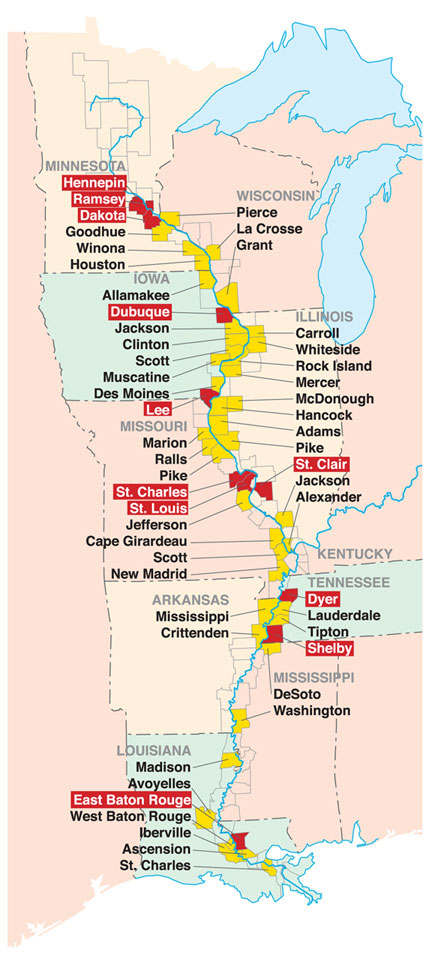 The Dubuque Solution
H
igher education has a way of exerting gravitational pull, whether it be the power of the past or of the future.
Two years ago, Mike Blouin, director of the Iowa Dept. of Economic Development, a 2006 gubernatorial candidate and a former member of the U.S. Congress, Iowa Senate and Iowa House, decided to take on a new post: president of Greater Dubuque Development Corp.
"Dubuque was my first home in Iowa," Blouin says, citing his graduation from Loras College. "I always wanted to find a way back." Spoken like a true citizen of the county whose attractions include the "Field of Dreams" movie site to the west near Dyersville.
Sometimes the field of dreams is a field full of talent. In January 2009, IBM announced it had found its own way to Dubuque to establish a 1,300-job technology services delivery center, to be located in a landmark department store building downtown. Part of the allure was the higher education infrastructure, beginning with Loras, Clarke College, the University of Dubuque and Kirkwood Community College in the immediate area — quite a pool of post-secondary resources for a city of 58,000.
"There are 30 colleges and universities within 90 minutes of the IBM location in Dubuque, producing about 2,000 IT grads a year," explains Joe Dzaluk, vice president of global infrastructure and resource management, IBM Global Technology Services.That number includes some with which IBM already had relationships. "We met with the presidents of seven or eight of the largest universities, sat down with them and reviewed their curricula. We're excited about the opportunity to partner with those universities. We can ensure they stay connected to the marketplace, and they can ensure their students are coming out competitive."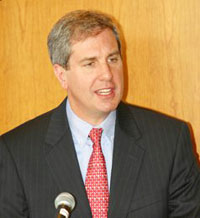 IBM hopes to employ several hundred by the end of 2009, and 1,300 by the end of 2010. While the company declined to reveal its finalists out of the hundreds of communities it surveyed, Blouin says the six finalists included Greenville, S.C.; Morgantown, W.Va.; Bloomington, Ind.; Columbia, Mo.; and Laramie, Wyo. — "five university towns and us." But the small private schools that dot the Midwest carry cumulative weight, as does the University of Wisconsin-Platteville, only 30 minutes away. Blouin says about 60 percent of the 7,000 students in Platteville are engineering students, with about two-thirds of those in IT fields.
"We have enough post-secondary institutions in a 20-minute circle to amount to about 18,000 students," says Blouin. "Throw it out to a 100-mile [161-km.] radius and we have about 23 colleges and universities in that circle. And there are two million to three million people in that same radius."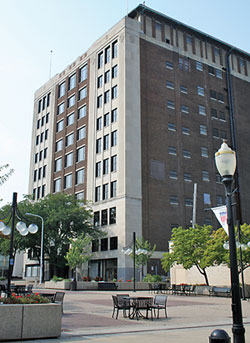 Since Blouin's arrival, the corporate project track record of this river city near the Wisconsin and Illinois state lines has catapulted Dubuque to the upper echelon of economic development along the Mississippi River's entire length. The river's leading counties are concentrated in the Memphis, Minneapolis-St. Paul and St. Louis metro areas. So where does Dubuque come from?
The answer may be found amid its surprising blend of business sectors. Dubuque launched 2008 on a roll, with expansions from Minnesota-based Midwestern stalwart Hormel ($89 million, 180 jobs), Michigan-based International Transmission Co. ($3 million, 30 jobs) and Wisconsin-based hydraulic controls maker HUSCO International in nearby Maquoketa ($20 million, 200 jobs), following that up with a $3-million, 17-job expansion announced in June 2008 by Dubuque Stamping & Manufacturing.
All are great projects in tough times, from great industrial companies. But who could have foreseen the IBM project from the community's track record? Mike Blouin says the project will do for Dubuque's white-collar economy what John Deere's arrival in the 1940s did for its blue-collar economy: "It will change the standard," he says. "It will make things happen."

Musical Chairs
IBM began to make things happen starting in spring 2008, when a typically cross-functional team began looking at siting a new global delivery center somewhere in the United States. The most recent project in that category had opened in Brno, Czech Republic, in 2006, when the company also opened an integrated delivery center in Johannesburg, South Africa.
Dzaluk is responsible for 8 million sq. ft. (743,200 sq. m.) of global data centers that IBM runs on behalf of its strategic outsourcing customers, as well as 3 million sq. ft. (278,700 sq. m.) of office space such as this center, which will support the data center needs of IBM customers.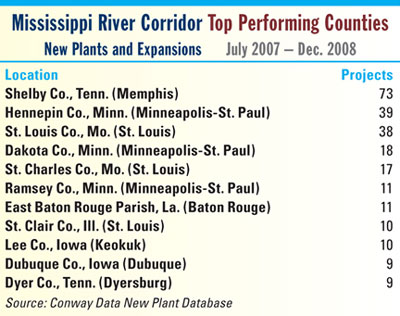 "We started with a clean piece of paper, with no preconceptions," says Dzaluk, whose 27 years of IT industry experience include senior IBM positions for the Europe, Middle East and Africa (EMEA) market as CFO of Global Technology Services and general manager, integrated technology delivery. That sheet of paper turned into several pages of criteria, lumped under such headings as economics and demographics, as well as a catch-all category that included flexibility, time to occupancy and the ability to meet the goals of IBM's green strategy — Dzaluk leads the team pursuing IBM's Project Big Green initiatives, and is aiming for LEED-Gold certification on this project.
The Depression-era structure, now called the Dubuque Building, will see some infrastructure upgrades in terms of generators and uninterruptible power supply (UPS) equipment. Dzaluk's team is also pursuing energy efficiency improvements such as an insulation upgrade and a reflective roofing system and the use of geothermal energy for heating and cooling. The measures fit in well with the city's own Sustainable Dubuque plan, which aims to merge goals involving economic, environmental and social equity needs in the community.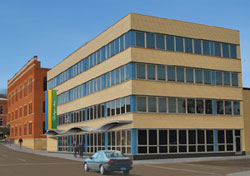 As it happens, another downtown building with a new geothermal heating system played a part in the IBM project, as other companies worked with Dubuque. McKesson, which occupied space in the Dubuque Building, is moving to a facility formerly occupied by contact center firm WS Live in the Dubuque Technology Park in nearby Key West. WS Live is moving its contact center headquarters into the newly renovated Interstate Power Company Building downtown.
"The negotiations were indirectly connected to IBM," says Jeff Mentzer, WS Live CFO. "The decision to relocate was a separate negotiation, but where and when were not yet determined when we started the process. As we worked through our site selection options, the building developer and City jointly approached us about a) relocating downtown to the Interstate Power Company Building and b) doing it quickly, as the timing of exiting our old building became critical to the City being able to put a proposal together that met all parties' needs."
Mentzer says the number of job applications for the expansion has been "considerably higher than anticipated," but says it's too early to say how many new jobs will ultimately be created.
The moves complete a circle of sorts: WS Live's predecessor company, Advanced Data-Comm, occupied space in the Dubuque Building between 1988 and 1999.

Fill 'Er Up
While Dzaluk's focus for data center site selection is on such factors as electricity costs, bandwidth availability and other building and hardware items, the focus for this delivery center was on such factors as IT salaries, annual operating expense, labor pool demographics from IT graduates to tech school graduates and average housing prices, as well as available incentive packages from federal, state and local governments.
Dzaluk says the fact that IBM wanted to occupy by June 2009 made for "a very accelerated schedule," but says that was not a deciding factor. He says the company put out an RFP to finalist locations asking for demographic and other detail, and spent a lot of time doing "physical, on-the-ground due diligence.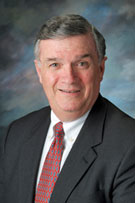 So did Blouin's team.
"We did substantial research on the current work force within the 100-mile [161-km.] radius, as to people who worked in occupations comparable to what the company was providing us," says Blouin. "We knew how many workers there were, and were able to drop a 22,000 figure in front of them. Why is a company moving ahead in this economy? This is when their business is growing. And to move ahead when there is a pool of unemployed workers is a great time to do it. You'll never have a better chance to fill up from the worker side.
"We went to every college and asked about IT offerings," Blouin continues, "numbers of students enrolled in those offerings, the capacity of those offerings, their willingness to expand those programs, and the willingness of the student body [to stay in the area] if they could find a professional pursuit."
As for the real estate, "we kept our options open," says Dzaluk, regarding owning, leasing, greenfield development or finding an existing building. "We had an opportunity here with the Dubuque Building to do a lease with the city, and it made good economic sense for us."
Though the company is cutting back in sales and software development, it's ramping up services positions in the Upper Midwest, including a new, 1,500-job application development and support services operation on the campus of Michigan State University in Lansing. When asked just how many Dubuque positions might be filled by IBM-ers relocating from other communities, Dzaluk says, "Our current plans are for a small number of the positions early on to be transferred from existing IBM locations, to help as we're bringing on [new staff], but the majority of staff in this location will be hired locally."
The service delivery center in Dubuque will provide server systems operations to IBM clients in the U.S. Dzaluk says the center will connect with other global delivery centers in Brno; East Fishkill, N.Y.; Boulder, Colo.; Buenos Aires, Argentina; Sao Paulo, Brazil; Shenzhen, China; and India.
"The goal is to deliver on global and national contracts with common processes and tools," he explains. Hiring is under way for the center, for different groups operating under the monikers "Rhythm," "Blues," and "Jazz." Dzaluk says lessons from other delivery centers' operations automatically are injected into the many work streams of the new project.

A Transformative Project Gets a Watershed Package
Dzaluk says the alliance of Greater Dubuque Development Corp., Dubuque Initiatives, the City of Dubuque and the Iowa Dept. of Economic Development made a strong impression.
"We viewed them during the decision process and since then as true partners," he says. "People use that word all the time, but clearly they did differentiate themselves with their willingness and can-do attitude, and they continue to do that."
Blouin says the key dollar figure is not the project's capital investment, but IBM's planned salaries of $80 million a year over its initial 10-year lease. That kind of number justifies the final incentive package of between $52 million and $55 million, which was still in the final stages of government approval at press time.
"The city is not only offering them a 20-year TIF, which is pretty long for most TIFs, but a private non-profit entity is buying the building and borrowing $25 million for major renovations, and the city is guaranteeing that $25 million with a 20-year interest-only loan payment," says Blouin. "The building sits in an urban renewal zone, which give them a fallback option if the tax credits fall short in their ability to attract from New Markets credits, historic district credits and the like."
A training package worth between $8.5 million and $10.5 million, depending on actual wages, is on offer from the state's community college system. Meanwhile, the state is offering $11.7 million, plus tax credits of approximately $1.25 million and another $450,000 to help the Dubuque Initiative buy the building. Blouin calls it "an aggressive incentive package for the Upper Midwest" and "the largest package I'm familiar with in the state's history."
Ultimately, he says, "We answered every question they had, and they liked what they saw."
He hopes more companies like what they see in an adjoining 17-block warehouse district that is in the early stages of conversion to mixed use.
"I've always looked at it as 20 years down the road," Blouin says of that project, "but IBM makes this happen in 10 years. This is the type of community where entrepreneurs and venture capitalists want to live. That area will take on a life of its own."
That is just what Dubuque has done since its industrial malaise of the 1980s, as a white-collar market has gradually acquired critical mass even as traditional industry also grows.
"Right now we're flying high," says Blouin, "If we do justice to IBM, they will not only continue to grow, but they will be a magnet for other companies that will want to be in the area."
Site Selection Online – The magazine of Corporate Real Estate Strategy and Area Economic Development.
©2009 Conway Data, Inc. All rights reserved. SiteNet data is from many sources and not warranted to be accurate or current.