H
anesbrands
has long drawn accolades for its top-quality underwear, legwear and athletic apparel. Now the company is forging a reputation for green buildings as it implements a new real estate strategy following its spinout from Sara Lee Corp. in 2006.
The latest and largest example of this strategy can be found near Perris, Calif., halfway between Riverside and Murietta along I-215, where the company began shipping in January from its new 1.3-million-sq.-ft. (120,770-sq.-m.) distribution center, the largest in the company's global supply chain. It quadruples the company's West Coast distribution capacity.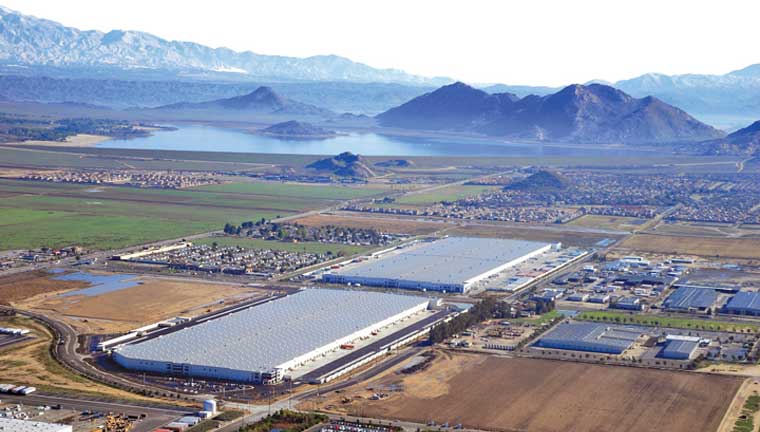 Hanesbrands is seeking Leadership in Energy and Environmental Design (LEED) certification for the facility from the U.S. Green Building Council, which would make it the largest LEED-certified distribution center in Southern California and one of the largest in the world.
"Hanesbrands has been committed to reducing its carbon footprint," says Kevin Dollhopf, Hanesbrands' vice president of global real estate. "We already use a significant amount of energy from renewable sources, and our goal is to double that in the next few years. We have a well-defined energy policy for the company, signed off on by all senior management. LEED certification is the standard for all new construction. LEED is very important to us, and it's part of an overall larger energy conservation program. Reducing our carbon footprint is a very sound business strategy because it also reduces our cost of operating facilities."
Dollhopf says Hanesbrands anticipates receiving LEED-Silver status, but notification might not come until near the end of the year. He says the company is considering adding solar power generation on the roof, which could take certification to the highest LEED level.

Port Proximity Was Pivotal
Access to major ports, particularly the Port of Long Beach some 60 miles (97 km.) to the west, was the primary factor for Hanesbrands in locating in Perris. The company also looked at other sites in the West and Midwest based on transportation considerations.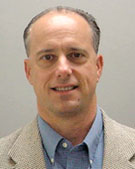 "A lot of our product is now coming from Asia," Dollhopf says. "Previously, we operated from a legacy perspective in the Southeast where our textile manufacturing was, but now we have several strategies going. We are moving toward fewer, but larger, facilities with better transportation access. Southern California is very attractive because of its access to ports."
Dollhopf says Perris is located to the southeast of the traditional Inland Empire distribution center market, and offers definite advantages. Perris is about 20 minutes from the historic core of Inland Empire markets, he says.
"The available land is better and the cost of real estate is better," Dollhopf says. "The Perris submarket has really been a hotbed of new spec development and project growth. It offers, in our view, a competitive advantage to traditional Inland Empire markets," where "there has been a lot of infill, land costs more and lease rates are higher. The land availability [in Perris] has allowed developers to take some nice pieces of land that lay out very well for industrial development. There were no time delays due to zoning, and officials with the City of Perris were fantastic."
The facility, which sits on a 60-acre (24-hectare) site, is Hanesbrands' largest among its broad portfolio of 27 million sq. ft. (2.23 million sq. m.). Hanesbrands' distribution centers are a mix of leased and owned space. Dollhopf says the company currently owns about 50 percent of its facilities, leases 40 percent and outsources 10 percent to third-party logistics firms.

Fewer and Larger
Dollhopf says since Hanesbrands was spun off from Sara Lee in 2006, it has a more focused real estate department.
"We do much better planning with our real estate assets," he says. "We are transforming our whole distribution network out of a legacy network, with more modern facilities."
At the end of 2005, the former Sara Lee division operated 34 distribution centers with total floor space of 8.1 million sq. ft. (752,490 sq. m.). Now, it has 23 covering 7.5 million sq. ft. (696,750 sq. m.). That means a 32-percent reduction in number of facilities, but only a 7.4-percent reduction in floor space.
Most of the products coming in to the Perris facility will be from Asia, but a small amount will be from Hanesbrands' factories in Central America. Some shipments may eventually include finished products made from Hanesbrands' textiles manufactured at a new plant in China. Most of the company's products that are manufactured in Honduras and the Dominican Republic are shipped direct to the U.S. from distribution centers in those countries.

Focus on Detail
"From a size perspective, for any project, from a small office all the way up to a distribution center, effort needs to be made in planning, coordination and education," Dollhopf says. "Focus needs to be applied to construction, and that's where the core lies in being successful with a project that size, because so many contractors are in place. Every aspect has to be filtered through the LEED process. That takes very strong project management skills, paying close attention to detail, more so than just a regular construction project. It's a significant effort."
Once the site was selected, the Perris project moved quickly, especially for a building of its size. The company began shipping from 700,000 sq. ft. (65,030 sq. m.) of the distribution center in January and will start up operations in the remaining 600,000 sq. ft. (55,740 sq. m.) in April. Hanesbrands is leasing the distribution center, and has retained NFI, a third-party logistics provider based in Cherry Hill, N.J., to manage the facility. The Perris center will replace a 360,000-sq.-ft. (33,444-sq.-m.) distribution center in Rancho Cucamonga, Calif.
"One of the beautiful things about this deal, which started in September of 2007 and began operations in November 2008, is the 14-month time frame," Dollhopf says. "There was a significant amount of spec development proposed there in 2007, and we just had to get in and make changes for LEED and our requirements. There is nothing special purpose about the building. The more specialized nature comes inside with our own equipment. We tried to keep the design and building as flexible and investor friendly as possible."
Dollhopf says Hanesbrands will continue to consolidate into fewer and larger facilities that best serve its U.S. customers. Although no other projects are currently under way, he says a number of future moves could happen based on product mix.
Despite its mammoth size, the Hanesbrands facility is not the largest DC in the neighborhood. Whirlpool operates a 1.6 million sq. ft. (148,640-sq.-m.) building across the street.

Beverage Maker Pops Top in Victorville
In Victorville, about 65 miles (105 km.) to the north of Perris,
Dr Pepper Snapple Group
, the Plano, Texas-based soft drink conglomerate, is also taking the LEED route in construction of its new $120-million plant and distribution center at the Southern California Logistics Airport. The plant, located on a 57-acre (23-hectare) parcel, will consist of 550,000 sq. ft. (51,095 sq. m.) of warehouse space and a 300,000-sq.-ft. (27,870-sq.-m.) manufacturing plant with up to six manufacturing lines. Dr Pepper Snapple looked at other sites in California and in Nevada and Arizona.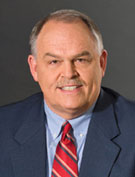 "Victorville had more of the pluses we were looking for, such as a pro-business environment and available skilled labor," says Derry Hobson, Dr Pepper Snapple's executive vice president of supply chain. "The location was a positive. It's close to a large population. People don't want to drive to Los Angeles when they can work for Dr Pepper Snapple."
The Victorville operation will employ approximately 200. Hobson says sufficient available land supported by a strong road network was another key, allowing the company good infrastructure for movement of supplies and products. Like the Hanesbrand project, the project's site search was subsequent to changes in the company. Dr Pepper merged with Snapple in 2006, necessitating a re-evaluation of the combined distribution systems. That strategy involves moving production closer to markets.
"By moving production, we save money on freight and get the benefit of being environmentally friendly," Hobson says.
Dr Pepper Snapple broke ground on the project in February. Hobson says the company expects to be operating the distribution center by the end of the year and the manufacturing plant will open in 2010. The plant will produce 40 million cases of beverages annually.
Hobson says his company encouraged its major supplier of plastic bottles,
Plastipak
, to locate at the SCLA, and the company recently signed an agreement to do so.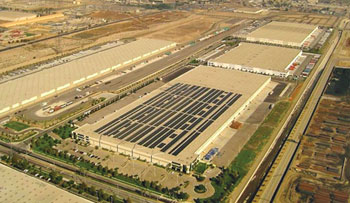 The ProLogis Portfolio
ProLogis, the largest owner of industrial distribution space in Southern California, has leased approximately 282,000 sq. ft. (26,197 sq. m.) in Ontario to
Safelite AutoGlass
, the nation's leading provider of vehicle glass repair and replacement services. Safelite will occupy space at ProLogis Park Ontario Airport, in a newly constructed, 681,000-sq.-ft. (63,265-sq.-m.) facility. The park is located off Interstate 15 midway between Interstate 10 and the Pomona Freeway, minutes from the Ontario International Airport, and comprises approximately 1.9 million sq. ft. (176,510 sq. m.) in six buildings. Safelite occupies space with ProLogis in various locations across North America.
"The Inland Empire West submarket provides excellent regional access to Los Angeles, Orange County and San Diego, as well as Arizona and Nevada," said Mike Del Santo, first vice president and market officer for ProLogis. "Due to its proximity to the Los Angeles Basin, this submarket continues to be the first choice among many of our customers in the region."
ProLogis owns approximately 45 million sq. ft. (4,180,500 sq. m.) of industrial distribution space across 198 distribution centers in Southern California. The company is currently in the midst of trying to sell 33 million sq. ft. (3,065,700 sq. m.) in distribution space in the U.S., but apparently little, if any, of the property is in Southern California. Just prior to reports of the broad U.S. sell-off being published in February, ProLogis released the following statement, attributed to Del Santo, in response to a query from Site Selection on current logistics industry conditions in Southern California:
"ProLogis has owned, managed and operated distribution centers in Southern California for more than 15 years. And, as a leading global provider of distribution space, we have seen both the local and global markets through many changes. While the current economic environment is challenging, ProLogis is well positioned in Southern California. Our long-term focus on the area remains positive, knowing that the most attractive attributes about the market stay intact, regardless of the current economic climate.
"We are still experiencing a steady level of interest from both new and existing customers for distribution space throughout Southern California," he continued. "In the past 60 days ProLogis has leased just under 1.2 million sq. ft. (111,480 sq. m.) of new facility space to major logistics users in the region."
Site Selection Online – The magazine of Corporate Real Estate Strategy and Area Economic Development.
©2009 Conway Data, Inc. All rights reserved. SiteNet data is from many sources and not warranted to be accurate or current.