enver Mayor John Hickenlooper wants to make his city and region among the greenest in the world. To do that, he's going to need help from companies like
Ascent Solar
and
Vestas Wind Systems
, two firms that recently expanded in the area surrounding the Mile High City.
The mayor's Greener Denver program aims to reduce the emission of carbon gases while creating jobs in the clean, renewable energy sector. "We want green savings, green opportunities and green talent," Hickenlooper tells Site Selection. "And we want to help local businesses grow the demand for green products and services."
Enter Ascent and Vestas, at locations just north of the city center. On March 25, Denmark-based Vestas broke ground on two wind-energy manufacturing facilities in Brighton that will create 1,350 jobs, a day after Ascent Solar opened its world headquarters and manufacturing plant in Thornton. The developer of thin-film solar modules will add 200 jobs over the next two years.
To the mayor of Denver, these projects are just the beginning. "Our goal is to create a green work force," he says. "This whole effort has a business arm; we call it Greener Denver Business. It is part of how we grow innovative products and services in the metro Denver market and how we build up our emerging clean-tech center."
Hickenlooper says success stories like Ascent and Vestas are no accident. "We have been working on the wind and solar sectors since 2003, and our governor has made this a priority," the mayor notes. "We are one of the best places in America to locate wind energy, and we have 300 days of sunshine and a lot of potential for solar power."

No Contest
Brian Blackman, director of investor relations for Ascent Solar in Thornton, tells Site Selection that his firm never considered any other location besides Colorado.
"We are based in Colorado, and while the company had experience in locating plants in two places, we did not want to have to deal with travel or logistics issues. The Denver area made sense for a lot of reasons. It has a lot of sun. The area is very pro-renewable energy. Other solar companies are located here. A lot of R&D operations are based here, as is the National Laboratory of Renewable Energy. The weather and the people here are nice, and metro Denver has rapidly become a hub for this industry."
The US$4-million Ascent plant creates 65 jobs initially in Thornton. The company recycled an existing 120,000-sq.-ft. (11,148-sq.-m.) building and expanded it to 145,000 sq. ft. (13,471 sq. m.) for the manufacture of 30 megawatts of solar capacity.
Blackman says Ascent chose Thornton because "it has an interesting footprint of technical companies. We looked at facilities throughout the Denver area, but the representatives of this facility showed an aggressive interest in having Ascent Solar locate there. This building quickly became the best that money could buy, the best dollar-for-dollar value in real estate. It is very close to the highway, with convenient access to the airport," he adds. "It is a good location for shipping logistics, and it is the right size."
The firm also likes the surrounding high-tech support, notes Blackman. "The area colleges and universities hold an important role in our industry," he says. "The local schools are beginning to offer green-tech degrees. They have a big influence in how they drive the future of this industry. Colorado State and other universities have shown a lot of promise."
Love Letters from Colorado?

Complex Dilemma, Elegant Solution
Officials at Vestas cited similar factors. "Vestas selected Brighton for its central location and access to rail services, highway infrastructure and a qualified work force," said Ole Borup Jakobsen, president of Vestas Blades, at the ground-breaking. "We also chose Brighton for its proximity to the blade factory in Windsor that opened in 2008."
Since last year, Vestas has either opened or announced four new plants in Colorado: a $110-million nacelles factory in Brighton; a $180-million wind turbine blade plant in Brighton, a $270-million wind tower manufacturing facility in Pueblo; and the $60-million blade factory in Windsor.
Altogether, the four facility projects represent 2,300 new jobs and more than 1.5 million sq. ft. (139,350 sq. m.) of new manufacturing space in Colorado.
"From an outbound logistics perspective, Colorado offers a highly central location for the transportation of wind turbine components to customers in North America," said Soren Husted, president of Vestas Nacelles. "At the same time, Vestas is enhancing its U.S. supply chain, and location plays a key role in securing efficient inbound logistics to the factories."
Gov. Bill Ritter pledged to focus on the new energy economy as soon as he took office two years ago. That was about the time Vestas started searching for a North American manufacturing location, with the selection of Windsor for a blade factory after an initial examination of 72 sites in five states and provinces.
The company announced a doubling of that plant's size at its opening in 2007. In early 2008, writes Laura Brandt, manager, economic development for the Metro Denver Economic Development Corp., "Vestas proposed an expansion package of three more factories in Colorado and asked Metro Denver EDC and the Colorado Office of Economic Development and International Trade to 'be like Avis – try harder.'
"In April 2008, negotiations for the Windsor expansion site fell apart," she continues. "Vestas asked us to start over with a new search – not an easy task since Vestas had already seen all of the large industrial sites with rail."
Then, she writes, "dumb luck" helped out.
"
We believe that the metro Denver region was
was the last one into the recession,
and we plan to be
the first one out.
Our green energy strategy will help get us there.
"
"The Regional Transportation District had arranged to buy land as part of its proposed deal to move key Union Pacific Railroad operations from Denver to Fort Lupton," she recounts. "RTD planned to use vacated UP property in central Denver for the FasTracks train to Denver International Airport and a commuter-rail maintenance center. To get a head start on the possible relocation, Union Pacific started acquiring key properties in the Fort Lupton/Brighton area, with RTD pledging to reimburse the freight railroad for the purchases.
"In January, RTD said a UP study put the full cost of the relocation project at about $700 million – more than RTD could afford," Brandt says. "That killed the relocation. But RTD was willing to accept an unsolicited offer to purchase some of the property – land RTD did not need or want – for the price paid. And the City of Brighton agreed to sell an adjacent parcel that it owned."
News of the negotiations leaked in July 2008, but, Brandt says, "relationships and trust helped dodge the bullet. In August, Vestas announced the decision to build a second blade manufacturing facility and a nacelle assembly plant in Brighton, which together will create an estimated 1,500 new jobs. A week later, Vestas announced that Pueblo will be the home of the largest tower manufacturing plant in the world, which will require 550 new workers. Together, these facilities annually will produce 3,600 blades, 1,400 nacelles, and 1,000 towers. Site selection transitioned to development assistance. The new plants are expected to come on-line in November 2009."

Jump Into the Jet Stream
The ground-breakings in Colorado are part of a whirlwind of activity for Vestas. Last year, the company opened a purchasing office in Chicago and an R&D office in Boston. Vestas also recently established a research center in Houston.
"These new Vestas factories are important steps in helping the U.S. wind energy market move forward," says Roby Roberts, vice president of external relations at Vestas Americas. "These announcements in Colorado are very confirming. Despite the economic downturn, Vestas is moving forward with these projects. It is part of our company's commitment to the U.S. market. We are making a big investment here."
"Colorado has gone after the wind industry for at least 10 years," says site selection consultant Ed McCallum of McCallum Sweeney Consulting in Greenville, S.C.. "The first major cities for wind energy in the U.S., as you move across the country from west to east, are Denver, Colorado Springs and Pueblo. If you are going to service that part of the country, those cities are a good place to be. And with wind energy, you can't just place one plant and expect to serve the whole market. You have to be in multiple locations."
That is Vestas' strategy, and the folks in the Denver region welcome it.
"When you look at wind as a resource, every day at five o'clock in the afternoon, the low jet stream goes at about 100 meters [328 ft.] in the air and blows all the way across the country to Western Minnesota," says Tom Clark, executive vice president of the Metro Denver Economic Development Corp. "We are located right in the middle of that jet stream. When you couple our transportation advantage with our intellectual capital, that made us the focus of Vestas' interest."
What's next for the Greener Denver program? "The creation of the world's first smart-grid city," says Clark. "It was approved by the World Economic Forum in Davos, Switzerland, and that city is Boulder. The grid will ultimately be the battery that will wield energy from solar and wind power. Boulder is literally a living laboratory."
Mayor Hickenlooper says that he, for one, welcomes the spread of alternative energy projects throughout the region.
"It is part of our LIFO strategy – last in, first out. We believe that the metro Denver region was the last one into the recession, and we plan to be the first one out. Our green energy strategy will help get us there."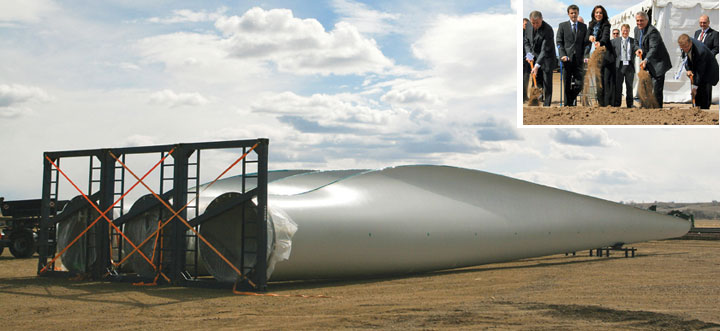 Site Selection Online – The magazine of Corporate Real Estate Strategy and Area Economic Development.
©2009 Conway Data, Inc. All rights reserved. SiteNet data is from many sources and not warranted to be accurate or current.