entucky's landing of the
National Alliance for Advanced Transportation Batteries
(NAATBatt) manufacturing facility for lithium-ion battery cells was a classic case of preparation meeting opportunity head on. NAATBatt announced on April 13 that Kentucky had won out over seven other states vying for the US$600-million first-of-its-kind factory.
NAATBatt is a not-for-profit industry consortium of more than 50 corporations, associations and research institutions dedicated to making the U.S. a world leader in the manufacture of advanced lithium-ion (or Li-Ion) battery cells for transportation applications.
The 1,551-acre (628-hectare) site is in Glendale in Hardin County. It sits adjacent to Interstate 65 and the CSX rail line, runs along what is commonly called "Auto Alley" and will be submitted as part of NAATBatt's application to the U.S. Department of Energy. Under the federal stimulus plan, the Obama administration has set aside $2 billion for electric drive vehicle battery and component manufacturing projects.
If successful in securing federal funding, NAATBatt will establish a manufacturing campus in Glendale, which would consist of a headquarters facility, a manufacturing facility used to refine products and production processes, and a larger operation designed for mass battery manufacturing. Total square footage of the campus will be about 1 million sq. ft. (92,900 sq. m.). The project will create an estimated 2,000 jobs with salaries exceeding $40,000.
Sanford "Sandy" Kane, chairman and treasurer of NAATBatt's site selection committee, says Kentucky state officials reached out to NAATBatt early in its accelerated search process, and that gave them a leg up over proposals submitted by competitors Texas, Illinois, Kansas, Missouri, New York, Pennsylvania and South Carolina.
"With regard to Kentucky, to their credit, they reached out to us early in the process," Kane says. "People in Kentucky got in contact with Jim Greenberger [a Chicago attorney representing NAATBatt] as early as January, visited him in Chicago and got the process started. Things moved rapidly enough that we had a meeting in Kentucky by Feb. 20, even before we sent out proposals. They made a presentation and we met with the governor and other officials. These guys showed their level of interest early and clearly they were very serious. That gave them a significant advantage. When we sent out our request for proposals, they were already ahead of the power curve."

Need for Speed
Kane says Kentucky's pre-proposal turned out to be important because NAATBatt was under time constraints to apply for a share of the federal grant that is part of the economic stimulus program. That application had to be in the hands of the U.S. Dept. of Energy by May 19.
"We had to include where we would physically locate, what our plans are, what state and local incentives were, and we had to show to what extent we are getting matching funds from whatever sources. We didn't have much time to get moving with the process. From the time I sent out letters to governors, we only gave them a couple of weeks. Clearly, the fact that Kentucky started early gave them an advantage. It certainly wasn't an unfair advantage. It was their initiative, and I can't do anything but applaud them."
Kane says he sought proposals from the eight states that had already expressed an interest in the project. He received proposals from all eight, but the search never got to the point of having finalists due to the time constraints.
"We sent out letters dated March 8th and gave them two weeks to get back to us. Between March 23rd and April 10th when we notified the governor (Kentucky Gov. Steve Beshear), we were able to make our decision."
Kane has been in the site selection business, particularly for major projects, for a long time. He also served as the site selection chairman in the Sematech search, which resulted in the semiconductor project landing in Austin, Texas, 20 years ago.
"I have a lot of experience in site selection, and I haven't ever seen a team that put together a more committed or professional effort than Kentucky," Kane says. "Instead of sending a bunch of charts and e-mails, which others did, they created a private Web site and gave us a private password. On that site was everything you could possibly want in terms of details of the site. The governor did a video for us, and it was incredibly professionally done. It showed the level of dedication that went into the effort."
The large site is more land than the NAATBatt group could have hoped for, Kane says.
"It's dramatically more than we would have dreamed of. It allows us to think of creating a campus, either in battery systems or on the supply side. Companies have already expressed interest in collocating on the site with us. Kentucky is very excited about that possibility. This site provides the opportunity to do that where the other sites never would."
Kane anticipates the DOE will make a decision on funding this summer. In the meantime, all the permitting is done and the site is ready to go, he says.
"The DOE is interested in proposals that can get under way quickly. That will be important when they consider our proposal. Our plan is to get going as soon as we hear from them. We've contracted with CH2MHill, and they've already started designing the facility. Our goal is to have shovels in the ground this summer with the goal of producing batteries before the end of next year."

Two Schools of Thought
The Glendale site has been awaiting a tenant for about eight years since state and local officials assembled it in quest of a major auto assembly plant.
"We started assembling the site in 2001 for the Hyundai project and it was the runner-up to Alabama," says Rick Games, president and COO of the Elizabethtown/Hardin County Industrial Foundation. "When that didn't happen, we held it for a major industrial project."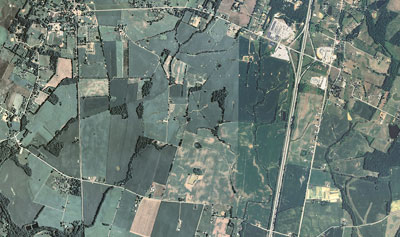 Since then, the site has been leased to local farmers who have planted it in corn and beans, Games says, adding that the site is about as shovel-ready as a site can get: "We've done all the work and it's rocking and rolling and ready to go."
Kane says the April 8th announcement of a partnership involving Kentucky, Argonne National Lab, the University of Kentucky and the University of Louisville to develop a new national Battery Manufacturing Research and Development Center in central Kentucky to help develop and deploy a domestic supply of advanced battery technologies for vehicle applications was icing on the cake.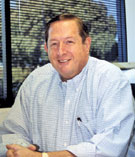 "Advanced batteries will play a significant role in the future energy and economic security of the United States," said Gov. Beshear in making the announcement. "At this time, nearly all large-scale advanced battery production is in Asia, with the United States having only limited manufacturing capabilities. To address this situation, the United States must quickly develop improved advanced battery technologies and significantly ramp up domestic production capabilities in order to become the hands-down global leader of these technologies."
The center's major goals would be to support the development of a viable U.S. battery manufacturing industry; make it easier for federal labs, universities, manufacturers, suppliers and end-users to collaborate; develop advanced manufacturing technology to reduce advanced battery production costs; and accelerate the commercialization of technologies developed at national laboratories and universities.
The center will be located at a site to be determined in central Kentucky to leverage the expertise and research facilities at the two universities. Complementary research and development capabilities and facilities will also be located at Argonne.

Hybrid Vigor
"The Kentucky-Argonne partnership will help in turning the tide on U.S. battery development and support President Obama's goal to have one million Plug-in Hybrid Electric Vehicles on the road by 2015," Argonne Director Robert Rosner said. "It will help to bridge the gap between research and commercialization by facilitating the development and deployment of advanced manufacturing processes for lithium-ion and other advanced batteries."
"Working one-on-one with faculty, post-docs and students will allow Argonne to help in the training of a broad battery work force," said Ed Daniels, director, Energy Systems, at Argonne. "Currently, there are too few trained battery engineers, scientists and production workers to conduct research and enable steady growth of the domestic advanced battery sector."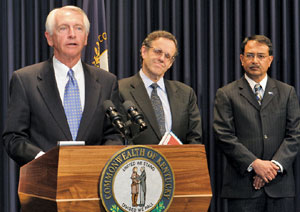 "The center will initially focus on lithium-ion battery manufacturing R & D," said Mark Peters, deputy associate laboratory director of Energy Sciences and Engineering at Argonne. "In the long-term, the center would help in the development of technologies that would enable a significant increase in energy densities, including lithium-air and zinc-air systems for vehicle applications and advanced batteries for cost-efficient and long-life grid power storage applications."
The center may be eligible to receive funding from the Commonwealth of Kentucky through bonds, research tax credits and other incentives programs for future spin-off companies. The universities will contribute land, buildings, donor funds, research and development grant funds and "Bucks for Brains" researchers. Argonne and Kentucky will also pursue funding opportunities.
Argonne is a multi-disciplinary research facility and the nation's leading federal lab for transportation-related research and development. Laboratory scientists and engineers perform basic and applied research on advanced materials and diagnostics for electrodes and cells; model battery life expectancy and electrochemical cell design and performance; and test cell and battery systems. Argonne will dedicate research and other staff to support the center.
Site Selection Online – The magazine of Corporate Real Estate Strategy and Area Economic Development.
©2009 Conway Data, Inc. All rights reserved. SiteNet data is from many sources and not warranted to be accurate or current.