&D is the biggest beneficiary of today's global pharma shakeout.
Spending on medicine and vaccine R&D by U.S.-based companies rose by $2 billion to $65.2 billion in 2008, according to the Pharmaceutical Research and Manufacturers of America and Burrill & Company. Part of that surge is a continuing outlay toward the web of institutions, contracting organizations and small ventures that partner with big pharma. Another chunk of change soon will be flowing toward the institutional slice of that network, thanks to $10 billion in new NIH funding and grant programs coming from the federal stimulus package.
The blend of activity signals continued vibrant health for the world's top contract research organizations, names such as Covance, Quintiles and PPD. A report released in April by Business Insights valued the sector at $18 billion in 2008 (a 14-percent jump over 2007), and projected continued hot growth, to a market value of $35 billion in 2013.
MPI Research
, headquartered in Mattawan, Mich., wants a piece of that action. That's why it's looking to hire 3,300 people in Mattawan and Kalamazoo over the next five to seven years, at an average salary of $50,000. It will use two former
Pfizer
buildings in downtown Kalamazoo to help reach that goal, planning on creating 400 jobs there by 2013. That total could climb as high as 800 eventually, says Ron Kitchens, CEO of Southwest Michigan First.
The project agreement, reached in spring 2008, harks back to the life sciences industry's roots in the community in the 1800s. But it also turns on a very 21st century issue: parking lots.
William U. Parfet, chairman and CEO of MPI, is the great-grandson of W. E. Upjohn, one of the founders of Upjohn Co. Upjohn merged with Pharmacia in 1995, and Pharmacia merged with Pfizer in 2002. The Pfizer buildings MPI will now occupy sit on land that was part of Parfet's grandfather's farm.
When Upjohn merged with Pharmacia, Parfet left Upjohn to buy a services company called IRDC out of bankruptcy. That firm would become MPI Research.
Paul Morgan, general counsel for MPI, says the company first broke into the black in 2000, and broke out with significant growth in 2002-2003, expanding at a clip of between 25 percent and 35 percent a year until the current recession slowed things down in October 2008. Since 1995, employment has grown from 200 to approximately 1,600.
Morgan, who joined the company in 2007 just as the germination of "Project Moving Parts" was taking place, credits the company's tactical move of "staying ahead of the capacity game in this business, knowing that the business was largely under-capacity. I think MPI did a good job of getting ahead of that. That's partly due to the fact that, as a private organization, we were able to be nimble. We also have the land here in Mattawan. So everything fell into place."
Also falling into place was the falling square footage occupied by Pfizer in the state. The company in 2007 announced it would close most of its R&D operations in Michigan, cutting 250 jobs in Kalamazoo and other jobs at a site in Ann Arbor. Research continues in Kalamazoo and in Richland, Mich., as the two sites comprise the company's world headquarters for veterinary medicine R&D.
In fact, Pfizer still employs 3,200 in the area, and in late April dedicated the $75-million renovation of its one remaining office and research facility downtown, in the animal sciences division, where it will employ 750 eventually in 780,000 sq. ft. (72,462 sq. m.) of space. But it's sold the former Parke-Davis campus in Ann Arbor to the University of Michigan, for $108 million. The University hopes to create some 2,000 research jobs.

Happy Coincidence
In Kalamazoo, Pfizer was at one time considering demolition as an option for the two buildings MPI is moving into, and MPI was prepared to simply break ground on the still ample amount of open space at its approximately 100-acre (40-hectare) parcel in Mattawan. But Kitchens brought the parties together.
"We saw this and thought, 'Hey, to build the equivalent space could cost $60 million," says Morgan. "There is a large goodwill element with Kalamazoo. [Parfet] sees it as part of his obligation, given it was his great-grandfather who started the Upjohn Co. The ability for us to get this kind of capacity would have taken not just an additional $60 million, but another year to do it. So we gain that year of time, and help the community in the process."
MPI will invest approximately $30 million in the reconfiguration of the downtown buildings to suit its needs. The structures contain approximately 500,000 sq. ft. (46,450 sq. m.) of lab space alone, says Kitchens.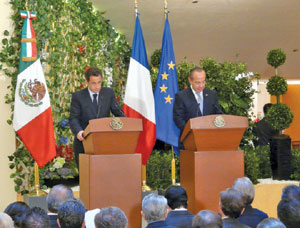 When the deal-making began in 2007, MPI toured the Pfizer property in Ann Arbor too. It also considered expanding at its joint venture in Shanghai, or at its 100-percent owned site in State College, Pa., which employs 100. Kitchens says southern California was in play as well.
MPI was interested initially in the building that Pfizer wanted to keep, but then started looking at the other two adjacent buildings. At the same time, incentive options surfaced in Michigan, chief among them the naming of the area containing the downtown Kalamazoo buildings as a Life Sciences Renaissance Zone. The statute says such zones can reign for 20 years, but again, because of ties to the community, Parfet and company said 15 years was enough.
"Mr. Parfet is very much about community and giving back," says Kitchens. "His grandfather and father were very benevolent to the community. He has to make a business case, but he didn't want to run up the score."
More surprising than that gesture, says Kitchens, was that the zone designation happened in one week, "in a state that couldn't pass a budget in nine months. The Governor's office said if we could get it to her desk, she'd sign it. It goes to the philosophy that we build teams not knowing what game we're going to play."
"We receive 15 years of real and personal property tax abatement, though we still are responsible for our portion of the school millage tax," says Morgan. "In addition, we have a MEGA grant with the State of Michigan. If we are able to create 3,300 jobs by end of year seven, we are able to get a rebate on the state portion of the payroll unemployment tax, just north of 4 percent at the moment. That's fairly significant. We don't get anything unless we create the jobs, but if we do create the jobs, some calculations have that north of $100 million over a 15-year period."
Kitchens says there is room to build within the zone's current footprint, but there may also be an opportunity to expand the zone if demand should warrant such a move.
Other incentives include a $2-million grant from the state, by way of Southwest Michigan First, that originally was headed to Western Michigan University (located in Kalamazoo) for their intended purchase of one of the two Pfizer buildings downtown. But the school declined to go forward. Yet another incentive is the acceleration of bridge and road work in the area of MPI's headquarters along I-94 in Mattawan, which has grown increasingly congested.

That's My Space
Two aspects of the deal stood out for being slightly thorny, but surmountable. One was the transfer of the Pfizer buildings. The company originally was going to donate them to the city, but the involvement of a public entity involved disclosures Pfizer preferred to avoid, says Kitchens. The original plan also presented regulatory issues because the chairman of MPI sits on the board of Southwest Michigan First.
So Pfizer sold them directly to MPI for $10 apiece. But it was the grounds outside that presented the next obstacle.
"Probably the crux issue came down to the parking lot," says Morgan. "There are these two buildings on one side of the Pfizer campus, on one side of the road. There is a nine-acre [3.6-hectare] parking lot, blacktopped, with no structure, just south of these two buildings, fenced and key-carded. Just east of that is Bronson Healthcare Group campus, so there is a lot going on here."
In fact, in June 2008, Bronson officially ended its $6.6-million restoration of its headquarters building, which had been donated to Bronson by Pfizer in 2005, to support its own internal growth. It was the Upjohn Co. headquarters from 1936 to 1961, and still carries that name on its spruced-up exterior.
The parking lot MPI wanted consists of about 1,100 spaces.
"We always took the position, 'If you're giving us the house, the garage comes with it. You can't give us these buildings without giving us the parking lot,' " says Morgan.
Pfizer thought otherwise, and put the onus on MPI to work things out with the city. The solution was a classic real estate arrangement.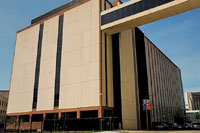 "Ultimately we came to a deal where we have actually bought the parking lot, and are going to lease back half, or 600 spaces, to Pfizer," says Morgan. "Our strong desire to control that lot stemmed from wanting to have the confidence that as we expand beyond 400 employees in those two buildings, we want to have the space for them to park. We might expand on those structures as well.
"So it was interesting," he says. "We were able to cut through most of the issues relatively quickly, but it literally took months to resolve issues with the parking lot – who would get which spaces, who would plow it."
Morgan holds no grudge against Susan Zimblemann of Pfizer, his counterpart in the negotiations, whom he says "was great to deal with."

Talent Shifts But Stays
Morgan says the company had to lay off 200 people in December 2008, which turned some heads because so many are looking to MPI to be the economic driver.
"We're obviously doing our best to stay sharp and on our game during this downturn," he says. "Our company has been hit as hard as anybody in biotech. But we're starting to trend upward slowly. Before that layoff, we had added 260 people, so even after the layoff, we still were at a net gain. We usually have 40 to 50 new hires a month, and we've been doing that for almost two years."
He says the lofty job creation goal associated with the deal was calculated by looking at the company's straight-line growth over five years, and then knocking five percent off the top. Now, he says, the 3,300 jobs is "a six to eight year plan."
Kitchens says there are no milestone hiring figures in the agreement with MPI. But "there are dramatic clawbacks. We hold companies accountable. We have in the past required companies to return a significant amount of money."
Kitchens says there are 25 different-sized CRO firms in the Kalamazoo area. Asked if MPI has to battle for employees, Morgan says the firm has first advantage because of its stability. He also cites the tremendous flow of talent out of WMU and Kalamazoo College. While the firm does recruit internationally for certain positions, he says, "I just think we're really blessed with the work force we have here in the Midwest, and particularly in Western Michigan. There is an abundance of good talent."

More Than One Game in Town
"We have people not only available at a significantly lower cost, but their productivity is significantly higher than their peers in those other communities," says Kitchens. "MPI can then pass that on to their customers."
WMU's own growth has included partnering with Southwest Michigan First and other organizations on projects such as the incubator on the grounds of the 137-acre (55-hectare) WMU Business Technology and Research Park which contains the Bioscience Research and Commercialization Center.
"I've never been around a university so committed to transformational applications of research," says Kitchens. "They're not ever going to be the place that got the NSF's No. 1 grant, but the place that built five companies using science innovated by their researchers."
Asked how his organization tracks the latent life sciences potential of his region in terms of skills among the employed and unemployed, Kitchens says it's challenging, in part because the identities of those cut loose are not easy to come by. But his team works with Pfizer's outplacement service, for example, and, he says, because of Southwest Michigan First's build-up of physical, financial and emotional capital, "people come to us, and we're doing a lot of matchmaking."
That includes matches involving the organization itself, which in 2008 partnered with Ann Arbor to offer companies a one-percent interest loan and 10-year balloon for every worker displaced from Pfizer that the companies hired.
Kitchens says there is a cluster of 60 start-ups that has blossomed over the past seven years, not to mention a $50-million venture fund managed by him that should be taken to $100 million within the next couple years. And he says the medical device field is a strong part of the 310 non-venture-fund-related companies who requested proposals from Southwest Michigan First in 2008.
"Stryker is headquartered in Kalamazoo," he says. "We should top 10 new medical device companies a year for the next 10 years based on our relationship with Stryker and our focus on repositioning."
So the cyclical history of Kalamazoo just keeps on rolling, but with a distinct difference: Today's crop of nimble life sciences firms moves faster and more effectively than big pharma ever has, says Kitchens, with their operations nearly always staffed by former big pharma employees, who now can sell back to their old bosses.
"We used to be the number one producer of celery and wood stoves," he says of Kalamazoo's 150 years of business cycles. "We had Shakespeare Rod and Reel, Gibson Guitar. Now we have 15 guitar companies, the kind that charge $5,000 and up for a guitar.
"That's really what we've done in life sciences – broken it up into pieces," he says. "You can take a drug all the way through marketing and manufacturing from discovery, all in one community."
Site Selection Online – The magazine of Corporate Real Estate Strategy and Area Economic Development.
©2009 Conway Data, Inc. All rights reserved. SiteNet data is from many sources and not warranted to be accurate or current.